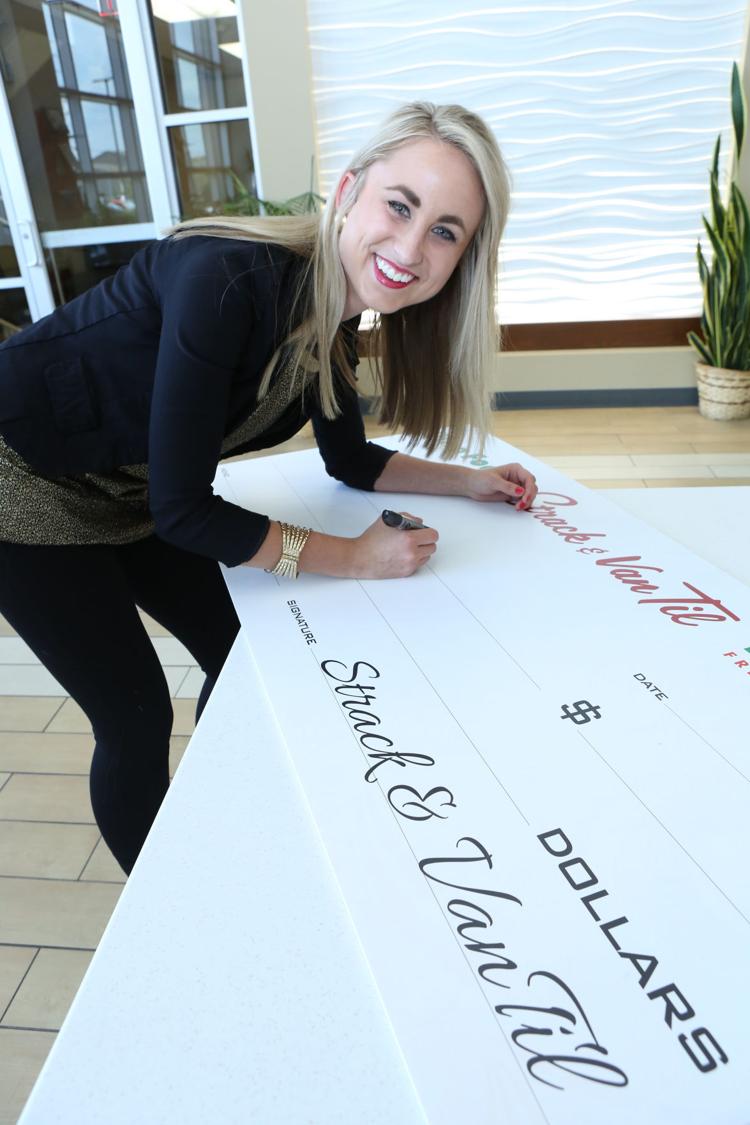 Ashleigh Marlow, who entered the grocery business by chance, now handles public relations and human resources for Highland-based Strack & Van Til.
Marlow, a Times Media Co. 20 Under 40 honoree for 2017, established a centralized training system for the grocer's 20 stores and helps the company support charitable organizations, including by coordinating the monthly fundraising drives at the check-out aisles.
Chris Bengston, the chief operating officer of Leeps Supply Co. who had been vice president of public relations at Strack & Van Til, said she was a true professional.
"A few times in my career, I've come across a gem of an employee … a hardworking, successful, results-oriented achiever that always goes the extra mile to champion the company's vision and achieve professional goals," Bengston said. "Also, in life I've known some truly great people that handle situations with honesty and integrity and approach others with kindness and respect, unwavering in their intent at teaching and doing and the right thing. Not many times, have I had the opportunity to know and work with the example of both; that's Ashleigh Marlow."
They worked together for two years; he was instrumental in her rise through the ranks from a store clerk at the WiseWay in Chesterton to an employee in the corporate headquarters in Highland.
"It's rare to find a person that can successfully juggle as many things as she does, both personally and professionally … someone that takes the high road every step of the way, never looking for credit but always willing to give it," he said. "Her care for others, her heart for service and her willingness to take on anything that comes her way, makes her pretty unique. Ash is one of a kind."
Twist of fate and career path
Marlow had been studying food and nutrition at a college in South Carolina until it discontinued her major. She returned home to figure out her next steps, and got a part-time job as a cashier at WiseWay in Chesterton to earn money.
"It got bought out by Strack & Van Til, there was suddenly more opportunity to grow," she said. "One thing led to another, and it became my career. I was able to learn the ropes of payroll and human resources."
She became a payroll clerk and then a human resources coordinator at the Chesterton supermarket. Marlow was then tasked with setting up a centralized orientation for new Strack & Van Til hires, so they'd get the same introduction to the company and training regardless of whether they were hired in St. John, Cedar Lake or Whiting.
She and another human resources professional at the corporate office created slides, PowerPoints and films for the six-hour long introductory session, which covers everything from the perks to working there to customer service standards.
"We do brain teasers and scavenger hunts throughout the store," she said. "We keep it interesting."
Fast-paced demands
Marlow also was put in charge of public relations, a community outreach job that requires her to evaluate donation requests. She determines whether Strack & Van Til should get involved in a particular cause, and what a feasible level of involvement would be a good business decision.
"We generally support kids, women, police officers, veterans, and those who are hungry because we are of course a supermarket," she said. "Those are the five main categories. Then we have to navigate what we are able to do, and look at the numbers and the resources."
She works with a variety of charities, helping them determine if they'd like to do a pinup promotion where donors are listed throughout the store, such as on paper hearts for the American Heart Association, or a checkout challenge where customers are asked to round up so they might donate $0.30 or $0.50 while making a purchase. Meals on Wheels of Porter County just raised $60,000 at Strack & Van Til stores in June.
"People are more likely to donate during the checkup challenge," she said. "People like to pay a nice round number… It's super-busy and fun and rewarding to work with so many different organizations."
Marlow said the work is fast-paced because as soon as one fundraising campaign is wrapped up she has to start working on the next campaign. She must attend a lot of meetings, go over talking points with cashiers and arrange for incentives to make it competitive, such as for the charity to throw a donut party for the top-rated store.
And she must publicize the campaigns with frequent postings on Facebook, and coordinating coverage from local media.
Marlow finds the work rewarding, and that Strack & Van Til's mission statement and values align with hers.
"I like growing with a company that I believe in," she said. "I've been very blessed to work at Strack & Van Til and gained a lot of confidence. I went from working in the Chesterton store to moving up in the corporate world. The challenge is fresh everyday. No one wants to stay stagnant."