RSSNWI.com Blogs
NWI.com Blogs (short for "weblogs") are written by Northwest Indiana Times staff and selected members of Northwest Indiana and Illinois communities. The writing is not supervised by an editor, and readers are free to converse directly with the author (and other readers) in the comments below each post. If you have an idea for a blog and are interested in becoming a community blogger, please contact our online news staff.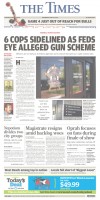 The blog that gives you more than your every day news. Find extra content, special features and more.

Each week view our photographer's favorite photos.

Stephanie Precourt is a stay-at-home mom to three boys and a baby girl, but don't let that fool you. She'll keep you in style and in-the-know with this thing called parenthood. Even though none of us know what we're doing.

We've all gotta eat-might as well have some fun in the kitchen! Check here for recipes, cooking with kids, food finds, and more with Barb Ruess.

Rick Kaempfer's business card says author/writer/blogger, but his real job is "stay-at-home-dad.
Poll
Loading…
Should every unit of local government ban nepotism?