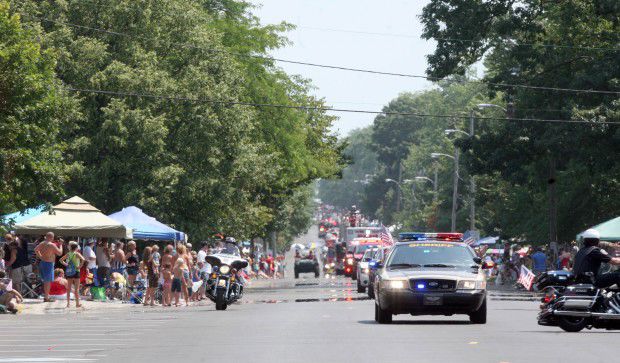 Parade season is underway. Firetrucks, marching bands, cheerleaders, clowns, politicians, candy and flyers. 
Actually let's start with the candy, or lack of it. The city of Carmel announced it is no longer allowing candy to be disributed by participants, siting safety concerns for children who might dart in front of cars. 
Candy is also banned from being tossed during the Noblesville Fourth of July parade. But the passing out of pencils (exciting!) and flyers are allowed. 
So no candy, kids, but you can get a Buy One Get One free coupon at Joe's Vacuums. 
Local cities and towns have similar rules. Crown Point states for its Fourth of July parade that no candy can be thrown from a vehicle and nothing can be sprayed from any unit in the parade. Walkers may still  hand out candy, as well as literature, or miscellaneous items.
More literature! Literature is a fancy word for a flyer offering 10 percent off at a local tanning salon. And what exactly are miscellaneous items? A roll of toilet paper? A bag of rubber bands? A few 9-volt batteries? Those pencils? 
Here are few new rules for parades to go along with the "no throwing of candy." 
Any politician who takes part in a parade has to wear a costume. No sweat-stained polo shirts and cargo shorts. Whether it's a clown, Marvel superhero, or "Game of Thrones" character. Anything. Costume up! Actually, that should apply to everyone in a parade. Entertain us. Your new outfit from Kohl's is great, but entertain us. Wear a costume. 
The same goes for vehicles in a parade. You can't just slap your "Bob's Pest Control" sign on your Chevy Volt. Doll that car up. Otherwise they're not allowed. Entertain us.
And one of the most important rules - no flyers, or "literature" of any kind. Because if you hand me that flyer, I like most people at the parade, are simply going to dump it on the street. It's just more cleanup for workers. And I've been to local cities and towns in aftermath of a parade and this "literature" is still blowing around. If you're going to hand anything out at parades it should be candy (or money!). 
Nobody goes to a parade for flyers.