Prep Football
Saturday Morning QB: She said yes!
River Forest trailed Lake Station 8-0 in the fourth quarter of Friday night's epic battle between the two rival schools just 2.6 miles apart.
Ingots coach Austen Robison was thinking about more than just the game, however. He had contrived a wonderful way of asking his girlfriend, Merrillville's Kristina White, to marry him.
He planned on going back to New Chicago after the game with his team and getting down on bended knee with the Ingots standing around them.
But a few weeks earlier he said, "If we lose to Lake Station I don't know if I can do it."
Quarterback Josiah Zambrana came to his rescue, scoring two touchdowns in the final 12 minutes for a 14-8 Ingots win.
"When we were down I was thinking we needed to get out offense going," Robison said. "I've been hiding that ring for way too long."
So as the team got onto the bus, Brad and Brandi Redelman took White in their car and tried to make it seem like any other Friday night. They went to McDonald's to get some food.
Needing to waste more time so everything could get set up, they stopped at a gas station, waiting for the text to come that said everything was ready.
At River Forest's field, the lights were turned on and the Ingots spent several minutes trying to stand in the shape of a heart. They had practiced this Thursday night before their team meal.
"I told the guys I trusted them and they couldn't say a word," Robison said. "Kristina eats at our team meal with us and I was worried someone was going to spill the beans."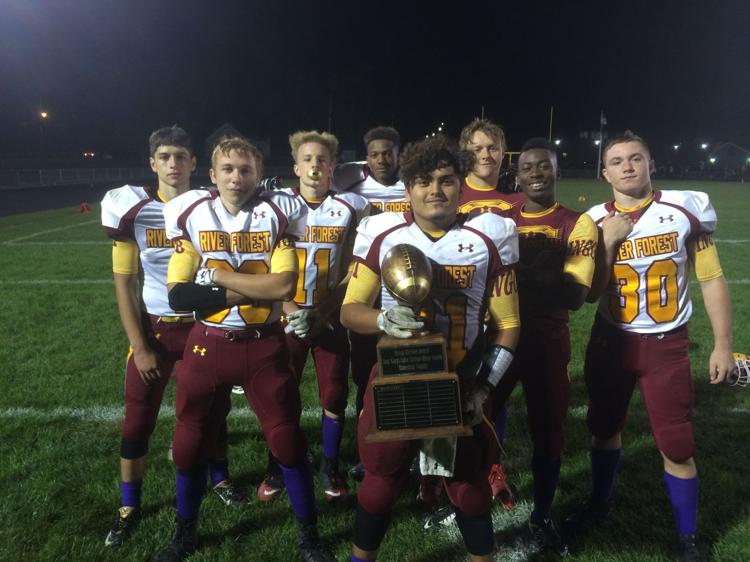 When the car arrived at the stadium, White was blindfolded and River Forest right guard took her by the arm and walked her on the field.
Over the public address system "Shipwrecked" by Locash played.
"I didn't know anything was going on," White said. "I didn't think he had the nerve."
On one knee, Robison told White how much he loved her with tears flowing down his cheeks. White was crying, too. He took the ring out of his pocket and she said yes.
Shortly thereafter, the entire time ran in screaming and they all did a touchdown dance.
"It was amazing," White said. "The best thing ever. I've loved getting to know the boys on the team."
Robison told his players that one day they would meet someone special and maybe they would learn how special something like this is.
"That's love right there," Evans said. "It got to me. She thought I was someone else. I just gave her my arm and made sure she didn't fall. It was great to be a part of it. This was a large moment."
When Robison was asked if any of his slight of hand and trickery would be used on the football field the rest of the season, he laughed.
"I don't think we're going to our heart-shaped formation any time soon," he said.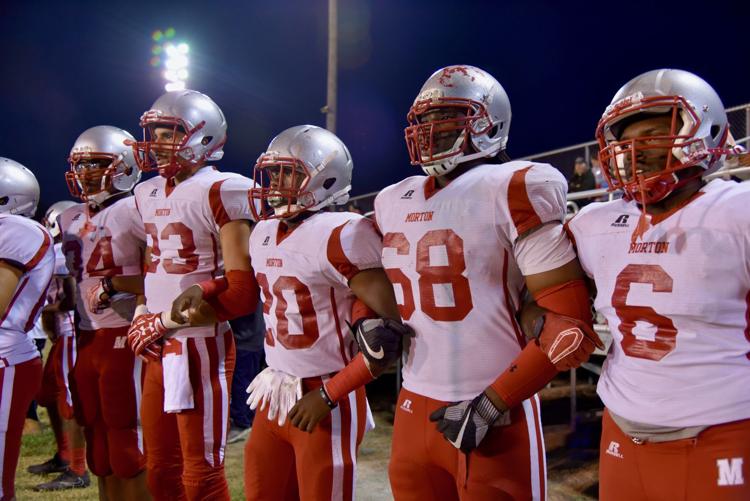 Three Observations
The Govs got better
Morton won its fourth straight game with a 37-14 victory over Hammond, staying undefeated in the Great Lakes Athletic Conference.
But the offense that's been smoking since a 19-0 loss to Lowell in Week 3 got much better when Justin Biviens became eligible to play against the Wildcats.
He transferred in from St. Rita in Illinois and needed to get his 10 practices in before donning the red and grey.
Biviens ran for 127 yards on 16 carries, while Eric Johnson had 112 yards on nine carries.
"With those two together we just got better," Morton coach Sean Kinsey said Tuesday. "Justin is a great athlete and a powerful runner. Having both of them in the backfield is going to help us."
The Govs travel to E.C. Central next Friday night.
The 'Dogs Pound
Might want to buy some stock in Kevin Enright's Crown Point Bulldogs.
After shocking everyone last week in beating Valparaiso, C.P. hung on in dramatic fashion to beat LaPorte 37-35.
First, Crown Point's Ethan Potosky made an ankle tackle on the Slicers' Drayson Nespo at the 14, which saved the win. Then, with 23.2 seconds left and LaPorte inside C.P.'s 10, Enright called two timeouts before Caleb Kuzdas' field goal attempt missed left.
The Bulldogs won despite giving up almost 500 yards of rushing against the Slicers' head-banging offense, where finding the ball is like finding Nemo.
"All game, we were confused," Potosky said. "They were running everywhere. We couldn't find anyone. I saw him break away and I hustled my butt to get over there. I was able to get him with a last-second dive. We were getting pretty frustrated, but we came together and made a stop."
Crown Point's Tyler Gomez ran for 264 yards and three touchdowns in earning Saturday Morning's QB's Player of the Night.
"Tyler's come a long way," Enright said. "He's following his blocks. He understands where his blocks are going to take place and doesn't try to do too much. When he has the opportunity to kick it in gear and break loose, he's able to. It was a great effort by all 11 of those guys on offense."