Saturday Morning Scorer's Table: A pat on the back for Griffith's handling of another brawl, Munster's bad break and the E.C. Central-Hammond controversy
Back in December many in the Region shook their heads in disbelief after a fight broke out at a freshman game between Hammond and Griffith.
A collective, "Oh, no, not again" could be heard by many.
Hammond coach Robert Pogue was charged with disorderly conduct after he was accused of swinging at a spectator in the bleachers after words were exchanged.
As many recall, the Griffith and Hammond varsity teams were involved in a fight in 2015 that resulted in the IHSAA banning both schools from the state tournament. That ruling was overturned in the court house.
But earlier this week, IHSAA commissioner Bobby Cox sent a letter to Griffith complimenting the school for its handling of the fight in the freshman game.
Panthers varsity coach Grayling Gordon thanked superintendent Dr. Peter Morikis, principal Brian Orkis and athletic director Stacy Adams for making sportsmanship the No. 1 goal of the department.
"Mr. Cox was pleased with the way we handled it," Gordon said. "The way we kept the kids out of it. It's hard to control the fans sometimes. Our administration wants us to always try to encourage the kids to do the right thing.
"When all is said and done, this is sports. No more. No less. These are students and we are always teaching them."
A rumor has been floating around that because of the sportsmanship issues Griffith has had when competing against Hammond that in the future the Panthers will no longer play the Wildcats in any sports at any level.
Gordon acknowledged that he's heard it, too.
"That's the rumor I've been hearing," Gordon said. "When things keep happening it becomes a time to part ways. That is definitely out there."
Panthers staring to play
On the court, an extremely young Panthers team has turned the corner.
Heading into Saturday night's game at River Forest, Griffith has won four of five, with the only loss coming to Crown Point 36-32.
"We're starting to put the ball in the basket better," Gordon said. "We've been holding teams to about 40 points a game, which is good. If we can keep scoring points we're going to be all right."
Gordon said Mike Kantor, Craig Gordon and Helal Issa are getting used to varsity play and starting to knock down shots, which has turned the season around.
Taking the good with the bad
Munster is on a roll, winning eight of the Mustangs' last nine games heading into Saturday night's matchup at Hobart.
Coach Mike Hackett has been happy with the play of his growing team. But in Munster's 67-61 win over Merrillville on Jan. 13, one thing happened that wasn't good.
Freshman Luka Balac rolled his ankle after scoring five points in four minutes of play. The talented youngster also missed some time at the start of the season with a sore ankle.
"Luka has a lot of talent and he was finally starting to get his rhythm and then it happened again," Hackett said. "We've just got to get him healthy because I really think he can help us going forward."
Balac is expected to be out for a week or two.
Game of the Week
Friday night's Duneland Athletic Conference game between Valparaiso and Lake Central was a lot closer than many may have expected. But Vikings coach Barak Coolman wasn't surprised.
He expected the Indians to play hard and keep it close.
"They're a good team," Coolman said. "They make you grind it out."
Valpo won 69-62 in overtime. Brandon Newman had 30 for the winners and teammate Nate Aerts added 23.
Lake Central senior Justin Graciano hit six 3-pointers on his way to a team-high 25 points. His ability to knock down the bomb but also dribble penetrate into the paint against a solid Valpo defense was impressive.
Thus, Graciano earns Saturday Morning Scorer's Table Game of the Week honors. Take a bow young man. You were splendid on your home court.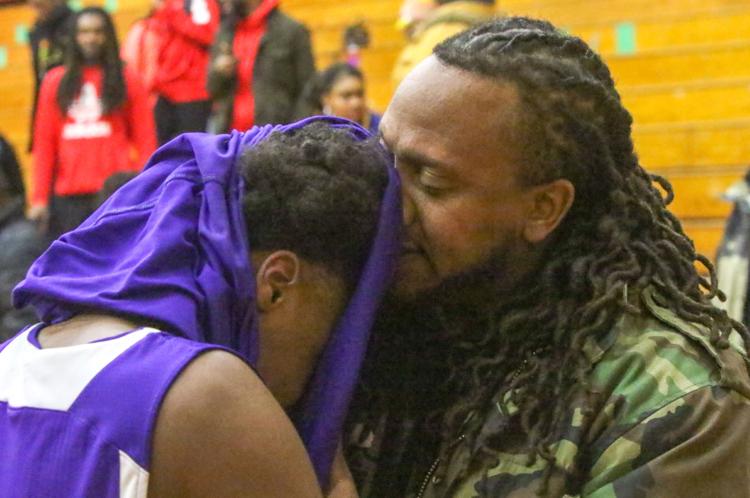 Game of the Week II
My head is still spinning over Tuesday's Hammond at E.C. Central game at the John A. Baratto Athletic Center in East Chicago.
The Cardinals won 75-74 in overtime on Louis Williams' free throw after a foul was called just before the buzzer. Hammond coach Larry Moore Jr. angrily denounced the call and believed the game should've gone to a second OT.
Our photographer John Watkins got a great video of the play. So I sent a tweet out asking what people thought of the call. Immediately I got several people complaining saying I was going after the officials.
Let me be clear. I was not criticizing the refs. I thought they did a solid job in an up-and-down affair where there was a lot of contact on almost every play. I had no issues with the officiating in the game.
I just asked what people thought of the call because it was one that could've gone either way.