The Unnatural-born Athlete: Feeling colorful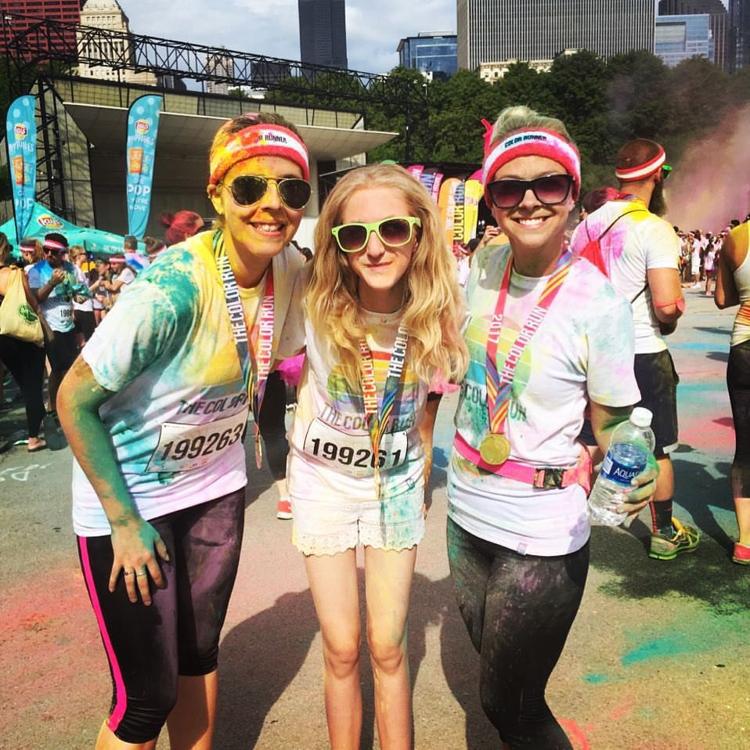 I cut down on the amount of races I'm allowing myself to register for this year, and that's no secret. But I simply couldn't resist signing up for the Color Run 5K, especially when my boyfriend's cousin asked me to run it with her.
For a little bit of history, the Color Run 5K was actually the very first race I've ever "run." I put run in quotes because I walked for the majority of it. But it was this fun run that got me hooked to the world of racing. Just the atmosphere along was enough to get me hooked. I ran it with a group of friends and left looking like a piece of confetti cake.
I've done a handful of other color runs, too. Each time I had a blast. 
Truth be told, I think of my favorite parts of running a color run, aside from looking like a box of crayons exploded all over me, is all the looks I get as I drive home. I also make it a point to go out and grab a bite to eat while looking like a hot (and colorful) mess.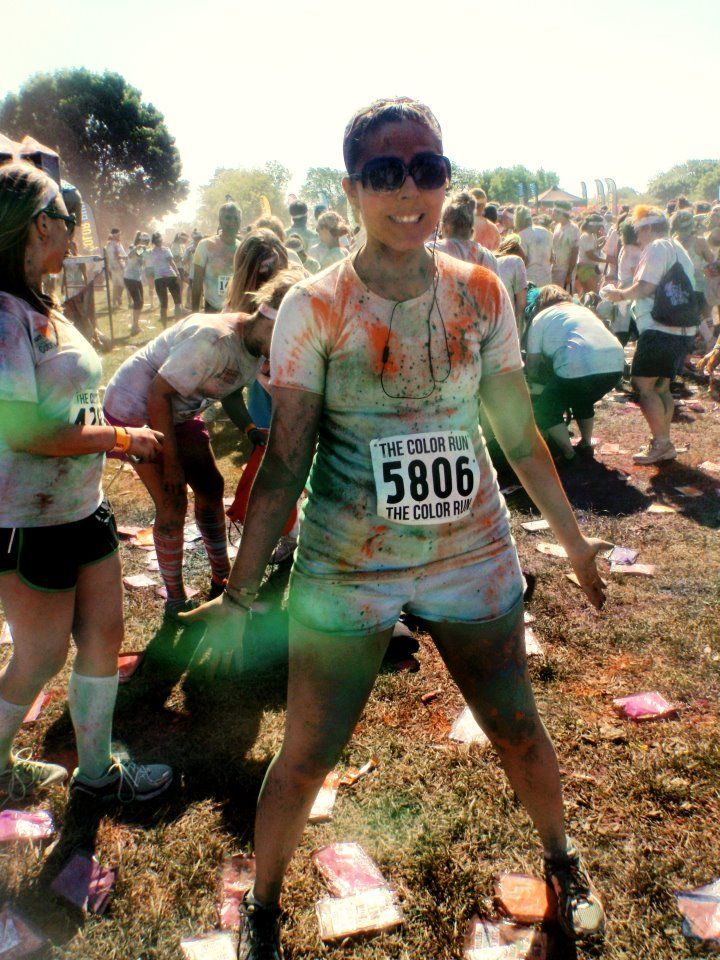 So I didn't hesitate when Kathryn asked me to run the Color Run 5K in Chicago with her. My friend Kari didn't hesitate on registering for the run either.
It was the first time Lou's cousin Kathryn ran this distance, and the kid rocked it. There were moments when she'd zigzag through the crowds of people on the course and Kari and I would have to work extra hard just to keep up. We made it a point to slow down at the color stations so we could really soak in as much color as possible. Once we got to the finish, we received extra packets of color to add to our already colorful selves. After we made a cloud of color, I told her to give her mom and my boyfriend a big ol' hug so that they could be a little messy, too.
What made this color run standout from the others was we got medals at the finish. I was so happy to see Kathryn get her first medal at her first 5K! She told me as we walked to the finish, face and hair dyed purple courtesy of a pit-stop through the color station following the race in which the coordinators of the race poured as much color as they could on her, that she wants to do the happiest 5K on earth all over again next year.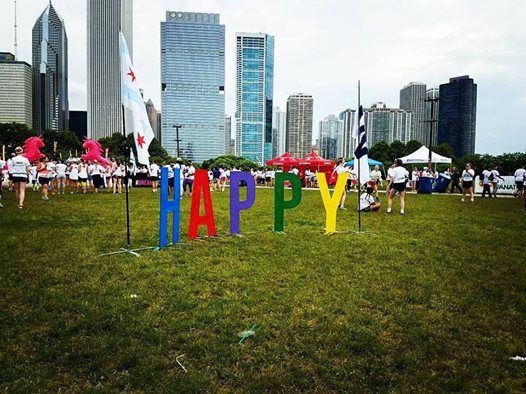 Long story short, if you're looking to get into running but you're hesitant to do a super competitive race, do a fun run. It doesn't have to be a race where you get messy. My other favorite fun run actually takes place at Brookfield Zoo as the animals start waking up and get fed. What's nice about this one is the money spent on registration goes back to the zoo and their conservation efforts. There are a slew of other fun runs near the Region — the options are limitless!
-I bowled my very best game (a 108) of the season followed by my very worst game (a 53) of the season on Monday. I'll be blogging about my bowling adventures next week. Let the hilarity ensue! Don't worry — I'll have someone take video.
-I'm loving the yoga studio I have unlimited access to courtesy of Groupon. I've done several back-to-back classes since my unlimited month began, and I have been going at least three times a week.
-I'll be running the Munster Rotary 5K and 10K Saturday. Lou, who can't run because of an ankle injury, will be there with our dog Franklin. It's superhero-themed, so Lou will be wearing his Flash t-shirt, Franklin will be wearing his Batman costume complete with a cape and I'll be wearing my Super(wo)man tank that also comes with a cape. Say hi if you're there! I'll be running it at turtle-speed. I mean, I'll be running it at the speed of light.