The Unnatural-born Athlete: Girls on the Run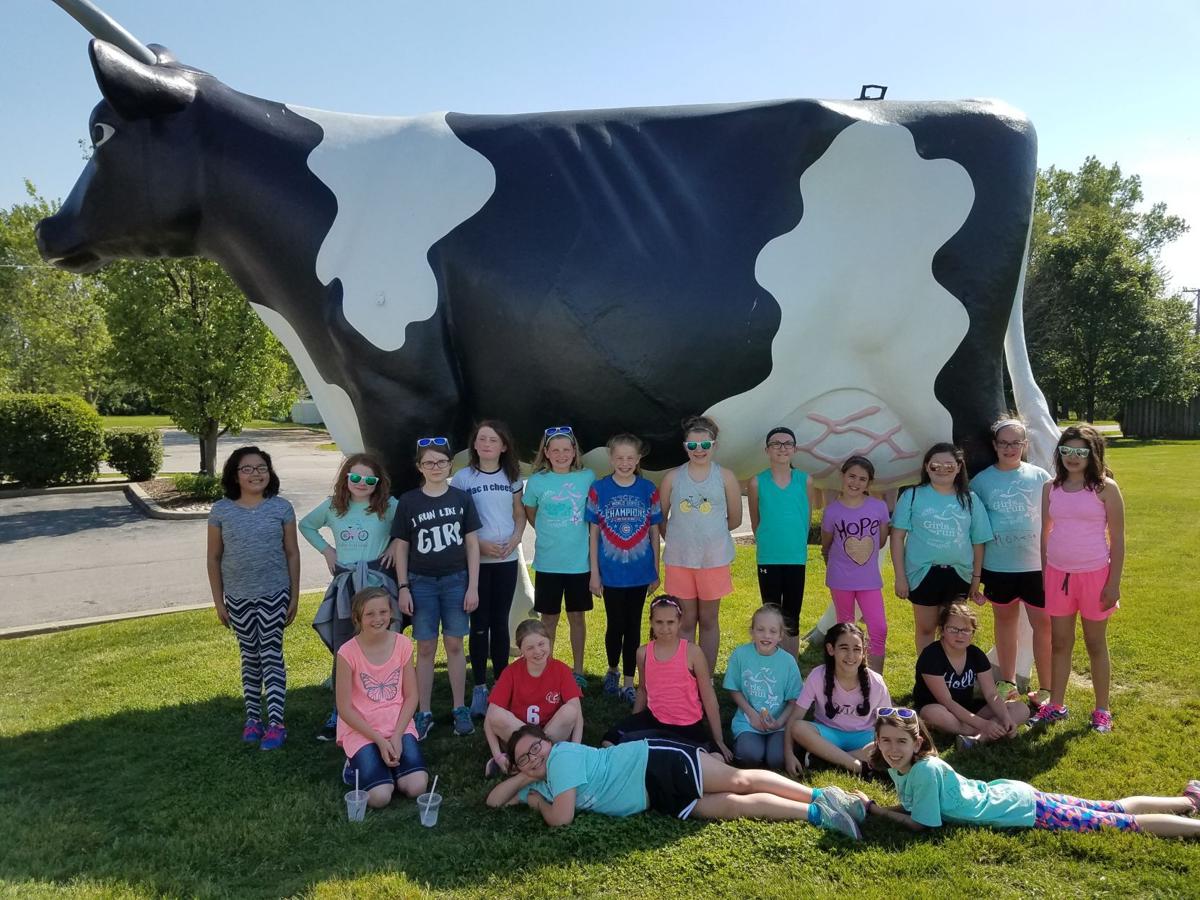 I just wrapped up my first season as a Girls on the Run coach, and holy cow did it fly by!
Let me start from the beginning. A brief background, if you will. About a year ago, I started working with the Girls on the Run of NWI group. I helped them launch a blog on nwi.com, and I volunteered at their spring 5K. It was quite an experience, and I realized coaching might be something neat to try.
Come January, I saw I could register to help coach at a school near my apartment with the Girls on the Run Chicago group. I applied, and voila! I did a day of special Girls on the Run training, got CPR certified and became a coach at Mokena Intermediate School.
I only had a vague sense of what I was getting myself into. All I knew was I enjoy running and that empowering girls to be their best seemed to be right up my alley.
The first lesson — and every lesson, to be completely honest — was about those two things exactly. With a little more detail and pizzazz, of course.
I worked with a group of about 20 girls, three other coaches and a coordinator. Each of those kids and coaches were something special. 
We'd start off each session with a lesson and some games that tied in. The theme one day might be about friendship. The next day honesty. The following teamwork. Then community. Then empathy. Then gratitude. We'd ask the kids to explain what empathy means to them, or ask them what they are most grateful for. Then we'd move onto our warm-up. The warm-up for teamwork might include working together as a team to put together a puzzle. We'd stretch a little and grab some water before going into our workouts. Even those workouts would include the theme. For example, after each lap for the community lesson, kids would stop and write down a community they are a part of before running another lap. We'd wrap-up each section by chatting about what we learned and how we did during the workout.
We ran a little more each session, slowly working our way up to a 5K. I insisted anytime a girl told me she was worried about the actual 5K that it wouldn't matter how long it took her to finish the race, what matters is that she'll be finishing it and that she'll have fun while doing so. That was proven during our practice 5K. Us coaches passed out certificates and little plastic gold medals congratulating the girls when everyone was done. I think their nervousness about the distance disappeared for the most part after that, and they were all super excited for the actual race.
That brings me to the actual 5K. Those kiddos did so great! Some ran the entire thing with their running buddies. Some ran and walked. Some walked. Everyone finished. The kiddo I ran with told me, "This isn't my first 5K, but it's my first 5K race!" She did amazing — we finished in just about 48 minutes together. 
We wrapped up the season Tuesday with a run to (and from) the ice cream shop in Mokena. What a perfect way to celebrate a great season!
There were a few things that really stuck out to me that I want to give a little acknowledgement to:
I really mean it when I say those kids were remarkable. Aside from everyone being amazing and totally rocking the 5K, what really stood out to me was how everyone was just so kind to one another. They all cheered each other on. They helped everyone. They were all just so friendly with one another. There was one day when a girl lost her tooth from the little envelope she was given earlier in the day to keep safe until she got home. The girls all teamed up to search the gym until it was found. They did find it. I really enjoyed getting to know each and every girl.
The coaches and coordinator were all pretty amazing, too. I was coming in as an outsider as the coaches were parents of girls in the program and the coordinator was a teacher at the school. They were all so friendly and helpful. I think we really did work great together! 
I felt like I learned quite a bit just by teaching the program. Truth. The program wasn't just about running a 5K. It was also about bettering yourself. Chatting about topics such as empathy, community, honesty and gratitude helped me to reflect on my own life. As the girls thought and talked about what they were most grateful for in one lesson, I found myself thinking about the things I'm most thankful for. It was fun helping them fill out the ABCs of gratitude list during their workout. And it was neat to see them using things they learned in a previous session throughout the program.
All that said, I definitely plan to coach again. Coach Laura will be back!
-The Chicago Spring Half Marathon is a mere few days away. I'm actually not panicking and am excited about it! I'm not anticipating at quite reaching that 2:30 finish time goal, but I am fairly confident that I'll be able to run the whole thing (at turtle speed) without slowing to a walk. Just last weekend I ran an entire 12 miles in 2:28 without walking once. It was a first for me, and it was a huge accomplishment. Tonight is my final run before race day. Expect a blog post next week.
-Speaking of race day, I finally booked my post race massage. It will be glorious.
-I joined a bowling league. True story. It's all in good fun and is not at all competitive, which is great news because I'm terrible. My first night I bowled a 66, 77 and a 63. I got one strike, two spares and a lot of gutterballs. My handicap will be hilariously high. Oh! And I dropped the ball once. Basically I won't be quitting my day job anytime soon to become a professional bowler. Expect a blog post on this in the coming weeks.