Yesterday I ran my fourth half marathon. That's four half marathons, 52.4 miles worth of races, in just one year. That's not counting the endless miles I spent training. And that's not including the handful of other races I ran. 
Needless to say, I've run a lot of miles in the last year. And yesterday I added another 13.1 miles to the ever growing number of miles by running the Chicago Half Marathon.
So how was the Chicago Half Marathon? It was alright. I was far off my goal of 2:30 — my official time was 2:41:21. But it wasn't my worst time. In fact, it was my second best time, only after the Chicago Spring Half Marathon from earlier this year. I finished that run in 2:37:50.
There are plenty of excuses I could use for my lackluster time, but ultimately it just came down to the fact that I really wasn't feeling it yesterday morning. I woke up wanting to already be done with the race. Never a good sign.
I think overall I was just tired of training. I wanted to go for a run because I wanted to, not because some sheet of paper specified the amount of miles I needed to run five days out of the week.
But I signed up for the race. I trained for the race. And I was going to finish the race. No excuses.
As I crossed the start line, I kept reminding myself to simply have fun. I didn't need to race anyone, not even myself. I just needed to have fun. The signs and the crowds along Lake Shore Drive definitely helped me to have fun with it.
I kept a pretty decent pace of 11:30 through the first eight miles. I completely zoned out listening to my music, which made those miles fly by. Then my upper back started aching — note to self: I need to work on not tensing up my shoulders and upper back when I run — and I slowed to about a 12:30 pace for mile nine. I spent about 13-14 minutes per mile through mile 13 before sprinting to the end.
That last little boost of energy during the last .1 mile was courtesy of DJ Khaled's "All I Do Is Win" coming up on my Spotify mix. I'm certain of this. OK, it was probably also due to the fact that the finish line was in my line of sight, and nothing is more motivating than seeing that finish line off in the distance. And hearing them say my name over the speakers as I drew closer to the finish probably helped. Same with seeing the huge crowd lined up and cheering in that last stretch.
Not only did I finish, but I finished with a smile on my face.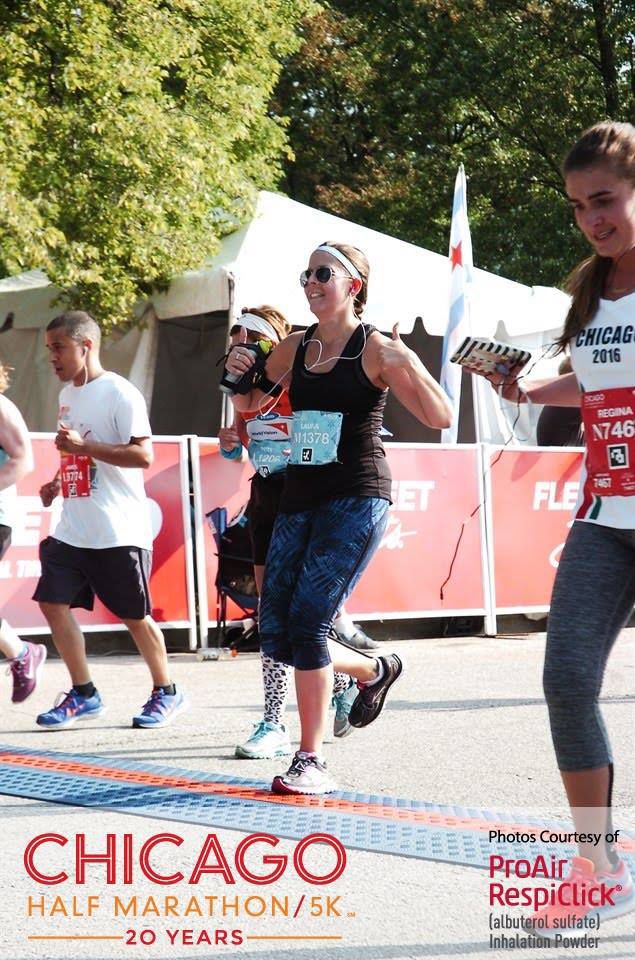 And I got a ginormous medal. You all know I needed to mention that medal. It's the size of a dinner plate. And it spins. Not much makes me happier than shiny, spinny things, especially since I sometimes have the mentality of a 5-year-old. Not only did I get that, but I received a second medal for completing the Chicagoland Half Marathon Series. I may not be the fastest runner, but those medals were definitely earned.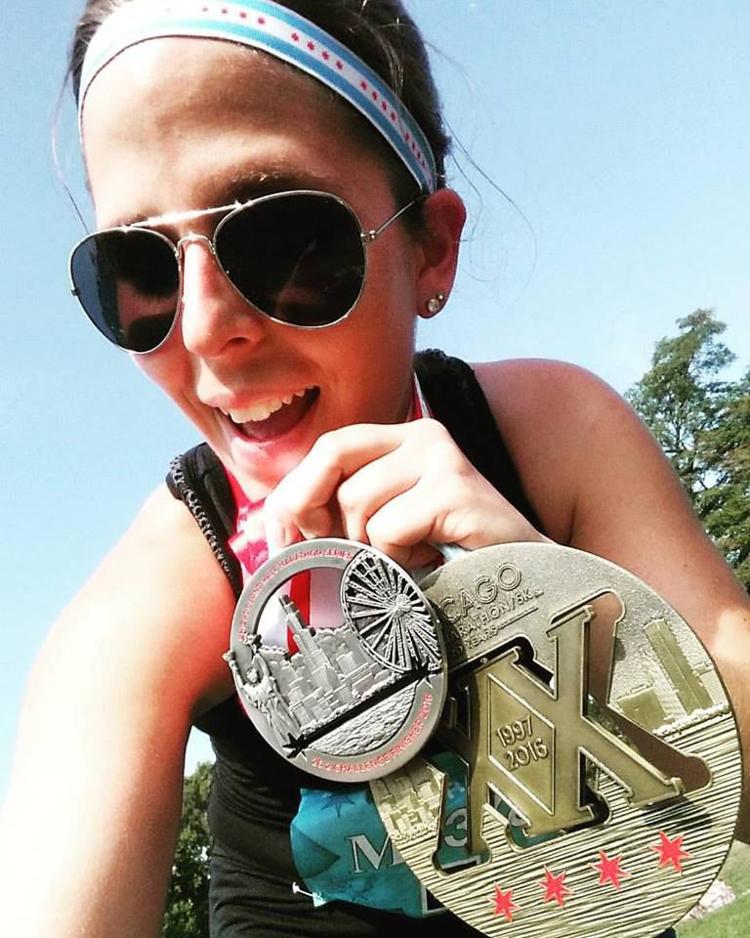 All that said, I still have a goal to work towards. I'll reach that 2:30 finish time some day. Just you wait. Perhaps it'll be during the Chicago Spring Half Marathon next May. Or maybe during the Chicago Half Marathon next September. That's right. I'm signing up for the Chicagoland Half Marathon Series for 2017. Why? Because I'm half crazy.
As for now? I'm going to run when I feel like it and for however long, in regards to both distance and time, that I want.
That is, until I begin the next round of training.