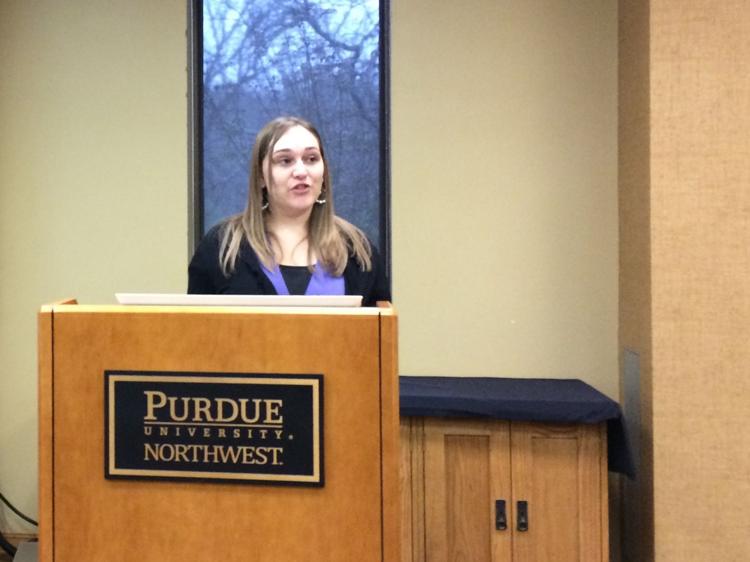 WESTVILLE — The McNair Achievement Program, which has been at Purdue University Northwest for more than 30 years, continues to produce scholars who go on to earn graduate degrees across the United States.
PNW senior Jessica McGuire, at the Westville campus, and junior Ellis Moore Jr., at the Hammond campus, are two McNair scholars who will go on to graduate school.
The McNair Achievement Program at Purdue University Northwest is a federally funded program of the U.S. Department of Education. The program's goal is to increase graduate degree awards for students from underrepresented segments of society.
In mid-November, McGuire, of LaPorte, participated in the McNair Scholars Forum Series at the Westville campus where she presented her research topic, "The Investigation of Intimate Partner Violence and its Relationship with Ambivalent Sexism and Social Media."
McGuire, who will graduate in December, said she worked on the project more than a year with her professor and mentor Christabel Rogalin. McGuire said she conducted an online survey of about 262 introductory psychology and sociology students at the Westville campus measuring their social media use and their relationships with intimate partners. 
"We found that people are using social media to engage in electronic surveillance of their partners, looking at their profiles and keeping tabs on their partner," McGuire said, among other things.
McGuire said she is proud to be a McNair scholar and plans to enroll in the graduate counseling program at the Hammond campus.
Moore, 21, a chemistry major and applied mathematics minor at PNW, said chemistry is so much more than just the study of matter.
"The periodic table is the building blocks of the universe, and chemistry can offer a world in which chemists can research new ways to answer the problems that press our world," he said.
Moore said he hopes to one day win the Nobel Prize in chemistry. As part of the McNair program, he had an opportunity to participate in the Summer Research Opportunities Program at Michigan State University
"With graduate school being in the near future, I hope to work with Argonne National Labs and apply to the University of Chicago where I hope to do further research into renewable energy, artificial photosynthesis, and energy conversion and/or capture," he said.
"I am forever grateful for everything the McNair program has done for me especially the guidance, not to mention the university visitations, laboratory visitations, GRE prep, volunteering for the community, workshops, academic support and making the dream of going to graduate school become a reality."
The McNair Achievement program was named for Ronald E. McNair, the second African-American to fly in space, who was born in Lake City, South Carolina, where he graduated valedictorian from Carver High School in 1967.
McNair was nationally recognized for his work in the field of laser physics and was selected as one of 35 applicants from a pool of 10,000 for the astronaut program in 1978. McNair died on Jan. 28, 1986, in the fiery explosion of the Space Shuttle Challenger, along with six other crew members.
In honor of his memory and excellence, the Ronald E. McNair Post-Baccalaureate Achievement Program was created and implemented nationally at several institutions.
Purdue Northwest, which has participated in the program since the 1980s, is one of two universities left in the state still funded.
For fiscal year 2017-18, PNW received $324,919 to operate the program. Of the total, nearly 90 percent came from federal dollars and the remainder from nongovernmental sources.
Roy Hamilton, assistant vice chancellor and director of the McNair Achievement Program at PNW and Michael Hines, McNair program coordinator, said one of the program's goals is to transform lives.
"We believe that the graduate education that our scholars receive produces leaders in this country," Hamilton said. "Students from all walks of life have been part of this program."