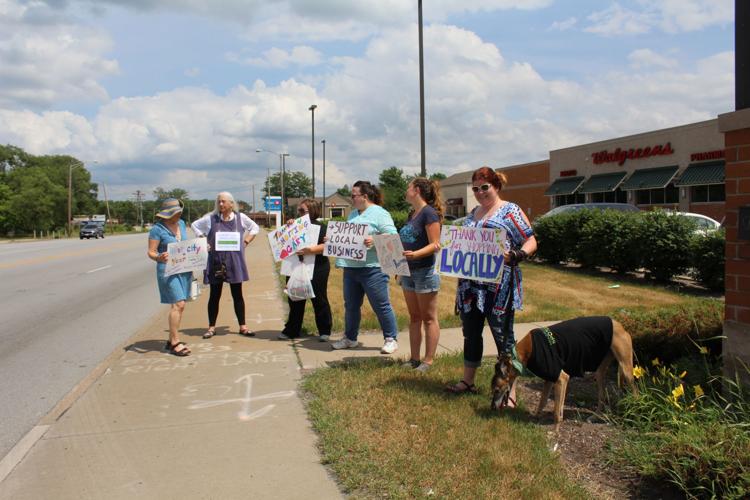 Walgreens closed its third Gary store in recent years despite outcry from residents, politicians, state lawmakers and community leaders, who made a business case for sparing the pharmacy.
The Deerfield, Illinois-based pharmacy chain, the second largest in the country with more than 8,000 locations, shuttered the store at 801 S. Lake St. on Tuesday as part of 75 closings nationally. Community activists in the Miller neighborhood are shifting focus to get Walgreens to lease the building out to another pharmacy and to get Fagen Pharmacy to expand its hours.
Residents tried to convince Walgreens to remain open, including rallying outside the store before marching down Lake Street to support local businesses and setting up a meeting with corporate executives. They pitched Walgreens on sticking around the planned multi-million dollar transit-oriented development around the South Shore station, which is expected to boost parking at the facility by 35 percent and nearly double traffic.
"They said the decision was final," Eric Reaves, vice president of the Miller Citizens Corp. "They've lost business for 10 years. Their access to prescriptions, the number of people who can buy prescriptions, has dwindled in Gary."
Walgreens stopped carrying Medicaid in Indiana at the beginning of this year, which is believed to have resulted in a drop in business at the Miller location. Many Miller residents also were forced to go to nearby pharmacies, such as in Lake Station and Portage, since the pharmacy in Miller closed at 7 p.m., an inconvenient time in a neighborhood where many commute on the train into Chicago.
Reaves said the company could have reached out to the Miller community or the city if business was flagging. He's sure they would have rallied to save it.
"From an economic point of view, I feel there's culpability from them and from the city," he said. "An active economic development team should look to retain businesses, and should reach out to see if they need anything. At the same time, they could have reached out to us."
The Miller neighborhood alone once supported four or five different pharmacies, but Walgreens has now closed three of its four pharmacies across the city of Gary.
"It's really disinvesting," Reaves said. "I fear the writing's on the wall. We need to stop businesses from leaving the city, and reverse this."
Miller Spotlight Community Builder Jessica Renslow said Walgreens was choosing not to serve mixed-income communities like Miller Beach, which is home to both million-dollar lakefront homes and low-income apartment complexes.
"They started lowering the hours, and they didn't think to reach out to the community," she said. "There was no community liaison, no communication." 
She said activists would turn their attention to talking to the locally owned Fagen about bulking up its presence in the city, so all residents have access to prescription medication, including those that rely on public transportation and can't make it out to the Walgreens location in Lake Station.