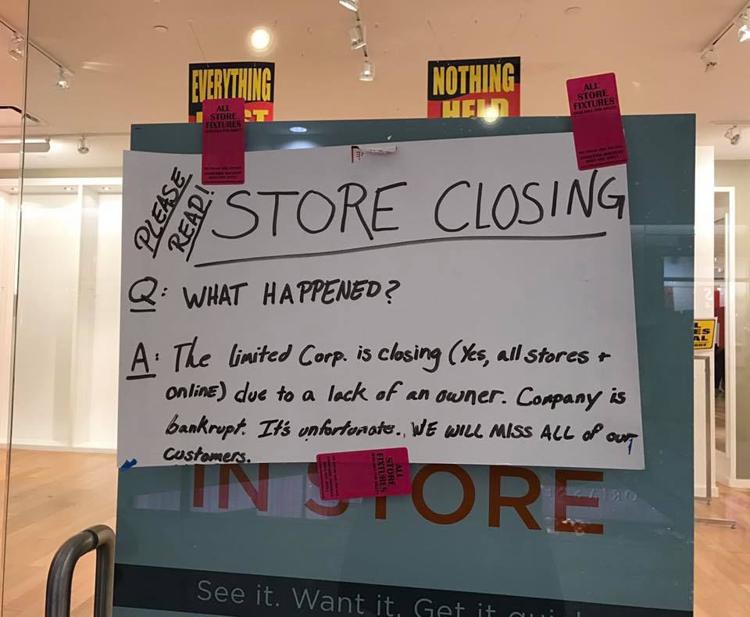 The Limited closed its stores at the Southlake Mall, in Hobart, and Orland Square, in Orland Park.
The New Albany, Ohio-based retailer of women's clothes shuttered all 250 locations nationwide, and is saying all online sales "are final."
"We're sad to say that all The Limited stores nationwide have officially closed their doors," the company announced on its web site. "But this isn't goodbye. The styles you love are still available online. We're just a quick click away 24 hours a day."
The location in the Orland Square mall started a going-out-of-business sale in December, and an employee said the Southlake Mall store closed Saturday morning.
"The Limited Corp. is closing due to a lack of an owner," a sign posted outside the mall store said. "Company is bankrupt. It's unfortunate. We will miss all our customers."
The Limited was reported to be heading for bankruptcy late last year, but as of Monday it had not yet taken that step.
The Limited was known for its sweaters, tops, blouses, and other women's clothes, including an Eva Longoria collection it was promoting heavily. It offered a wide array of blazers, jackets and other professional wear.
In 2007, it was acquired by private equity firm Sun Capital Partners, which also owns Gordmans, Bar Louie and Boston Market, among many other brands.
Sun Capital said in a statement that it was an increasingly challenging environment for retailers, especially in malls and particularly in the crowded women's apparel space. Other major retailers including Macy's, Kmart and Sears Appliance and Hardware have been closing stores across the country as more shoppers gravitate to e-commerce.