More electric cars, plug-in hybrids hitting roadways in Northwest Indiana
David Caynak planned to buy a new Chevrolet Corvette one day in 2012, but instead drove home in a plug-in electric hybrid Volt. 
"I took a test drive in (a Volt) and thought, 'I think the Volt is something I can use year-round and I wouldn't have to store it in the winter like the 'Vette," said Caynak, who works for Canadian National in Homewood, Illinois, and maintains homes in Hobart and Racine, Wisconsin.
From that first test drive, he was hooked on electric vehicles and he's not alone.
Between Jan. 1 and July 1 of this year, 171 new plug-in electric vehicles and plug-in electric hybrids, those that run on both battery power and gasoline, have been registered in the Region, according to Polk Automotive Data. A total of 413 new registrations of those types of vehicles were logged in 2016. 
InsideEVs, which covers the electric vehicle and plug-in hybrid markets, reported between January and September that 142,514 EVs and plug-in hybrids were purchased in the U.S., up from 109,575 through the same time period a year ago.   
Caynak isn't surprised more drivers are converting, especially with the volatility of gasoline prices. 
"As with any kind of technology, the longer it's out there, the better it gets," he said. "Whatever new models will be out next year, will be better than what's out now."
More options for buyers
Jay Cole, editor-in-chief of InsideEVs, believes growing sales nationally also can be credited with more vehicles available for sale. He said 44 new models are available today, up from 31 a year ago.
"The re-introduction of the second generation (Toyota) Prius plug-in has added 10 percent gains, as has the Chevy Bolt EV; obviously the Tesla Model 3 will start to put up big numbers at year's end and will be joined with the 2018 (Nissan) Leaf early next year," Cole said.
"On paper, 2018 is guaranteed to show big year-long increases with just these two new major offerings."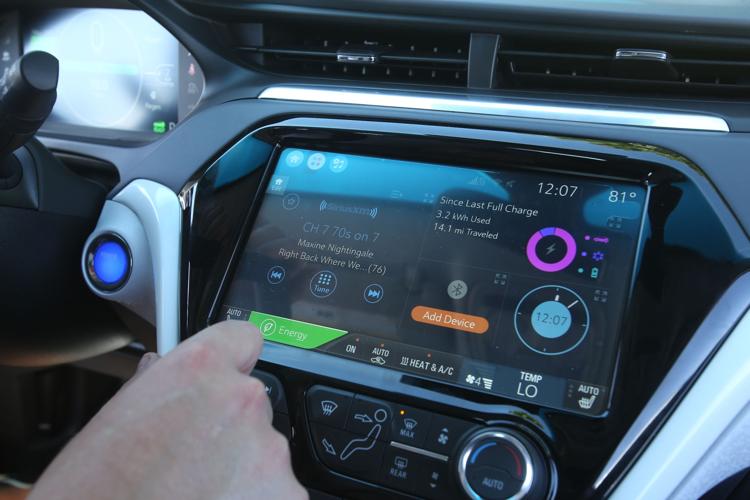 What many motorists want, electric and hybrid pick-up trucks, large sport utility vehicles and performance sports cars, still aren't widely available — but they are coming. 
"The manufacturers recognize that there is a desire for more variety in hybrids and electrics," said Kyle Hiestand, who works for Lake Shore Motors, with locations in Burns Harbor and Chesterton.  
Ford CEO Mark Fields earlier this year announced the company in 2020 will begin producing a hybrid version of its popular F-150 pick-up as well as an all-electric SUV and a hybrid model of its iconic Mustang sports car.
Hiestand is optimistic once Ford releases hybrid versions of its F-150 and Mustang, it will lure more potential buyers so long as the sticker price doesn't turn them off. 
"EVs will get cheaper if there are more out there; it's supply and demand economics," he said. Prices of entry-level electric vehicles and plug-in hybrids on average can range from low to upper ranges of $20,000, according to Autotrader.com. Prices increase with luxury models and when options, including leather seats and other upgrades, are added.
Dealer incentives are available for many new hybrids and EVs on the market today. Buyers also are eligible for federal tax credits totaling $4,500 for plug-in hybrids and $7,500 for all-electric vehicles, which can help lower purchase costs.
Though car buyers might be less charged up about electric vehicles if a tax plan proposed by the GOP passes. The plan eliminates the $7,500 federal tax credit for buyers of electrics after the current tax year.
Tax credits are not available for previously owned plug-in electric vehicles. 
Powering up
Drivers of electric vehicles once had few places to recharge, but infrastructure has expanded in recent years. The Department of Energy's Alternative Fuel Data Center maintains a database of charging stations around the country. 
The government estimates there are nearly 45,000 public charging outlets and more than 16,000 charging stations available around the country today. There are 333 public charging outlets and 159 charging stations spread across Indiana, according to the government.
A total of 31 charging stations can be found around Northwest Indiana, the government said. For now, all these sites are accessible for free.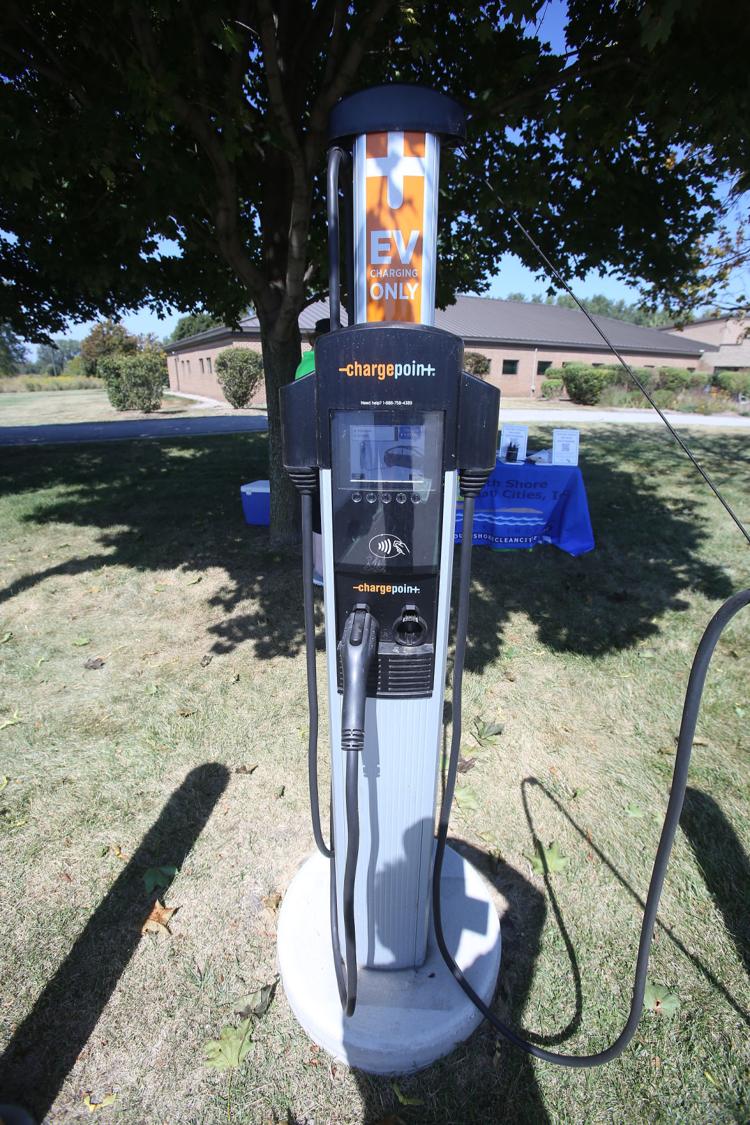 Community Health Care System has 13 electric vehicle charging stations spread across its locations around the Region. They were installed as part of NIPSCO's IN-Charge Around Town and South Shore Clean Cities incentive program in 2014, said Elise Sims, spokeswoman for Community Healthcare System.
Sims did not have statistics about how frequently the charging stations are used, but said they are available 24-7 at no cost. 
NIPSCO in 2012 offered a $1,650 incentive to its customers who needed a charging station installed at their home for a plug-in vehicle. About 250 NIPSCO customers have charging stations in their homes, said Nick Meyer, spokesman for the utility. 
NIPSCO still offers an incentive to plug-in vehicle owners. These customers who charge their vehicles between 10 p.m. and 6 a.m. only pay one-third the normal rate for electricity. The discount, which expires Dec. 31, 2018, is for only IN-Charge at Home customers and only is applied toward electricity used for vehicle charging.
NIPSCO's website also has a map of charging stations around its service area, which covers all of northern Indiana.
Meyer said if the incentive offered in 2012 were available today, it's possible more NIPSCO customers would take advantage of it.
"Back then there just weren't as many plug-in vehicles on the market, but that's changed today," he said. "Today's electric vehicles can go farther than earlier versions could and with more options on the market, it may draw in more buyers."
Cole, with InsideEVs, said the nation's charging infrastructure is constantly growing, so it should ease the "range anxiety" early owners of electric vehicles and plug-ins once experienced.
"I would say familiarity with EVs curb charging anxiety," he said. Eventually, charging stations may charge fees just like drivers have to pay for gasoline today, but vehicle volumes have to increase before that happens.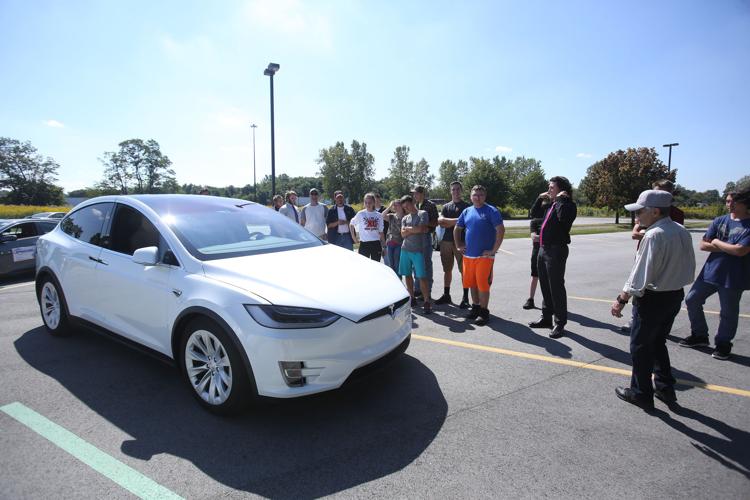 Sold on green
Another benefit Caynak quickly discovered with his hybrid Volt, which can run either on all-electricity, gasoline or a combination of both, is how far he can drive it completely charged and with a full tank.
Caynak said he once drove his 2012 Volt to just under 400 miles, without having to stop for gas. That may not sound too impressive, especially when a newer fuel-efficient traditional mid-sized sedan can travel a similar distance on a full tank.
But it's the long-term benefits of owning a plug-in hybrid Caynak appreciates. 
PORTAGE — South Shore Clean Cities and the Northwestern Indiana Regional Planning Commission teamed up Friday to put a charge into the last da…
Now drivers can pull into public charging stations along Indianapolis Boulevard and U.S. 30, and they're spreading fast.
"My maintenance costs have dropped like a rock, and with a traditional car, I was blowing through 20 gallons of gas a week. Now, I may only use five and sometimes that's down to three gallons a week," he said.
His Volt utilizes a regenerative braking system; when a driver steps on the brake, circuits in the car cut power to the motor, which slows the vehicle and at the same time generates electricity to recharge the battery. 
While Caynak's 2013 Chevy Volt has about 115,000 miles on it, the only major maintenance he's had on the vehicle is a new set of tires.
Cole drives an 2015 all-electric Nissan Leaf, which has 75,000 miles. 
"I have owned several EVs since 2010, and to date, my only cost outside of tires, has been $7 to change the battery in my keyfob," he said. 
A study done in 2015 by Nerdwallet, an online financial research site, found over a five-year period, owners of all-electric Nissan Leafs spent $4,691 less than drivers of the traditional Toyota Camry, and about $1,707 less than Toyota Prius drivers. Most of the savings came from not buying gasoline. 
Caynak said those considering an all electric-vehicle or plug-in hybrid should do their homework to determine if it's something they truly want. Potential buyers also should consider used vehicles. 
"The newer electrics will top or get close to 200 miles on one charge," he said. "But the used market for electrics is growing, too, as some of the early long-range electrics get traded in for the newer models."