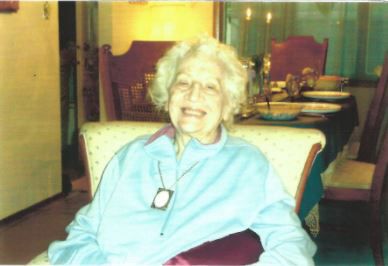 Abundant wishes and congratulations to Doris Tolson (Steinberg) on her milestone birthday of 100 years old!
Doris was born to Herbert & Lillian Steinberg in LaPorte County on Jan. 5, 1918. Doris is the oldest of the six children, two brothers and three sisters. Surviving sister, Carol Amptmeyer, is the youngest of the six siblings.
Doris resided in Lansing, and was a loving and devoted wife of 52 years to Roy Tolson, who passed away in 1990.
Daughter, Marshal Bell and two grandsons, Randall Bell (Mihaela) and Marc Bell, youngest sister, Carol, and numerous nieces and nephews, honor Doris on her "commemorative" day with love and blessings.
Doris now resides in a local nursing home in Dyer.
Throughout her 100 years, she experienced many historic events, sharing her lifetime of wisdom.
Doris' amazing talents were recognized by everyone in her life, entertaining guests with her gourmet meals, homemade from scratch. Recipes included decadent pastries, cakes, pies, candies and amazing varieties of homemade breads. Doris was requested by the famous golf legend, Arnold Palmer, to make her awesome cinnamon bread when he was visiting a friend in the Illinois area. Doris was an excellent seamstress, as well as, sewing coats, apparel and draperies.
Congratulations to such a heartfelt and caring person, everyone in life should be blessed to have known her.