Christopher Santana's dad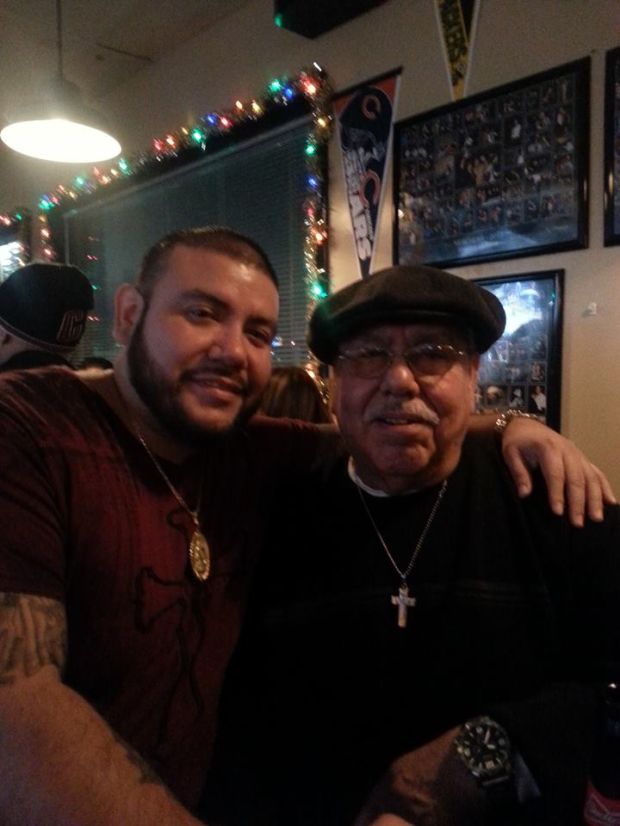 I am writing on behalf of my brothers Ramon Santana Jr., Armando, Sonny, my late sister Florinda and myself of the great man we call Dad, Raymond Santana Sr. He was born in Nuevo Laredo, Tamaulipas Mexico, March 1943 and migrated to East Chicago with my grandparents, Margaret and Ignacio Santana in 1950 when Inland Steel transported workers by bus from the border town of Laredo, TX to work in their mills. My father adjusted and embraced American life quickly. He is the eldest of his fifteen siblings.
There are multiple reasons why our father is our hero but none sticks out to me more than being the man he is that he helped raise his younger siblings after the passing of my grandfather of the young age of 55, leaving behind my grandmother with so many children. A devastating blow to the family indeed. My father began working in the mills immediately after graduating from Washington High School in 1961 to support the family. He is a very proud Washington Senator who always supported their championship basketball teams. He is a die-hard Bears, Bulls, Cubs, and Blackhawks fan.
Before my grandfathers passing and their final move to East Chicago, the entire family, as they grew, would travel from south Texas and as far north as Minnesota to work on the farms picking fruits and vegetables and then making their way back south for the winter months. At a young age, my father was taught to work a labor-intensive job, drive farm equipment and a stick-shift truck. This was backbreaking work but they sacrificed to support the growing family.
Winters were harsh for the family and they would find themselves returning to Texas various times before they finally settled in the Harbor section of East Chicago and called it home. The family also endured the loss of their home on Butternut Ave. due to a fire. Through thick and thin, the family pushed forward with my father leading the way. He always set the example for us through his dedicated work ethic and family values. He enjoys his hobbies of painting and amateur photography.
My parents met in Nuevo Laredo, he married my mother, Carmen (Tovar) Santana in May 1969 and have enjoyed forty-five years of marriage.
To conclude, our father is our hero because he has set the example for what it is to be a real father, husband, brother, friend and grandfather. We learn from him daily and it is a true blessing to have him with us and call him Dad. Thank you for your time and consideration.