Donna Seeley's dad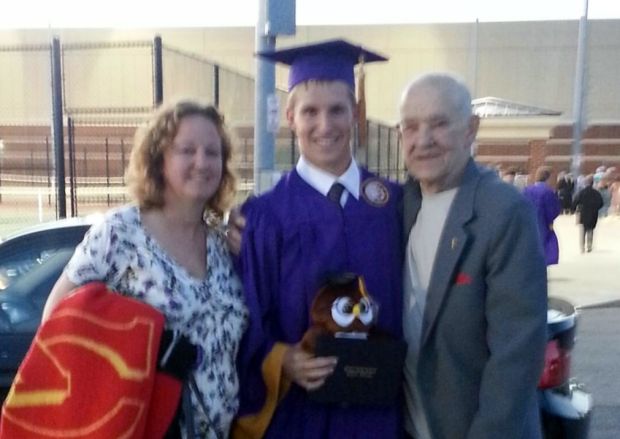 I just recently found out why my dad is amazing. Through my son, we have learned of some of the tales that he lived through in World War II. I always knew he fought in World War II, but as a kid I never really thought it was a big deal. A couple times I did ask what he did, or where he fought and he would just say he really didn't need to talk about it.
Well, my mom passed away back in 1995. She passed about 5 months before I had my son. Alek and my dad are very close. Alek's dad hasn't been a part of his life and my dad has kind of been the male figure in Alek's life.
As my dad has gotten older, Alek has become more than just my dad's buddy. He has been the guy who helps him with his house, mows his lawns, shovels his walks, etc.
During that time my dad has opened up to my son about some of these tales. Such as he was a minesweeper and received a meritorious award for his "disregard for his personal safety, continued installation of vital communications through many minefields in the dead of night." He lost all of his medals and I am in the process of trying to see if we can find out what he was awarded and if we can get these back for him. We know he was awarded a Purple Heart.
Each time Alek goes over there I learn a little more. He is 89 now… born the day after D-Day. June 7, 1925. It's amazing he did that, and survived and still survives on his own after these many, many years.