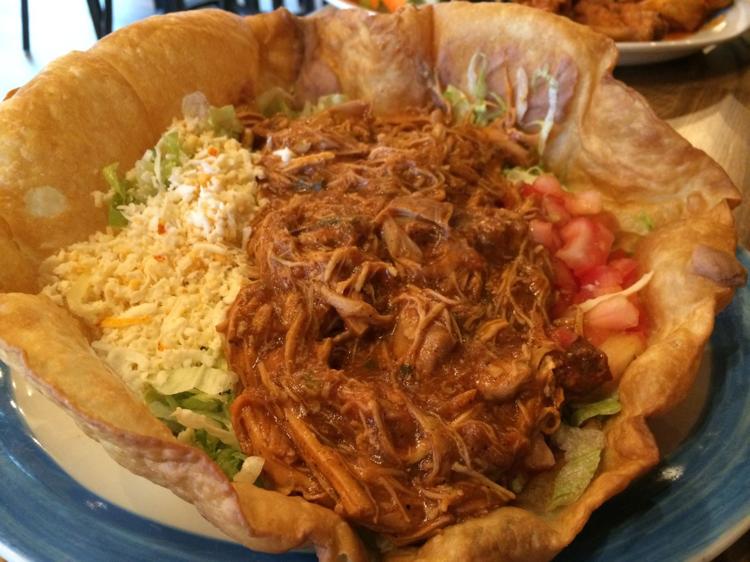 Diners will easily enjoy a taste of Mexico at Jalapenos in Schererville. There are assorted creative dishes to test at the eatery.
The restaurant, sporting the full name of Jalapenos The Hottest Mexican Restaurant, is located on Indianapolis Boulevard. With its varied menu and colorful decor, Jalapenos always seems to have a party atmosphere.
Even visiting the restaurant between lunch and dinner will find it bustling at times. We dined at Jalapenos on a recent Wednesday for a late lunch. Our table was located in the bar area. At Jalapenos, diners also can be seated in the main dining room away from the bar. In warmer weather, the restaurant also has outdoor seating.
It can take a bit of time to check out the menu if you're not familiar with it. There are many offerings on the menu and it can be difficult to narrow down what you'd like to enjoy here.
Lunch choices at our table were the Taco Salad ($9.99) and the Spicy Buffalo Wings ($7.99). Both were perfect dishes for a late lunch/early dinner. The Taco Salad featured braised chicken, beans, lettuce and tomato. The seasonings on the chicken were high in the flavor and weren't very spicy. Diners who want more heat can add Jalapenos' salsa to the dish.
The Spicy Buffalo Wings were definitely spicy, extremely flavorful and tender.
Jalapeno's menu also features Guanajuato Steak ($19.99); Seafood Burrito ($14.99); Lobster and Steak Platter ($24.99); Spinach Enchiladas ($11.99); Citrus Steak Tacos ($12.99); Queso Fundido ($9.49); Fajita Quesadilla ($10.99); Mario's Garden Tacos ($10.99) and more. Breakfast items also are available at the restaurant.
Margarita fans will find plenty of flavors to try at Jalapenos. Among Margaritas are Very Berry, Cherry Pop, Green Iguana and Coco Loco.
The restaurant also celebrates special event nights at the eatery, including Trivia Night on Mondays; Karaoke Night on Tuesdays; and occasional live entertainment. Call the restaurant for more details.