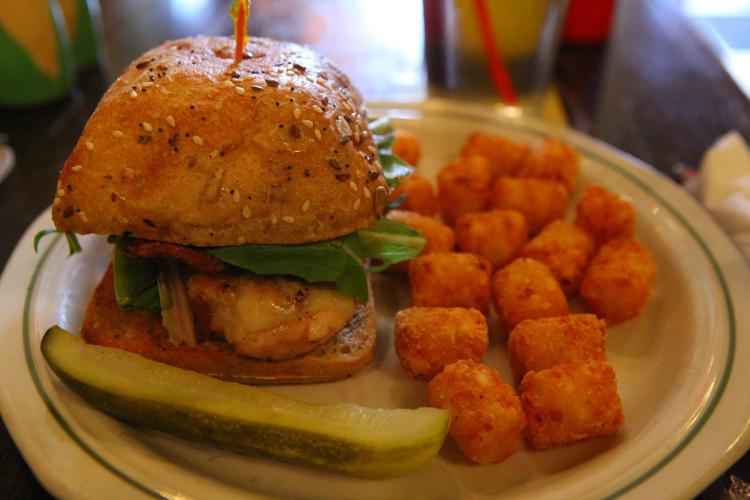 CHESTERTON — Even before the Wright Brothers completed their historic flight in 1903, Frenchman Octave Chanute had pioneered gliders over the Dunes near Lake Michigan. There's nods to those experiments in the menu designs and offerings at Octave Grill.
The restaurant, at 137 S. Calumet Road in the town's quaint downtown, has a homey, Midwestern vibe to it, evident in its humble wooden and metal chairs, artwork depicting covered bridges and corn ear-shaped salt and pepper shakers.
Your taste buds are cleared for takeoff with the Albatross Sandwich. However, unlike the actual bird, the chicken served between two ciabatta buns probably has a flying, or rather gliding, ability more similar to Monsieur Chanute's experiments. The grilled-to-perfection breast also is served with strips of bacon, Swiss cheese, greens, tomato, key lime aioli and grilled onions. It's an excellent blend of flavors that combines juicy, salty meat and cheese and provides that sweet, grilled onion kick at the end.
The restaurant offers a vast selection of other scrumptious sandwiches with pork and beef, but is also known for their burger creations, sporting names such as Clawhammer, Figgy Piggy" and Chanute. Several of these options also take in local ingredients from Tallgrass Beef and Fair Oaks Farms. Also, feel free to dabble in local craft beer selections, including 3 Floyds and Burn 'Em from the Region and Founders from Grand Rapids, Michigan.
For more information, call 219-395-8494.