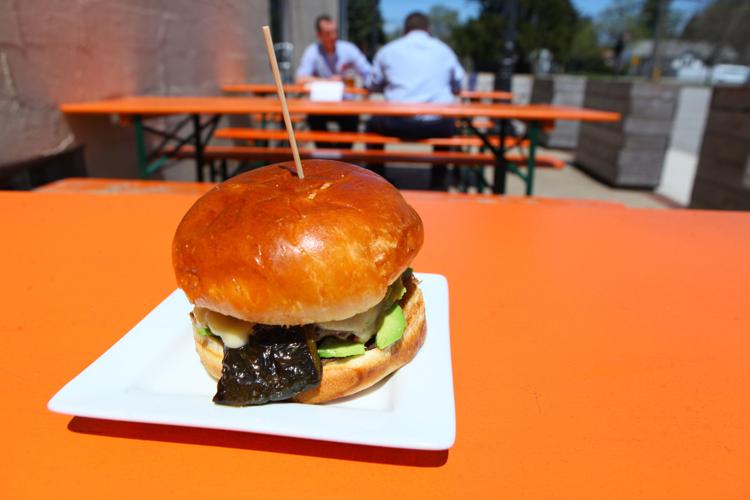 GRIFFITH - In case you didn't know, I'm a tweeting, cord-cutting, craft beer-drinking, napkin-killing millennial.
Some stereotypes I meet, some I don't. One of the contemporary items that has stirred talk is the beloved, and criticized, avocado toast. We (millennials) receive flak for spending extra money on that scrumptious, green spread.
Hear me out -- there's a dish involving avocado worthy of your taste buds at New Oberpfalz Brewing, 121 E Main St. The establishment is a small, intimate and lively watering hole for craft beer lovers (including, yes, those darn millennials).
Local breweries like this one that introduce dining menus have no shortage of unique fixes, from a giant soft pretzel to vegetarian cauliflower tacos. The one I'd recommend for your next meaty hankering is the avocado burger.
This selection has two buns stuffed high with a hamburger slice, roasted poblano, lime crema, roasted red pepper, chihuahua and tortilla cheeses and, of course, avocado.
Each bite is wonderful. The buns have a delightful crispness, the beef is tender and the avocado brings its cool flavor. The cheeses give a zing and the pepper lets loose a final kick for some heat.
The price starts at $13. It could take a hit to your lunch or dinner budget, but this millennial stands by his decision, and recommendation, that you do the same. Couple it with the brewery's notable drink offerings, like Toad Storm and Hopwagen, and your palate will thank you.
For more information, call 219-513-9341.