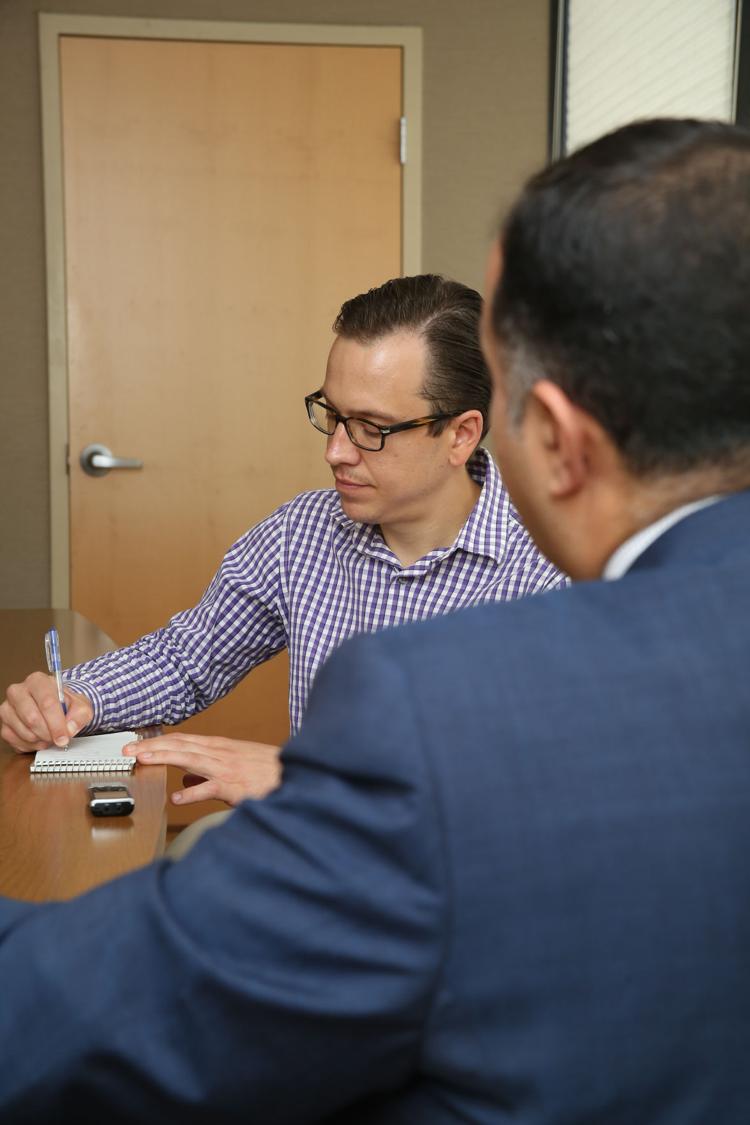 Giles Bruce is on a mission to improve the health of Northwest Indiana residents.
For the past three years, The Times Media Co. health reporter has shined a bright light on the Region's critical health challenges, such as infant mortality and opioid addiction, promoted a physically active lifestyle and analyzed the business of health care and its impact on health outcomes.
"Indiana has a ways to go on a lot of health issues," he said. "It's not just the citizenry that is perhaps not as health conscious ... it takes officials getting the word out, too, to help people learn more about these things."
Bruce recently did his part to clue Hoosiers in to the causes of Indiana's infant mortality crisis, through a series of stories published under the headline, "What's Killing Indiana's Infants?"
Official response lacking depth
In 2015, 613 Hoosier babies died before reaching their first birthdays, enough to fill 33 kindergarten classrooms or 11 school buses. Indiana's infant death rate perennially ranks among the worst in the 50 states.
"Once I started digging into the data, I found out that East Chicago has the highest infant death rate of any ZIP code in Indiana, and it has for some time," he said.
A fellowship provided by the University of Southern California's Center for Health Journalism enabled Bruce to expand his infant mortality research beyond the Region.
He uncovered a broader range of causes than state health leaders wanted to acknowledge, including environmental pollution and limited access to healthy food, medical care and transportation in many Indiana communities.
"I didn't feel that what I was hearing from state officials was really telling an in-depth story about why Indiana does so bad in infant mortality," Bruce said.
"They're kind of focused too much on what the moms are doing and blaming the moms, rather than fixing some of these larger societal issues that might require more money or more work."
Bruce said he sees the state taking the same tentative approach as it tries to tackle widespread opioid addiction.
A batch of new laws enacted by the 2017 General Assembly primarily established pilot treatment programs, which he contends doesn't fully address the societal side effects of opioid abuse.
"The foster care system in Indiana is getting pretty overwhelmed because of addiction," Bruce said. "There's a lot of kids who are falling developmentally behind in Indiana, and the Region, because their parents are addicted."
At the same time, Bruce is hopeful that effective solutions may be on the horizon because Gov. Eric Holcomb and most other state leaders see addiction as a public health concern requiring treatment, not as a criminal matter demanding punishment.
"Drug addiction and public health intersect quite a bit and people are recognizing that more and more," he said. "The state is just now starting to do something about it ... so we'll have to see if their efforts pay off."
Making issues relatable
When Bruce is not digging into the causes of some of Indiana's biggest health problems, the Highland resident often can be found trying new and innovative workouts available throughout the Region.
He's participated in, and written about, exercise programs that use dodgeball, bubble soccer and stand-up paddleboard yoga, among others, to promote physical fitness.
"I'm willing to try anything if someone invites me; even if it's not even quite a workout," Bruce said.
He's found that reporting through doing, instead of merely interviewing other participants, produces a more interesting and relatable story — "especially since I'm not the most physically fit or buff person."
Bruce's health reporting beat is based at The Times' business desk so his work also includes writing about health care as an industry, including hospital mergers, employment, federal regulations and profitability.
"Health care is actually the top employer in the Region, even more so than steel, so it's a very important industry," Bruce said.
"It is one industry that you can't outsource, and it's an industry that's growing with the baby boomers aging and all their health care issues."
The Times' Business Editor Larry Avila said Bruce has a superior knowledge of state and national health care issues that consistently comes through in his reporting.
"Some of the strongest aspects of his writing is his ability to take very complex health topics, such as new medical treatments or Obamacare, and present them in a way to help readers better understand them and how it may affect their lives," Avila said.
Avila also believes Bruce is unusually diligent in finding people directly affected by a health policy change or medical condition and using their stories to show how decisions often made far from Northwest Indiana affect the lives of Region residents.
"When he writes about people and the health or life challenges they've overcome, he presents their stories in a way that make you feel the emotion and hardships they went through, which makes for great reading," Avila said.
It's one reason why in addition to being a member of this year's IN Business 20 under 40 class, Bruce recently was named by Editor & Publisher magazine as one of the 25 U.S. journalism industry professionals under age 35 who are making a difference in their communities.