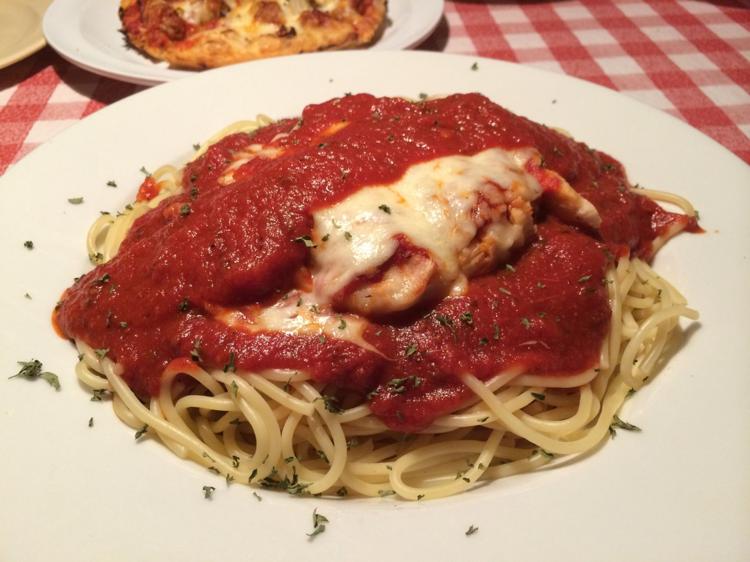 A special anniversary was celebrated last week at Aurelio's in Munster.
The popular pizza chain, which got its start in Homewood, in 1959 is marking its 35th anniversary in Munster. Aurelio's has three family-owned locations in Chicagoland and 42 franchise locations in six states.
Munster's Aurelio's is a casual eatery featuring old-fashioned jukeboxes at many of the tables as well as a large jukebox in the middle of the main dining room. Tiffany-style, colorful lamps also are featured throughout the pizzeria.
We visited Munster's Aurelio's on a recent Sunday for a mid-afternoon lunch. The restaurant wasn't crowded at that time, but diners slowly began to fill up the eatery by 4:30 p.m.
As we surveyed the menu, we decided to have pizza, of course. In addition we opted for one of the Italian entrees on the menu.
Our pizza choice was the Thin Crust Lil' 6" with sausage and onion ($6.75). For the entree, we chose the Chicken Parmesan ($13.50).
Aurelio's thin crust pizza stands out for its crunchiness and its slightly sweet sauce. The Chicken Parmesan, which came with a choice of pasta (we picked spaghetti), was a hefty helping featuring a boneless breast of chicken, baked mozzarella cheese and marinara sauce.
The eatery's menu stars various pizza styles, including the Thin-Crust, Signature Pizzas and Stuffed Pizzas. Among Signature Pizzas at the restaurant are Spinach, Taco, Chicken, Hawaiian and others.
Diners also may order Mama Aurelio's Spinach Calabrese, which is crust stuffed with spinach and mozzarella cheese.
Among salads on the menu are Buffalo Chicken Salad, Aurelio's Cobb Salad, Fresh Spinach Salad, Caesar Salad and more. Appetizers include Poppers, Onion Rings, Toasted Ravioli, Tomato Bread, Loaded French Fries and other dishes.
Customers also may order sandwiches, including the Italian Combo, Ham Sandwich, Homemade Meatball Sandwich or Italian Beef.
Aurelio's also offers catering, a Take-N-Bake uncooked pizza for home and the option to mail a pizza to a friend or family across the country.