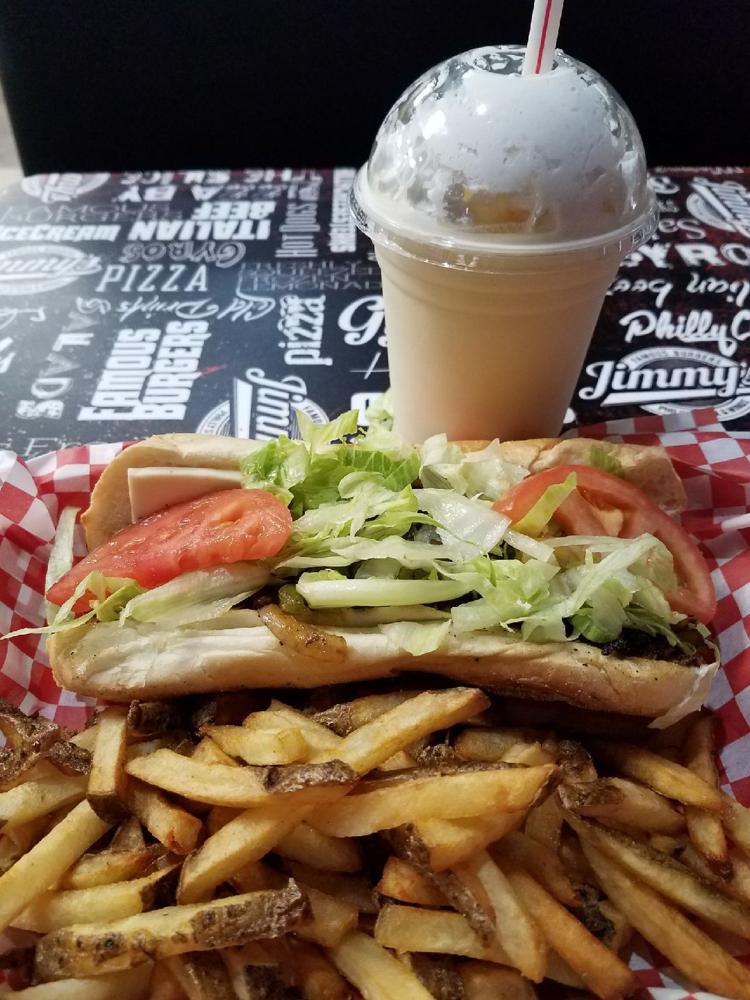 Visit Jimmy's in Munster for any number of dishes from hearty burgers, Philly sandwiches and wings to salads, pizza and more.
The fast-food eatery, which is decorated like an old-fashioned diner, is situated on Ridge Road in a strip mall. Jimmy's interior is bright and fun and features booth, table and stool/countertop seating.
In the restaurant, diners will find sleek looking black and white tables which feature writing on the tabletops. Upon entering Jimmy's, diners can survey the large menus hanging on the walls and then order at the counter.
Jimmy's menu states that burgers are favorites with Jimmy's Burger Single ($4.99) and the Godfather Burger ($7.99) being among popular items. The Godfather Burger also stars Italian beef, cheddar cheese, American cheese and hot giardiniera.
During a recent dinner visit to the eatery, we ordered a Philly Steak sandwich ($6.99); the Jimmy's Original Burger Double ($6.99); and a Vanilla Milkshake ($4.99)
The Philly Steak sandwich proved to be a filling choice and featured grilled onions, green pepper, mushrooms, lettuce, tomato, mayo and cheese. The sandwich also comes with an order of French fries and a drink. Jimmy's Original Burger also features grilled onions, lettuce, tomato, pickles, mayo ketchup and mustard.
While patrons can enjoy their meals at the restaurant, Jimmy's also does a large carry-out business.
Jimmy's menu is diverse and features a number of popular items including the Crispy Chicken Sandwich ($4.99); Buffalo Philly Chicken ($5.49); Turkey Burger ($4.99); Gyros Sandwich ($5.99); Grilled Chicken Salad ($5.99); Vienna Corned Beef Sandwich ($6.99); and much more.
The eatery also stars a Mexican menu with Tacos, Burritos and Doritos Nachos as well as various Pizzas from BBQ Chicken and Sausage to Philly Steak Pizza. Sweets include slices of cake, cheesecake or cookies in addition to shakes.
The restaurant also includes a number of daily specials.