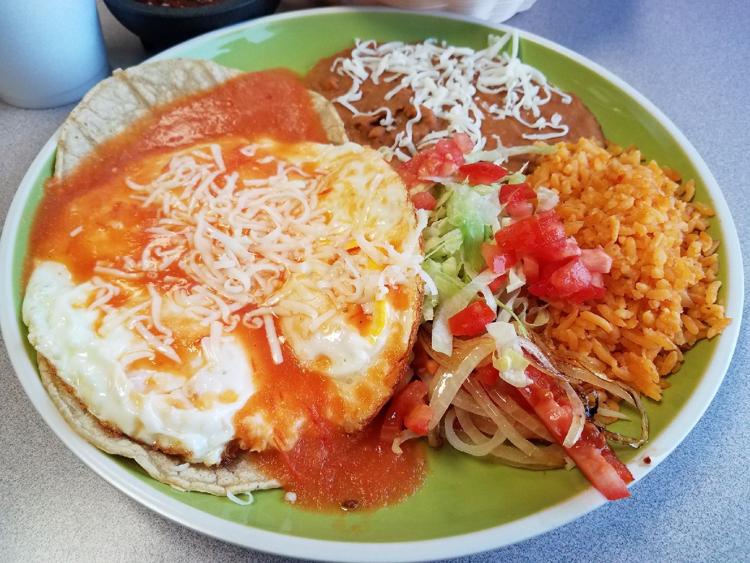 Authentic Mexican food is what husband-and-wife Gilberto Munoz and Martha De La Torre wanted to bring to diners when they opened Taqueria La Soga.
The small eatery, located in Lansing, was established in November 2016. Taqueria La Soga is largely a carry-out restaurant but there are two tables and a small counter with stools where diners can sit.
At the restaurant, Mexican food fans can order all the traditional favorites from Tacos and Burritos to Tortas (which are sandwiches) Combination Plates and even breakfast items.
We visited the Taqueria on a recent Monday morning for breakfast. The breakfast items as well as other items were available to order at 10 a.m. that morning.
Our meal choice was Huevos Rancheros ($6.25). It was a fairly large serving and was accompanied by rice and beans. The eggs were ordered over-easy and were placed on top of two corn tortillas. The Taqueria's sauce was flavorful and not overly spicy.
Among other breakfast items on the menu are Huevos con Chorizo ($6.25); Huevos a la Mexicana ($6.25); Chilaquiles ($6.50); and more.
On the lunch and dinner menu, guests will find assorted tacos, including Carne Asada, Carnitas, Veggie and Lengua (tongue); as well as various sizes of Burritos, from mini to jumbo.
Various plate specials include Fajitas de Pollo (chicken); $12.25; Enchiladas ($9); Flautas ($9); Chiles Rellenos ($9.10); and more.
Listed under the Home Specials are items such as Gorditas ($2.50); Tamales ($1.25 each); Double Cheeseburger ($4.99); Chicken Wings ($5.50); and the dessert Flan ($3).
The Taqueria features a daily soup and on weekends sells Menudo. Specialty Mexican drinks at the eatery include Horchata, Jamaica and other offerings.
Appetizers include Guacamole ($5, with chips); Super Nachos ($6.10); and the popular Mexican Corn in a Cup ($2.50).
Taqueria La Soga also offers catering. Call the restaurant for more information.