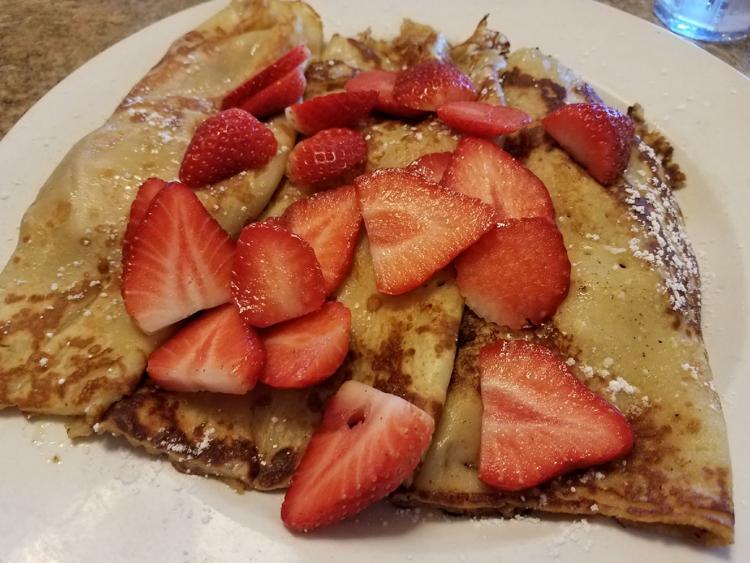 Diners looking for a place to have breakfast, won't go wrong choosing The Pancake Club in Schererville.
The eatery, located in a strip mall on busy U.S. 41, has a cozy small town atmosphere and friendly servers.
During a recent visit to the restaurant on a recent Sunday morning, the eatery was packed. The hostess asked if we wanted to be seated at a booth or table so we chose a booth near the eatery's counter and open kitchen.
The Pancake Club features a setting akin to an old-fashioned diner where families and groups of friends can easily gather to enjoy a meal and conversation. Many diners in the restaurant that day seemed to know one another as they shared conversation across the various tables.
The restaurant's menu is fairly extensive and includes everything from specialty pancakes and waffles to Gourmet Burgers, Gourmet Sandwiches and Greek specialties.
For our breakfast, we decided on Crepes, ($7.99) which is one of the restaurant's specialties, and the Golden Malt Waffle ($6.19).
The Strawberry Crepes are served either stuffed with fresh strawberries or have fresh strawberries sprinkled on top. For my crepes entree, I had the crepes stuffed with strawberries and a side of strawberries sprinkled atop. As a berry fan, it was a perfect combo.
The Pancake Club's menu also features French Crepes ($6.49), which are ultra-thin; Country Skillet ($8.59); the Gypsy Skillet ($8.99); Omelets such as The Works ($8.99); Tex-Mex ($8.29); Hawaiian Paradise ($8.29); Eggs Benedict ($7.99); Breakfast Sandwiches, Wraps and various Breakfast Combos.
There are also items for healthy eaters under the For The Healthy Enthusiasts category. Dishes include Bill's De-Lite ($7.99); Veggie Omelet ($7.99); and Wheat French Toast ($6.99).
On the A Little Touch of Greece side of the menu, guests will find dishes such as Spinach Pie ($9.99); and Chicken Kabobs ($9.99).
Among other menu items are Chicken Caesar Salad ($8.99); Ham & Cheese Club ($7.99); Tuna Avocado Wrap ($8.99); and more.
The restaurant also features a Kids' Menu.