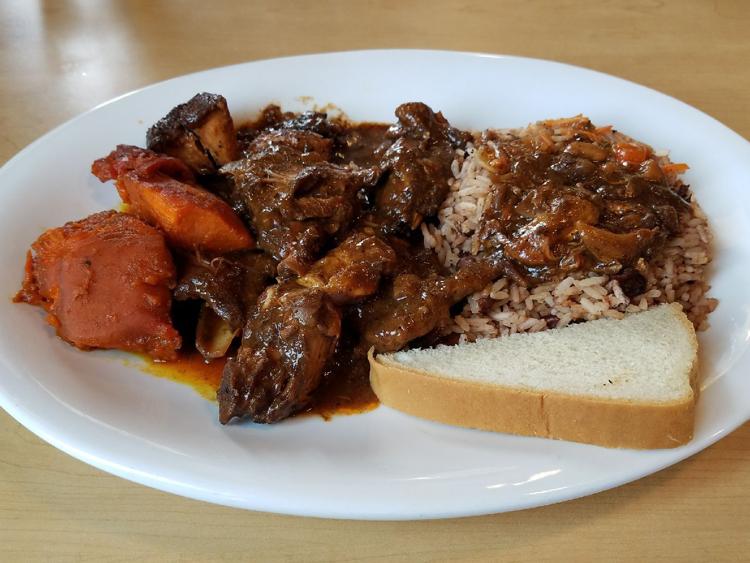 If you're looking for a taste of the islands, visit Cool Runnings in Michigan City.
The cafe, located on Center Street, features a cozy Caribbean-style setting, which easily makes one feel like you're on vacation.
Cool Runnings specializes in Jamaican cuisine with Jerk Dishes, Curry Dishes, Stewed and Fish Dishes among other offerings on its menu.
We visited the restaurant on a recent Sunday afternoon. The weather was pleasant with a slight cool breeze and we almost chose a seat on the back patio to enjoy our lunch. But we decided to sit at the "Montego Bay" booth near the open door. (All of the tables are named for places in Jamaica, which is a nice touch).
Hues of green, other bright colors and various plants decorate the eatery. The window view looks out toward the tower of the Blue Chip Casino Hotel and Spa while on the other side, diners can see a woodsy area across the street.
The day of our visit, the TV at the bar featured the Chicago Bears football game. Piped-in music played in the background as well.
After surveying the menu, we decided on a traditional Stewed Dish. Our choice of Stewed Chicken ($12) received praise at our table for its tender meat and slightly spicy flavor. The dish was served with red beans and rice and a choice of a side. Our side of Candied Yams was sweet and filling.
Among highlighted dishes on the menu at Cool Runnings are Reggae Wings ($8 for the appetizer); Salmon Salad ($14); Jerk Burger ($10); Jerk Taco ($9); Vegetable Stir Fry ($15); Rib Tips - Jerk Style ($16); Goat Curry Dish ($18) Oxtail Stewed Dish ($20); and more.
Fish dishes include Whole Red Snapper ($22); King Fish ($18); Shrimp Stir Fry ($18); and others.
On the Sides menu, guests will find everything from Steamed Cabbage ($4/$7) to Mac & Cheese ($4/$7); and Fried Plantains ($4/$7).
Cool Runnings offers a pleasant culinary getaway in the Region so don't hesitate to plan a visit to the eatery.