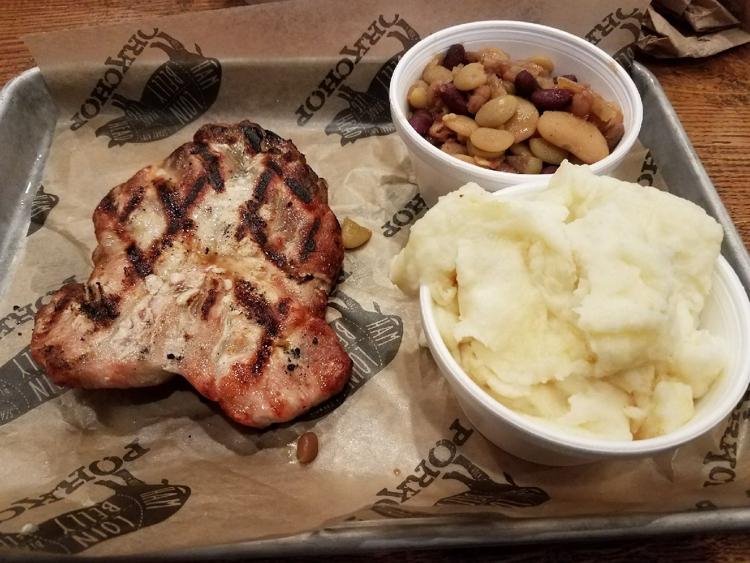 Visitors to Merrillville have been anticipating the opening of one of Chicago's popular eateries.
Porkchop has finally come to the Region. The restaurant, specializing in barbecue, opened a week and a half ago at Southlake Mall.
The eatery, which has locations throughout Chicagoland and its suburbs, features a casual setting and Southern comfort food.
"Porkchop is a restaurant and bar that dishes out an urban interpretation of a Southern backwoods experience," according to the eatery's website.
We decided to check out Porkchop last Sunday for a late lunch. Walking into the restaurant, one definitely gets the feeling of visiting a Southern dining haven.
Wood and barbecue-themed decor is featured throughout the restaurant. A drawing of the parts of a pig stars at the entrance to the eatery.
After reading the menu, we decided on a pork chop meal with two sides ($19). We chose mashed potatoes and baked beans to accompany the dish.
Our wait for the meal was longer than expected. Because the restaurant had only been open for a week at that point, everything was a bit slower than usual. Servers and the manager on duty that day cordially apologized for the delay, adding that in addition to having recently opened, there was a large rush of customers that Sunday afternoon.
All dishes are made to order at Porkchop so customers can expect to wait a bit for their meals. Although it took awhile to get our order, we weren't disappointed with the quality of food served at the restaurant.
Other dishes at nearby tables also looked appetizing.
The pork chop, which was served with the bone out, was flavorful and perfectly charred. The baked beans at Porkchop are also unique in that the serving features a mix of beans - not just one type.
The mashed potatoes received praise at our table as well. When meals are served at Porkchop, guests are also given four sauces. Starring in the sauce department at the eatery are Texas, Chicago-style, Chipotle Bourbon and Damn Good. Our favorite was the Texas rendition, which was on the sweet side.
Among menu items at Porkchop are Starters such as Smoked Wings ($11); Mac & Cheese ($10); and Bacon Wrapped Shrimp ($12); and Entrees such as Smoked Salmon ($16); Shrimp & Grits ($13); Brisket ($12 for half) Chicken & Waffles ($15); Slow Smoked Pork Ribs ($17 for half) and more. Sandwiches, Salads and Desserts are also featured.