Valentine's treats: Share tasty recipes for love's holiday
Valentine's treats: Share tasty recipes for love's holiday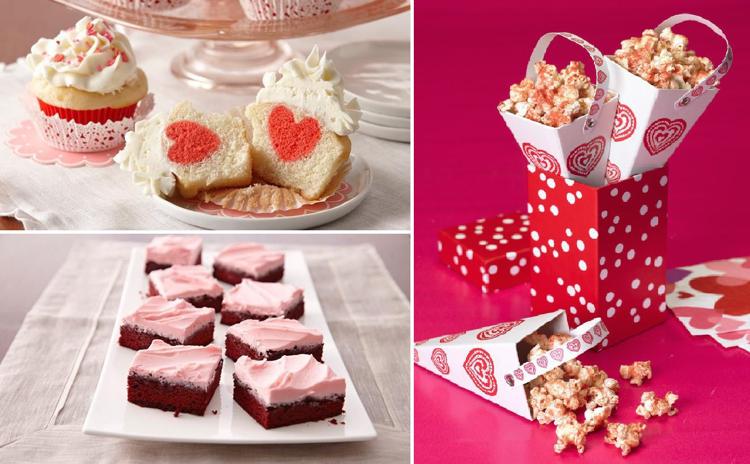 Surprise Raspberry Heart Cupcakes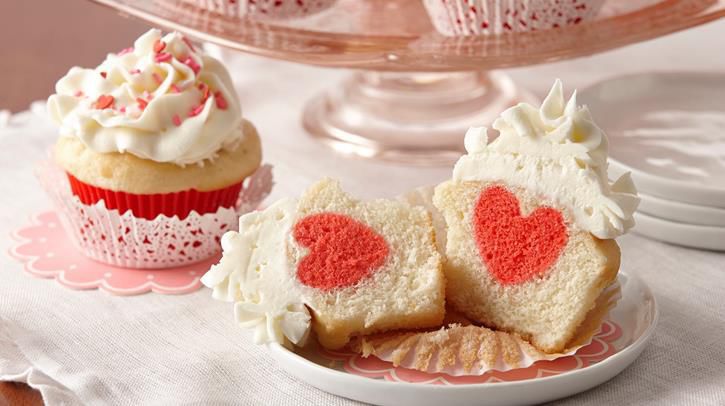 Mixed Berry Frozen Sangria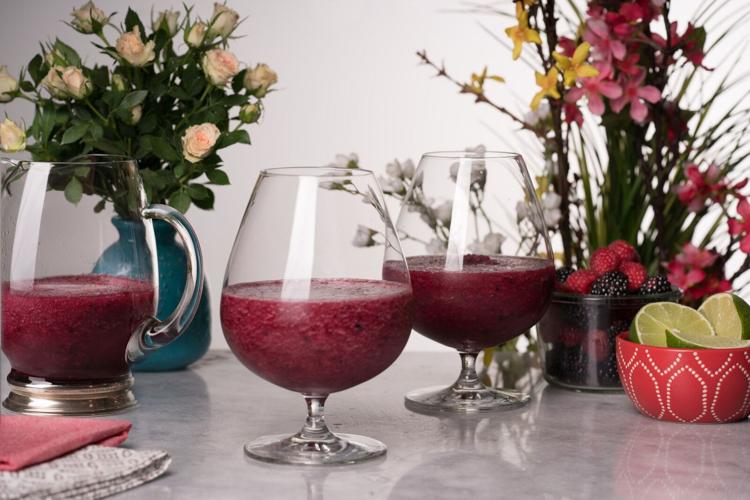 Easy Red Velvet Brownies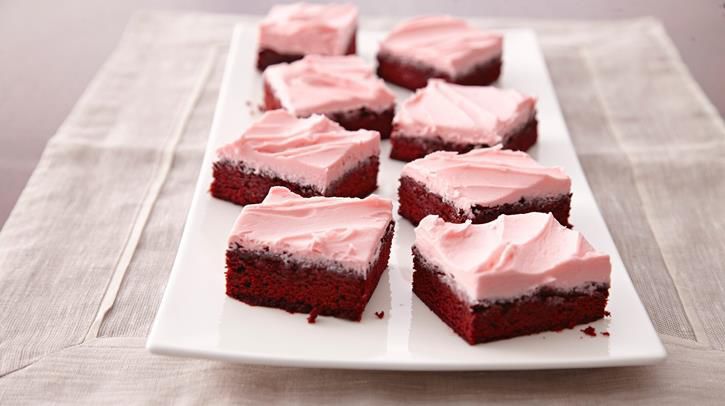 Cheery Cherry Popcorn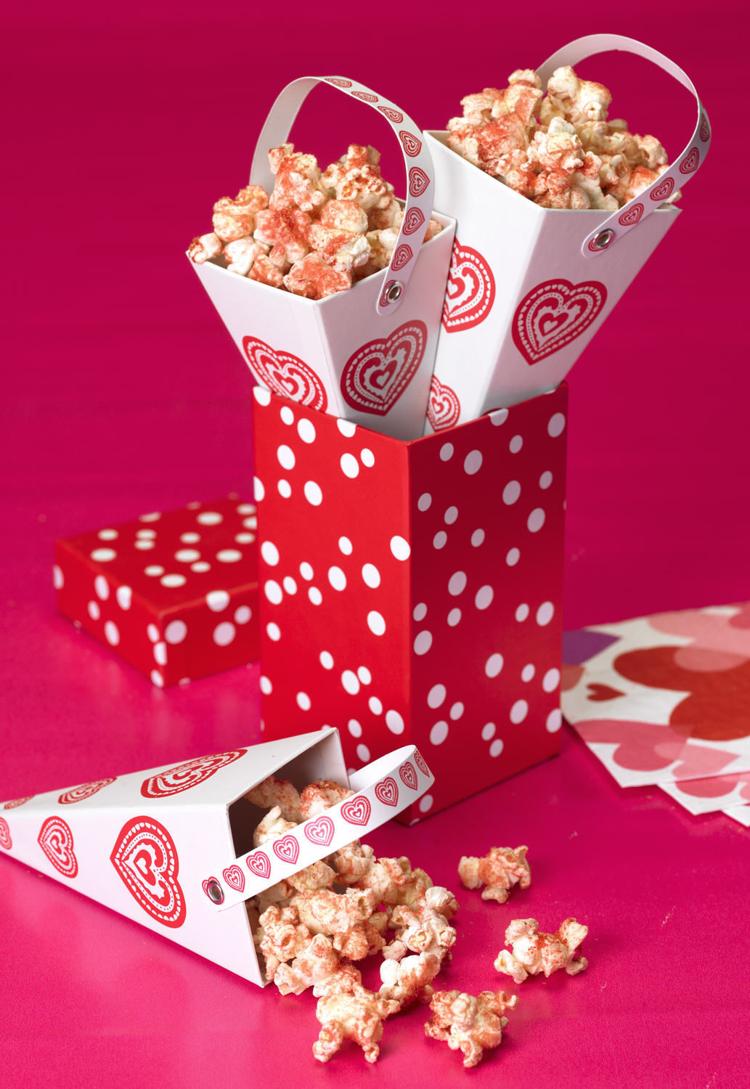 Chocolate-champagne trifle with passion fruit curd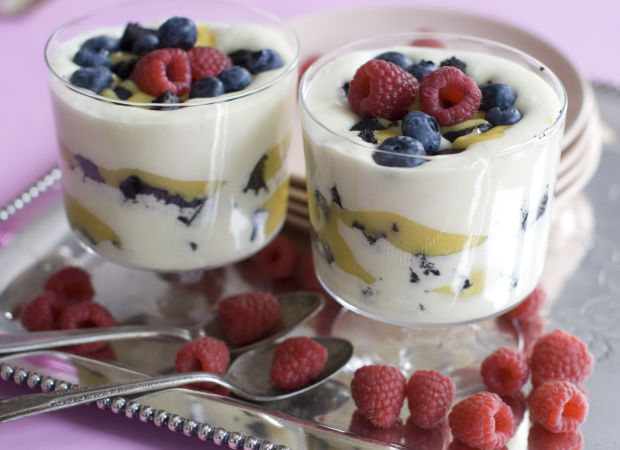 Brownie Sundae with Raspberry Caramel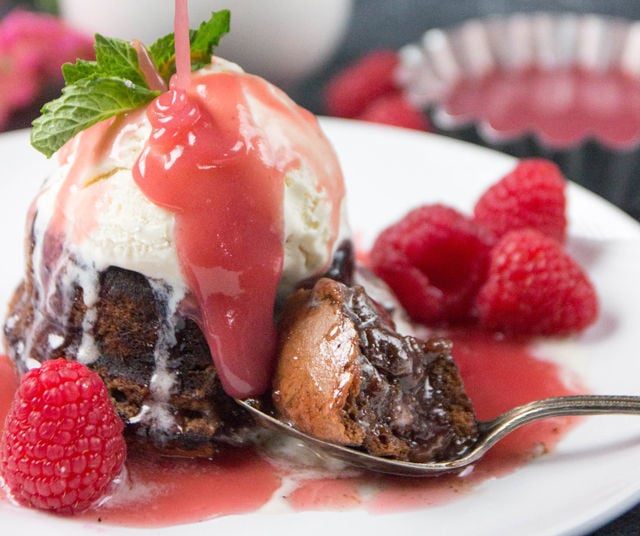 No Bake Strawberry Cheesecake Cup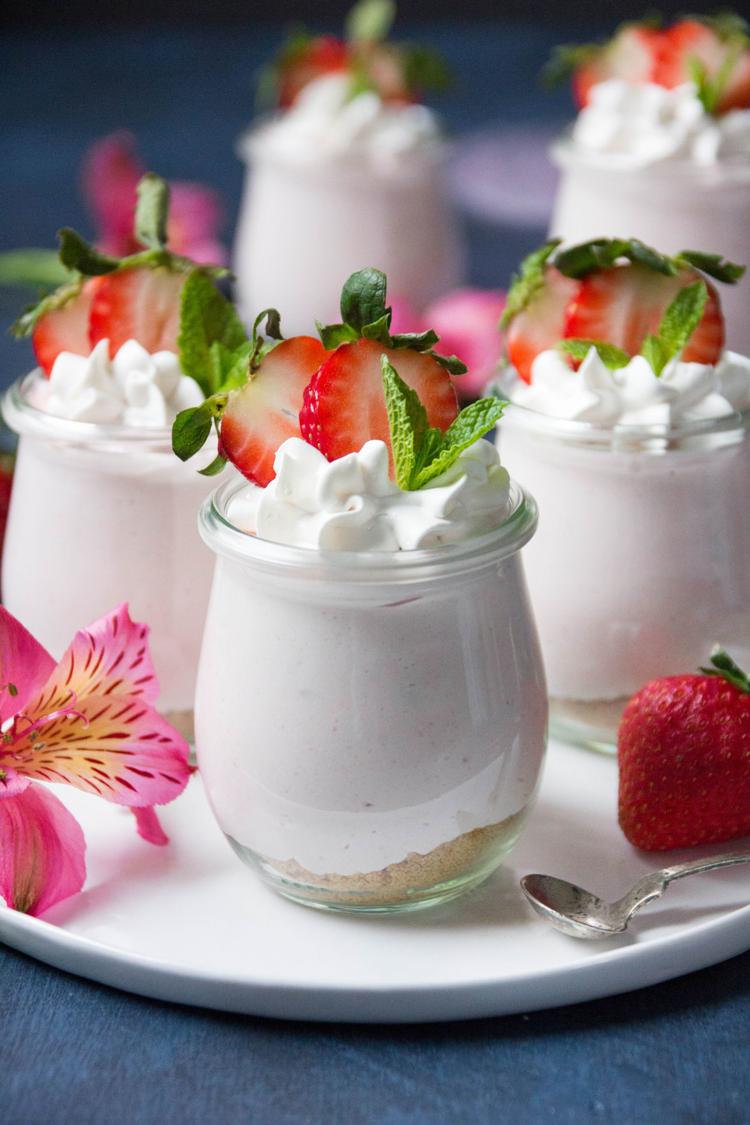 Strawberry Pots De Creme
NUTELLA PANCAKE KEBABS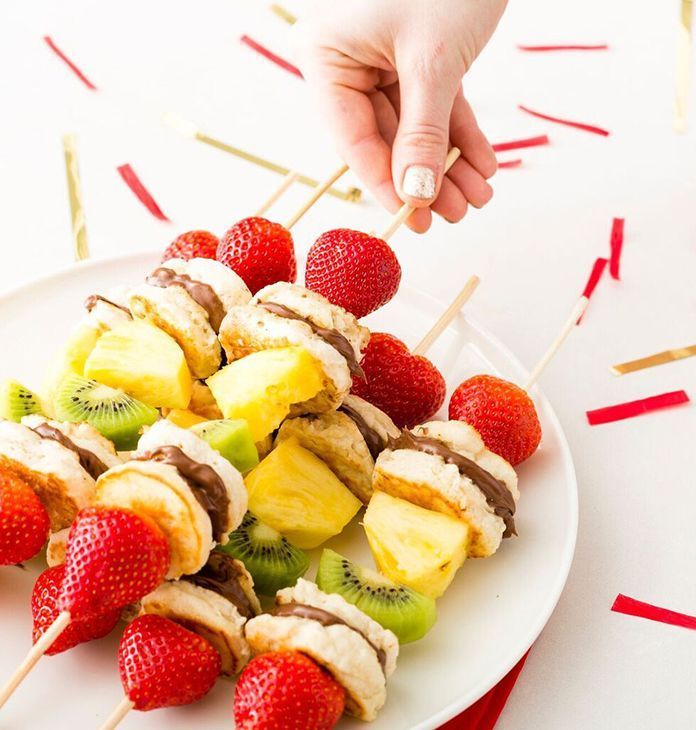 Ingredients
1 cup pancake mix
2/3 cup water
Nutella
Strawberries
Pineapple
Kiwi
Directions
In a large bowl, fold together pancake mix and water. Heat a nonstick pan over medium heat. Use a tablespoon to make mini pancakes. Flip the pancakes when the edges start to brown. Remove from heat. Let cool.
Top one mini pancake with Nutella and sandwich it between another pancake. Repeat until you've made all of your pancake sandwiches.
Put one strawberry on a skewer. Add a pancake sandwich. Top with a pineapple slice and a kiwi slice. Add another pancake sandwich. Finish your skewer off with another strawberry. Enjoy!
From Nutella
LEMON CURD CUPS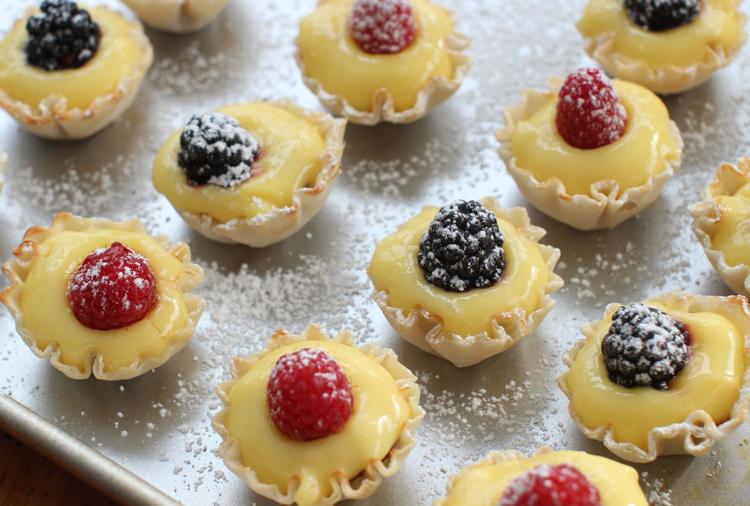 Start to finish: 30 minutes, plus cooling
Makes 30 cups
Ingredients
1/3 cup sugar
1 tablespoon cornstarch
2 eggs
1/3 cup lemon juice (freshly squeezed will have the best flavor)
3 tablespoons unsalted butter
30 prepared miniature phyllo cups (two 1.9-ounce packages)
5 tablespoons raspberry jam
1 1/2 cups fresh berries of your choice
Powdered sugar
Directions
In a small saucepan, whisk together the sugar and cornstarch. Add the eggs and whisk until completely smooth and no trace of egg whites or yolks remains. Whisk in the lemon juice, then set over medium heat and bring to a simmer, whisking constantly. Once the mixture comes to a thorough simmer, remove from the heat and stir in the butter. Transfer to a bowl, cover and refrigerate until completely cool.
Once the lemon curd is chilled, assemble the cups. Spoon 1/2 teaspoon raspberry jam into the bottom of each cup. Divide the lemon curd between the cups, then top each with fresh berries. Dust each with a bit of powdered sugar just before serving. Best if assembled within 1 to 2 hours of being served.
From The Associated Press
ROCKY ROAD POPCORN CLUSTERS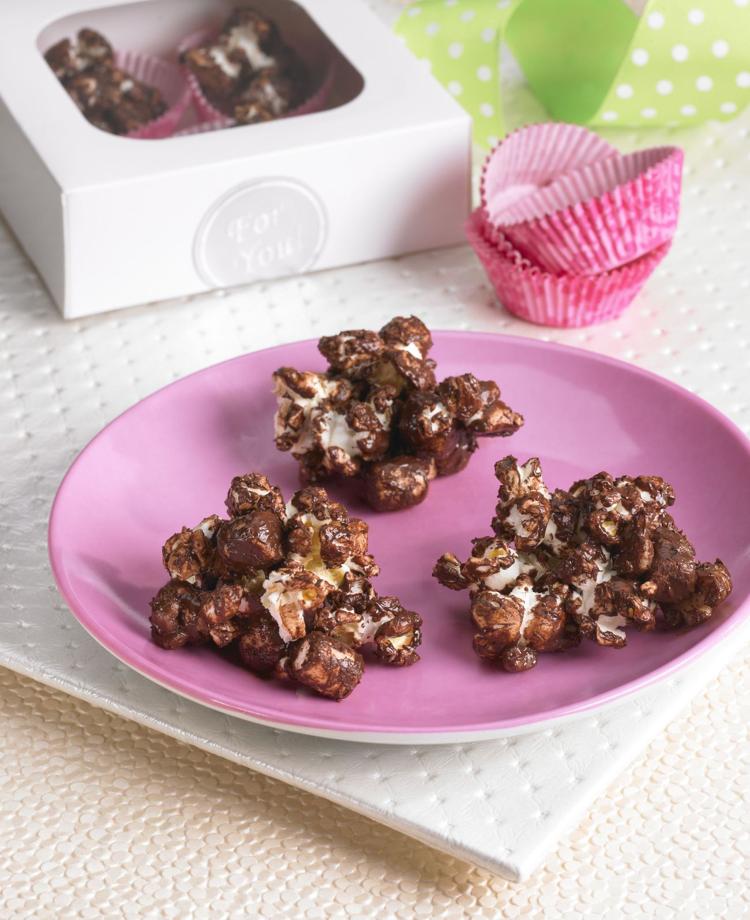 Ingredients
1 bag (6-ounce) semi-sweet chocolate chips
1 teaspoon vegetable oil
4 cups popped popcorn
1-1/2 cups miniature marshmallows
3/4 cup chopped walnuts
Directions
Place chocolate chips in a small microwave-safe bowl. Heat in microwave on HIGH 1 minute, until melted. Stir in oil.
Place popcorn, marshmallows and walnuts in large bowl. Pour chocolate over mixture, tossing to coat.
Drop mixture by tablespoonful onto wax paper-lined jellyroll pan.
Refrigerate until firm, about 2 hours or overnight.
From popcorn.org and The Popcorn Board
RED VELVET BROWNIE CONVERSATION HEARTS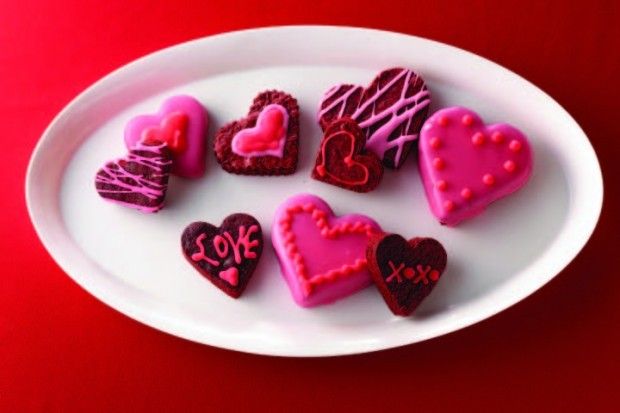 Makes about 24 servings
Ingredients
1 package (family-size) fudge brownie mix
1/2 cup sour cream
2 eggs
1 bottle (1 ounce) McCormick Red Food Color
8 cups confectioners' sugar (2 pounds)
1/2 cup water
2 tablespoons light corn syrup
2 teaspoons McCormick Pure Vanilla Extract
McCormick Assorted Food Colors & Egg Dye
Decorating gel or 1 ounce white baking chocolate
Directions
Prepare brownie mix as directed on package with sour cream, eggs and red food color. Spoon batter in greased 13 x 9-inch baking pan.
Bake and cool as directed on package. Cut out cooled brownie with heart-shaped cookie cutters. Place brownies on wire rack set over baking sheet.
For the icing, mix confectioners' sugar, water and corn syrup in medium saucepan. Cook on medium-low heat until sugar is melted, stirring occasionally. Stir in vanilla. Tint with desired food color. Spoon or pour icing over top and sides of brownies. (If icing becomes too stiff, gently reheat to pouring consistency.) Let stand until icing is set. Use decorating gel to write on brownies. Or melt white chocolate as directed on package. Pour into small resealable plastic bag. Snip off a tiny piece of the corner. Squeeze chocolate through hole in plastic bag to write on brownies.
From McCormick