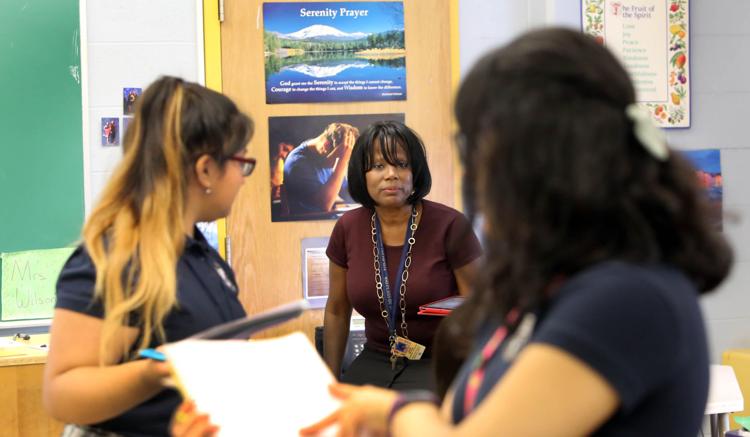 HAMMOND — "Bonjour classe."
"Vous allez répondre présent ou présente."
That's the exchange between Bishop Noll Institute French teacher Diane Wilson and her students as they enter the room and take their seats to get ready for nearly an hour of French, whether it's her French 1 or French 4 students.
Wilson speaks very little English in class so she can immediately immerse students in the language as she moves from identifying various objects in French to conjugating verbs.
Wilson, who has taught for 10 years, is in her seventh year at Bishop Noll. She has 72 students in French 1 through 4. She moved into teaching from the computer technology industry where she spent several years at Logitech as a project manager, though her college major was French.
Wilson calls the first 15 minutes of class a warmup. "They know how to talk to each other in French, and they'll be able to put together a little story about it in French," she said.
BNI freshman Abigail Kawalec said she chose French because she had Spanish in elementary school and French sounded interesting. "I like the class. We learn it because she says something and we repeat it. We do it every day and that helps us to understand the language and speak it better," she said.
BNI freshman Angel Trejo said he speaks two languages fluently already — English and Spanish. 
"There are some similarities and differences in the languages. Right now, (French) is among my favorite subjects," he said.
In May, Wilson was selected as Secondary Teacher of the Year by her fellow Indiana members of the American Association of Teachers of French. The award will be presented in November during the annual Indiana Foreign Language Teacher Association conference.
"The award was a big surprise," she said with a laugh.
"I'm honored and humbled to think that my colleagues chose me. I had no idea I was even being considered," she said. "It's probably for more what I do outside of the classroom, in the community, locally and internationally."
Wilson said she has an exchange program with two schools in France and every year she takes her students to France to immerse them in the language and culture. Bishop Noll families host French students who visit the Region and take classes at the school.
In February, Wilson will bring in five students from France for 30 days. In April, a second group of 20 students or so will be in the Region for a week. This year's France trip is scheduled for June 6-19.
Making BNI French program 'the best'
Bishop Noll Principal Lorenza Jara Pastrick said Wilson works hard to make Bishop Noll's French program is the best. "She works with our French partner schools in organizing cultural experiences. I'm thankful her extra energies were noticed by the association," Pastrick said.
Wilson said her students first connect with French students in October through a video conference.
"When the students go to France, they'll get a chance to see that the world is a smaller place than they think, and that people are much the same all over the world," she said.
"They go to the Eiffel Tower and other well-known tourist attractions. I have been there many times, but I get to see it through my students' eyes."
Wilson also has a relationship with several universities including Valparaiso University and DePaul University and her students visit the VU every year.
"This gives them an opportunity to see not only what college life is like but also what the college-level French classes contain," she said.
VU Professor Karen Berrier said Wilson began bringing her classes to the university when she was a new teacher.
"We allowed her students to participate and she prepared them well on things like how numbers were constructed in French," Berrier said. "We had a question-and-answer session with the students. We all thought it was wonderful.
"Diane has visited France often and gotten to know several French teachers, and she brings them to our events. She's wonderful and very inspiring to her students and well-respected by her fellow teachers."