Most Northwest Indiana teachers and school leaders, and some students, The Times spoke with this week believe President Donald Trump's suggestion to arm teachers at school is a bad idea.
But some Region parents sided with Trump, believing the measure could make students safer, especially in cases of mass shootings.
Trump proposed arming and training teachers in firearms use after 17 people, including 14 students, were killed Feb. 14 at  Marjory Stoneman Douglas High School in Parkland, Florida.
Trump, who said he supports the National Rifle Association, spoke in favor of its position to train and arm some teachers.
In response, echoing the comments of teachers across the Region, Hanover Central High School Spanish teacher Steve Gustas said, "I could not do that."
Gustas said he and other teachers discussed the president's suggestion over breakfast.
"The majority of us are not in favor of it," he said. "During a time of crisis, I'm concerned with the safety of my students, but does this mean that if I have a gun, I'm supposed to leave them and go in search of the gunman?
"Secondly, if officers show up, who is to say that someone doesn't think I'm the one causing the problem and shoots me?"
Munster schools Superintendent Jeffrey Hendrix agreed, saying he, too, is not in favor of teachers being armed in schools.
"With the protocols that are in place with police responding to an active shooter, the police may not know whether a teacher is protecting students — or is the active shooter. This could create a situation where the police may fire on a teacher, not knowing who they are," he said.
Former Gary school teacher Brenda Thomas, who taught industrial arts for more than 40 years and retired in 2015, said sometimes teachers are physically challenged by their own students to the point where if they had a weapon, they might use it, fearing for their safety.
"Every now and then, a teacher is afraid or backed into a corner, and if they thought someone was going to harm them, they might use it," she said. "I've had students come to school straight out of jail. I've had students confess to me they thought they might have killed someone.
"I've had students challenge me. It wasn't every day, but it's certainly happened more frequently than you would want to admit. If I had a gun, and I felt threatened, I might have put that gun in my pocket.
"Guns give people false courage. Why open that door?"
Protection or potential problem?
Hammond Gavit High School senior Marcela Mejia, 18, who is a member of the National Honor Society, art club president and co-captain of the school's Senior Academic Super Bowl, said she thinks teachers with guns is a "horrible idea."
"I say that because teachers have anxiety, depression and high stress levels from their job just like anyone else," she said. "With a dangerous firearm, they could potentially hurt themselves and their students...
"One of my friends does not agree with that. He is an avid, gun-toting U.S. citizen. He believes teachers should carry guns. If someone wants to commit mass murder, they're going to do it whether teachers are armed or not."
Two residents in the Lake Central school district, one a guardian of a relative in school, said last week at a Lake Central School Board meeting that teachers should be armed.
Kelly Arndt and Andrijana Corak also called for metal detectors and more police in school buildings, with officers on every floor.
Hammond grandparent Ann Farmer, however, called the idea ludicrous.
"That's a disaster waiting to happen," Farmer said. "What kind of effect does it have on a student mentally to know that their teacher is armed? How are they going to be able to function? What if there is an intruder in the building, and the teacher starts shooting indiscriminately? It's a bad idea. Teachers didn't sign up for that."
Insurance, safety, other factors 
Hammond teachers union president Patrick O'Rourke also called the idea "ludicrous." He said the union has a meeting Monday and is expected to adopt a resolution against the suggestion teachers be armed to protect students.
"It's really an NRA strategy that would put more guns, more bullets, in the hands of more people. It's a ploy by the NRA that the president is now endorsing," he said.
"It is the most ludicrous, absurd thing I've ever heard coming from any policymaker on any issue. This is fraught with peril and demeans the teaching profession. It will make it more difficult to protect our kids. What is really needed is some very tough, tough legislation to take these assault weapons away from people who are not in the armed forces," O'Rourke said.
Hebron business teacher Laura King said, "I would quit teaching if it came to this. And I would be very sad for this country."
She said some factors she has not seen discussed include the following negatives:
• Guns in a classroom could be seen as a dare to some students to find them.
• If guns are locked away, how would you get it in time if there was suddenly a shooter?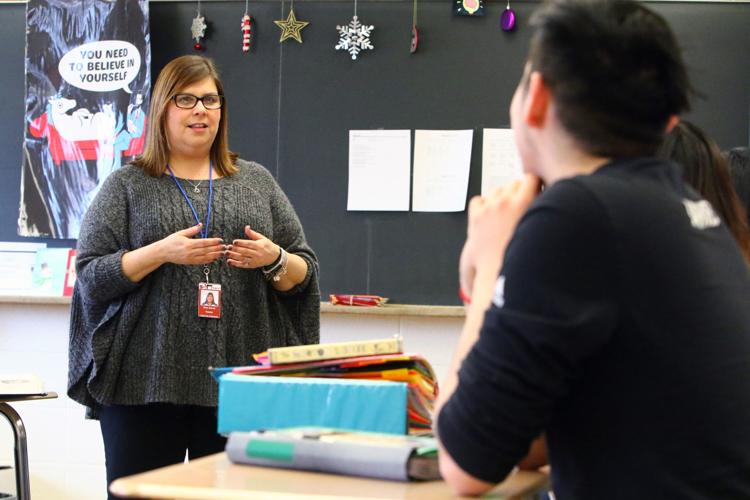 Hammond Gavit High School teacher Dana Graves said she would prefer to be "armed with smaller class sizes and resources" for her students. She said that would make a bigger difference with students than arming teachers with weapons.
"The majority of teachers I've talked to don't agree with this (arming teachers), but there are a few who do. I know one teacher who I've connected with on Facebook from Crown Point. She said, what if no one responds to protect you and your students, then you need to be armed," Graves said.
Highland schools Superintendent Brian Smith also noted issues he has not heard raised in this debate. First, he said, it is against the law for anyone to bring a weapon, gun, knife or anything else, into a school building in Indiana.
"The Legislature would have to change the law to allow for that," he said.
Second, he said, insurance companies may be opposed to guns in the buildings.
"I don't know if insurance companies would be so quick to insure a building if there were people in the building who were armed," he said.
A few years ago, the Indiana Legislature made it legal to bring guns on school property, he said. However, those guns must be locked in vehicles.
"If that gun is brought into the school building, it becomes a crime," Smith said.
Valparaiso schools Assistant Superintendent Julie Lauck said the topic is so much more complicated than just a simple "I support or I don't support" answer.
"Without a doubt, beyond our SROs and safety and security director, I know we have staff members who are very well trained to carry firearms," she said. "The question becomes, are they trained in hyper-stressful situations to use those firearms? Police officers go through hours of firearm training, including shoot, don't shoot training.
"There is a reason for law enforcement to train in stressful situations. Fortunately, teachers do not find themselves facing armed intruders often — police officers do. In most situations, police officers are not dealing with 30-plus kids when they have their weapons drawn. Teachers, in an active incident of school rampage violence, would be trying to manage 30-plus students ranging in age from 5 to 18, trying to engage an active shooter."
So, it is not a matter of supporting or not supporting arming teachers; it is a much deeper conversation about training and desired outcome, Lauck said.
Slideshow: Celebrating Region teachers like Christine McCollum, Ladreida Camarillo, Jeff Swisher and Monica Hardy