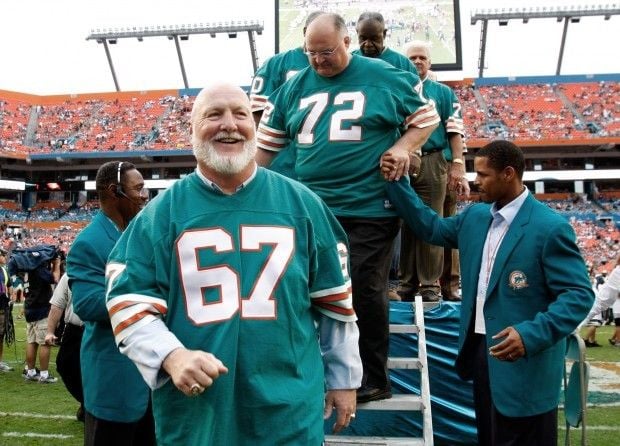 Bob Kuechenberg played in the Brickie Bowl and the Super Bowl. He was a Hobart High School legend playing for the Brickies in the early years of the Don Howell era, and a member of the Miami Dolphins for two championships, including one capping the team's 1972 undefeated season.
In between, Kuechenberg played on a national champion University of Notre Dame team.
Born in Gary on Oct. 14, 1947, Kuechenberg grew up in Hobart. His brother, Rudy, was also a star on the gridiron and played for the Chicago Bears as a linebacker.
Bob Kuechenberg played offensive and defensive line at the University of Notre Dame, and was a member of the 1966 championship team.
He was drafted by the Philadelphia Eagles in 1969 but is best known as a member of the Miami Dolphins, for whom he played from 1970 through 1983, ending his career on the injured reserve list in 1984. During those years, he played in six Pro Bowls.
Kuechenberg's stellar career was acknowledged by his being a finalist for the Pro Football Hall of Fame eight times, though he was never elected to the Hall.
After retiring from football, he became a businessman in Florida, where he resides.