It was a different era in Saylor Elementary's early years
SOUTH HAVEN — Saylor Elementary School's 50th anniversary celebration includes time to share stories about the school's early days — and there are a lot of stories to tell.
Principal John Zack makes a point of greeting students as they start the school day, shaking hands and high-fiving the students as they arrive in the morning.
Jim Cavan, a fifth-grade teacher, remembers when there wasn't even a school building for the students.
His first year, the students were scattered while Portage Township Schools raced to complete new buildings for the influx of students. South Haven alone meant adding 1,500 families to the township.
He and three other teachers met at Hope Lutheran Church, just a half block from the old Crisman School on Portage Avenue.
"I had to light the oil burner every morning," Cavan said.
Cavan was a senior at Indiana University in Bloomington when he came home for Christmas break and decided he'd better start looking for a teaching job. He wore his blue jeans and sweatshirt to the school district's administration office, hoping to set an appointment. He ended up meeting with Superintendent Wally Aylesworth, who handed him a contract and said, "We need more men in elementary education."
Aylesworth gave him several applications to give to his friends at IU, telling him they could easily get jobs in Portage. The district was on a hiring spree.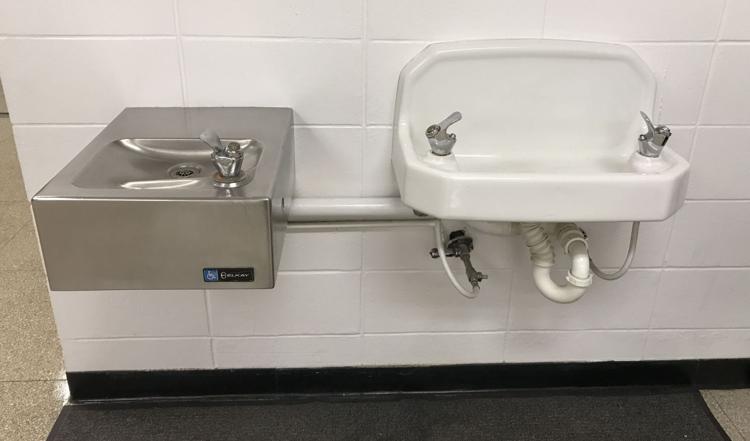 Community support
David Baker, Saylor's first principal, retired in 1996 after 30 years at Saylor. He said school was the center of the community's social life during its early years. Concerts, games and parent-teacher conferences were well attended. Movie night raised money but also brought families together.
"Once cable came out, they ruined our films," Cavan said.
The school was within walking distance of all of South Haven and served as the large subdivision's hub, said retiree Pat Greer, the school's computer coordinator.
"Grandparents Day, we flooded that place out," Baker said. "Anything that went on was total community organized."
He remembers seeing a child eating an apple for lunch. The child didn't have anything else to eat. So Baker called home and asked the parents, who were out of work, to come to the school each day and insert straws in milk cartons to "pay" for their child's free lunch. That gave the parents dignity while helping the student, too.
Other parents cleaned out papers from shrubs, painted the playground and did other odd jobs to pay for their children's free lunches, Baker said.
The school was collaborative, but it was also competitive.
Baker remembers Mark Landgrebe, who took seriously the district's tug-of-war competition each spring.
"He started working on the tug-of-war team the first day of school," Baker said, pitting students against each other until he could determine the best students in the school for the team. Winning the tug-of-war competition with other schools each year became a Saylor tradition.
Classroom fun
Sharon Sherman, a kindergarten teacher for 40 years, still serves as a substitute teacher at the school.
She brought out buckets of paint each year so children could paint with their toes. Parents were warned to not put their children in good clothes that day. It was messy.
"They sat in it, they put their heads in it, they threw it," Sherman said.
"That was one thing they probably remembered the rest of their lives."
It wasn't the only hands-on experience in her classroom.
"I did a lot of cooking," she said.
Baker had a stove installed in Sherman's classroom. The children used to make applesauce, pumpkin pies, potato soup and other dishes.
Carolyn McDonald — her last name was Burton then — taught first grade. Her students dressed as Pilgrims and Indians and ate a Thanksgiving dinner in the classroom every year.
Overnight field trip
Each year also saw a large fifth-grade overnight trip, originally to Dearborn, Michigan.
"Many of our kids had never stayed in a motel," Baker said. "Many of the mothers hadn't spent a night in a motel, either."
The Saturday movies helped parents raise money for themselves and their children to go. It was a lot of money for the working-class families who lived in South Haven.
"Every kid got to go whether they had money or not," Cavan said. It was a big adventure for the children, a way to learn more about the outside world and how to behave in settings outside the school and home.
It wasn't all fun at the school, though.
Working with parents
Baker, who served as principal there for three decades before he retired, remembers having three different women come to him for help.
"They had no other people or community to go through, so they came to me," he said.
Baker had to tell the husbands their wives were giving them until 5 p.m. that day to get their personal belongings out of the house because the women wanted to divorce them.
Another time he helped a woman was a story for the ages.
The distraught mom couldn't get her third-grader to go to school, so she called Baker to ask for advice.
The next time the boy refuses to go, he said, leave the door unlocked and I'll come over.
The next day, he went to the child's home, and the mother pointed upstairs to the boy's bedroom. Baker got him dressed in clothes that didn't match, marched the child to the bathroom and made him brush his teeth, poured cereal in the boy's hands and marched him off to school.
"I said, 'Young man, I have never had such a fun morning in my life. Any morning that you are not wanting to get out of bed, and that you are tardy to school, your mother will call me and I will be back to pick you up,'" Baker said.
The child was never late again.
"It was a different era," Sherman said. "We were all family then."