Warbirds visit Valparaiso for Wings of Freedom Tour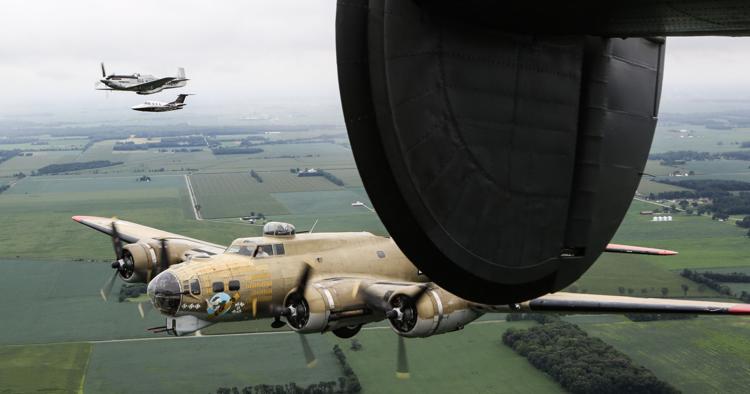 VALPARAISO — If you thought you saw bombers flying in formation over Northwest Indiana on Friday, you weren't wrong.
The Collings Foundation brought a group of World War II vintage aircraft to the Porter County Regional Airport on Friday so the public can see what they look like. Ticket sales for the "Wings of Freedom" tour ensure the old warbirds keep flying.
Pilot Jim Goolsby, of Crescent City, Florida, flew the B-24 Liberator, named Witchcraft, to Valparaiso from Kankakee, Illinois.
"That is the only B-24 left flying in this world," he said.
The B-24 at the airport this weekend was used by the Royal Air Force in the South Pacific in World War II, primarily for reconnaisance missions, Goolsby said.
After the war, it was used by India's Air Force, which is what saved this plane's life. The ones sent back to the United States were cut up for scrap, he said.
When the Collings Foundation bought that plane, it needed $3 million worth of restoration.
"When we got this airplane, it didn't have a nut or a bolt on it," he said.
Now it's as good as when it was used in the war, more than 70 years ago.
The Collings Foundation planes fly 300 days a year. Like people, airplanes deteriorate when they aren't moving.
Flying the old warplanes is a thrill for the passengers, and it's not so bad for the crew, either.
"It doesn't fly like any airplane I've ever flown," Goolsby said.
Pilot Paul Reidy, of Medina, Ohio, flew planes for Continental before he retired. Now he's a volunteer with the Collings Foundation.
"You're flying history. You're flying an actual gas-burnin', smokin' piece of history," Reidy said. "There aren't many left, so it's a privilege to fly them, to be caretakers of them. It's pretty special stuff."
"They're loud, they shake, they're the real deal," he said.
Chief pilot Robert Pinksten, of Nashua, New Hampshire, flew all sorts of different airplanes before his first bomber.
"A bomber is way different," he said. "They're just heavy on the controls, they're squirrely, they weren't built for comfort. They were built for dropping bombs, and that's just about it."
Linda Sargentparks, of Dyer, volunteers for the Collings Foundation when the planes come to Valparaiso, working in the PX, selling souvenirs. She was watching "Twelve O'Clock High" on ME-TV when her husband saw an ad for the Collings Foundation display of old World War II-era military aircraft and the opportunity to fly in one.
"I went the day I was to ride, I walked around the corner and saw the B-17, and that was it," she said. "I was in love."
She volunteered the very next year.
Sargentparks said she loves being inside the old warplanes.
"You just feel the presence of all the people that were before you," she said.
But the biggest thrill is running into World War II veterans who talk about their experiences during the war.
"They stare, some of them get very emotional, some of them perk right up. They'll tell stories they haven't even told their family," Reidy said. "They're dying fast, so it's a privilege when we get to take some out. People come out, and you think they won't be able to get on one of these airplanes, but they manage."
Tage Borg*, of Portage, was a U.S. Navy mechanic on the B-24s during World War II. His squadron was at Guam, the Philippines, Luzon, Leyte and other islands in the South Pacific.
Tazeborg flew occasionally with the flight crews and didn't have many problems with the planes. They were used for recon work, not bombing runs, he said.
Stories like Tazeborg's are common for the pilots. But for Goolsby, it's even more personal.
"The war just encompassed everybody, even the kids," he said.
One day, Goolsby said, he was replacing a prop governor, which controls the propellers, and remembered the photo of his father working on one during the war.
"I felt like Dad was watching," he said.
Still, Goolsby enjoys listening to World War II veterans as they open up about their days in the service.
"You learn a lot of history," he said.
"You starting talking to vets, and every one of them has a story that could make a movie."
*This has been changed from the original, to correct the veteran's name.