5 important stories you need to know from Wednesday: Police: Griffith High School student faces felony charge after accidentally bringing loaded gun into school
Here are the top five stories you need to know about today.
Police: Griffith High School student faces felony charge after accidentally bringing loaded gun into school
GRIFFITH — A student who says he accidentally brought a loaded gun in his pocket to school Wednesday was arrested but is cooperating with police after immediately turning the weapon over to a school resource officer, authorities said.
The 18-year-old Griffith High School student gave up the weapon as soon as he realized he had it on him Wednesday morning, and had no ill-intentions, said George Jerome, director of finance and operations at Griffith Public Schools.
But actions have consequences, he said.
"I think it will (send a strong message). One of our follow-ups is going to be making sure we communicate with the students that these things can't be taken lightly. Given the climate, with last week in Florida, there are just things you cannot do and have to be aware of," Jerome said.
Griffith Police Cmdr. Keith Martin said the student was taken to the Lake County Jail on pending charges of possession of a handgun on school property, a level 6 Felony. The adult student's name is being withheld pending formal charges. 
Indiana law allows licensed handgun carriers to possess guns in school parking lots, provided they are kept out of sight and in a locked vehicle. However, state law excludes students except for those on shooting sports teams who have their principal's approval.
Guns are not allowed to be brought into school buildings. 
Parents receive robocall
An automated mass robocall was sent to parents Wednesday afternoon, explaining the situation, Jerome said.  
The robocall explains the student has a license-to-carry permit and that he "actively sought out" the school resource officer in the hallway to report his mistake. No students or staff members were in immediate danger at the time of this incident, the school said in the robocall. 
According to police, after the student discovered the loaded gun in his pocket, he asked the resource officer if he could "cut him a break," by allowing him to secure the gun in his car, which was parked in the school lot.
Instead, the resource officer took possession of the .380 caliber Glock Model 42 and took the student into custody without incident.
Jerome said the school did not have to be placed on lockdown at any time.
Prior to Wednesday's incident, acting superintendent Michele A. Riise sent a letter to parents Tuesday addressing the Florida tragedy and assuring families that the district has a safety plan in place.
"The members of our staff have been trained on the specifics of this plan, and we conduct periodic lock down drills to ensure that everyone knows their role during crisis. Our schools also have specific protocols for entry to our schools, and we appreciate the understanding of our parents and community members as we enforce these protocols for the safety of our children," Riise wrote in the letter. 
Jerome said prior to the shooting in Florida, the school requested an outside safety audit to review protocols in place. 
"They'll take a look at it with new eyes, make some recommendations and then the school and Griffith police will go over results and tighten (where needed,) Jerome said. 
Florida shooting led to copycat threats in Region 
Last week's fatal mass shooting at a Parkland, Florida, high school quickly led to copycat threats across Northwest Indiana and the country, but police said in Griffith's case, the firearm was not brandished or used in any illegal way other than its mere possession by the student on school property.
Since the Florida shooting, there have been reported threats to Crown Point High School, Lowell High School and Lake Central High School in St. John.
Schools and local law enforcement have been on heightened alert since the Parkland shooting, and Jerome said Griffith Public Schools have received other threats of violence in recent years, including a bomb threat and graffiti written in the bathroom threatening a shooting last year. 
Past incidents in the Region
School officials and local law enforcement have taken a hard stance against students bringing guns onto school grounds. 
In December, police were called out to New Vistas High School in Portage after another student saw a 16-year-old boy from Gary trying to give a loaded gun away.
The teen, who was not licensed to carry, was arrested and charged with possession of a firearm on school property, theft of a firearm and possession of a handgun without a permit.
The boy claimed he bought the gun for $100 in Chicago, but police learned the gun was reported stolen from Merrillville. 
In November, an East Chicago Central High School student was arrested after police found two loaded semi-automatic pistols locked in the glove compartment of the teen's car while parked at the high school. 
Jerome said the Griffith student has been suspended. Police are handling the criminal investigation. 
'We're just praying right now.' Lake Station urges residents to evacuate as Deep River continues to rise and rest of Region slowly dries out.
LAKE STATION — Residents in at least 35 Lake Station homes threatened by floodwaters were asked to evacuate Wednesday as Deep River continued to rise.
The evacuation was not mandatory, but officials strongly recommended residents leave and continued to watch the river closely, Lake Station Mayor Christopher Anderson said.
Firefighters in special water suits had boats on hand in case residents needed to evacuate pets or take items with them. 
About 2 to 3 feet of water surrounded some of the homes and water pooled in many yards in an area bounded by 27th and 29th avenues and Wyoming and Oklahoma streets just east of Deep River and south of Interstate 80. 
Anderson said residents were being asked to leave as a safety precaution. Some refused to leave, possibly because they've experienced flooding in the past and feel they know best when it's time to go, he said.
"We're just praying right now that it does not get substantially worse," he said.
Several waterways converge in Lake Station, so much depends on the flow of water, Anderson said. Some of the water comes from areas to the south, while some comes from areas to the west.
The following schools, businesses and services will be closed or will open late. Check back frequently with nwi.com for updates.
Lake Station firefighters assisted the U.S. Geological Survey with a boat to repair a gauge on Deep River near 29th Avenue and Wyoming Street. 
The gauge at Deep River indicated the river was at 19.3 feet, Fire Chief Chuck Fazekas said. That was higher than an earlier reading of 17.8 feet. The river crested at 22.1 feet during the 2008 floods, officials said.
If the water rises any more, some roads could become completely impassable, he said. Residents who refuse to leave were asked to give addresses, so they can quickly be located later if they call 911 for help, he said.
The fire chief said he was closely monitoring another area — near Clay Street and 23rd Court and west of Clay Street near Benton and Cass streets — because of rising waters. He may begin evacuations there if conditions worsen, he said.
City officials and NIPSCO were in communication about possibly shutting off services to Lake Station customers as a precaution because of flooding.
Fazekas said Wednesday night firefighters continued to evacuate families with use of boats and were considering evacuations in other sections of Lake Station.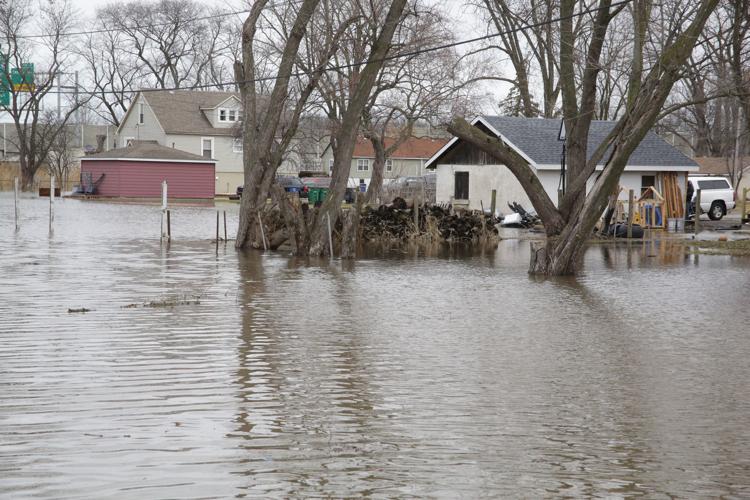 Hobart officials closely monitoring Lake George Dam
City officials in Hobart on Wednesday continued to closely monitor the Third Street and Wisconsin Street bridges and the Lake George Dam, where the water is now at the same level on both sides, Nikki Lopez, a spokeswoman for the mayor's office, said.
Hobart Public Works Director John Dubach said the water at the dam has risen 17 feet since the start of the intense snow melt and rainfall, he added.
"We're going to watch the lake, and watch the river, and make sure nothing happens," he said.
In Hobart, water rushed under the Third Street bridge over Lake George, and part of Wisconsin Street remained closed because of flooding. Water flooded sitting areas and parking lots along the lake in the downtown area.
Lopez said several roads in Hobart remain closed to the public, including Cleveland Avenue at Linda Street, Arizona Street, 33rd Avenue, Fifth and Sixth streets, and portions of Wisconsin Street near the bridge. All areas of Front Street and County Line Road are covered with water, but passable at this time, but Lopez urged drivers to use caution. 
The Indiana Department of Transportation opted to shut down Ind. 51 north of Ind. 6 earlier Wednesday, Lopez said. 
PORTER TOWNSHIP — Two women were rescued Tuesday after their cars became partially submerged in floodwaters.
Dubach said more than 1,000 sandbags were filled with help from residents Tuesday night and are available at Festival Park overflow parking, next to the rugby field, he said.
Lopez said sandbags were placed at the Lake George Dam to help direct the flow of water.
She said there has been no need for evacuations of homes in Hobart, but city hall has received several calls from residents regarding basement flooding and localized flooding in and around residences. Crews have been working around the clock, she said. 
NIPSCO shut off service to five customers in the 2900 block of East Cleveland Street in Hobart, spokeswoman Kathleen Szot said. There was standing water in the area, but NIPSCO crews had not yet determined what caused a line to leak, she said.
The National Weather Service said drivers should never attempt to cross flooded roads or go around barricades. "Turn around, don't drown," a statement said. At least two people were rescued from vehicles Tuesday in Porter County.
Salt Creek overflowed its banks near the Salt Creek Commons subdivision in Union Township, flooding nearby low-lying areas. The creek rushed through a culvert under Ind. 130 early Wednesday.
Some schools around the Region issued closures and delays Wednesday.
Little Calumet begins to crest
The Little Calumet River crested in Hammond, Munster and Highland and was expected to crest in Gary late Wednesday, said Dan Repay, executive director of the Little Calumet River Basin Commission.
Repay said the water was flowing upstream toward East Gary, Hobart and Lake Station. Conditions upstream could worsen before they improve, he said.
"I'll be checking to make sure they're OK and they don't need anything," Repay said. "Gary has done a great job of implementing the plan."
The Little Calumet and Deep River converge in the Lake Station area and both flow to Lake Michigan in Portage.
Hart Ditch in Dyer, which is downstream from the Little Calumet in Munster, crested about 9 p.m. Tuesday, he said. The ditch rose to 14.47 feet late Tuesday and had fallen  to 10.08 feet as of 7 p.m. Wednesday, the weather service said.
"It's a domino effect," Repay said. "We watch Dyer, because we know that's the feeder."
Several roads in Munster, Hammond and Gary remained closed along the Little Calumet River. Exit ramps from Interstate 80/94 to southbound Kennedy Avenue and Kennedy Avenue south of the highway were closed because the river is dangerously close to flooding the area.
 Hohman Avenue and Calumet Avenue were closed temporarily for standing water, but had been reopened, he said.
At its highest, the Little Calumet at Munster stood at 16.35 feet feet at 6 p.m., rising more than 10 feet between Monday morning and Wednesday morning, according to NWS. The levels had fallen to 15.86 feet as of 7 p.m. The record level is 17.23 inches.
Repay said he was aware of a couple of homes in Highland in the area of the Cady Marsh Ditch where crews sandbagged in the back yard as a precautionary measure. He had not been informed of any significant flooding damage, he said.
Repay planned to meet with the U.S. Army Corps of Engineers later Wednesday to review the flooding response. He hoped to have a complete report on what was done well and what could be improved by next week, he said.
The Little Calumet River Basin Commission wants to hear from residents who experienced flooding or have other concerns, he said. 
Residents should call the commission office at 219-595-0599.
Residents on Kankakee evacuated
Jasper County officials evacuated some residents along part of the Kankakee River early Wednesday and closed a number of roads, said Jody Melton, executive director of the Kankakee River Basin Commission.
The Kankakee River at Shelby was at 12.86 feet as of 8:45 a.m. Wednesday and could crest at 13.4 feet — above its record high of 13 feet — by late Wednesday or early Thursday, according to the weather service.
Melton said Jasper County crews sandbagged near homes along the Kankakee from the former Marty's Place restaurant and east until about 1 a.m. Wednesday, but then decided to evacuate residents.
A couple of big ditches in northern Jasper County have broken, forcing road closures, Melton said.
"There's water everywhere," he said.
Melton said he was told late Tuesday that Sumava Resorts residents in Newton County were standing by. A pump was running and everything was OK, he said.
Melton planned to visit the Shady Shores subdivision in Shelby in Lake County later Wednesday.
"We've got a couple of levees north of DeMotte on the Kankakee River that I'm kind of worried about," Melton said. 
Jasper County officials also were dealing with flooding to the south of their county, he said.
Areas south of the Kankakee river valley could see light freezing rain, sleet and snow into early Thursday morning.
Check back at nwi.com for updates.
Two rescued from Porter Township floodwaters in less than 10 hours
PORTER TOWNSHIP — Two women were rescued Tuesday after their cars became partially submerged in floodwaters.
Boone Grove Fire Chief Mike Meinert said the first incident came about 4 a.m. on County Road 500 West. Meinert said Deputy Chief Bryce Palleson was in charge when the call came in that a woman's car had hit a washout in the road and hydroplaned into a flooded field, filling the car with water.
The car also struck a utility pole, sheering it in half.
Firefighters found the woman on the roof of her car when they arrived. Utilizing a water rescue suit and rope gear, they waded through above-the-waist-high moving water to the woman. After putting her in a life jacket, she was walked back to dry ground.
Meinert said the woman did not have any life-threatening injuries, but was checked out by emergency medical personnel at the scene.
Around noon Tuesday, an 82-year-old Hebron woman was rescued from floodwaters in Porter Township by a local resident.
The woman was driving west on County Road 550 South when her car took on too much water, according to Porter County Sheriff's Department spokeswoman Sgt. Jamie Erow.
The water crept up nearly to the windows of the 2007 Buick Lucerne.
Her car became partially submerged in high water in the roadway, and she was trapped inside the vehicle.
When police arrived at the scene, just east of County Road 450 West, she was still in her car, but a neighboring resident was on his way to assist in his canoe.
Once the woman was rescued by the boater, she was checked by emergency medical personnel and transported to an area hospital by her family for medical evaluation.
The car was removed from the floodwaters by Green's Towing.
"Please remember to use caution when driving. If the roadway is water covered and not visible, don't risk it. Find an alternate route," Erow said.
"Do not drive through anywhere you are not familiar with. It could be way deeper than you think," Meinert said.
Gallery: Rain falls in Northwest Indiana
Kankakee River flooding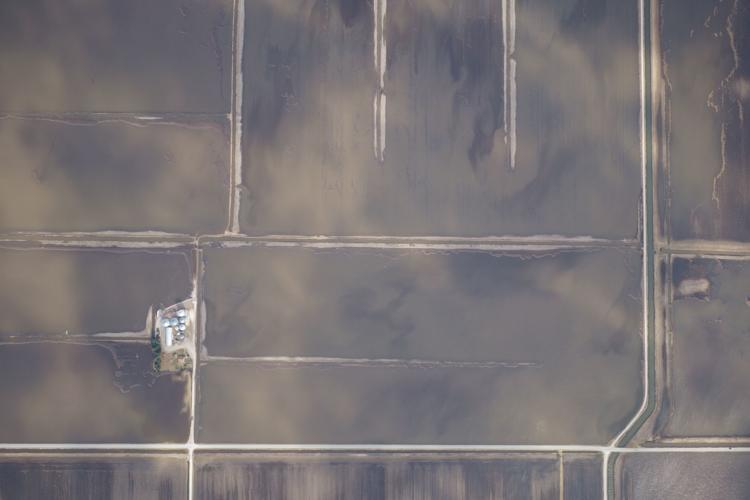 Kankakee River flooding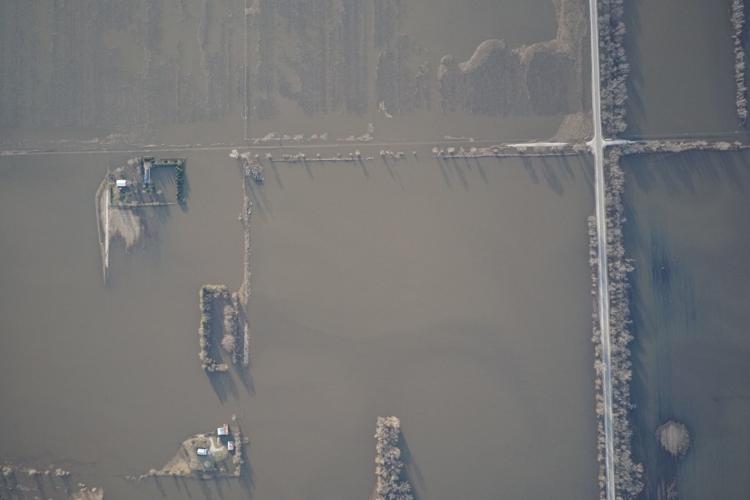 Kankakee River flooding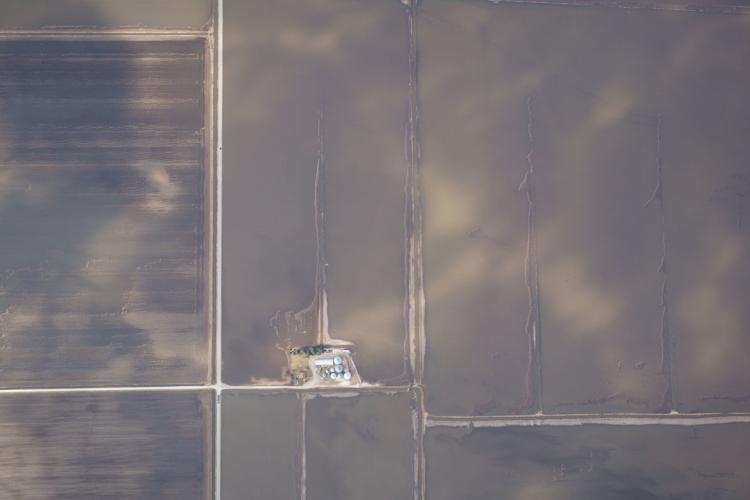 Kankakee River flooding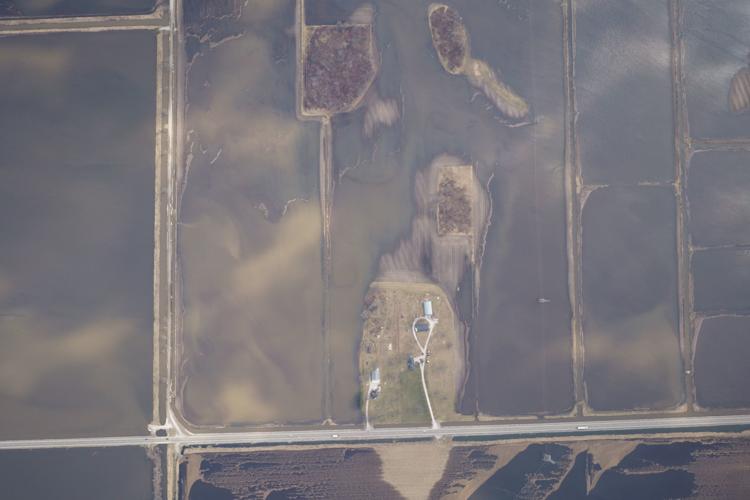 Kankakee River flooding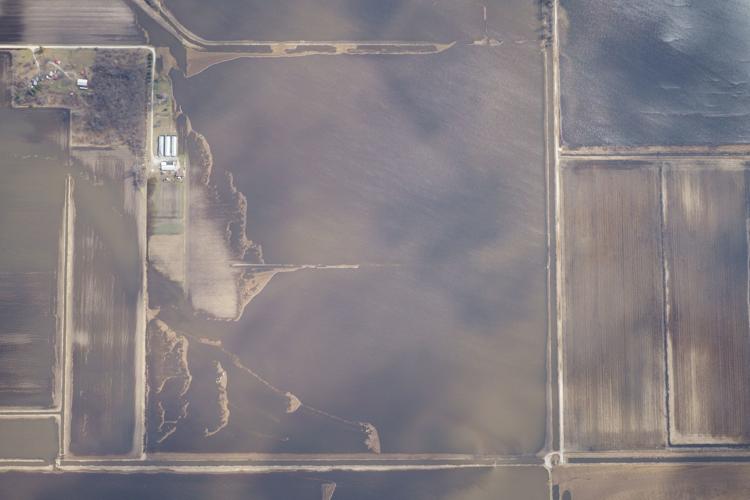 Kankakee River flooding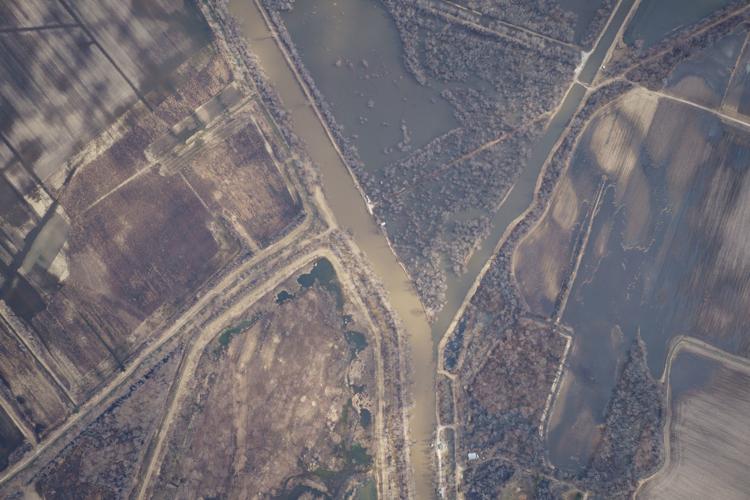 Kankakee River flooding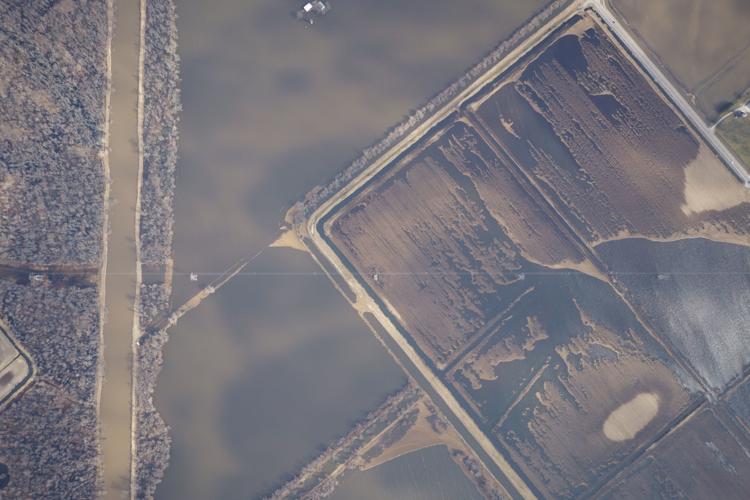 Kankakee River flooding
Kankakee River flooding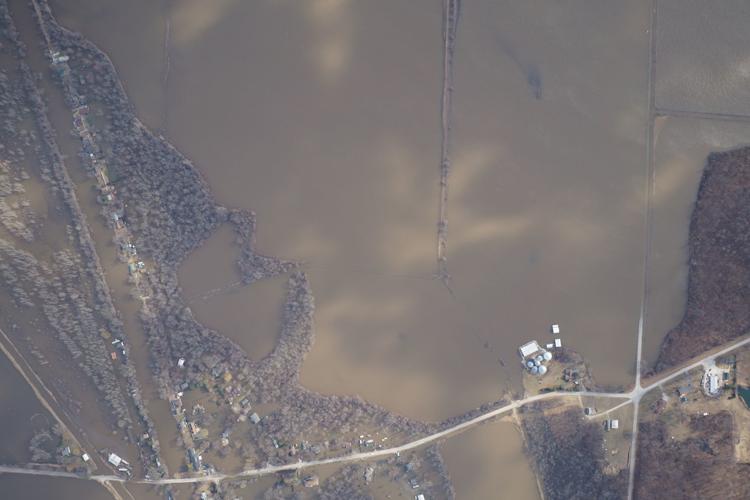 Flood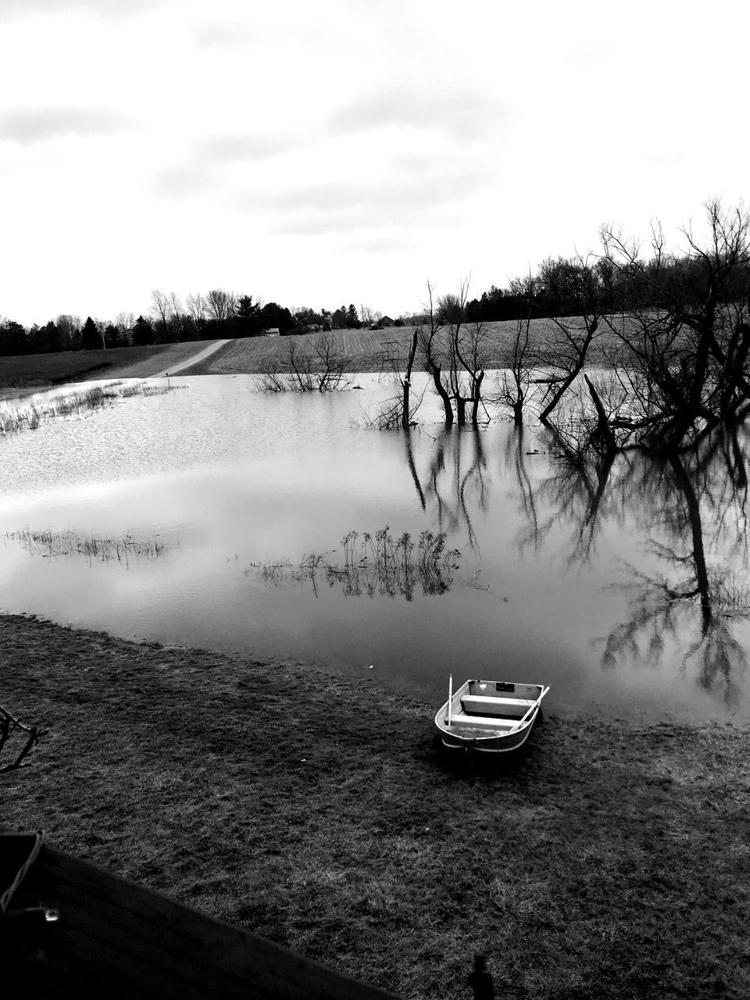 Flood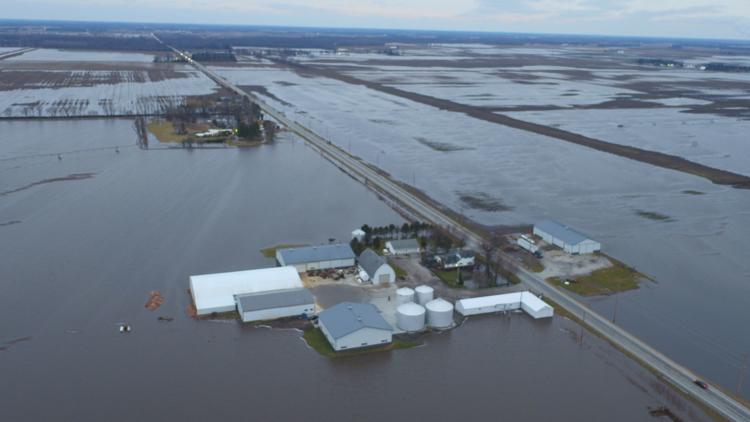 Llama rescued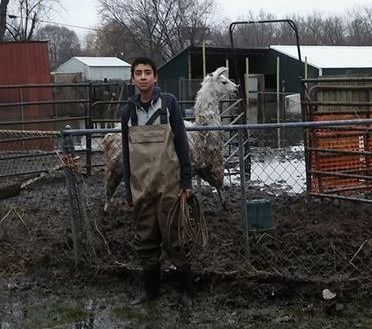 Lake Station flood meeting is today; Kankakee River communities still watching, waiting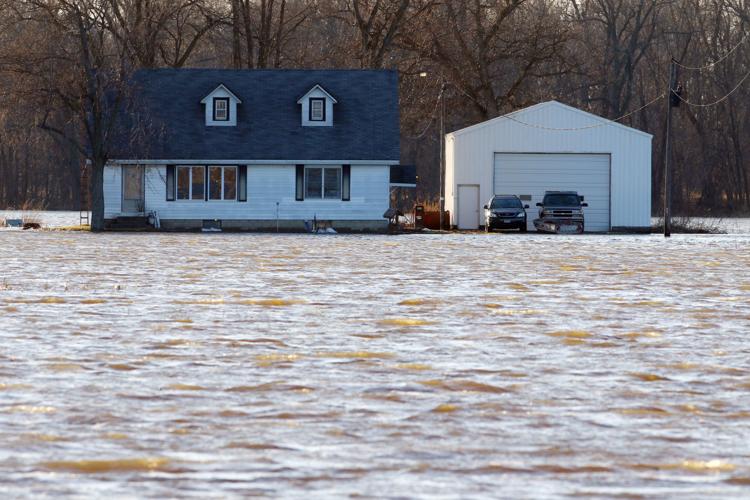 Home in flooded field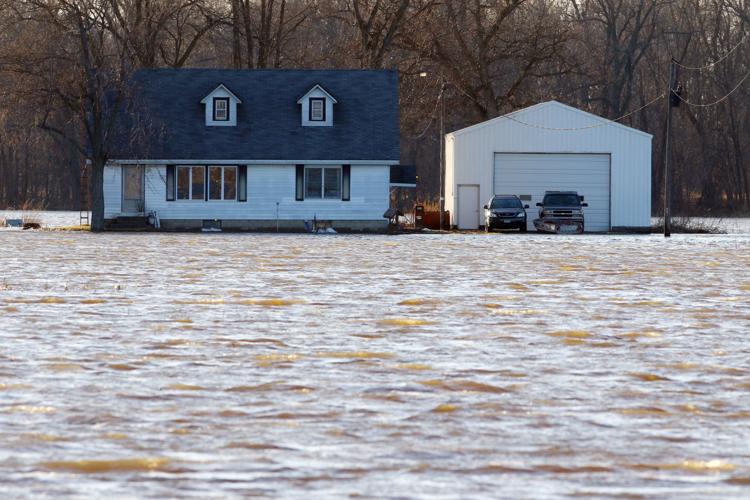 Car stranded on Clark Rd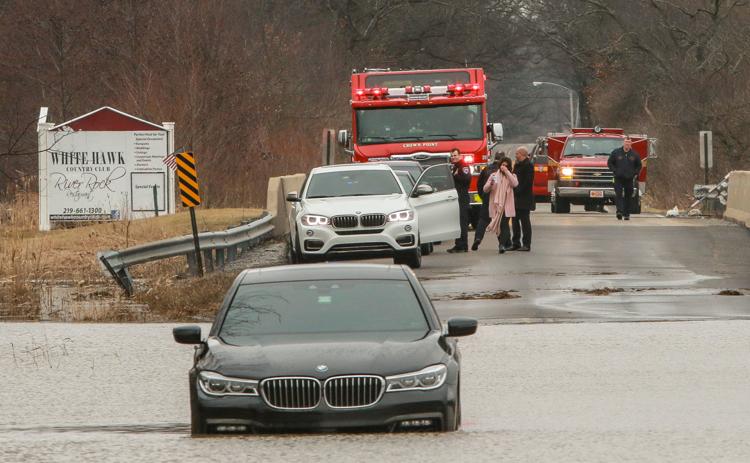 Steelmaker, Senator press for Section 232 steel tariffs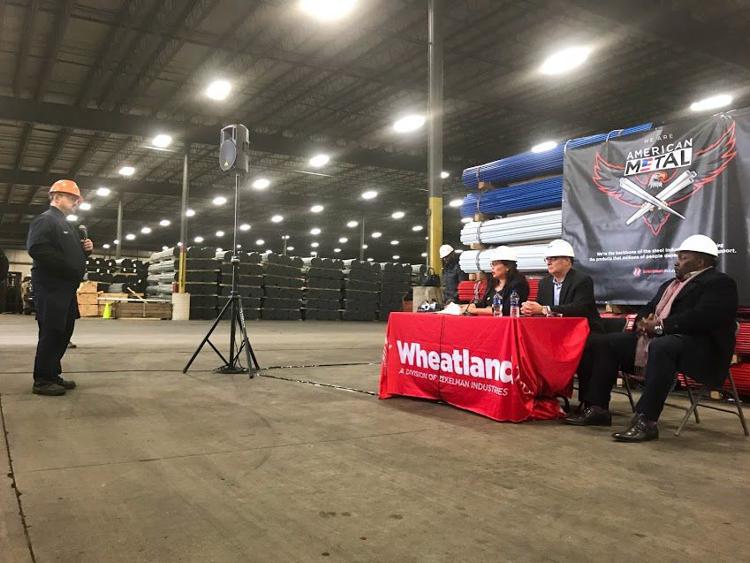 Flood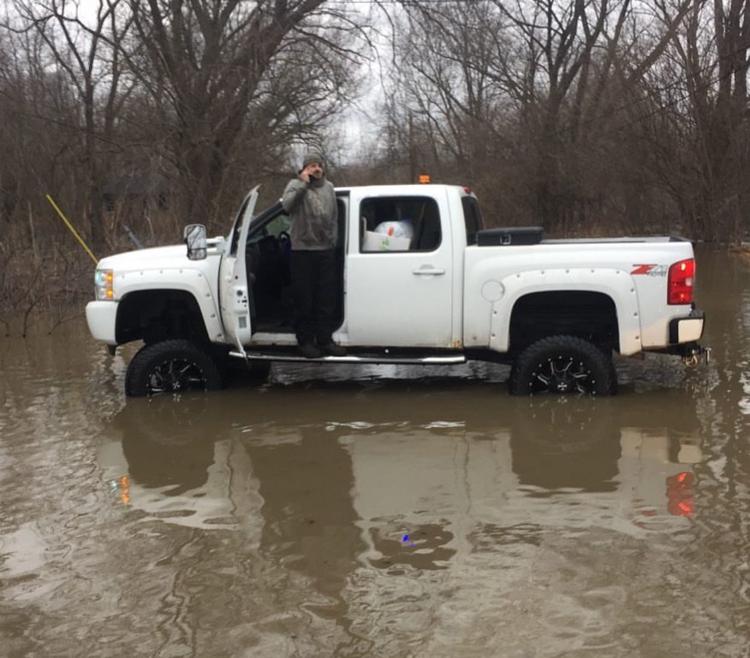 Flood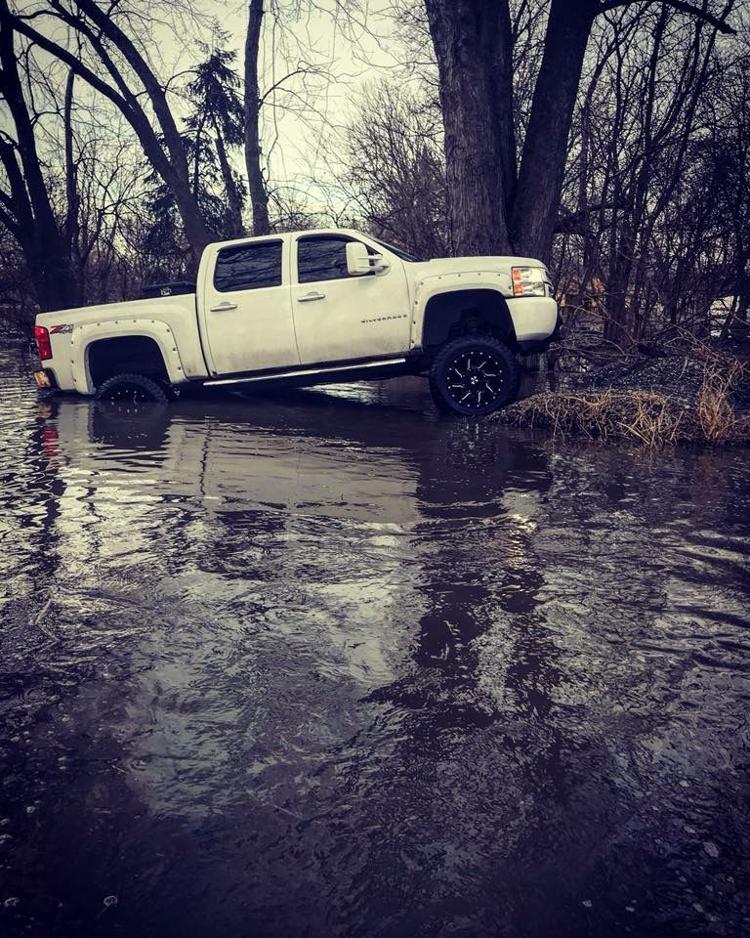 Flood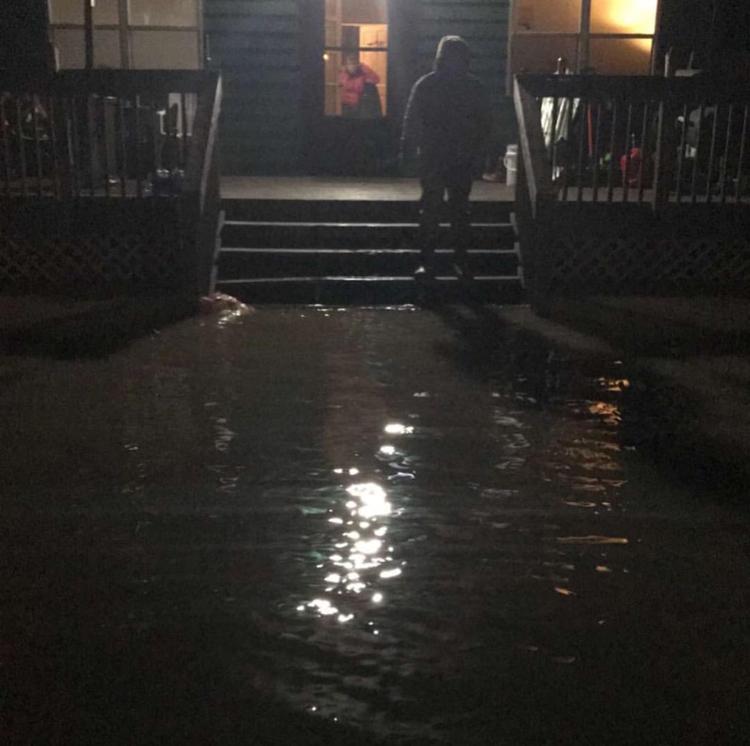 Flood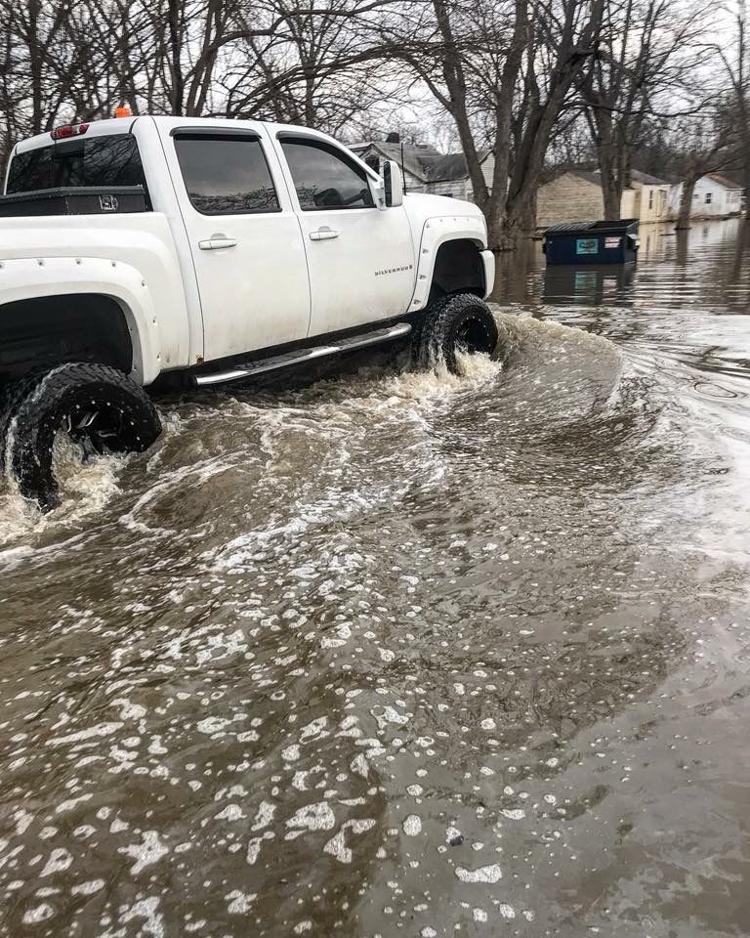 Flood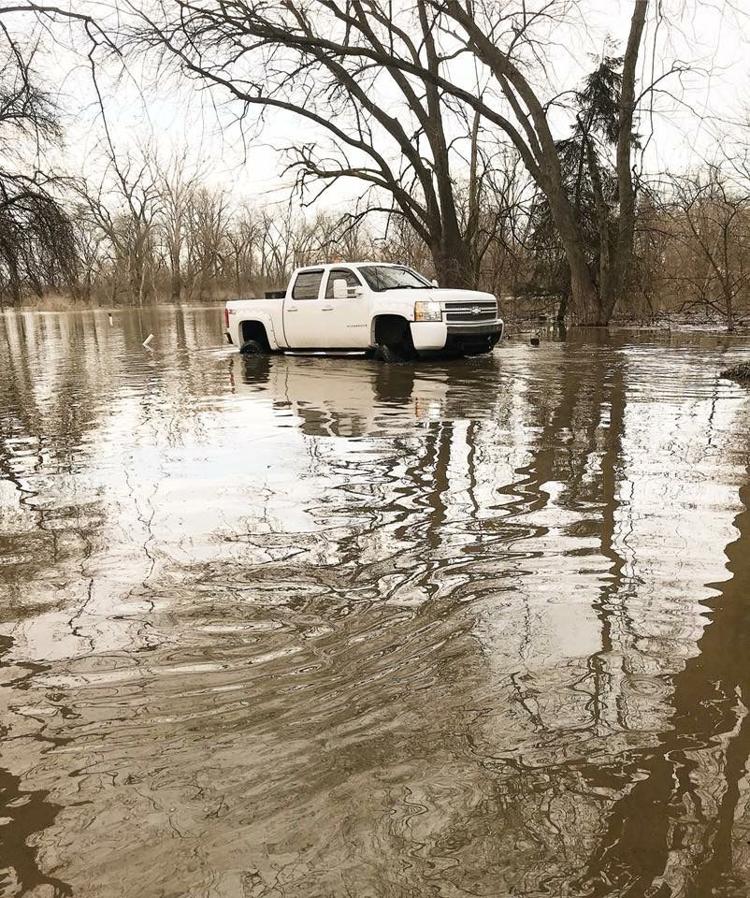 Flood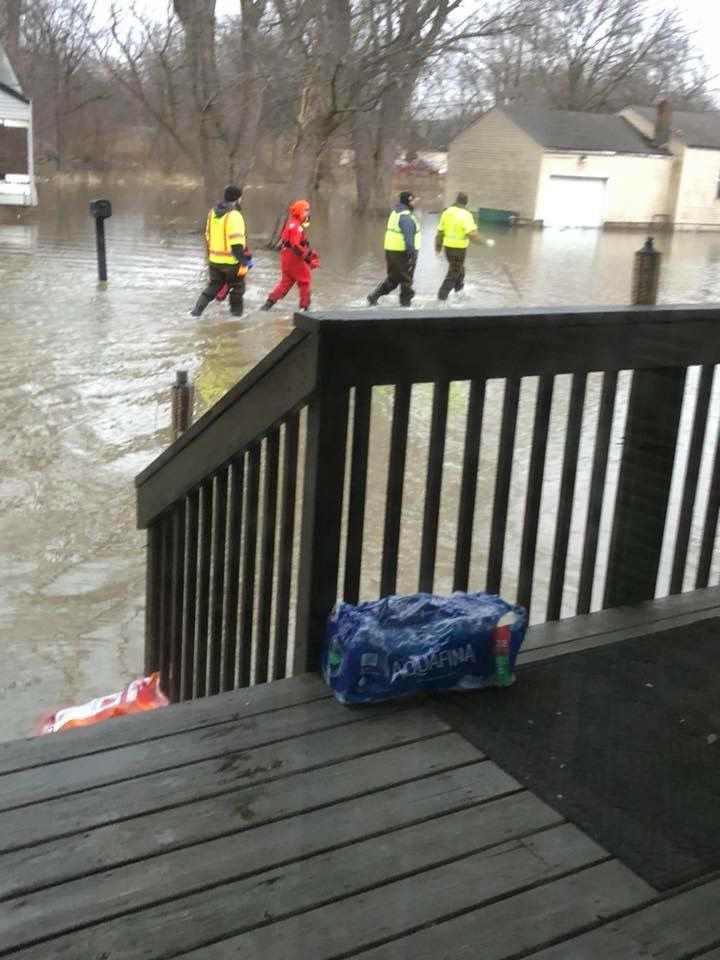 Flood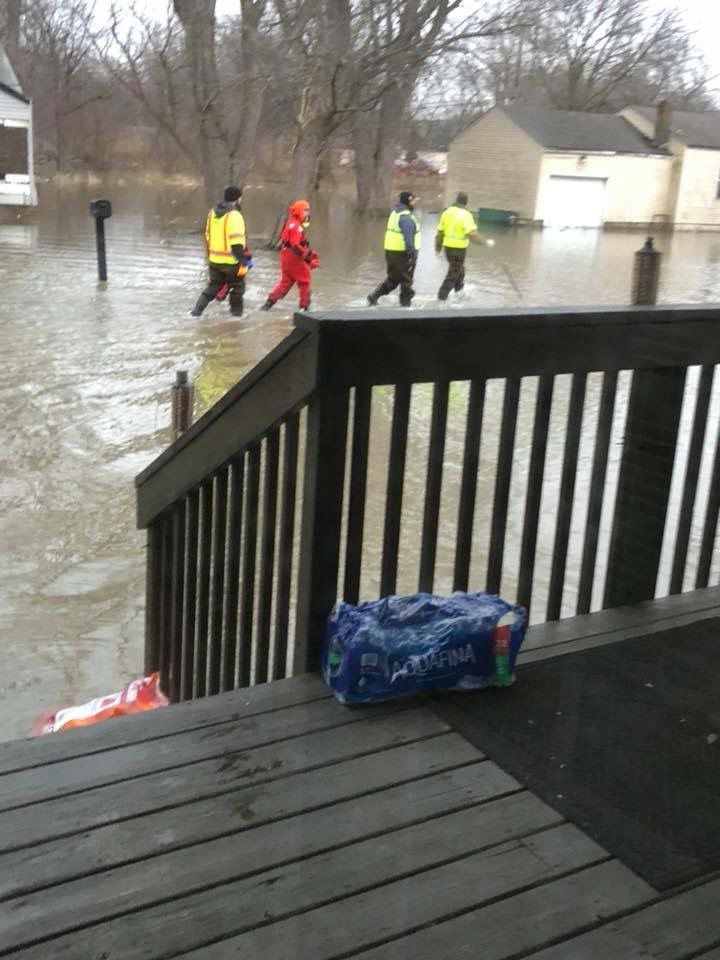 Flood