EAST CHICAGO — Community advocates and residents in the city's Calumet area say they want to be "first in line" for redevelopment funding.
They cited years of neglect, blight and the neighborhood's recent amplified reputation as a place plagued by lead and arsenic pollution. 
Federal and state environmental agencies have long investigated the area's contaminants, but the U.S. Environmental Protection Agency did not designate it until 2009 as a Superfund site — hazardous land targeted for cleanup.
Beginning last summer, more than 300 families were evacuated from the West Calumet Housing Complex, built in the footprint of a former lead smelter. 
Former Calumet resident Sherry Hunter said the USS Lead Superfund Site deserves special attention. 
"The wealth," Hunter said, "has been drained from the neighborhood long ago due to environmental threats."
In recent years, the city has focused redevelopment on the North Harbor section. According to the city's 2017 action plan, the Regional Development Authority awarded the city $30 million for revitalization projects in North Harbor.  
But fewer dollars have made its way to Calumet, where abandoned structures and vacant lots are littered among family homes and few businesses. 
Asked how East Chicago plans to revitalize the Calumet area, City Redevelopment Director Frank Rivera told residents he didn't have an answer.
Rivera noted his hands are tied because the EPA has yet to select a cleanup plan for the West Calumet site. The EPA continues to excavate individual yards in Calumet and East Calumet. 
"We don't have any (plans) specific to Calumet because of the Superfund. It's not allowing me, at this point in time, to really establish revitalization plans just yet. It's in the woodwork. There's going to be more," Rivera said. 
The city administration has been purchasing homes and vacant lots in Calumet, but it's unclear what direction the city will take in terms of redevelopment. East Chicago Mayor Anthony Copeland has said he wants West Calumet cleaned to residential standards so the city can use the land in any way it sees fit.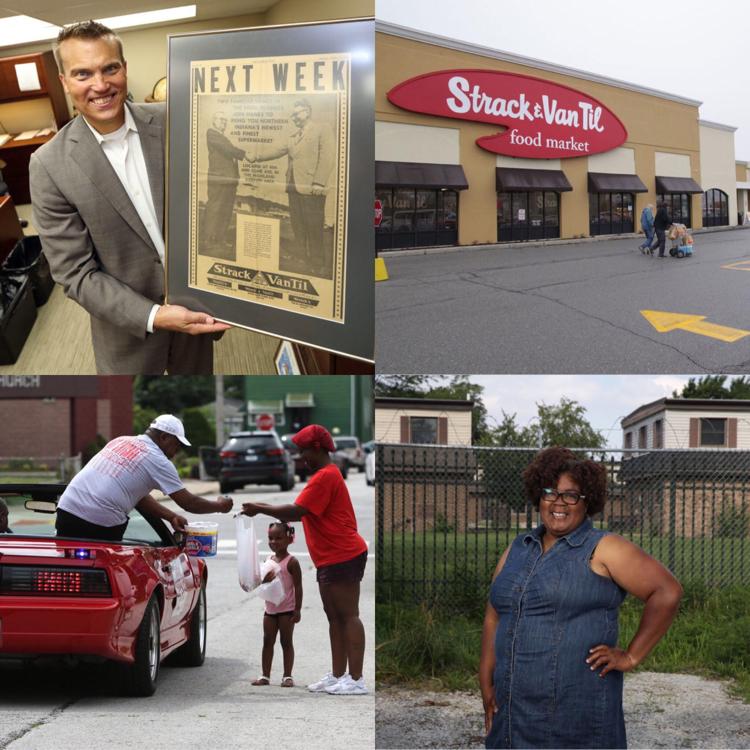 Rivera said residents will take part in the planning stages of redevelopment.
"We want a vision for Calumet. It's sad to always see other neighborhoods being developed while knowing this place is really suffering. We have to advocate for it," environmental activist and East Chicago resident Thomas Frank said.
IHCDA, through a federally funded Blight Elimination Program, awarded the city of East Chicago in December $914,000 to address dilapidated homes. While those dollars can help demolish blighted homes in Calumet and elsewhere, federal regulations bar use of those funds to demolish the West Calumet complex.
The U.S. Department of Housing and Urban Development awarded the city of East Chicago nearly $1.2 million in Community Development Block Grant dollars for the current fiscal year that ends June 30, 2018, according to the city's 2017 annual action plan submitted to the agency last month.
The funds target low-to-moderate households and are used, in part, for home rehabs, homeownership assistance, homelessness reduction strategies and neighborhood redevelopment. However, Rivera said, those dollars already have been allocated through a federal approval process and cannot be shifted to target redevelopment in only the Calumet area. 
Part of that funding, though, will target housing rehabilitaiton and some lead paint abatement in the Superfund site, he said. 
As Rivera listened, Hunter said she wants to see more money flow into the Calumet area.
"From the outside looking in," she said, "if I see East Chicago, I think 'Wow, (Calumet) is the area the city should have started in. Because this area looks the worst. But, instead, they do all the work on the other side of town. They do nothing over here at all. Nothing. How do you blatantly skip over an area?'"
Rivera told residents at the meeting the city can only do so much with the federal and state grant dollars awarded annually. He added he is open to hearing more from residents about how to divvy up redevelopment dollars.