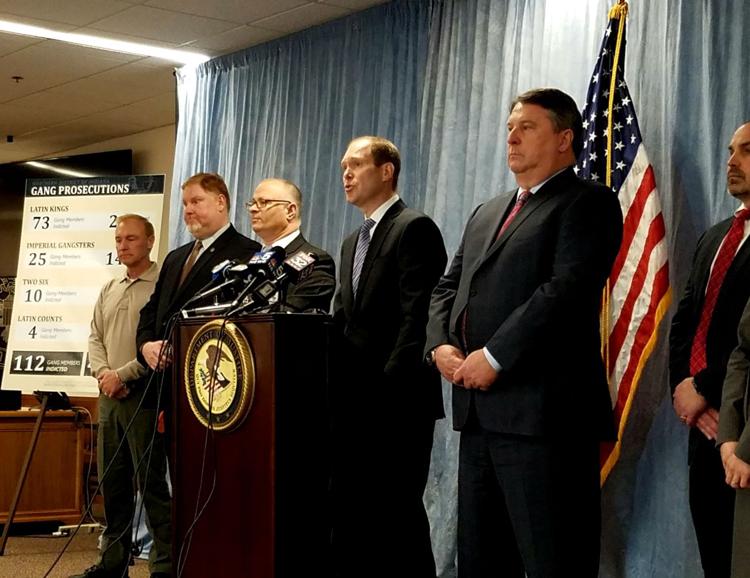 HAMMOND — Federal prosecutors said recent indictments against members of the Latin Count Nation street gang are possibly connected to the unsolved murder of a Hammond teen who was gunned down in June 2015.
While mum on the details, U.S. Attorney Thomas Kirsch II said he is "very confident" his office will be able to tie this violent gang to the "senseless and tragic" murder of Lauren Calvillo, 16. 
"(Lauren) was shot to death while trying to usher young children into her home in Hammond as rival gang members started shooting at each other," Kirsch said Tuesday at a news conference at the Hammond federal courthouse.
"She was a totally innocent girl whose life was taken from her through no fault of her own as a result of senseless and meaningless gang violence."
Kirsch said they have informed Lauren's mother, Ollie Hubbard, of the expected charges. Since Lauren's shooting on June 29, 2015, Hubbard has been at the forefront of countless anti-violence rallies and has raised money for scholarships in her daughter's name.
No one had been charged in Calvillo's death as of Tuesday, and Kirsch did not offer a timeline as to when charges would be filed publicly.
All but one of the individuals listed in the indictments were in custody as of Tuesday. 
Kirsch said the announcement of the Latin Count charges comes on the heels of countless other gang indictments brought by the U.S. Attorney's Office for the Northern District of Indiana.
The Region's local chapters of violent street gangs — including Latin Dragons, Latin Kings, Imperial Gangsters and Two Six Nation — have been indicted in recent years and tied to "dozens of homicides," he said.
The Latin Counts is a Chicago-area violent gang and part of a local affiliate known as the Jackson Street Latin Counts based in Hammond, Kirsch said.
"Street gangs like these and like the Jackson Street Latin Counts are terrorizing our neighborhoods," he said. "Ordinary citizens should feel safe in their neighborhoods and not afraid of being a victim of gang violence. Gang activity doesn't stop at the state line. Neither do our investigations."
Court records did not list ages or last known addresses for many of the individuals indicted this week in connection with the Latin Counts case. A spokesman for the U.S. attorney's office could not immediately provide that information to The Times on Tuesday.
Robert "Homicide" Jose Loya, Eduardo "Count Eddie" Luciano, Ivan "Bola" Reyes and Jeron "Shadow" Williams have all been charged as alleged Latin Counts gang members with conspiracy to participate in racketeering activity that includes multiple acts of murder, robbery and narcotics trafficking, Kirsch said.
Alleged Latin Count gang members Arthur "Piggy" Bentley and Georgie Madera have been charged with distributing cocaine and heroin.
Roberto Q. Molina, of Chicago, has been accused of selling 2 kilograms of black tar heroin — with a $70,000 street value — to an undercover agent Jan. 19. He has been charged with narcotics trafficking, having allegedly supplied heroin and cocaine to the Latin Counts street gang in Hammond, court records show. 
Williams was still at large as of Tuesday and last seen in Minot, North Dakota. His whereabouts are being investigated by the federal Bureau of Alcohol, Tobacco, Firearms and Explosives. 
Calvillo's family and Hammond police could not be reached for comment Tuesday afternoon. 
Police say Calvillo was an innocent bystander when shots rang out along her street in the city's Jacob's Square neighborhood in summer 2015. Her death came less than 24 hours after a suspected gang member was killed on the same block.
The Hammond High School teen has been hailed as a hero in the community for ushering five children into the house after shots rang out that day only to be killed before she could make it to safety.