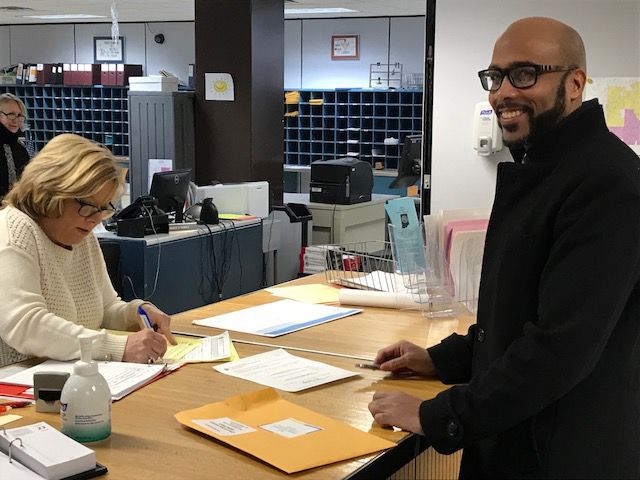 CROWN POINT — Lake County Councilman Jamal Washington has announced he will run for county commissioner.
Washington ended speculation Wednesday on whether he would put his name on the May 8 Democratic primary ballot in the wake of his recent domestic violence arrest.
Washington was in the Lake County Election Board's offices about 3:30 p.m. and filed for the 1st District seat now held by Commissioner Kyle Allen.
Allen has served as county commissioner since a caucus of 144 Democratic precinct committee members from Gary, Hobart, Lake Station, Merrillville, New Chicago and a portion of Crown Point named Allen two years ago to replace his cousin, Roosevelt Allen, who died in office.
It comes less than seven weeks after Merrillville police arrested Washington on Dec. 8 and the prosecutor's office filed felony and misdemeanor charges of criminal confinement, intimidation, misdemeanor battery and interference with reporting a crime.
The allegations arise over a Dec. 5 dispute with his 23-year-old cousin, Kamaria Buckley, in the councilman's home, where she also was living.
The special prosecutor is pursuing not only last month's case, but also revocation of Washington's suspended jail term arising from the 2015 battery of his wife.
Washington is denying any wrongdoing, and Buckley later recanted her claims against Washington in an interview with The Times.
Washington was released on bail just before Christmas and has returned to his duties as one of seven county council members overseeing county government spending.
The council has removed Washington from all council committees overseeing the local courts and the prosecutor's office. The state has named a special judge as well as a special prosecutor to avoid any conflict involving Washington's fiscal authority over local court officials.
Washington has represented much of Gary, Merrillville and parts of Griffith, Schererville and St. John Township on the Lake County Council since his election in 2014. He announced last fall he wouldn't seek re-election on the council, but instead would run for county clerk. Today's filing changes the course of that campaign.
He wants to become one of the three members of the Board of Commissioners, which awards contracts for county government work and performs other executive duties of county government.
Washington said in a prepared news release Wednesday he believes he can do more to improve the lives of Lake County residents on the Board of Commissioners.
He cited his record as a county councilman, including voting to give Gary money to fight crime and prevent Gary bus route reductions, creating a human resources department for county government employees and sponsoring an ordinance encouraging minority businesses to become county government vendors.