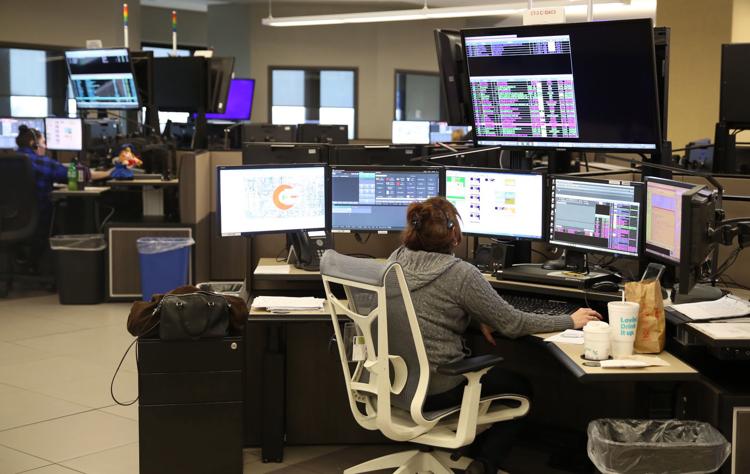 CROWN POINT — Lake County Councilman Jamal Washington helped find a county government job for the 23-year-old cousin he now is accused of battering.
And a former county E-911 director said Washington "pushed" him to interview and hire job applicants Washington brought to him, suggesting he would help E-911's budget if Brian Hitchcock hired them into the department.
"On one occasion, (Washington) said to me, 'You hire this person in, and I'll make your budget right.' This is quite a bit of why I left," Hitchcock said. The director of Lake County's E-911 from 2013 through 2016, Hitchcock currently is director of the consolidated Montgomery County 911 service in Clarksville, Tennessee.
Kamaria Buckley, a cousin of Washington's now in training to become a full-time dispatcher for the county's E-911 service, is one of almost two dozen people associated with Washington who have sought, and sometimes received, work with Lake County's public service communication network, according to past and present administrators.
County personnel records show Buckley and Gary City Councilwoman LaVetta Sparks-Wade, a political ally of Washington's, were both hired Nov. 27 by E-911. Sparks-Wade is listed as a part-time dispatcher.
Buckley's employment came into public view when she complained to Merrillville police the 44-year-old Washington battered and confined Buckley during a dispute Dec. 5 at Washington's Merrillville residence, eight days after she was hired by the county.
Buckley told police she was initially reluctant to file a report, fearing retaliation by Washington could cause her to lose her county job.
Buckley has since retracted her accusations against Washington, D-Merrillville, saying she fabricated them because she was angry at Washington at the time. Washington also has denied attacking Buckley.
Authorities continue to press criminal charges against him and hold him in the Lake County Jail.
Buckley couldn't be reached for comment. 
Sparks-Wade told The Times this week, "I'm an educated, qualified African-American woman, don't I have the right to work? Or is the meaning of right to work reserved for union busting Republicans? This is why African-American women make 78 cents to the dollar of Caucasian men in this country.
"I have to have 10 times the education and 20 times the experience to get a job that only pays $14.90 an hour. Nobody has a problem (that) the masses of city, county, state and federal employees who, for decades have been referred to their employer by an elected official in government jobs.
"I had to go through a series of tests and an interview. I passed. I would not have been hired had I not passed the test. I have a mortgage to pay like anybody else, surely you want me to be gainfully employed and contribute to society. I was taught that is why one gets an education," Sparks-Wade said.
Hitchcock, the county's former E-911 director, recalls Washington "pushed" about 20 people into E-911 for jobs. Hitchcock said he only hired those who qualified. "I told them when I first came that I don't play favoritism in hiring. I always stood my ground," Hitchcock said.
"The first one he brought, I told (Washington) we have to send them through testing and an interview. After she had passed the critical testing, he marches her into my office and said, you can have the interview with her now. I told him it doesn't work that way. (Applicants) have to sit in front of a panel of four supervisors. That is how I kept favoritism out of it."
Buckley told The Times last week she moved into Washington's home several months ago after being homeless in Los Angeles, where she was born and raised.
Sparks-Wade previously worked in 2015 as deputy director of the Lake County Economic Development Department. She was elected a Gary city councilwoman in 2015.
Current E-911 Director Mark Swiderski said Tuesday Washington approached him several weeks ago to ask if there were any job vacancies at the department and drove Buckley to his office for her job interview, but played no further role in the hiring process.
Swiderski said Washington "had no dealings in (Sparks-Wade) getting hired in any way, shape or form."
He said he is anticipating a number of current dispatchers leaving for other work, so the county has been hiring new part-time dispatchers to fill in as needed with the prospect of going to full-time at a later date.
Swiderski said both Buckley and Sparks-Wade passed a number of job-performance and personality tests, and that Sparks-Wade tested the highest of all the applicants in the group.
Swiderski said he was aware of "both of their relationships with (Washington) and how that would look. Ultimately, we pushed all of that to the wayside and said, who are the best candidates available?"
Swiderski said Washington had brought a total of three job applicants to him since he became director in 2016. Swiderski said the county hired two of them who passed the tests, as well as had job interviews with him and a panel of supervisors.
Thomas Dabertin, the county's human resources director, said it isn't illegal or unethical for county elected officials to encourage the county to employ someone, as long as they make no threats or promises in return.
Dabertin said it is illegal for anyone, including elected officials, to retaliate or threaten to retaliate against county employees for filing abuse reports with police.