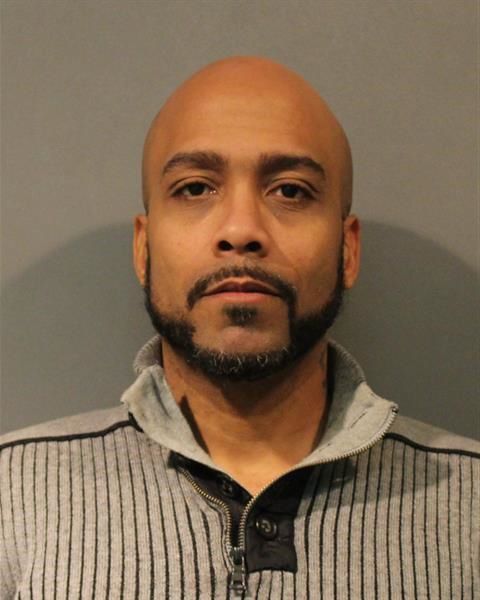 CROWN POINT — For the second time in three years, Lake County Councilman Jamal Washington faces charges on allegations he attacked a woman.
The state has filed felony charges on accusations Washington threatened his cousin with a sledgehammer during a two-hour ordeal Tuesday night at their home in Merrillville.
Washington, 44, of Merrillville, was arrested at the Merrillville Police Department station Friday morning after he arrived there with attorneys to provide a statement, said sources with knowledge of the investigation.
Washington is charged in Lake Criminal Court with three felony counts of criminal confinement, two felony counts of intimidation, two counts of misdemeanor battery and interference with the reporting of a crime.
Washington is not afforded bail on the charges, court records state.
Washington is currently on probation after he pleaded guilty in 2016 to misdemeanor battery and invasion of privacy for pushing his wife during a confrontation two years ago at his home, court records state.
Sources close to the investigation said the old case could be reopened if Washington's actions violated terms of his probation.
Defense attorney John Cantrell said Friday Washington would remain jailed on a 10-day hold while the prosecutor's office determines whether to file a petition to revoke his probation.
He said if the prosecutor's office files the petition, his client would likely be afforded two separate bonds on the new petition and on the criminal case.
Regarding the allegations, Cantrell said the criminal investigation was a "complete and total witch hunt."
He said Washington provided police a statement Friday morning and a video recording he made on his cellphone during Tuesday's argument. 
He said the video showed Washington telling his cousin to leave the house, which Washington owns, and the cousin refused.
"She made everything up," Cantrell said. "All he did was try to get her to leave his house."
Merrillville Police Detective Cmdr. Jeff Rice referred questions about the investigation to the Lake County Prosecutor's Office.
Lake County Prosecutor Bernard A. Carter confirmed Friday night Washington provided police some videos, though he could not speak to the contents of the videos. 
He unequivocally denied the woman recanted her statements. 
"There was no recantation, at all."
The cousin reported to Merrillville police Wednesday Washington attacked her between 4 and 7 p.m. the prior night at their home in the 5600 block of Connecticut Street, according to a probable cause affidavit.
She said Washington arrived home at 4 p.m. and began yelling at her for being rude during an earlier phone call, the affidavit states.
She said the councilman ordered her out of the house, but when she texted someone to pick her up, he grabbed her phone, the affidavit states.
The woman said they tussled over the phone before Washington became "enraged," allegedly grabbing the woman by the throat and throwing her to the ground, the affidavit states.
The woman said she begged Washington to stop acting violently around his 2-year-old son, the affidavit states.
Washington then retrieved a sledgehammer from another room, the affidavit states.
"You better never mention a word about my son again or I'll put a hole in your head," Washington allegedly said, holding the sledgehammer over the woman, the affidavit states.
The woman said Washington apologized for his actions, but stopped the woman from using his phone or a computer to call for help, the affidavit states.
For more than two hours, the woman said Washington refused to allow her to leave the home, the affidavit states.
She said she fled to a neighbor's house after Washington left their home, the affidavit states.
The woman said she didn't report the crimes sooner because of Washington's status as an elected official, the affidavit states. She said she feared he would use his authority to have her fired as a dispatcher from Lake County Communications.
Carter said Friday he would request the appointment of a special prosecutor to investigate Washington to avoid potential conflicts between his office and the Lake County Council, which oversees the prosecutor's office budget.
Police previously arrested Washington Dec. 3, 2015, on allegations he battered two women, one of them his wife, at the same residence where Tuesday's incident occurred.
The case had to be moved out of Lake County and handled by a special prosecutor and judge because of Washington's position on the Lake County Council.
In the 2015 case, the special prosecutor filed felony strangulation counts over allegations he knocked his wife down, hit her, bit her and attempted to strangle her as well as a second female, who was an employee of Washington's at the time.
Washington pleaded guilty Dec. 8, 2016, to two misdemeanors in a plea bargain in that case.
Washington admitted in court last year he pushed his wife, causing her pain, and contacted her after the fight, in violation of a court's protective order.
The special judge sitting in Porter County dismissed the felony counts that would have resulted in his removal from office and released him on probation, on condition he attend anger management classes.