GRIFFITH — Griffith High School and Griffith Middle School were evacuated Monday morning after school administrators received an emailed bomb threat, officials said.
The threat targeted the high school and middle school campus, according to a news release from Griffith Public Schools.
Beiriger, Ready and Wadsworth elementary schools were placed on lockout as a precaution. During a lockout, no one is allowed in the schools, officials said.
"The email from an alias account was electronically time stamped at 5:26 a.m. CST Monday and sent to High School Principal Brian Orkis and all five members of the School Board," according to the news release.
Griffith police were notified by the district and immediately responded, officials said.
Buses were searched by officers and bomb-sniffing dogs before children were permitted to board them, the release said.
Authorities did not find any explosives during an initial search of the middle and high schools, Superintendent Pete Morikis said in a statement.
"We have suspended the school day for our middle and high school students," he said. "Elementary students will remain in school."
Griffith police and local, state and federal agencies, including the FBI and Bureau of Alcohol, Tobacco, Firearms and Explosives, continued with an exhaustive search of the school that concluded about noon, police Cmdr. Keith Martin said.
He said several school administrators had received the same e-mail messages stating that explosives had been placed throughout Griffith High School and were set to detonate at a specific time of the school day.
Nothing suspicious was found, he said.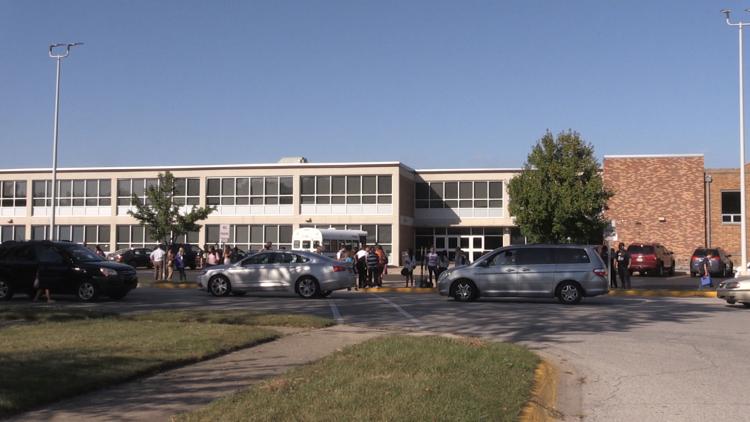 Martin said the Griffith Police Department requested assistance from several other agencies with bomb-detecting dogs. 
The situation, including the source of the email, was being investigated, he said.
A message sent to parents of Beiriger Elementary students said all high school and middle school extracurricular activities were canceled for the rest of Monday.
Morikis said schools were expected to reopen as scheduled Tuesday, which will be a late-start day.
The district planned to notify parents via the One-Call system if there are any additional messaging to parents is necessary. Parents also were encouraged to check the district's website, www.griffith.k12.in.us, for updated information.
Monday's bomb threat is the latest in a string of bomb threats and actual bombs discovered in Northwest Indiana, including a pipe bomb that injured a U.S. Postal Service employee Sept. 6 at the East Chicago post office.
A firearms-related threat led to a lockout at Tri-Creek School Corp. schools Sept. 19, and a bomb threat spurred the evacuation of the Highland Target store Sept. 16.*
Eric Weiler, 44, of LaPorte, was charged last week after two bombs at his home Sept. 20, according to court records.
Katrina Franzen, 32, of Valparaiso, was arrested Sept. 9 after a Porter County sheriff's deputy found an active pipe bomb in her car, court records show. Franzen allegedly told police her ex-boyfriend left the bomb in her home after leaving the area.
Check back at nwi.com for updates to this story.
* Editor's note: This story has been updated to show a lockout at Tri-Creek School Corp. schools Sept. 19 was related to a firearm-related threat.