A Tale of Three Counties: Some 41 communities call Lake, Porter and LaPorte counties home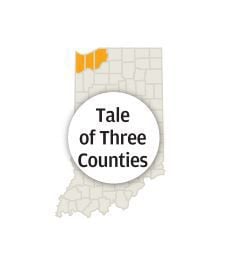 The formation of Lake, Porter and LaPorte counties — and their many towns and cities — date back more than 180 years.
Lake County has seven cities and 12 towns dating back to nearly the formation of the state of Indiana. Settlers first made land claims around what would become the town of Cedar Lake in the 1830s.
Solon Robinson and his family built the first permanent household in Crown Point in 1834. The town of Dyer began as a way station on the Sauk Indian Trail with construction of the State Line House in 1838. It was first recorded on an official plat map in 1855.
Railroad companies and land speculators began buying up land in East Chicago around 1851, and the city incorporated in 1893. U.S. Steel Corp. founded Gary in 1906 to build a steel mill. Jay and Elmer Dwiggins founded Griffith in 1891, naming the town after a Grand Trunk Railroad surveyor who mapped the terrain in the 1870s.
The city of Hammond was a stagecoach stop in the 1850s. Marcus Towle opened a meatpacking house, platted the city and became its first mayor in 1884. The town of Highland incorporated in 1910 after becoming an expansion site for a cabbage-canning plant and a source for farming produce, packed onto rail cars and shipped to Chicago and points east.
Hobart began life in 1845 when Englishman George Earle dammed Deep River to create Lake George to power sawmills. He platted the new town in 1849. Earle also platted the city of Lake Station in 1852 on the site of Michigan Central Railroad train station. The town of Lowell's first resident was Samuel Halstead, who raised a building in 1835. The town was platted in 1852.
Jeremiah Wiggins first settled in what would become the town of Merrillville in 1835. The town incorporated in 1971. The town of Munster's first settlers arrived by rail in the 1850s. It incorporated in 1907. The town of New Chicago incorporated in 1908.
The town of St. John was first settled by John Hack, a German immigrant farmer and his family in 1837. Nicholas Scherer brought his family to what would become Schererville in 1851. The town incorporated in 1911.
The Michigan Southern Railroad brought the first settlers to Whiting, an area of swampland sand ridges parallel to Lake Michigan in 1851. Standard Oil Co. began buying land for a refinery in 1889. It incorporated as a town in 1895 and a city in 1903. The town of Winfield incorporated in 1993. The town of Schneider's post office opened in the early 1900s.
Porter County, which was incorporated in 1836, has two cities and nine towns.
The oldest municipality in the county is Valparaiso, which was incorporated as a town in 1851 and a city in 1865, and serves as home base for county government. Valparaiso would likely have been incorporated as a city earlier in the year, but President Abraham Lincoln's assassination brought all state processes to a halt, according to Porter County historian Kevin Pazour, who serves as executive director of the Porter County Museum.
Hebron, which was incorporated as a town in 1886, had been known as the "Corners," based on the crossing of two roads at its location. 
It was followed by the town of Chesterton in 1899, 30 years after a failed first attempt, according to county library records. The community had called itself Coffee Creek based on the name of a nearby stream and was renamed Calumet, but changed to Chesterton in 1870 due to confusion over another town named Calumet along a shared railroad line.
The town of Porter incorporated in 1908 and the community had been home to several brickyards, which sent bricks to help rebuild Chicago after the Great Fire in October 1871. Kouts, which originally was named Kouts Station in 1867 and then Kout in 1882, was incorporated in 1921.
Dune Acres was incorporated as a town in 1923 with a population of 16 people living in five homes. Ogden Dunes, which once was home to Alice Gray, more commonly known as Diana of the Dunes, and the country's highest ski jump, incorporated as a town in 1925.
It would be another 22 years before the town of Beverly Shores would incorporate in 1947, and the community is home to the five historic homes from the 1933 Chicago World's Fair. The Town of Pines followed with incorporation in 1950.
Portage became a town in 1959 and then the county's second city in 1968, but has a longer history, including as a Native American settlement north of Crisman Road at U.S. 20. Burns Harbor was the last municipality to come on board in 1967.
"I think the progression of how communities were settled in Northwest Indiana is fascinating in that the natural features of the land greatly influenced our pioneers to stay in this Region," Pazour said.
LaPorte County, which was formed in 1832, has two cities and nine towns.
The oldest community is the city of LaPorte, which was incorporated in 1835, according to city officials. The name LaPorte is based on a French word for door and refers to the community's position as an opening to prairie from forest.
It was followed two years later by Michigan City, which was a stopping point for stagecoaches.
Officials in Westville said the town was incorporated in 1864. Wanatah was platted and incorporated in 1865, the same year Abraham Lincoln's funeral train stopped there.
The towns of Long Beach and LaCrosse were incorporated in 1921, according to those communities, and was followed in 1924 by Trail Creek. The latter was incorporated to avoid being annexed by Michigan City and subjected to its taxes.
Pottawattamie Park was incorporated in 1936, followed in 1941 by Kingsbury, which had been home to the ordnance plant employing more than 20,000 people at the height of its operation during World War II. Kingsford Heights, which began as a residential district for plant employees, incorporated as a town in 1946, followed by Michiana Shores in 1947.