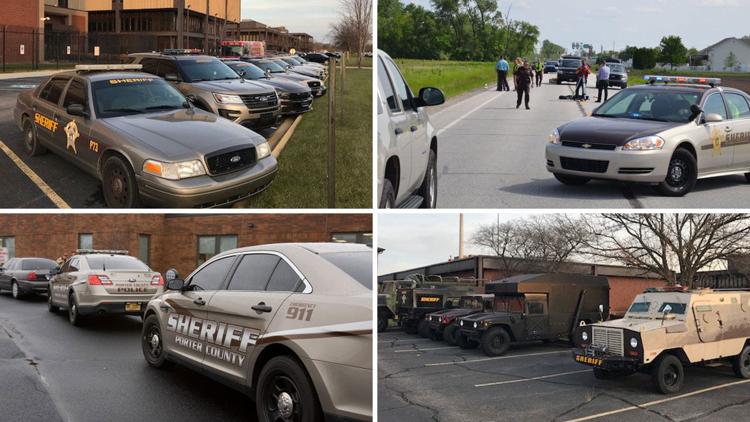 County government isn't found just behind a courthouse facade in Northwest Indiana.
It also travels Lake, Porter and LaPorte counties on the wheels of 969 vehicles ranging from high-speed police interceptors to lumbering asphalt rollers.
They have a collective sticker price of more than $34 million and cost more than $4.4 million annually to fuel, maintain and insure.
Lake County commissioners recently announced they would have to get a firmer grip on the steering wheel of their fleet, even if it meant taking over the sheriff's garage and turning it into their centralized auto workshop, to ensure maintenance costs don't veer out of control.
Lake County's vehicle inventory includes 233 Sheriff's Department sedans, SUVs, vans, minivans, and pickup trucks, three sheriff's helicopters for aerial reconnaissance and four sheriff's marine vessels for use on Lake Michigan.
Lake's other departments have another 283 cars, tractors highway graders, backhoes, street sweepers, skid-steer loaders and one self-propelled ice-resurfacer to groom the ice rinks at the county's Deep River Water Park. 
Lake County government, which is self-insured, paid damage claims of at least $95,000, for 36 accidents involving sheriff's vehicles out of a total of 48 accidents involving all county vehicles, Lake County Attorney John Dull said.
Porter County owns 111 vehicles used by the sheriff's police, 65 by the highway department, six by Emergency Management Agency, and 35 by a dozen other county departments. County vehicles had been involved in 13 traffic accidents so far this year, Porter County Commissioner Jeff Good, R-Center, said.
LaPorte County Auditor Joie Winski said the county has a total of 236 vehicles. She didn't provide what they cost to purchase. LaPorte County Sheriff John Boyd said his department uses 79 vehicles.
While Lake commissioners hold ownership title papers to county government's 516 vehicles, the sheriff, county highway, county parks and recreations and 13 other departments hold the keys.
Commission President Mike Repay, D-Hammond, said this fractured hierarchy hasn't always resulted in the most efficient maintenance practices. He said he became frustrated over the Sheriff's Department's past refusal to service nonpolice vehicles, forcing those departments to bear the expense of paying private vendors for oil and tire changes. 
Last summer, commissioners and the County Council were framing a budget that would have transferred the Sheriff's Department garage over to commissioners' control.
That crisis was headed off Aug. 25 when a U.S. District Court jury removed former Sheriff John Buncich from office for accepting bribes from towing firms doing business with his department. His replacement, Sheriff Oscar Martinez, promised cooperation with commissioners on future county vehicle maintenance.
Repay said he is expecting action before the end of the year.
County Police Chief William Paterson, the sheriff's second-in-command, said, "The department plans to work hand-in-hand with the commissioners to put the department on the safest and most cost-effective method of procuring only the necessary amount of new vehicles. We will be looking at all options, purchasing and leasing. Our goal is to get the officers the needed equipment to service the public in the most effective and efficient manner."
Not the first car troubles
Lake officials had to placate an angry public about a decade ago when former Surveyor George Van Til lent one of his department's newest vehicles to his son to drive to high school, and one of the surveyor employees was caught filling up Van Til's personal SUV at the county sheriff's gasoline pump.
This combined with an efficiency study advising the county to eliminate take-home vehicles, and general displeasure over government automotive spending, prompted county commissioners and the County Council to curtail take-home vehicles and access to the county's fuel pump.
State law requires the county to furnish the sheriff a county-owned vehicle. Paterson said 151 of the county's 158 police officers have take-home vehicles.
Repay said the county also provides take-home vehicles to the prosecutor and coroner, and soon will provide one to the highway superintendent.
Repay said in the past a take-home car was considered a legitimate perk belonging to an elected official's or department head's compensation package, but today, "the rule of thumb I use is whether someone has to respond to an emergency situation at the scene."
Porter County Sheriff David Reynolds said he provides take-home cars to his police officers to reduce response time and deter crime by creating a more visible police presence throughout the county.
"This makes our officers ready for service from their house," Reynolds said.
"We are a large county. It's 35 minutes from The Pines to Hebron or the Kankakee River, and we are one of the fastest-growing counties in the state and our unincorporated areas are much larger than many other larger populated counties."
Good said civilian take-home vehicles are assigned to the highway department's director, assistant director and three district foremen, three building facility technicians, the public safety director, E-911 director and the emergency management director.
LaPorte County Sheriff John Boyd said the county allows its police officers to take their squad cars home unless they live outside the county.
"We are so short of manpower, oftentimes, the first responding officer to the scene of a call for service is an off-duty officer. They are required to have their radio on when they are in their car and off-duty.
"It helps with deputies assigned to emergency response, our SWAT team, our scuba team, our crash reconstructionists or crisis negotiators. It absolutely increases our response time," Boyd said.