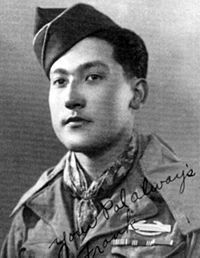 Name: Army Pfc. Frank Ono
Known for: Medal of Honor recipient
It was July 4, 1944, in Castellina, Italy, and Frank Ono was a private in Company G of Nisei — or second generation Japanese-American Regimental Combat Team.
Ono's squad was caught in a hail of formidable fire from the well-entrenched enemy. He advanced ahead of his unit and single-handedly defended his position against an enemy counterattack. He then braved intense hostile fire to aid two wounded comrades and, when it became necessary to retreat, voluntarily covered his unit's withdrawal.
Ono left the Army while still a private first class. He died at age 56 and was buried in Highland Cemetery in North Judson.
For his actions during the battle, he was initially awarded the Army's second-highest decoration, the Distinguished Service Cross. A 1990s review of service records for Asian Americans who received the Distinguished Service Cross during World War II led to Ono being awarded the Medal of Honor.
Ono was inducted into the South Shore Wall of Legends in 2014.