SCHERERVILLE — As a young boy, Norm Hill wasn't too thrilled about attending what was then the two-story Homan School in Schererville. During his first day, he ran back to his nearby home during recess.
"I said this ain't the place for me," Hill remembered.
But on Friday, the latest version of Homan Elementary School was most definitely the place for the 85-year-old Korean War veteran and more than 200 others as they were honored for their service.
Hill, with his wife, Doris, traveled the 80 miles from their home in Mishawaka to the school at the invitation of their daughter, Cindy Sweeney, who now teaches kindergarten at Homan and had put up a display in his honor.
With young voices singing and reading poems in recognition of their service, the veterans were honored at a special program annually sponsored by the school's third-grade teachers. The youngsters at the school invite grandparents, parents and other relatives or neighbors who are veterans to attend the annual event.
"It's a great thing they are doing here," said Hill, who was a member of the U.S. Army Airborne Infantry.
"It's pretty awesome," agreed Terry Bess, who served in the U.S. Army between 1983 and 1993, and was invited by his grandson, Nathan.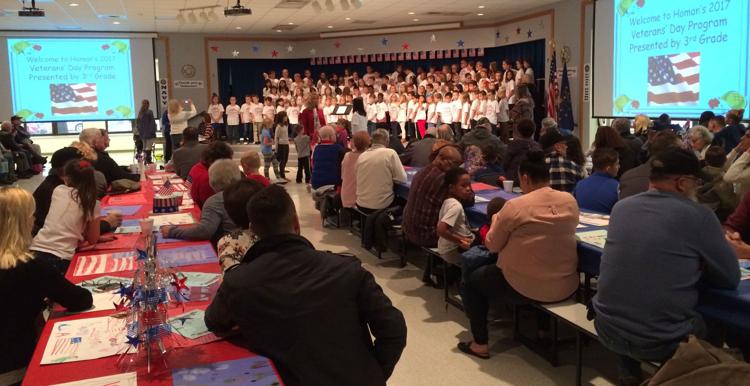 He said the event means a lot to the veterans, especially those from the Vietnam era who weren't really appreciated by society when they first returned home. Among those veterans was Frank Borroel, who spent time in Vietnam while serving with the U.S. Marines from 1965 to 1979.
Borroel, whose daughter Jenn DiPasquo is a secretary at the school, expressed appreciation for the recognition he and the other veterans were getting Friday. Principal Kathi Tucker's father, U.S. Army Signal Corp. veteran John Novelli, and her uncle, U.S. Army veteran Thomas Knudsen, also both attended the event.
In addition to entertaining the veterans, the students also sit, visit and ask questions of the veterans.
"I think it's fantastic," said Knudsen, who noted the young students also are learning a little bit of what their relatives went through for them to have the things that they now enjoy.