Residents take holiday spirit to new level for Crown Point's Tour of Lights
CROWN POINT — For John Goodwin, the weeks he spends designing the blend of colors for his Christmas lights and the holiday decorations he places on his Court Street home is his gift to Crown Point.
And the annual Crown Point Tour of Lights that Goodwin's home is a part of is a gift to the city's residents and visitors during the holiday season.
"Families like to decorate their houses and really showcase them and we thought it would be pretty cool to give tours," Mayor David Uran said. "We want to give them recognition for taking the holiday spirit to a new level. And then at the same time make it a great evening for families."
The mayor's Office of Special Events partners with the Crown Point Public Library on the Tour of Lights, which began in 2009 when it was known as the "Griswold Tour of Lights" in honor of the 1989 film "National Lampoon's Christmas Vacation." It has grown over the years with this year's event expanding to six days of stories and tours. 
"It has become so popular as a fun, free family event," Special Events Administrator Diana Bosse said. 
The tours kick off with a reading of the holiday story "Polar Express." Bosse said many of the children come dressed in their pajamas for the story time. The trolley tour begins 30 minutes later with visits to home's like Goodwin's, who adds something new each year to his display.
"I try to make it look artistic," Goodwin said. "Have some style and class to it. This year I added seven high-powered laser lights."
Goodwin said he began installing holiday lights on his home in 1987. Back then he used "old style" lights that blew out his circuit breakers. So Goodwin did what any Griswold would do. 
"I added power," he said. 
Goodwin started using LED lights when they came around because they used less power. So he put more lights up. 
"With extra power added to the old lights and with the LEDs being so efficient, that's how I can put as many lights up as I can," he said.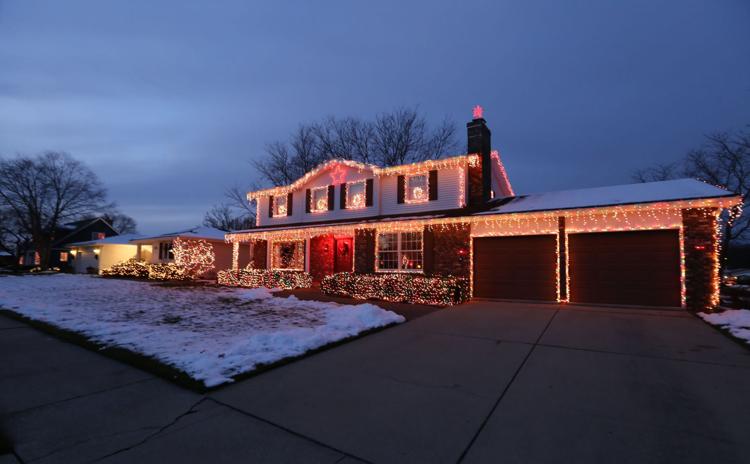 Goodwin said a lot of people walk around his driveway to get a closer look at the laser lights he has installed in his tall trees. People come from all over to see his lights. 
"I've created a monster," he said. 
During the tour visitors can vote on their favorite display. The winner gets a Moose Mug like the one from "Christmas Vacation." Goodwin has won so many that this year his home is an honorary stop on the tour and not eligible for voting. 
"I have so many mugs that I don't need them anymore," he said. "I'd rather let someone else have the chance." 
Goodwin's neighbor's home is part of the tour this year, as is the home of John Blech, who lives on Greenbriar Court behind High Meadows Pond. Blech has been taking part in the tour for almost every year since it began. 
Blech has been decorating his home for nearly 30 years. He lives in a cul de sac and started putting lights and decorations on the back of his home because more people saw them while driving on Greenwood Avenue near one of the city's main entrances. 
"It just kind of grew from there," Blech said. "One of the reasons I got on the Holiday of Lights Tour was because most people never saw the front of my house. That's why I got motivated to be on the tour."
Except for LED lights on the candy canes he made for his house, Blech said he uses incandescent lights (about 18,000) because they remind him of his childhood's Christmas. He remembers coming home in the evening and that point when he turned the corner and saw his parent's Christmas lights on the bushes. 
"It's kind of reminiscent when I do this every year," he said. 
Gallery: Crown Point's Tour of the Lights
The Crown Point Tour of Lights event has expanded to six days of stories and tours as Mayor David Uran's Office of Special Events partners with the Crown Point Public Library.
It runs Dec. 12 through 17 from the Crown Point Civic Center.
The holiday story "Polar Express" will be read at 5 p.m. with a 5:30 p.m. trolley tour; 6 p.m. story with a 6:30 p.m. trolley tour and 7 p.m. story with a 7:30 p.m. tour.
An extra run has been added Dec. 17, with an 8 p.m. reading and an 8:30 p.m. tour.
For more information call (219) 662-3290.
New on the tour this year is the home of Kristie Dressel, the city's clerk-treasurer. Dressel and her husband have taken past tours with their grandchildren.
"We think Christmas is such a magical time of year for the kids," she said. "We wanted to be a part of that."