WHITING — Blame former Hurricane Harvey for an early end to summer fun at Whihala Beach's floating water park.
The Whoa Zone closed for the season several days earlier than anticipated Thursday because of damage from wind and high waves and a weekend forecast that included more of the same, said Ron Romens, a partner at Empire Recreation Management, which operates the park.
The $300,000 attraction along Whiting's beachfront had been scheduled to close for the season Monday. In a Facebook post, the park described Thursday's damage as unexpected.
Romens said wind and waves shifted some of the anchors that hold the Whoa Zone in place, and the forecast through Monday called for winds of up to 40 mph.
"Harvey is really kind of stirring up the jet stream," he said. 
The park posted daily weather condition updates on its website. Facebook posts show it was closed a number of days late last month because of weather conditions.
The water park, which was manufactured and designed by a German company Wibit, was installed in June 2017 by Commercial Recreation Specialists.
It featured three course levels designed for all abilities and more than 60 play segments, including slippery slides, bridges, bounce domes, roundabouts, climbing walls and more.
Romens said the park had logged more than 15,000 visits several weeks ago, with visitors coming from 15 states and countries such as Austria and Japan. A survey found 30 percent of visitors came from within 15 miles of the park, and the other 70 percent came from farther than 15 miles away.
Operators hope to expand the park next year, because there were days when tickets sold out because the Whoa Zone reached capacity.
"We want to try to make sure that doesn't happen," especially for visitors who travel many miles to experience the water park, he said.
Whoa Zone is tentatively scheduled to reopen for next summer's season June 23, Romens said.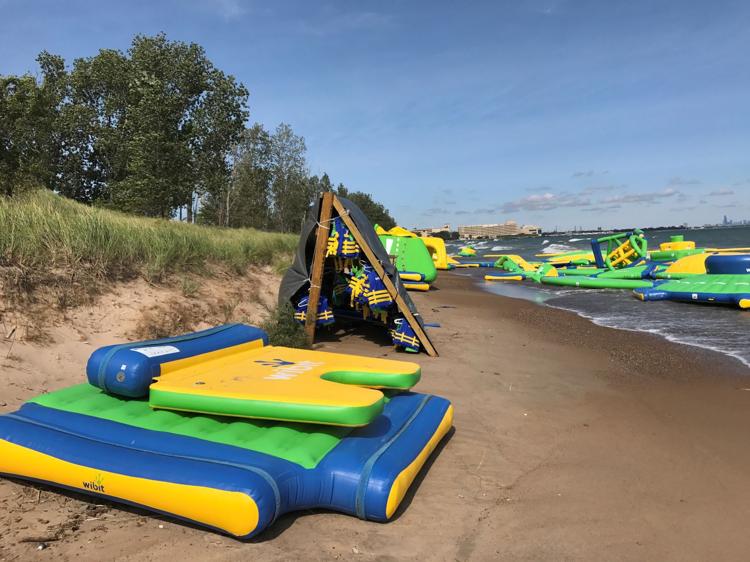 The Whoa Zone was the first park of its kind installed on Lake Michigan, which is known for its rip currents and choppy waters that are rough enough to impact even the strongest of swimmers.
About 68,000 pounds of concrete anchored Whoa Zone to Lake Michigan's sandy floor, along with a series of connections and large bungee cords that adjusted as waves swell or water levels recede, Rich Wills, principal owner of Commercial Recreation Specialists, told The Times in June.
Romens said the inflatables in the park were being brought in to a parking lot Friday, cleaned, checked for damage and prepared for storage.
"We have a couple good, solid days of work getting everything bundled up," he said.