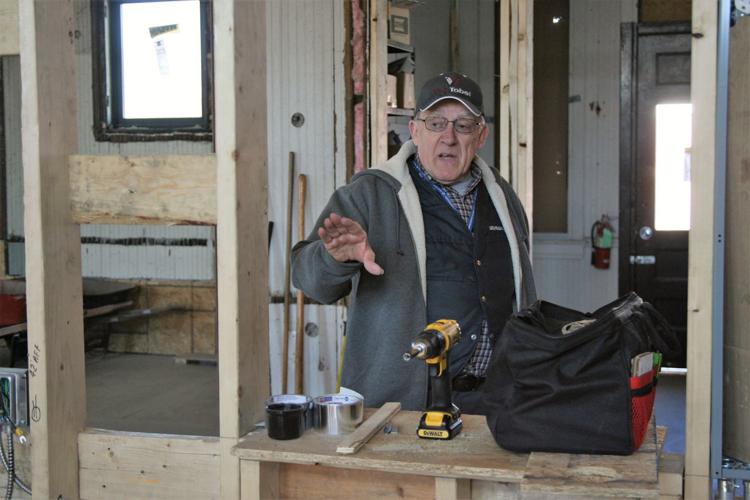 Occupation: Retired electrical engineer
Where/how this person volunteers: Baker began volunteering as an electronics instructor at Porter County Career and Tech Center in Valparaiso. Since then, he has also taken on the responsibility of directing electronics students as they wire a 3,200-square-foot former Grand Trunk rail depot into the Cosmetology Education Center, located adjacent to the career center serving Porter County and Hobart students. Working with blueprints from the 1912 building, Baker's students are converting the train station into a learning center, installing the entire electrical system. The goal is for the depot conversion to be completed by August.
Why this person volunteers there: "I know so many educated journeymen who don't want to pass skills on to the next generation. I do the opposite," Baker said. "If I can share my educational experience, hey, that's what it's all about." Working with young people, Baker encourages them to remain drug-free and to understand what employers expect in the work environment.
Particular skills used/gained: Baker said he uses much of what he learned in high school. Growing up in Buffalo, New York, at a time when energy was cheap and jobs were plentiful, Joseph worked in electronics, as did his father and grandfather. Joseph went one step further, earning a degree in electrical engineering. He worked 10 years for McGill Manufacturing Co. in Valparaiso, then another 27 years at Weil-McLain, a foundry in Michigan City. While volunteering at the career-tech center, Baker earned a substitute-teaching license.
How long has this person volunteered there: Baker has volunteered with Porter County Career and Tech Center for seven years.
Any other volunteer work: A member of the Kiwanis Club, Baker was the first inductee into the Porter County Career and Tech Center's Volunteer Hall of Fame. Another Tech Center project for Baker was the installation of a solar energy system on the rooftop of the main building. The center is now not only using the energy but also selling some of it. He's also involved with the Hoosier Valley Railroad Museum in North Judson.
Insights from volunteering: "There's such a wide variety of talents and desires," Joseph said. "There's also a vast uncertainty" due to young people nervous about their future. A blue-collar type of guy who does not work from a textbook, Joseph said, "I teach hands-on. I show the students how to do things to meet codes. I leave the books to regular teachers." Looking at his students' work around the former train depot, Joseph noted, "I try not to do too much. I want them to do it, and do it correctly. If I do it, they don't learn."
Advice to others who might volunteer: "Do it. It is very rewarding," Baker said, noting that two of his current high school students have already been hired by a local contractor. "It gives me a sense of accomplishment to see these kids" learn and grow, he said.