Slideshow: A look back at your celebrations in 2017: Happy 100th birthday, Doris Tolson!
The Times wants to celebrate your milestones — everything from births, birthdays, engagements, weddings, anniversaries, graduations and more. Submit your celebration announcements for a chance to be featured in print to nwi.com/celebrations. It's completely free of charge.
Happy 100th birthday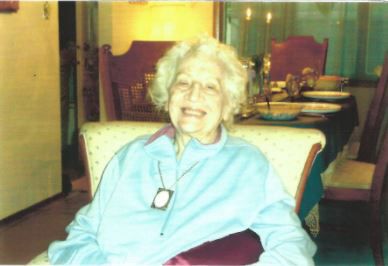 Abundant wishes and congratulations to Doris Tolson (Steinberg) on her milestone birthday of 100 years old!
Doris was born to Herbert & Lillian Steinberg in LaPorte County on Jan. 5, 1918. Doris is the oldest of the six children, two brothers and three sisters. Surviving sister, Carol Amptmeyer, is the youngest of the six siblings.
Doris resided in Lansing, and was a loving and devoted wife of 52 years to Roy Tolson, who passed away in 1990.
Daughter, Marshal Bell and two grandsons, Randall Bell (Mihaela) and Marc Bell, youngest sister, Carol, and numerous nieces and nephews, honor Doris on her "commemorative" day with love and blessings.
Doris now resides in a local nursing home in Dyer.
Throughout her 100 years, she experienced many historic events, sharing her lifetime of wisdom.
Doris' amazing talents were recognized by everyone in her life, entertaining guests with her gourmet meals, homemade from scratch. Recipes included decadent pastries, cakes, pies, candies and amazing varieties of homemade breads. Doris was requested by the famous golf legend, Arnold Palmer, to make her awesome cinnamon bread when he was visiting a friend in the Illinois area. Doris was an excellent seamstress, as well as, sewing coats, apparel and draperies.
Congratulations to such a heartfelt and caring person, everyone in life should be blessed to have known her.
Celebrating 75 years of marriage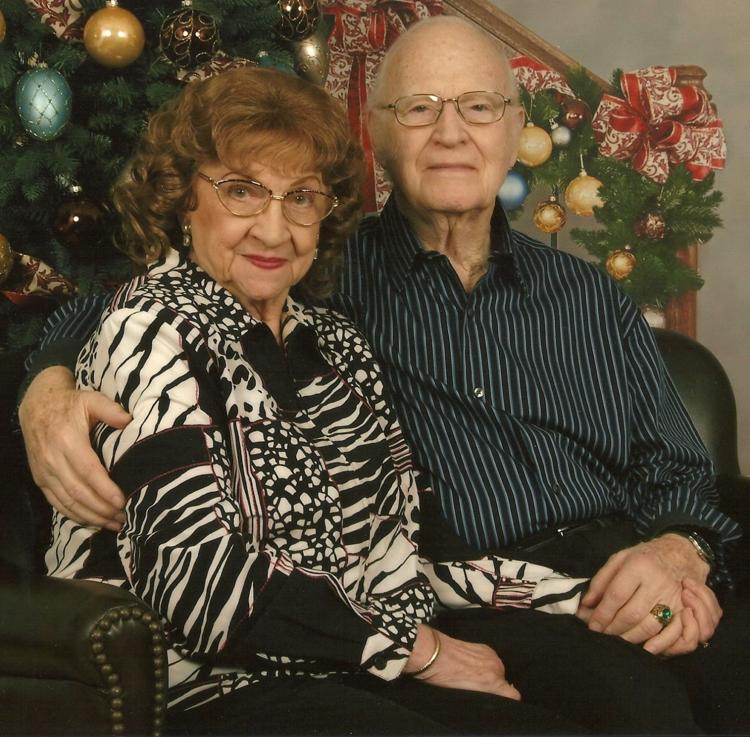 Robert and Marie Davis celebrated 75 years of marriage on Christmas Day. They met at a picnic and were married at a church in Gary.
Robert served in the 71st Infantry Battalion U.S. Army in WWII from February 1943 until April 1946. Robert retired from U.S. Steel as a crane operator. Marie retired from Anderson Co.
They have one daughter, Joni (Gene) Fuller, and three granddaughters, Jackie (Ken) Goad, Candace (Brian) Balas, and Shannon (Chris) Bolinger. Robert and Marie also have three great grandchildren, Leah, Megan, and Brandon.
Their family loves them and wishes them many more happy years together.
Happily married for 75 years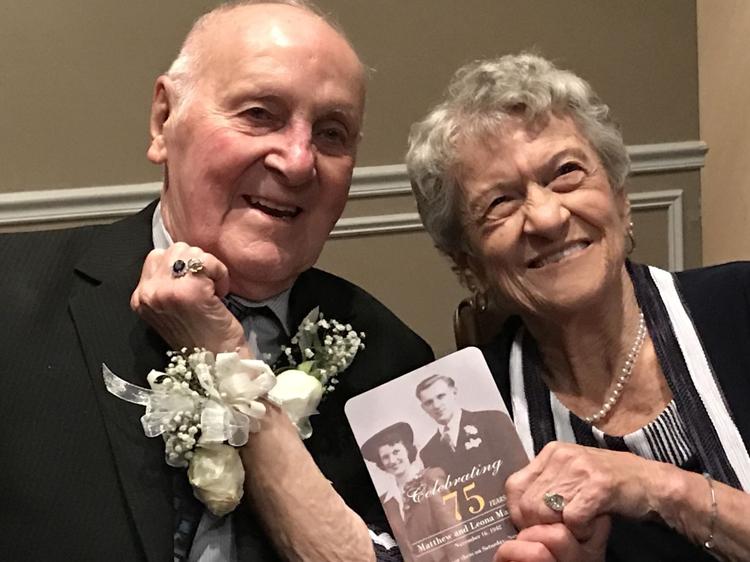 On Nov. 16, Matthew and Leona Macocha, of Dyer, celebrated their 75th wedding anniversary.
Their five children and their spouses, 15 grandchildren, 24 great-grandchildren and about 60 friends and family members surprised them with a belated "wedding" reception at the American Legion Hall, Post 330 in Calumet City on Nov. 18.
The happy couple were married on a Monday afternoon at St. John the Baptist Catholic Church in Whiting and never had a celebratory party until 75 years later! After attending mass the entire group enjoyed a Polish style buffet and danced to Big Band and Polka music. Matt and Leona were overwhelmed with love and happiness!
5 generations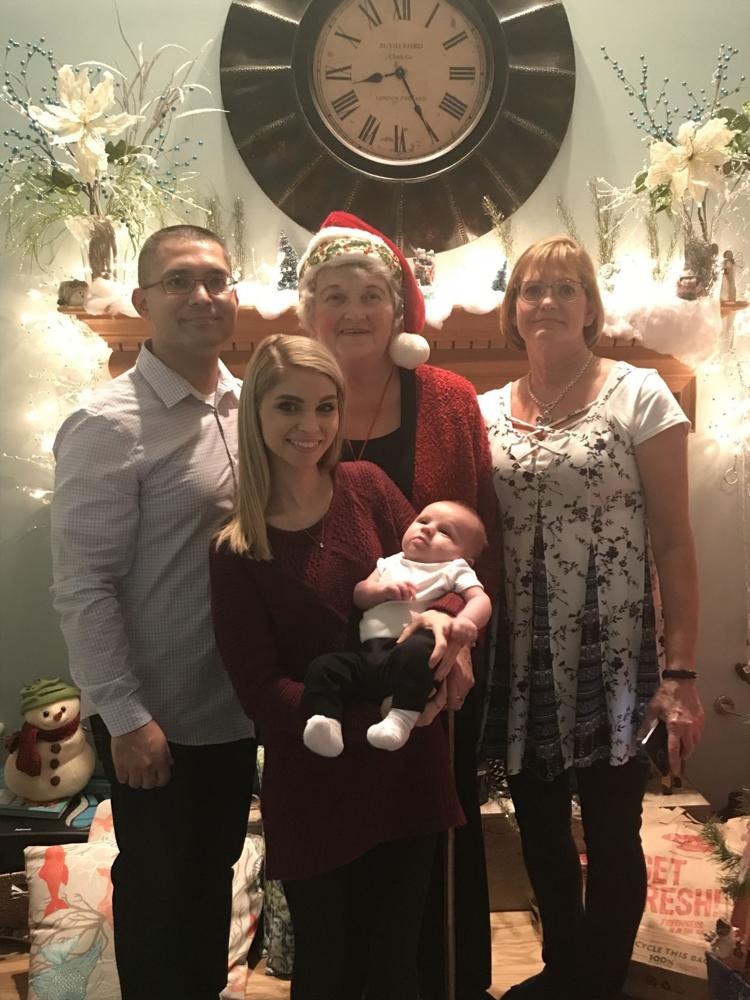 The big 1-0-0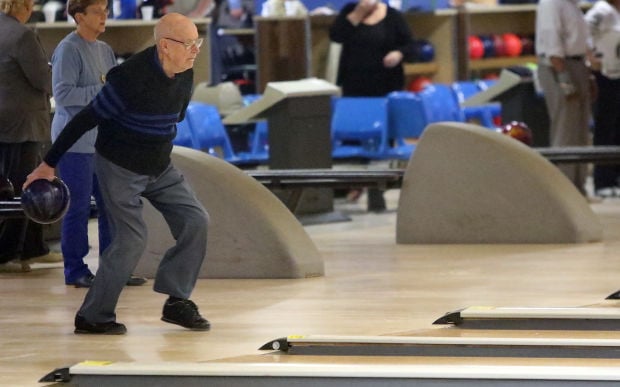 Happy 100th birthday, Woody Messmer! He's the captain of the bowling league at Stardust Bowl in Dyer.
Eich and Croell nuptials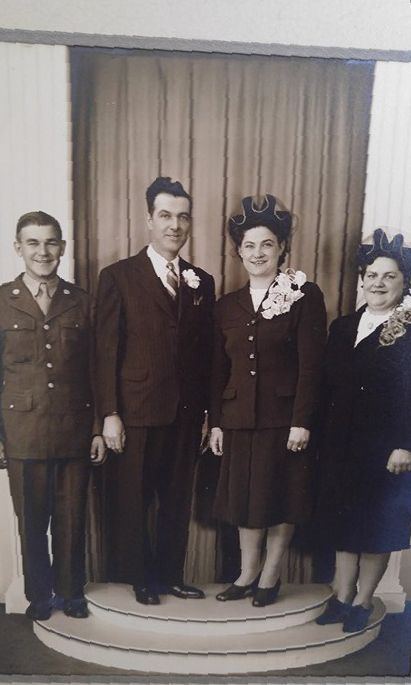 In a Saturday morning ceremony at SS Peter and Paul's church at Turkey Creey, Miss Helen Eich, daughter of Mr. and Mrs. Joseph Eich, and William Croell spoke their marriage vows with Rev. J. Nickels reading the service. The bride was attractive in a smart navy blue suit with white appointments and a shoulder corsage of white rose buds. Her sister Mary, as bridesmaid, wore a black suit with white accessories and a corsage of yellow roses. Pfc. William Eich, a brother of the bride, came from a Texas camp to serve the groom as best man.
Following the ceremony, a wedding dinner and reception were held at the home of the bride's parents. A tiered white cake with side arrangement of spring flowers formed the centerpiece for the table. Fifty relatives and friends were present to enjoy the reception and offer congratulations and good wishes. Three sisters of the groom, Mrs. Henry Vandenburg, Mrs. J. Evers and Mrs. Ann Klem, of Appleton Wisconsin, attended the ceremony and reception.
After a honeymoon trip, the young couple will live with Mrs. Frank Gund in Lowell for the present and will later move to a farm where the groom as accepted a position as farm manager.
*Note: This is a re-run of a celebration announcement that ran in The Times on May 3, 1943. The couple was married on April 28, 1943.
Happily engaged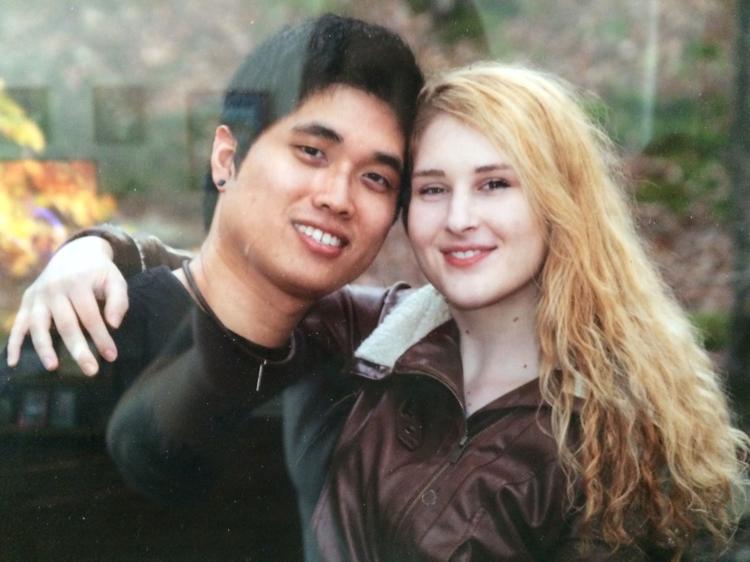 Patrick and Tonya McGuire would like to announce the engagement of their daughter, Adrieana Kayla Stroud to Antonio Kang.
Adrieana is the graduate of Culver Military Academy in Culver, Indiana, and University of Pittsburgh, where she and her fiance both met seven years ago. Adrieana works for the Prince William County Sheriff's Department in Manasas, Virginia, where they both reside. Antonio is an engineer.
They got engaged at Walt Disney World. A wedding date is not set yet.
Happily married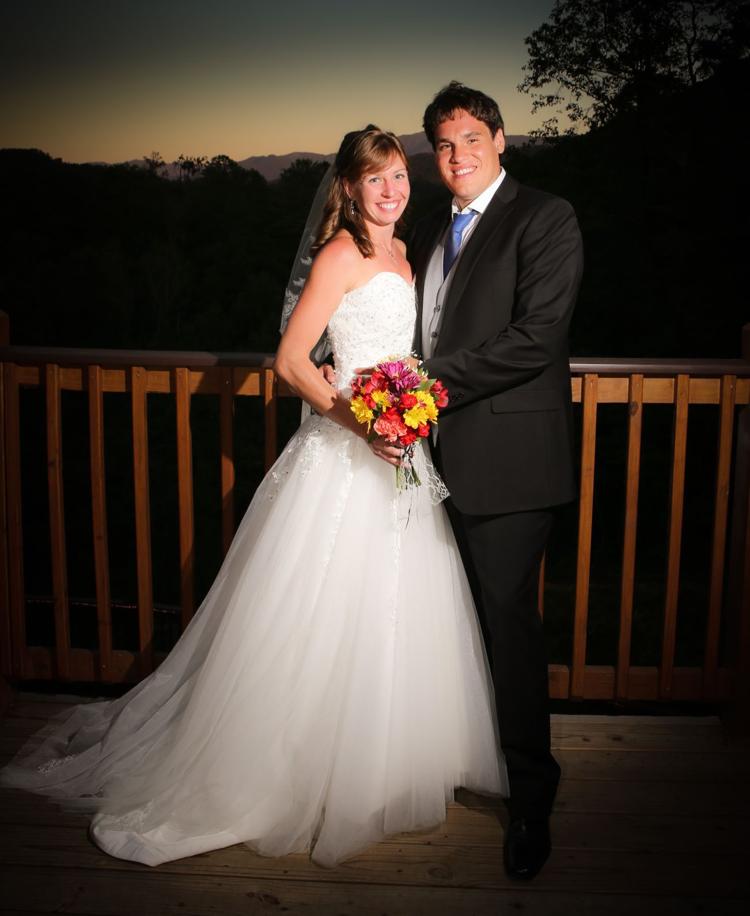 Jaclyn Joy Duemler, of Bloomington, Indiana and Felipe Muñoz Rubke, of Santiago, Chile, were married in a beautiful outdoor ceremony on July 30 in the Smoky Mountains in Pigeon Forge, Tennessee. The couple spent two days with all their closest friends and family at the Smoky Mountain Lodge where they truly enjoyed time together, especially since many traveled from far away. The guests represented seven countries and were thrilled to celebrate their wedding with them, as well as a weekend of hiking, barbecuing and dancing. It was a very special event, especially as the couple moved to Puerto Montt, Chile after their honeymoon.
Special friend, Padre Rob Bracco performed the afternoon ceremony.
The bride walked down the stairs of the Smoky Mountain Lodge to specially chosen music in a soft white sweetheart neckline beaded lace appliqued A-line gown with a sweeping chapel train holding a bouquet of wildflowers. The ceremony was intimate and touching and included family with a unity candle lighting.
Maid of honor was Joy Hansri, of Toronto, Canada and the best man was Juan Giglio Gutierrez, of Santiago, Chile.
The groom's mother Alicia Rubke Meneses, also of Santiago, the bride's parents Theresa and Terry Duemler and brother David, of Bloomington, Indiana, and her Uncle Daniel Schelfo and cousins Marie, Aaron and Mariel, of Crown Point, were all part of this celebration.
The reception was also held at the cabin where they dined, toasted and danced through the night.
The newly married couple began their honeymoon with some of the guests hiking in Iceland, then the couple traveled on to Germany and Spain.
Jaclyn earned bachelor's degrees in biology and international studies and a master's degree in public affairs at Indiana University, taught science and English in Thailand, and most recently served as the energy outreach coordinator for the city of Bloomington, Indiana.
Felipe earned a master's degrees in psychology at Universidad de Chile and in statistics from Indiana University, and received his PhD in cognitive science and neuroscience. He is now a professor of psychology at Universidad Austal de Chile, Puerto Montt, Chile.
A very happy 100th birthday
The residents of Ahepa 78 Phase IV wish "Mickey" (Edith Jenny) a very happy 100th birthday to be celebrated on Dec. 18.
Happy 101st Birthday Mary Schroeder!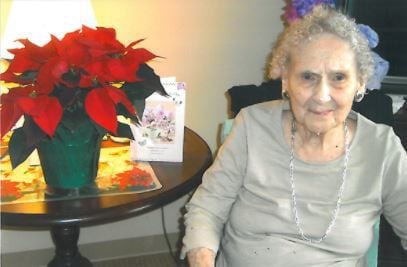 Mary Schroeder reached her 101st birthday on Dec. 5. Mary resides at Avalon Springs Health Center in Valparaiso. Several relatives stopped in to visit Mary on this special birthday.
Happy 60th anniversary, mom and dad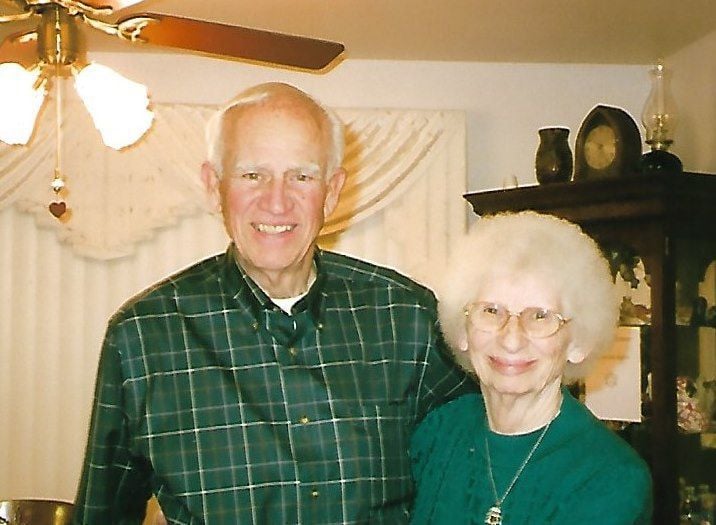 Ronald G. and Jacqueline R. Frey will celebrate their 60th wedding anniversary on Dec. 14.
Ron and Jackie met at Janc's Drug Store in Hammond, and have made their loving home in the Hessville section of Hammond for the last 60 years.
They are proud parents of four children, Ronald (Debra) Frey, Daniel (Diane) Frey, Marsha Frey and Janice Frey. They have two grandchildren, Adam (Jenny) Buchta and Michael Frey, and one great-grandson, Logan Buchta.
Ronald served as Maintenance Superintendent at U.S. Steel Supply and Jacqueline was a devoted homemaker.
Both enjoy spending time with family. Ronald is a member of Garfield Masonic Lodge and American Legion.
Congratulations on your diamond anniversary!
Love,
Your family
Happy birthday to Louise Butler
Mom, grandmother, great-grandmother and great-great-grandmother Louise Butler is turning 80 years young!
What can I say? We're all blessed to have a person like you who always brings out the best. I will always be grateful to have you in my life. You've done nothing but teach us all wrong from right. I miss the good ole days when we all got together at your place. The joy in my heart when I seen the look on your face. Without you and grandpa this family wouldn't know what to do. I can honestly say its all cause of you. What kind of woman defines strength and heart? I'll give you an example: My grandma always has more than enough she can handle. But day in and day out the struggle is tougher. But I will always admire my grandmother for never letting the devil win in any battle and always making sure we all all in gear with her paddle. I love you Louise Weyant Butler. Enjoy this birthday and many more to come, because there only one person who shines as bright as the sun: It is you, no doubt in my mind. And you will always be there for all of us every single time. I wanna thank you for granting us the ability to live this life. And always know that we will always be by your side.
-Your family
Lake Central hockey takes championship
The Lake Central Hockey Club took first place in the Chicago Thanksgiving Classic Tournament this past Thanksgiving weekend. Great job boys!
Pictured in the first row are Zachary Szumski, Brett Bogie, Noah Steepleton, Brendan Kerrick, Jason Romer, RJ Mantoan, Sam VandenBurgh and Jason Finley.
Pictured in the second row are John Bondi, Ryan Bogie, Grayden Taylor, Ryan Bandstra, Tyler Skertich, Jack Garson, Spiro Skiadopoulos, Ryan Geenen, Garrick Andrews, Luke Romer and Brett Bandstra.
Not pictured is Cole Maynard.
5 generations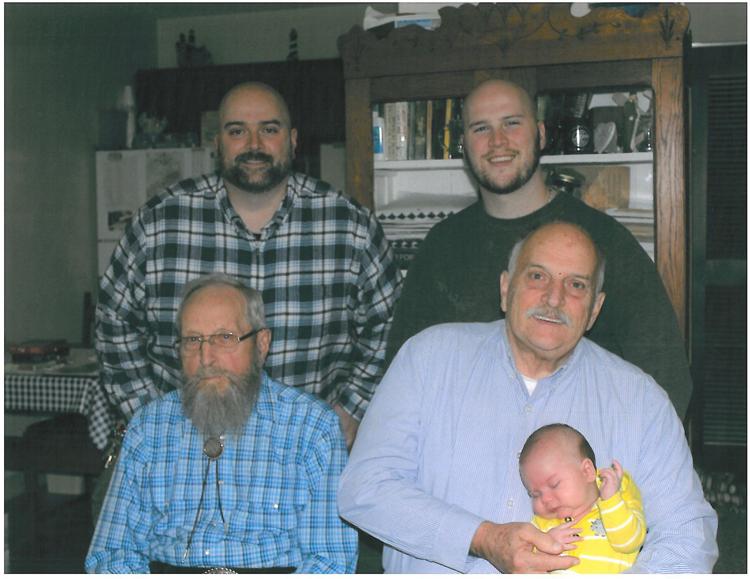 Pictured are five generations of first born sons — Robert Tobey, John Tobey, James Tobey, Benjamin Tobey and Keegan Tobey.
26 years since first kiss
This Nov. 26 was the 42nd anniversary of the first time I kissed my wife! I still get goose bumps to this day. It was in Chicago in my aunt's backyard at 6:30 p.m. and it was snowing huge snow flakes. I remember it like it was yesterday!
I love you, Joanne! 
50 years celebrated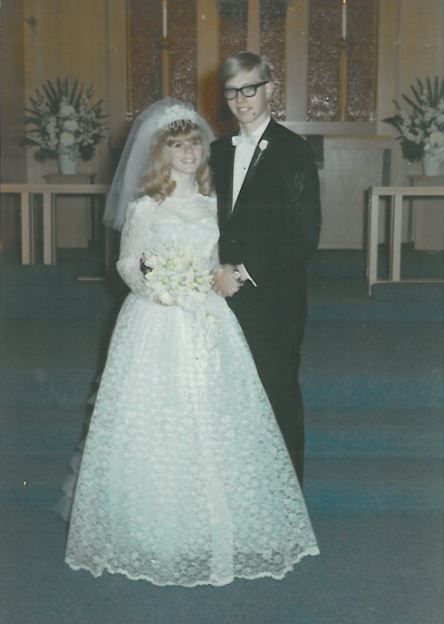 Dennis and Phyllis (Gruhlke) Brandy were married at Markham Lutheran Church in Illinois on Feb. 11, 1967, the closest date to Valentine's Day and the month of the Chicago Region great snowstorm.
By 1972, the growing family had moved into a century-old red brick house in Valparaiso. Soon Dennis relocated the family locksmith business there and another child was born. The four brothers — Jonathan (Lynn), Allan (Julie), Peter (April) and Jeffrey (Shallyn). Eventually — grew up and married.
Ten grandchildren joined the clan — Jonathan, Emma, Nicole, Alex, Justin, Conner, Caleb, Cayden, Coralyn and Clayton.
Dennis and Phyllis celebrated their 50th anniversary in Maui, Hawaii. Recently, a banquet to honor them was held at Aberdeen Manor. The theme was "Love is the Key."
The Brandys believe love unlocks the best in life.
Their sincere gratitude is extended to all who expressed loving good wishes and are very thankful to God for the blessings of friends and a fine family.
Happily engaged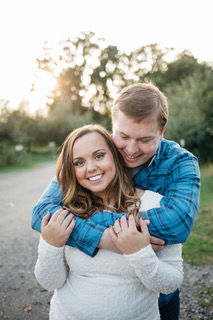 Michael Andrew Donovan Dobosz and Marris Taylor Mihalcik, both of Griffith, recently became engaged on May 2, 2017.
Michael is the son of Michael and Kathryn Dobosz. Marris is the daughter of Michelle Mihalcik.
They plan to wed in 2018 in Schererville.
Happy 80th birthday to Louise Weyant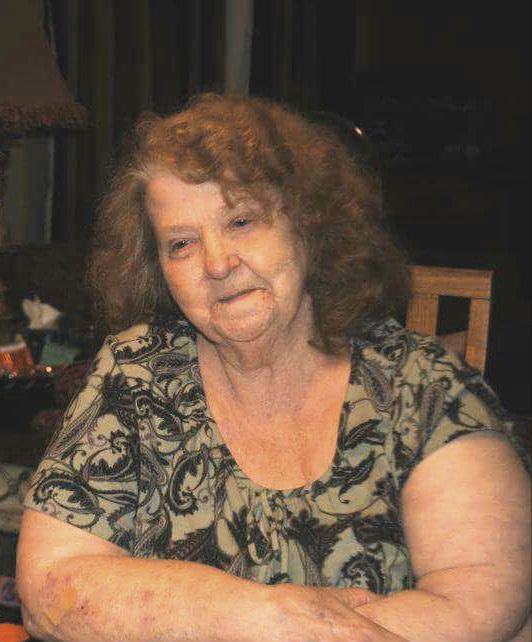 You have spent 80 years gracing this earth and making an impact on peoples' lives. Ten children, countless grandhildren, great-grandchildren and even great-great-granchildren are blessed to experience the love you share so freely! We love you and wish you the happiest of birthdays.
Love,
Your family
Celebrating 70 years of happiness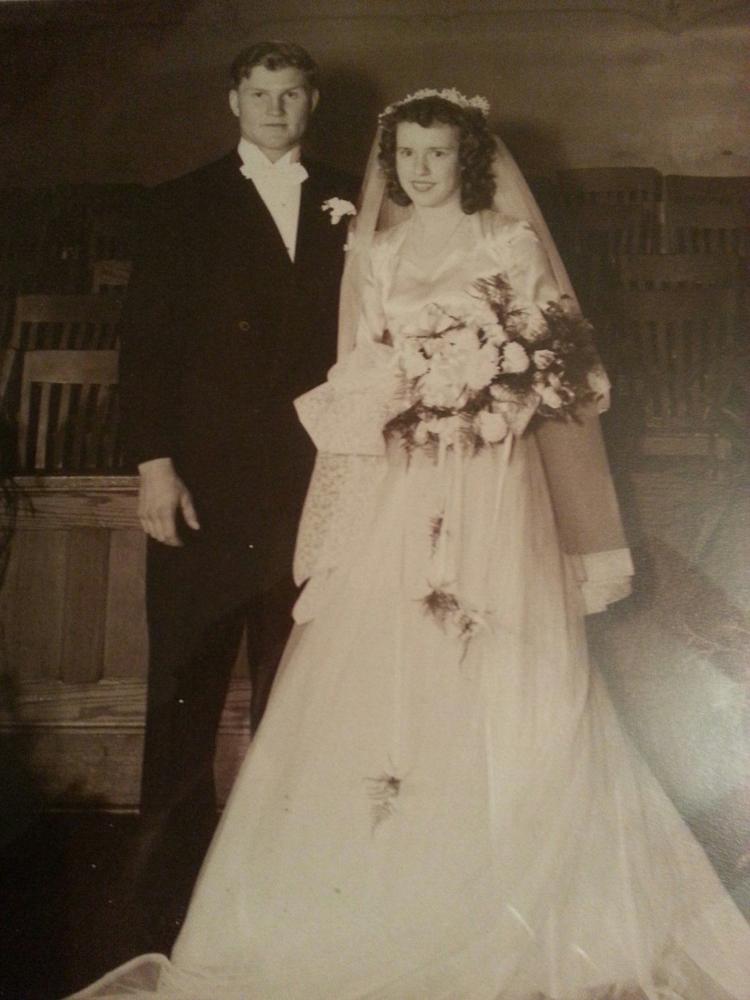 Luke and Georgia Ratley are celebrating 70 years of marriage on Nov. 29. They were married in 1947 in Hammond where they still reside.
They have three children, Rich Ratley (deceased), Sandi Pritchard and Mike (Rita) Ratley (deceased). They also have four grandchildren, Samantha (Joe) Atkins, Luke Ratley, Tish (Donnie) Bartell and Gwen Cadieux. They also have seven great-grandchildren, Gregg, William and Richard Ranhan, Zakkary Bartell, Justin Vasquez, Tabitha White and Aaron White and 14 great-great grandchildren with another on the way.
Luke retired from Shell Oil Company in Whiting but never really stopped working. Georgia retired from Lockwood Laboratories in Hammond.
One of their favorite past times has been fishing and spending time on the water with family and lifelong friends.
"The key to a happy marriage is giving as much as taking; for always sharing a dream in the making; for talking things through and working problems out; and for the many ways two hearts discover that through life's journey they can count on each other."
Celebrating 70 years of marriage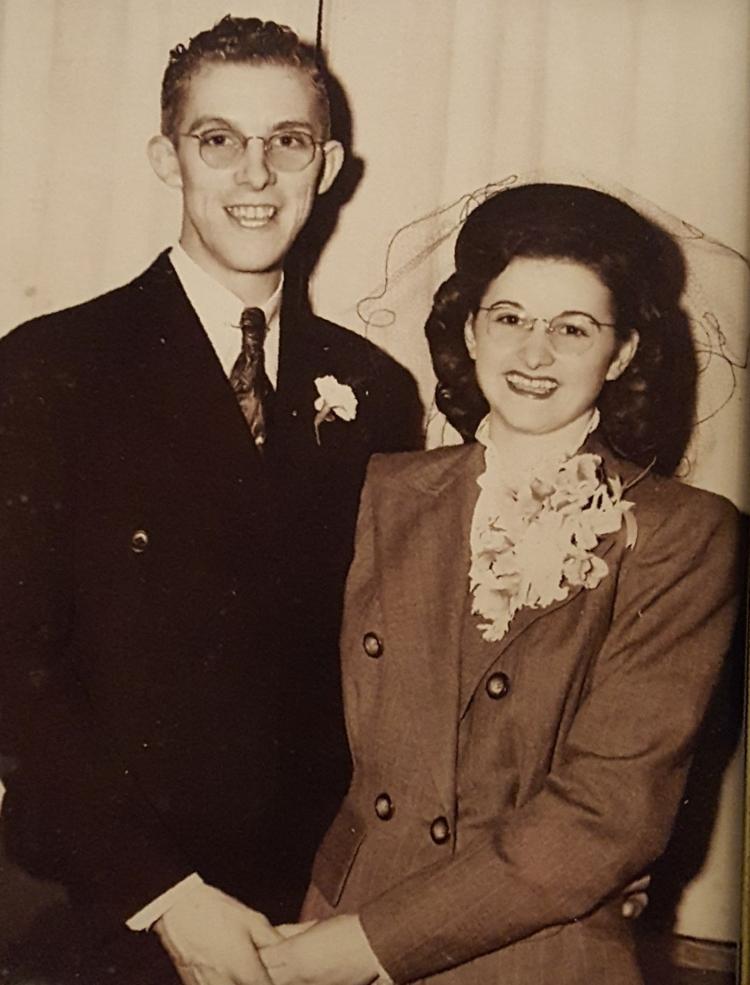 Robert O. and Betty A. Johnson were married at the City Methodist Church in Gary on Nov. 30, 1947.
They have four children, Ruth, Kenton, Dean (deceased 2002) and Jay. Their in-laws include sons-in-law Bob Jones and Jim Maryonovich-Johnson and daughter-in-law Tamara (Moore) Johnson. Grandchildren include Robert D (Bobby) Jones II, Ryan D Jones and Grayson Johnson. Great-grandchildren include Private First Class Victoria Jones and Lance Corporal Andrew Jones. Great-great-grandchildren include Carter M. Cunningham.
Robert was employed in the electric shop at U.S. Steel for 48 years. He was a volunteer fireman for East Gary for more than 50 years and also drove an ambulance for a funeral home for 33 years. Betty was a homemaker and a 50 year member of the ladies auxiliary of the EGFD. The Johnsons were very active in their beloved community East Gary having served on the bi-centennial committee where Mrs. Johnson designed and created several costumes with her professional sewing ability.
Mom and Daddy: Thank you for teaching us how to love and serve others through your examples. May God continue to bless the both of you as you celebrate your 70th wedding anniversary.
Celebrating 55 years of wedded bliss
Alan and Mary (Wiechecki) Paquin were married at Our Lady of Perpetual Help Catholic Church on Dec. 1, 1962. Alan will also celebrate his 79th birthday on Dec. 1.
The couple have three children, Kenneth (late Cyndi), Timothy (Dawn) and Michele (Tom) Magiera. Their grandchildren are Krysten, Dustin, Joshua, Amber, Blake, Madison, Mac and Zacry. Their great-grandchildren are Madilyn, Abigail, Danielle and Ivey. Alan retired (42 years)from Arcelor Mittal.
Mary retired after 30 years from School City of Hammond. Alan and Mary enjoy spending time with their family. In their spare time, they travel. Alan was active in Union 1010. Mary has been a member of her bunco club with her high school friends for 52 years and an associate of PHJC for 25 years. Mary has an Australian pen pal for 61 years.
Their family loves them and wishes them many more happy years together.
XOXO
Celebrating 75 years together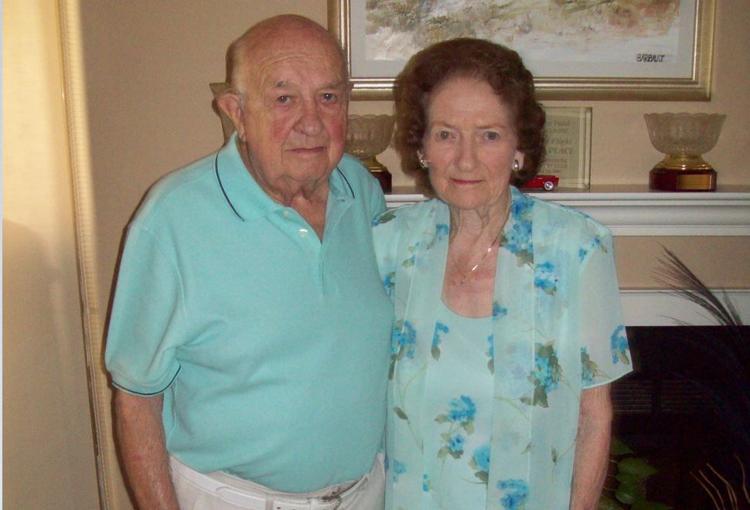 Elwyn and Caroline Studer celebrate 75 years of marriage on Nov. 26. They were married at The First Presbyterian Church in Thayer, Indiana. They renewed their wedding vows in 1970 in Hawaii.
Elwyn served in WWII and retired from Highland High School where he was a guidance counselor for 24 years. Caroline retired from Thrifty Mart in Griffith.
They have three children, nine grandchildren, and five great grandchildren. Their children are Gary Studer, of St. Petersburg Florida, Evan (Judee) Studer, of Palatine, Illinois, and Gail (Nelson) Wynn, of Highland.
Congratulations! We love you! God bless!
Marriage and a marathon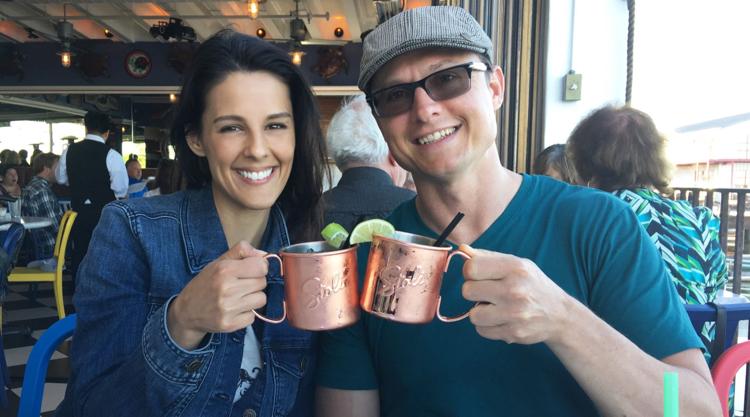 Amber Ash and DJ Watts, of San Francisco, California, are pleased to announce their engagement. Amber Ash is the daughter of Melisa and William Gall, of Highland. DJ is the son of Tammy Powell and Donny Watts, of Saint Joseph, Missouri.
These two graphic designers traveled far to accomplish their dreams of working in one of America's leading design cities where they met in 2016. They currently reside in the North Bay area. DJ works Watts as a production artist for a superfood company and Amber Ash works as a creative director and designer for a startup.
The dynamic duo plan to travel to Hawaii to get married, as well as participate in the Honolulu Marathon this December.
Congrats on your engagement!
Ronald Goldsmith and Jessica Archer recently got engaged and are planning to wed on July 14, 2018.
South Newton ag teacher recognized by Purdue Agriculture Education
On Nov. 3, South Newton agriculture teacher, Darrell Allen was recognized for his outstanding teaching career of 34 years by Purdue Agriculture Education!
He began his teaching career at South Newton High School in Kentland. He then taught at Fairfield High School in Elkhart County for nine years. Darrell returned to South Newton in 1998. He has continued to teach there and serves as their FFA advisor.
Darrell enjoys coaching and mentoring multiple FFA teams and contests. Eight soils judging teams have advanced to the national contest with the 2005 team capturing the national championship. Other teams winning state Career Development Events include Welding, Parliamentary Procedure, and Crops. One former student was named the State Star in Agribusiness and several students have received the State and American FFA degrees. Four former members have served Indiana FFA as state officers.
Darrell is very active in his community. He has served on the Soil and Water Conservation District board for 16 years and as a 4-H leader for eight years. During this time he was the chair of the 4-H council.
Please join us in congratulating Darrell for his contributions to agriculture and the youth of Newton County!
Alys Helfen celebrates 105th birthday!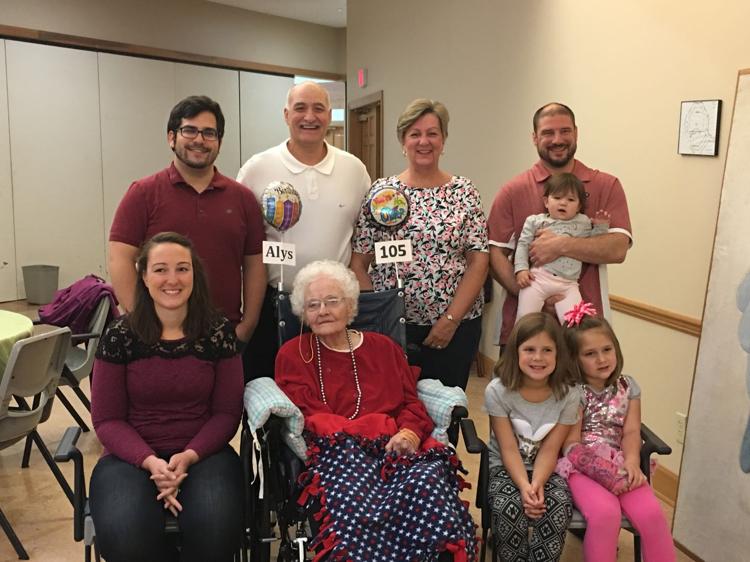 A 105th birthday celebration honoring Alys Helfen was held in Crown Point on Oct. 14 with her friends and family attending.
Alys was born on Oct. 10, 1912 in Mount Comfort, Indiana. She was the daughter of Claudia and George Dunn. She also had a sister, Verne Vee, and two brothers, George O and William Joseph.
Alys began her career choice of teaching in 1936. The schools she taught at were located in Mishawaka, Indiana, Glenwood, Indiana and Walkerton, Indiana. She loved to teach children and enjoyed participating in the many school activities.
In 1941, Alys married George Helfen in Griffith where they made their home. They had seven children, three boys and four girls.
Alys continued her teaching career in Griffith schools until her retirement in 1977. She taught school for 24 years in all.
Alys and her husband George enjoyed traveling and visiting family and friends along the way. The highlight of their travels was their 90 day trip around the world. Alys' lifelong dream was to visit the Taj Mahal in India, and she was able to fulfill that dream on their world trip.
George and Alys were married 53 years until George passed away in 1994.
Alys is proud to be the grandmother of 10 grandchildren and seven great-grandchildren. 
Ellyn and Brody wed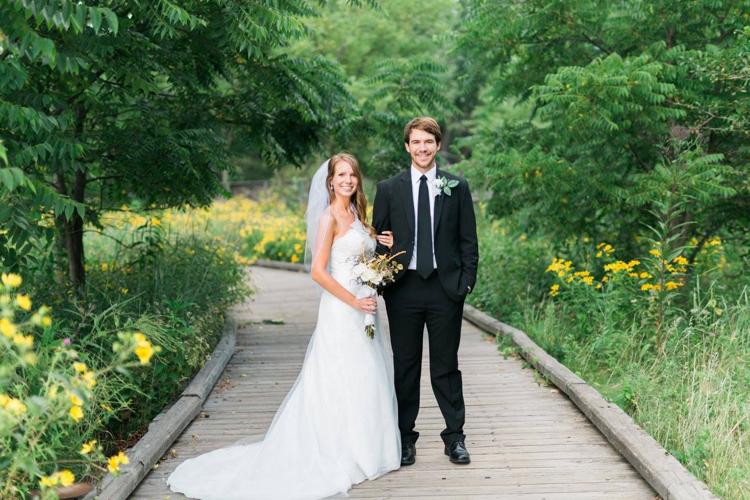 Ellyn Johansen, of Valparaiso, and Brody Kutch, of LaPorte, were united in marriage at Liberty Bible Church in Chesterton on Aug. 12. D.J. Murvine, of GracePoint Church, officiated the ceremony.
The bride is the daughter of Paul and Mary Johansen, of Valparaiso. She is the granddaughter of Alan and Bonnie Johansen, of Valparaiso, and Eugene and Patricia Kane of Atchison, Kansas. The groom is the son of Bruce and Jody Kutch, of LaPorte. He is the grandson of Judy Surowiec, of LaPorte.
The maid of honor was Abby Johansen, sister of the bride. The best man was Michael Kutch, brother of the groom.
Following the reception at Trinity Hall and Banquet Center in Chesterton, the couple left for Serenity Springs and later Oxford, Wisconsin.
The bride and groom are both graduates of Purdue University North Central. The bride has a bachelor's degree in social work and the groom has a bachelor's degree in psychology. The bride is currently attending Loyola University Chicago for her master's degree in social work.
The bride and groom are currently residing in Valparaiso.
Celebrating 50 years!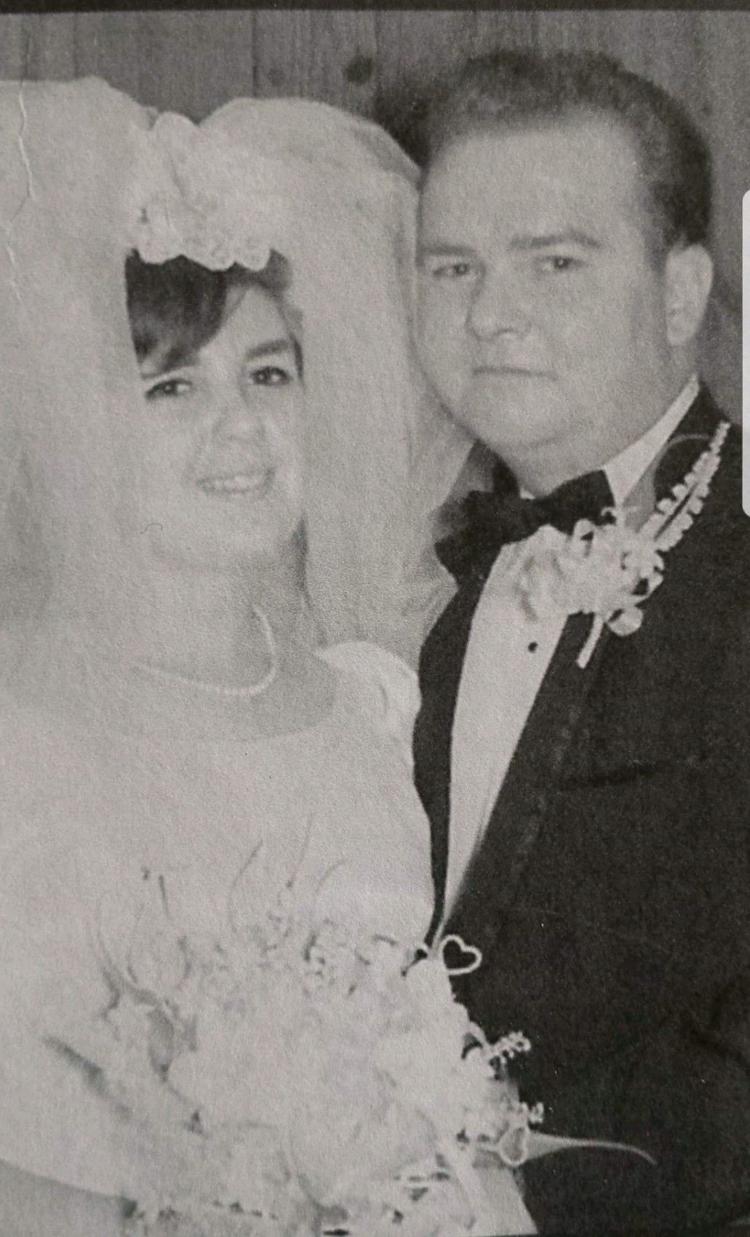 Thomas and Barbara (Marshall) Sitkowski were married Nov. 11, 1967.
They have four children, Kathy (John) Matusik, Susan (John) Spudic, Tom (Denise) Sitkowski and Lisa (Bill) Missal. They also have six grandchildren, Nikki, Samantha, Stosh, Ryan, Logan and Isabel as well as one great-grandchild, Teagan.
Today as both of you look back with happiness and pride upon the 50 cherished years that you've spent side by side. May every memory that you share of dreams you've seen come true help make this special, golden day a happy one for you!
We love you, mom and dad!
Happy 50th anniversary!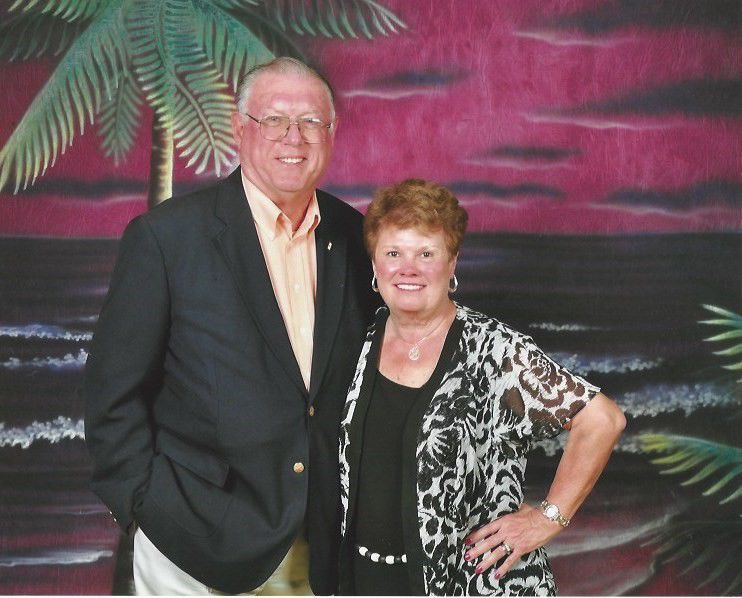 John and Judy Hall are celebrating their 50th wedding anniversary.
John and Judy are the proud parents of their son, John, and their daughter, Sheri Kendall (Hall). They are also grandparents to Brittany Hall and Kayla Kendall.
Happy anniversary!
Love,
Johnny and Sheri
Congratulations to Meagan and Bryan Chovanec!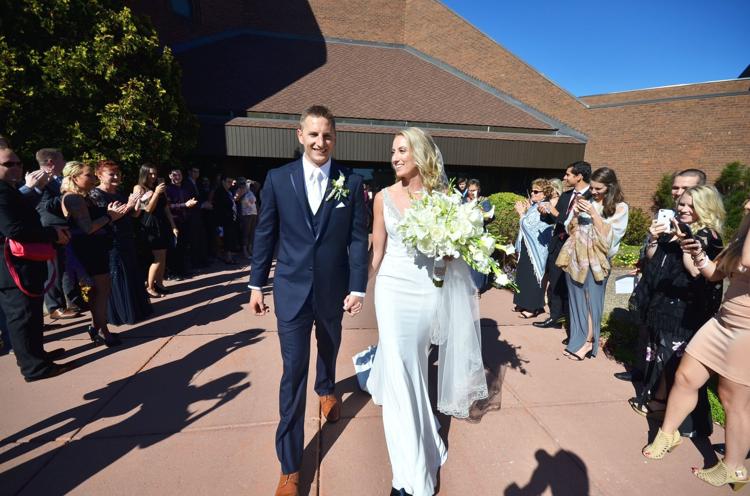 Steven and Peggy Chovanec, of Munster, are pleased to announce the marriage of their son, Bryan, to Meagan Eytcheson. Meagan is the daughter of Tracy Eytcheson.
They were united together surrounded by family and friends at St. Paul's Lutheran Church in Munster. A beautiful reception followed at Blue Chip Casino, Michigan City.
The couple resides in Dyer.
Ken Leep celebrates 50 years as a Highland Kiwanian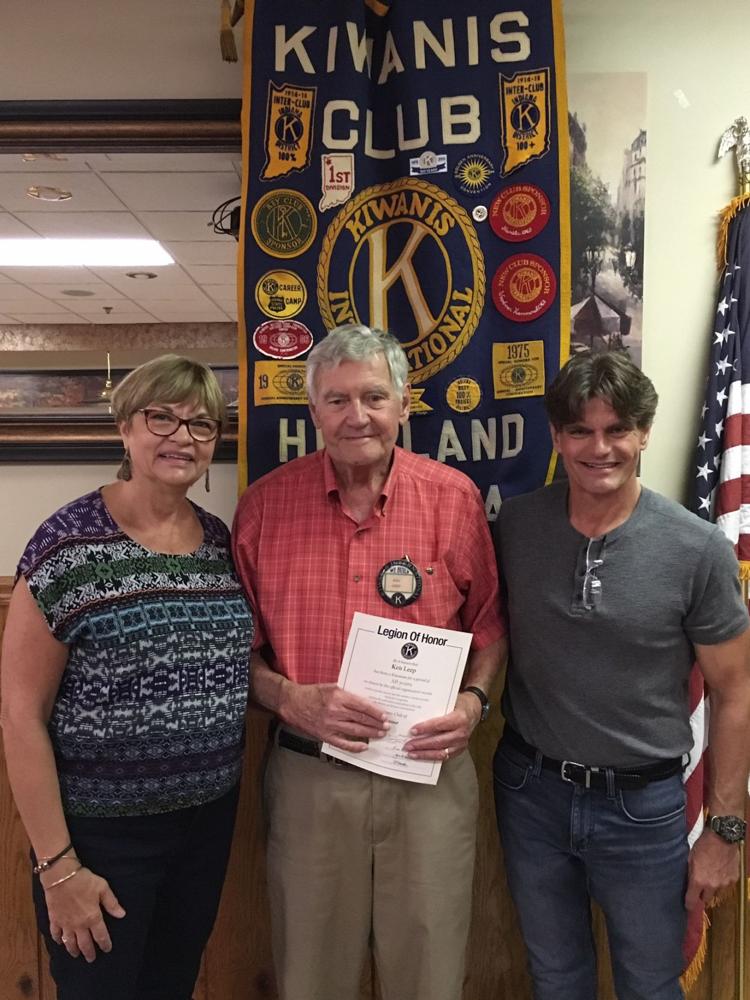 The Highland Kiwanis Club recently honored Ken Leep on his 50th year as a member of Kiwanis.
Ken shared many memories of his 50 years, including how his own father introduced him to Kiwanis, and how his own sons became members.
Ken Leep and his family have been dedicated Kiwanians with a true heart for service. In addition to being the longest member of Highland Kiwanis Club, his wife Barbara was welcomed that day as its newest member!
Congrats!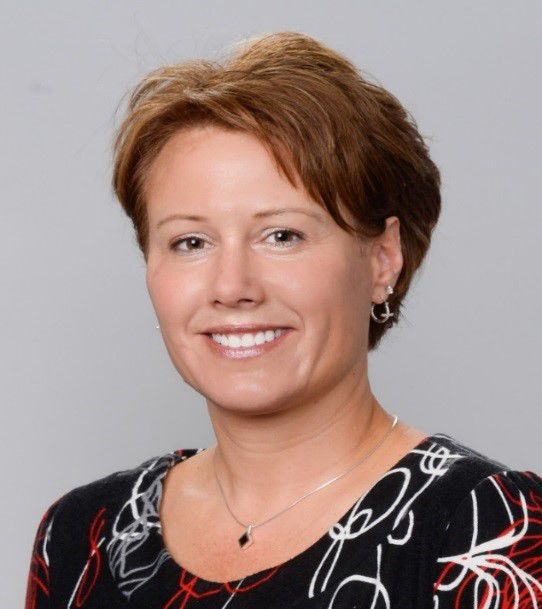 Sheri L. Kendall (Hall) was appointed to the Ball State University Foundation Board of Directors in February. She is the daughter of John and Judy Hall, of Hebron. Sheri graduated from Crown Point High School in 1990.
Sheri attended Ball State University and graduated with a degree in accounting in 1994. Subsequent to graduation, she continued her studies with the College for Financial Planning's CFP program. Sheri is a certified public accountant (CPA), a certified financial planner (CFP), and a series 65 registered investment advisor. She is a member of the American Institute of Certified Public Accountants (AICPA) and the Financial Planning Association (FPA).
Sheri began her accounting career with Swartz, Reston & Co. in Merrillville, in 1995. She then moved to Indianapolis to further her career in the area of comprehensive financial planning and investment management with Ernst & Young, in 1997. After eight years with Ernst & Young, Sheri's career carried her to Column Capital, LLC, a wealth management firm in Indianapolis, where she is currently employed as an executive director. She serves the needs of high-net worth individuals and high-level executives. Sheri is the director of tax compliance while also serving on the management team committee and the investment management committee at Column Capital, LLC.
Sheri is actively involved with Easterseals Crossroads, serving as a member of their board of directors and the chair of the finance and investment committees. She is a member of St. Simon Catholic Church and is actively involved with her daughter's school and sports activities at Cathedral High School in Indianapolis.
Congratulations!
Love,
Mom and Dad
Happy birthday!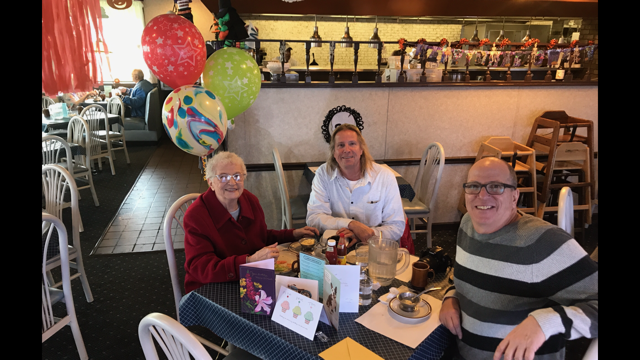 Mary Nitz, of Calumet City, celebrated her 87th birthday on Oct. 26. What makes it even more special is her son, David, also celebrated his 61st birthday along with her son, Tom, who celebrated his 58th birthday. All three were born the same day!
They celebrated this special day at Aunt Sally's in Calumet City.
It was the first time celebrating on the actual date in about 15 years due to Tom living in Arizona.
Memorial to Nick Schultz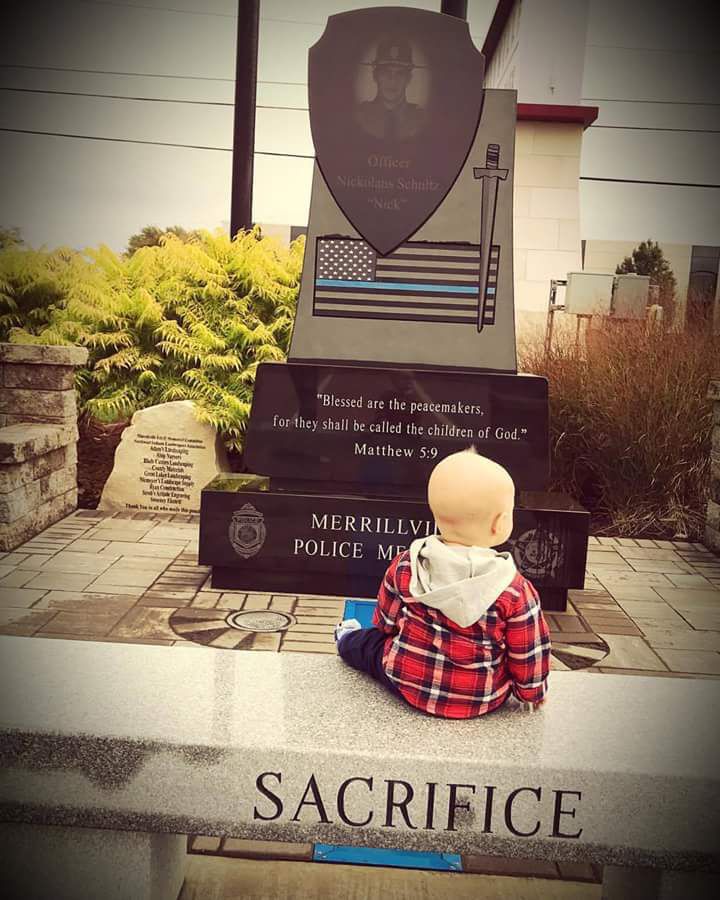 Someday he will learn who this hero is!
Happily wedded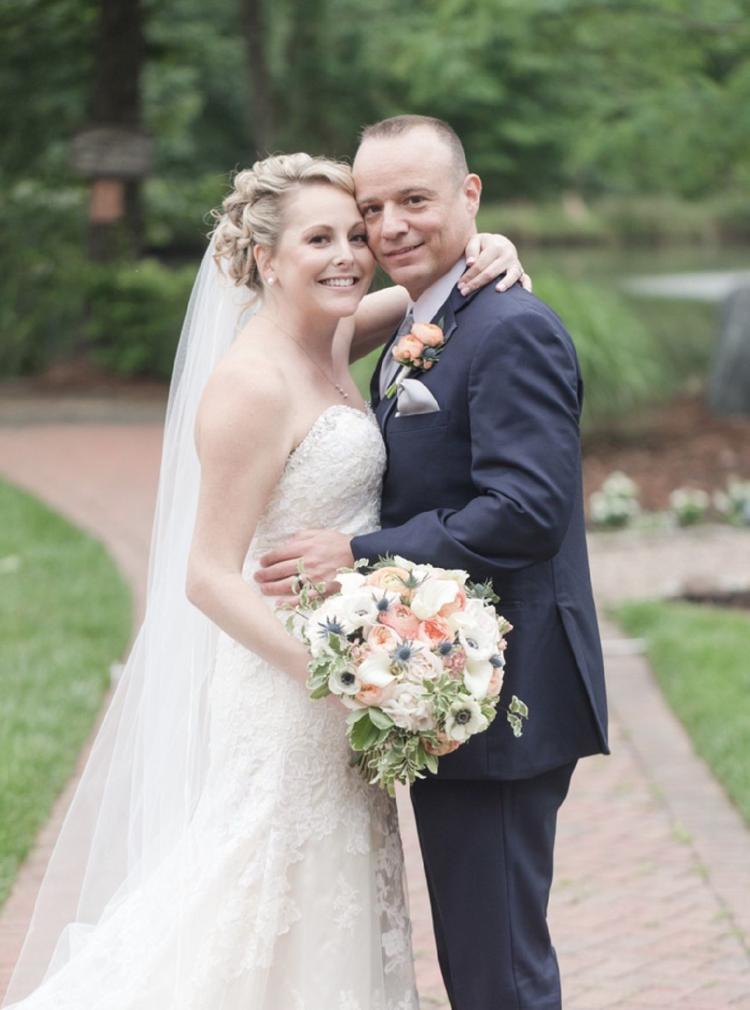 Amanda Christine Kelley and Francisco Javier Ortega Jr. were married on May 12, 2017 at Sacred Heart Cathedral in Raleigh, North Carolina. The service was officiated by the Rev. Gregory Tottle.
The reception, dinner and dance immediately followed at the Pavilion at Angus Barn in Raleigh.
The best man was brother of the groom, Sergio Ortega, and maid of honor was sister of the bride, Celine Eshem. Parents of the newlyweds are Lilian Eshem and Gilbert Tottle, of Trinity, Florida, Tim and Wendy Kelley, of Woodstock, Georgia, Leticia Rodriguez, of Hobart, and Francisco Javier Ortega Sr., of Schererville.
The new Mrs. Ortega is a stylist for SAS Institute and Mr. Ortega is a pilot for United Airlines. The newlyweds will make their home in Apex, North Carolina.
Celebrating 50 years together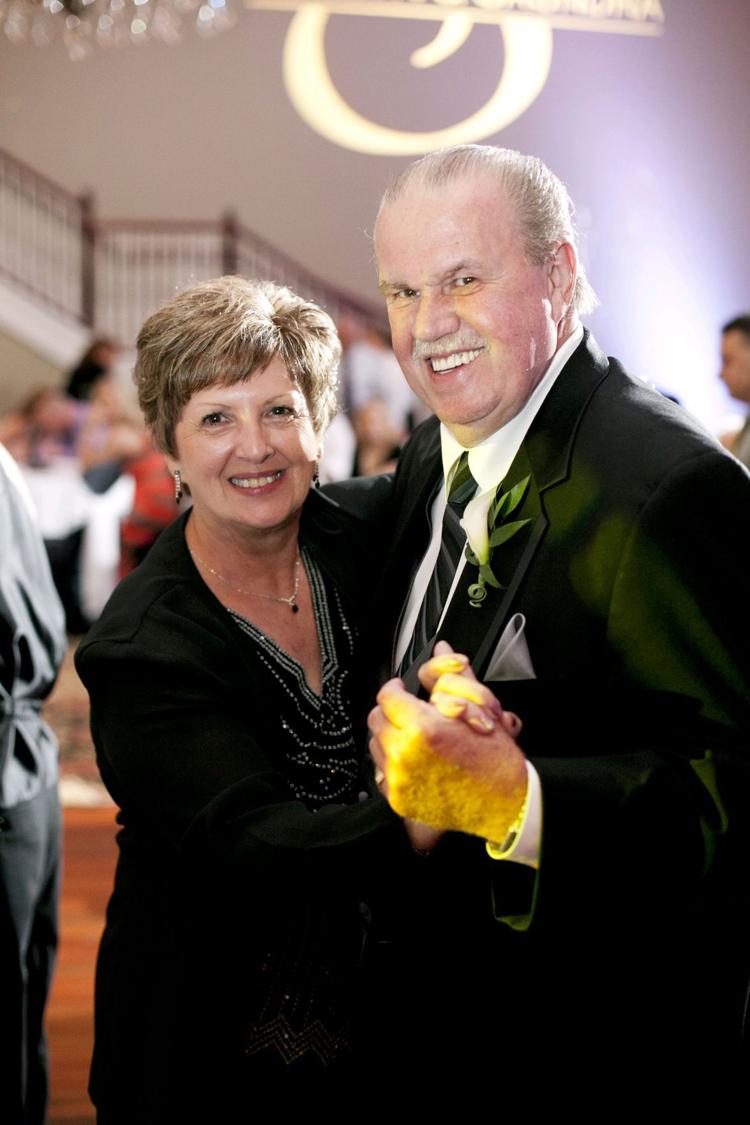 Happy anniversary! You are the best parents ever. We love you so much!
Love,
Todd,Cindy,Taylor,Todd jr., Shawn, Saundra, Nick, Shannon, Colton & Cori
Happily ever after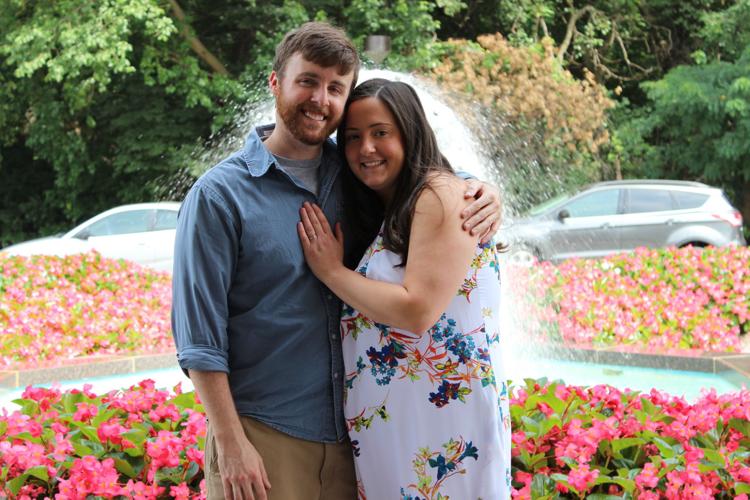 Congratulations to Jack Garavaglia and Kim Klein, both formerly of Lansing, on their recent marriage! These two lovebirds have been together for nearly a decade and celebrated with family and friends at their wedding on Oct. 13.
I think it's safe to say that both Kim and Jack hit the jackpot!
We love you guys!
Love,
Laura and Lou
Richard and Toni Gillette celebrate 50 years
Richard and Toni Gillette, of St. John, celebrated their 50th wedding anniversary on Oct. 6, with dinner at the Lighthouse restaurant in Cedar Lake with their children and grandchildren.
The couple was married on Oct. 7, 1967, at St. Anthony of Padua Church in Chicago. Maid of honor was Delfine Stamborski, and best man was Don Gillette. Attendants were Sandi Szymborski, Tina Zambon, Joann Bailey, Sandy Yates, Tony Dyrkas, Sonny Gillette, Damian Kraska and Bill Sitkowski.
Rich and Toni are blessed with three children, Laura Welsh (Matthew), Lisa Wills (Rob), and Michael Gillette (Heather). They are also dedicated grandparents to their four grandchildren, Liam Welsh, John Wills, Evan Gillette and Corinne Gillette.
Rich and Toni are active members of St. John the Evangelist parish in St. John.
Happily wed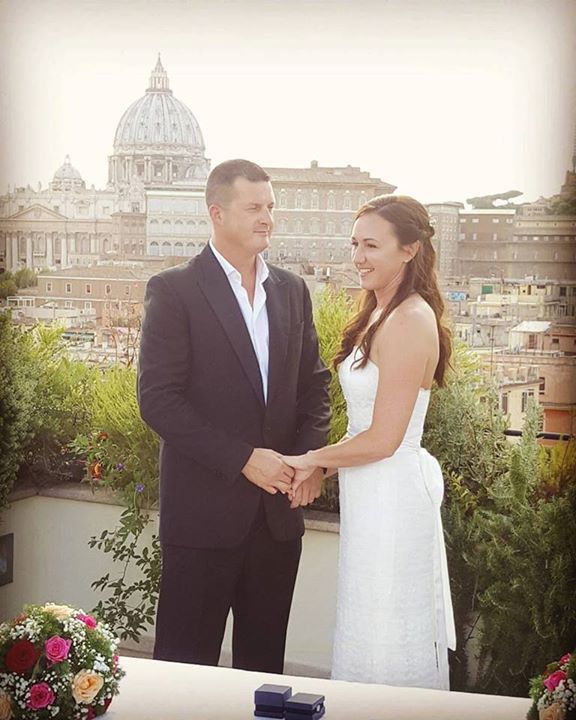 Susan Kulczyk and Tim Speroff were married in Rome, Italy on Sept. 14, 2017.
Yes, ladies, Tim's a married man!
Montessori Children's Schoolhouse celebrates International Peace Day
Students, staff and parents gathered together with songs and poems to celebrate International Peace Day.
This celebration at Montessori Children's Schoolhouse encourages the need to embrace our differences and to live harmoniously in our family, community and the world.
4 generations gathered on Mothers Day 2017
Father Joseph Panfil holding Kayla Ann Panfil, grandmother Cynthia Smith Panfil and great grandmother Mary Jo Bailey.
Celebrating 60 years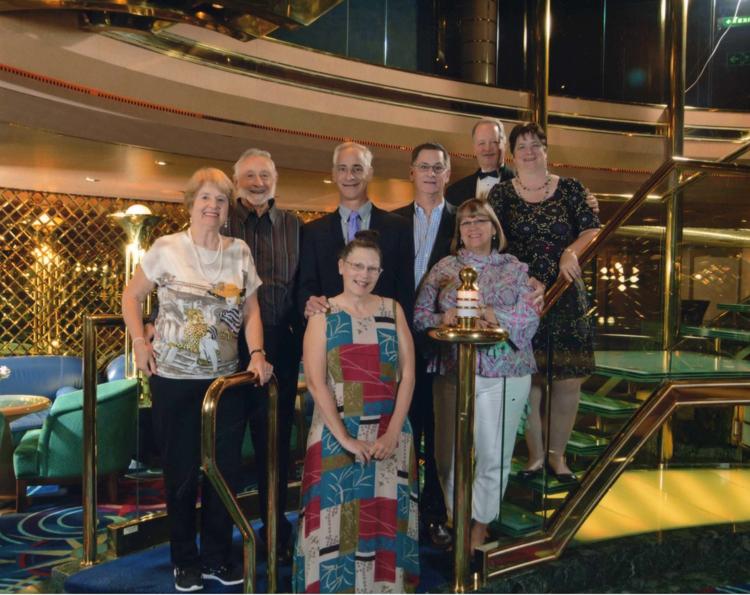 Donald and Sylvia McCarty, of Crown Point, are pictured with their three children, Brian McCarty and Christine Martin, Donald and Deborah McCarty, and James and Crystal Campbell.
This picture was taken on an Alaskan cruise ship heading for Denali National Park in Alaska. The cruise was given to them by their children to celebrate their 60th anniversary. They were blessed that their children were able to celebrate with them.
Andrea and Steven get married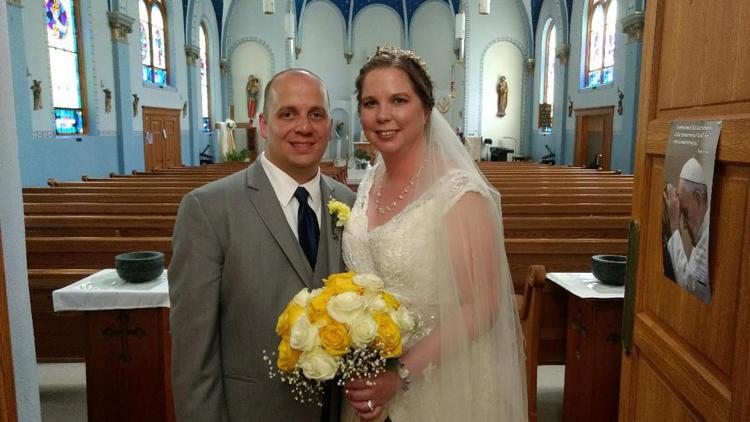 Andrea Renee Schindler and Steven Michael Bunde, both of Holton, Kansas, were united in marriage on June 17, at St. Dominic Catholic Church in Holton, Kansas.
The bride is the daughter of Andrew Schindler and the late Ramona Schindler. The groom is the son of Robert and Mary Bunde, of Lansing. Grandparents of the bride are Phil and Deanna Kovar and Beverly Schindler, all of St. Marys, Kansas, and the late Walter Schindler. Grandparents of the groom are Melvin and Sarah Bunde and Lorraine Przybyl, all of Lansing, and the late David Przybyl.
The bride is a graduate of St. Marys High School and Emporia State University, where she earned both a bachelor and master of science degree in elementary education. She is a teacher at Kickapoo Nation School in Powhattan, Kansas.
The groom graduated from Thornton Fractional South High School in Lansing. He attended the professional pilot program at Kansas State University in Salina, Kansas. He is employed as a corporate pilot for Vaerus Aviation in Topeka, Kansas.
A dinner and dance followed the ceremony at Penny's in Holton. Following was a honeymoon in Las Vegas. The couple now reside in Holton.
Lucas Huffman earns Eagle Scout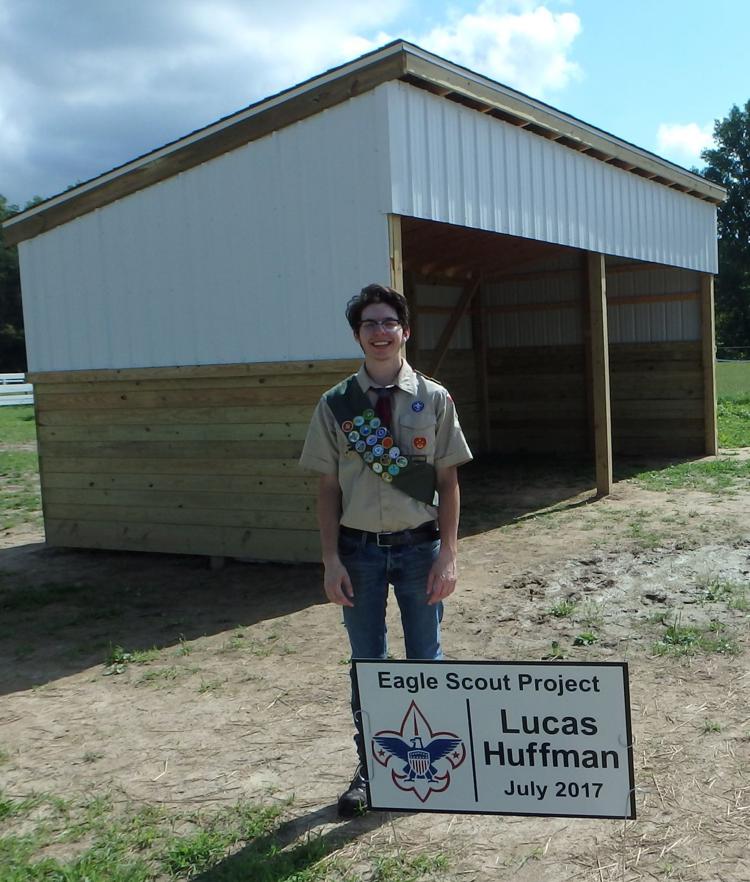 Boy Scout Troop 908 is proud to announce that Lucas Huffman of Chesterton has been awarded the rank of Eagle Scout. Lucas joins an elite group of Scouts, as less than 5 percent of Scouts ever achieve Scouting's highest honor.
On the road to Eagle, Lucas held several leadership positions within the Troop and earned 25 Merit Badges. He also attended many camps, including a 10 day high adventure backpacking trip at Philmont in New Mexico and learned to sail the ocean in the Bahamas at Seabase. In addition, he attended National Youth Leadership Training. This week long training offers youth the skills and experience to provide leadership during their Scouting career and throughout their entire life.
A large and difficult Eagle Scout requirement is the planning and completion of a community service project. For his project Lucas raised more than $2,500 in donations to build a new horse shed for Reins of Life. Reins of Life is a not for profit organization that benefits children and adults with physical, cognitive and emotional disabilities through therapeutic horseback riding and other interactions with the animals. With help from his Troop and friends, over 350 volunteer service hours were dedicated to complete the project.
Lucas is a senior at Chesterton High School and enjoys his role as a yearbook photographer. He also enjoys camping and urban exploration and is looking forward to college to study Forensics and Photography. Lucas is the son of Terry and Elaine Huffman.
Troop 908 is sponsored by St John's United Church in Chesterton and is led by Scoutmaster Chris Flesher.
65 years and going strong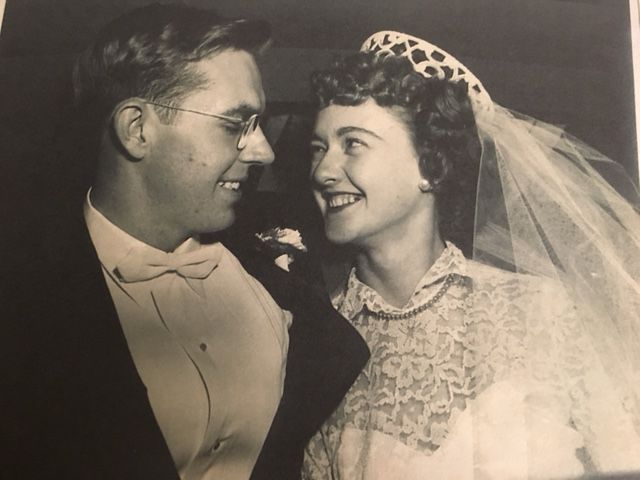 On Sept. 27, 1952 they said "I do." Here they are 65 years later and going strong. Congratulations to Charles and Aleida Hasselbring on 65 years of life together and memories made.
Love Always, David, Charlene, Rick, Karen, Lisa and Dona
LaVanche West turns 100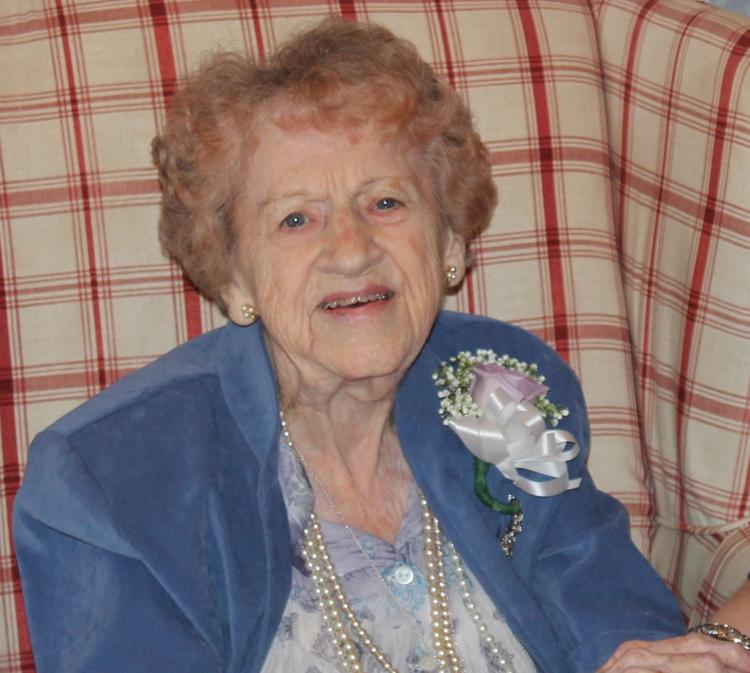 Valparaiso resident LaVanche West celebrated her 100th birthday with a reception Sept. 9 in the Maki Ballroom of the Old County Courthouse in Crown Point.
A retired teacher, Flora Clemma Roselma "LaVanche' Woodruff was born Sept. 9, 1917 in Foresman, near Brook, Ind., in Newton County. The family eventually settled in Terre Haute. The daughter of Nellie and Samuel Woodruff had a twin brother, Bud, who died in 2014. Four older brothers are also deceased.
In 1944, the centenarian married Gale West, and the couple was married 64 years before the husband's death in 2008. The couple's one son, Gary West, was born in 1946 and died in 2011. He had no children.
A teacher for 36 years, LaVanche West taught in several communities in Indiana and Illinois, including 11 years in Crown Point and 13 years in Valparaiso.
A woman who still hand-writes more than 125 Christmas cards, West works on genealogy and has written four books on her family line. The Valparaiso Woman's Club named West its Woman of trhe Year in 2008.
Five generations and still growing!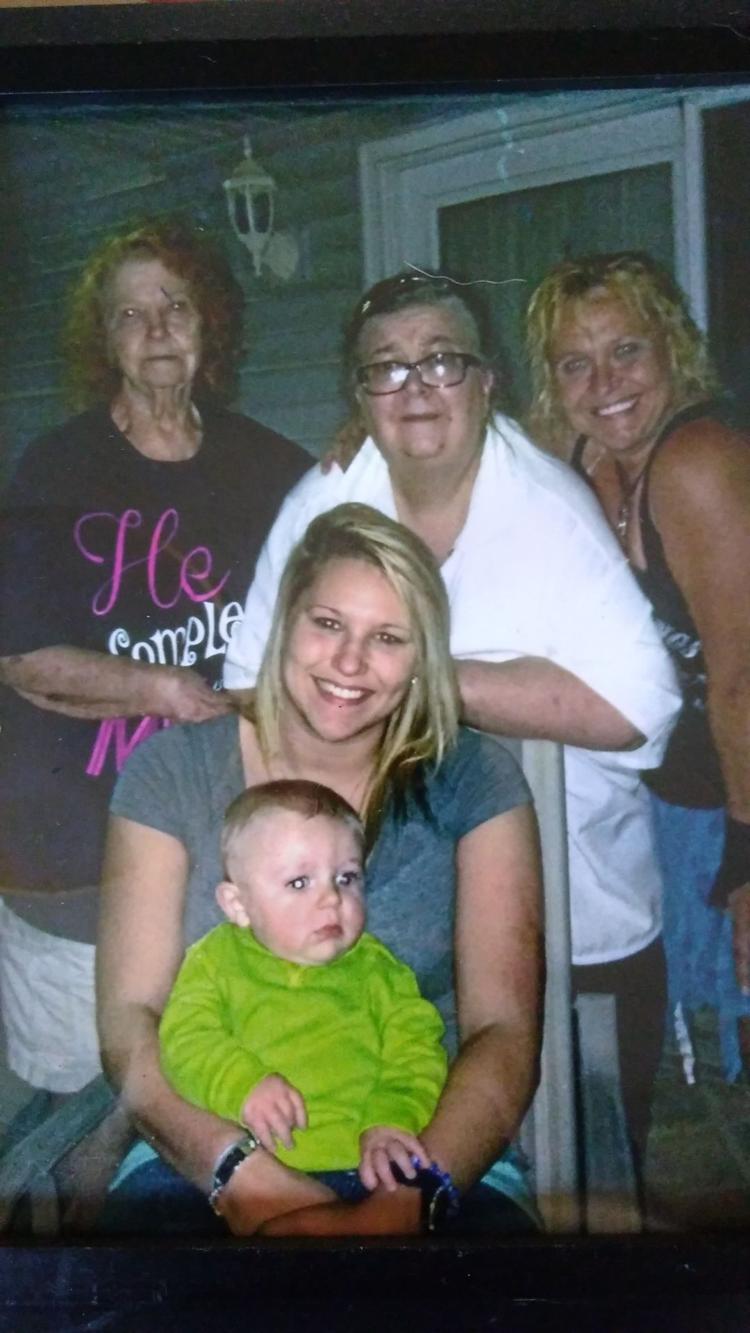 The Weyant family celebrating five generations. Pictured from left to right are great-great-grandmother Louise Weyant, great-grandmother Linda Tollison, grandmother Tammie Saklaczynski, and mother Heather Saklaczynski with great-great grandson Kace Copollo.
Grandma, you have loved each of us since we've been born but we've loved you our whole lives!
Happy 95th birthday
Fred was born in Ashland, Wisconsin, on Sept. 13, 1922, to John and Laura DeBruzzi. He joined the U.S. Army Air Force in 1942, served in World War II and Korea and retired as a Lt. Colonel. In 1985 he retired from McGill Manufacturing.
On Sept. 23, 1950, Fred married Virginia Johnson. They have four children, nine grandchildren and nine great-grandchildren.
Fehlbergs celebrate 50th anniversary
On Sept. 16, 2017, Ken and Nikki Fehlberg will be celebrating 50 years together.
Happily engaged
Kevin and Pat Stone, of Munster, announce the engagement of their daughter, Melissa Stone, to Bryan Schuch. They will be married the fall of 2018.
Melissa is a graduate of Munster High School and attends Purdue University.
Her fiance is the son of Dan and Joleen Schuch, of Dyer.
Bryan is a graduate of Lake Central High School and Ball State University. He works as a municipal finance adviser in Northwest Indiana.
90 never looked so good
Happy birthday to Mom/Grandma Muriel who turned 90 on Sept. 10!
Love, Meridee, Eric, Jason, and Tina
Happy 100th birthday, mom!
We are elated to announce the upcoming 100th birthday of our beautiful and beloved mother, Frances Hood on Sept. 19.
A multitude of family and friends gathered at Dynesty on Saturday, Sept. 16, in celebration of this time with her.
May God bless you from the top of your head to the bottom of your feet and totally throughout your being.
We love you, Mom!
Love, Charlene, Nancy, Gail and Christine
Bracich family celebrates 60 years
Angela D. Bracich (nee Ramirez) and Walter J. Bracich celebrated their 60th wedding anniversary recently with family and friends. They were married Aug. 31, 1957, at the Cathedral of the Holy Angels in Gary. The celebrant was Msgr. John A. Sullivan (deceased), witnesses Joe Bianco (deceased), and Jane S. Ramirez.
The couple are lifetime residents. They had one son, Walter V. Bracich (deceased). The party was attended by granddaughter, Samantha M. Bracich, and daughter-in-law, Lori Bracich, of Valparaiso.
Angela, a Froebel High graduate, studied voice at the Sherwood School of Music and the American Conservatory of Music in Chicago. She was formerly employed by H. Gordon & Sons, and Gary Sheet and Tin Mill Contract Administration office and was self-employed at the time of her retirement.
Walter, a Lew Wallace graduate and a graduate of Ball State Teachers College, Roosevelt University, and Indiana University, retired from Gary Community School System where he served as a teacher, coach, athletic director and administrator with 40 years of service.
He was an active member in many community services and activities. He also served as commander of Munster Post VFW and VFW District 1 commander. He is also a member of the American Legion Post 16 in Munster and a member of Chapter 17 Disabled American Veterans in Hammond.
Happy 100th birthday, LaVanche West!
A 100th birthday celebration honoring former Crown Point teacher LaVanche West was be held in Crown Point Sept. 9.
West, the niece of former Lake County Sheriff Lillian Holley, was a respected teacher for 35 years. Her career took her from schools in Lake Village, Morocco, Richmond, Beaverville in Illinois to Crown Point for 11 years until they moved to Valparaiso where she taught her last 13 years.
"She was well liked by her students because she discovered the way to discipline was not to give swats or slap knuckles, it was to tell the student that when they settled down and it got quiet then she would continue the lesson," McDaniel said. "She has enjoyed many friendships in her 100 years. For over 40 years ladies from the neighborhood have gotten together monthly to play cards. LaVanche still hand writes over 125 Christmas cards every year. Until the last couple of years they were done in calligraphy. She also enjoyed working on genealogy and wrote four books on several of her family lines."
From planes, automobiles and a man standing on the moon, to indoor bathrooms, and learning to use a computer 20 years ago, and an iPhone just a few years ago, to experiencing the solar eclipse, West has experienced many things.
"Her happiest memory is her family," McDaniel said. "She and Gale (her late husband) hosted the Woodruff family reunion at Thanksgiving for 50 years. She has received many honors over the years, from volunteering to teaching. She received the Woman of the year for 2008 from the Valparaiso Women's Club."
Happy Birthday Eliot and Evan Izynski
Eliot Izynski, 3, and his brother Evan, 1, celebrated their August birthdays at the Shorewood Forest Club House with family and friends.
Pictured is Evan enjoying the festivities with his grandfather, Dr. Ronald Izynski, of Valparaiso
Koepkes celebrate 50 years together
Nancy and Glenn Koepke, of Valparaiso celebrated their 50th wedding anniversary on Aug. 18.
They were married at the First Reformed Church in Demotte, Indiana.
Their children are Daniel (Crystal) Koepke, Deborah (Mike) Curless and Kimberly (Brad) Sargent. The grandchildren are Regan and Rylie Koepke and Maddie and Gabbi Curless.
They enjoyed dining out at a nearby restaurant, followed by cake at the Curless home. A trip to Marco Island is planned this winter.
Nancy has worked part-time at the Valpo YMCA for 22 years, and Glenn is a farmer.
Happy 45th anniversary
Dave and Donna Taylor were married 45 years ago on Sept. 9 at Our Lady of Grace Church in Highland. They have made Highland their home for 44 years now.
They were blessed with two loving daughters, Kristi Sutliff and Kara Taylor, a son-in-law, Alan Sutliff, and two grandsons, Sam and Christian, and a special aunt, Eileen Palucki.
They are both retired and enjoy traveling and spending time with family.
The celebrated the day with their family.
Heinzs celebrate 50th anniversary
Kenneth and Sandra Heinz will celebrate their 50th anniversary on Sept. 9.
Their two children, Amy (Ron) Cruse and Kenneth M. along with their two granddaughters (Riley and Amanda Cruse) will help them to celebrate.
Valparaiso Swim Club celebrates 40 years of youth swimming
Valparaiso Swim Club is the original and established community based competitive swim club of Valparaiso since 1977.
Kaye Smith to celebrate 90th birthday
Kaye Smith will be celebrating her 90th birthday Aug. 29. She was born in 1927 to Eli and Emma Zimmerman, of Whiting.
She will be celebrating dinner with her daughter, Molly, and her grandchildren, Corey, Garrett, and Kendall, at her lakeside summer home in Angola, Indiana.
Kaye is the last remaining sibling. Along with her parents and son, Ricky, her four brothers and seven sisters are deceased.
Kaye retired in 1990 from Unilever with 43 years service. She is looking forward to attending her 72 year class reunion (class of 1945) from George Rogers Clark High School at Johnel's Restaurant in Hammond. She is active in the Lever Brothers Retiree Club, where she has been the good and welfare representative for many years. Besides keeping in touch with out-of-state retirees and visiting the ailing ones, Kaye spends her time travelling and gardening.
Happy 50th anniversary!
Congratulations to Richard and Janet Peterson, of Chesterton, who are celebrating their golden anniversary on Aug. 29.
Richard and Janet were joined in Mackinac Island this summer with daughter Kerry and husband Louis (Leone), daughter Kristin and husband Donald (Bedock), and their eight grandchildren at a family celebration at the Grand Hotel.
Kellenbergers celebrate 70 years
Mel (Kelly) and Shirley Kellenberger are celebrating 70 years of marriage on Aug. 24.
They met in 1944 during World War II in Oakland, California. Kelly, from Monon, Indiana, was in the Navy on leave and Shirley was a college student from Loveland, Colorado, was working a summer job in San Francisco. They corresponded for the remainder of the war and married in Cheyenne, Wyoming three years later. They spent their early married years in Wyoming, but soon moved to Northwest Indiana where Kelly spent 29 years at Budd Company in Gary. He retired as a superintendent in 1991. Kelly started a second career in sportscasting, serving as sports director at WWJY for eight years. Shirley spent 29 years with Hobart City Schools where she spent most of those years teaching second grade at Ridge View School. She retired from teaching in 1987.
Kelly and Shirley have enjoyed their retirement years by traveling and visiting with their daughters, Valerie (Brian Grimes) and Lori (Bryan Reinhart) and their grandchildren — Brittany, Logan, Jessica, and Max — all of whom reside in Arizona.
Both will be 92 in September and enjoy being able to remain in their home of 53 years in Ross Township.
Happy 50th wedding anniversary!
Congratulations to John and Claudie Tweedle who celebrated their 50th wedding anniversary on July 29.
Joining them were their children: son Robert and friend Kinga, daughter Carolyn and husband Chris along with children Nathaniel and Julia DeLuca.
Happy retirement!
Congratulations to Sergeant Michael O'Donnell on his retirement from Highland Police Department. Sergeant O'Donnell retires from the Highland Police Department after serving 30 years with perfect attendance. During those 30 years Sergeant O'Donnell served as the department's first K-9 handler bringing this program to Highland with funding he obtained from local businesses and other law enforcement agencies. Sergeant O'Donnell spent the last 12 years of his career with Highland Police Department as the School Resource Officer for the School Town of Highland. As Sergeant O'Donnell ends his career with Highland Police Department we wish him all the best as he begins his "Act 2" with the Purdue University Northwest Police Department.
Happy retirement!
Dr. David T. Gilmore, OD, announces his retirement from active practice at the end of the day on Aug. 19. He has considered it a great pleasure to provide vision care needs over the years to all of his patients in Northwest Indiana.
He has had the pleasure of working with Dr. Rebecca Long for several years at the Portage Vision Point office. He is pleased that she has agreed to provide continuing care at the Portage office. His patients' records will remain and be available at the Portage Vision Point office.
He wishes to thank his patients for their loyalty and friendship over the years.
Happy 65th wedding anniversary, William and Norma Newman!
William and Norma (Young) Newman, formerly of Valparaiso, will celebrate their 65th wedding anniversary on Aug. 17. The couple was married in Wheeler, Indiana, at the Methodist Church on Aug. 17, 1952.
William is retired from his career with Northern Indiana Public Service Company (NIPSCO). Norma is retired from Northern Indiana Bank. They currently reside in Monticello, Indiana, and will soon relocate to southern Arizona.
Their three children and grandchild are: Nancy, of Oro Valley, Arizona, Kathy (Keeley), of Tucson, Arizona, James, of Mesquite, Texas, and granddaughter Bryana (Keeley) Griffith, of Austin, Texas.
Happily engaged
Meredith Colias and Joseph S. Pete announce their engagement, which is quite possibly the most momentous pairing since wine and cheese, or at least Old Style and Polish sausage.
Colias, a Highland native, graduated from Indiana University and earned her master's degree from the University of Illinois Springfield. Pete, also a Highland native, also graduated from Indiana University after serving in the Iraq War as an infantryman.
She is the daughter of Jim and Susan Colias of Highland. He is the son of Judith Pete of Munster and the late Lake County Circuit Court Judge Robert A. Pete.
Colias works as a reporter for the Post-Tribune, while Pete is a reporter for the rival Times of Northwest Indiana. He is also a literary writer and photographer whose work has appeared in more than 100 publications.
Pierogi Fest Buscias joked that it is a mixed marriage.
The longtime friends somehow grew up in the same town, and even obliviously played in neighboring backyards as kids, but only met 20 years later on Twitter after Pete made a dumb joke and followed Colias back mainly because he thought she was cute.
Unbeknownst to them, they frequented the same places as kids like Miner Dunn and the Museum of Science and Industry, attended many White Sox games, cut their journalistic teeth at the Indiana Daily Student and pursued similar career paths long before their romance blossomed.
Their love is so vast it could not be constrained by mere state borders, since she lived in Iowa and he in Indiana when they started dating. Their love is so Region they're getting married in Illinois and having a reception in Northwest Indiana.
Their Big Fat Greek Wedding will be held later this year at St. Andrew the Apostle Church in Calumet City, Ill.
Reese Alexandria Pollock turns 2
Reese celebrated her 2nd birthday by inviting her bear friend over for tea in her Gannie's flower garden. Her parents are Joe and Nikki Pollock, grandparents Bruce and Sally Pollock, Jim and Gail Korilko, all of Valparaiso. Great grandmothers June Pollock, Dorothy Dellarocco and Lil Korilko.
County Councilman, wife welcome new baby
On Saturday, Aug. 5, Porter County Councilman Andy Bozak and his wife, Roseann Bozak, welcomed their new baby boy to the world. Born at 5:08 am, he was 7.7 pounds and 19.5 inches. They have named him Adley Joseph Bozak (A.J. Bozak). He is brother to three siblings, Ayden, 9, Ava, 8, and Abriella, 4.
Everyone is doing well and very excited about their new addition!
Celebrating 50 years together
Jerry and Karen Westerhouse, of Plover, Wisconsin, celebrated their 50th wedding anniversary on Aug. 5. Natives of Indiana, they both graduated from Purdue University.
Their children are David (Jenna) Westerhouse and Kristine Teeter. Their grandchildren are Madeline Teeter, McKenna, Gage, and Apollo Westerhouse. They have a great-grandson, Emmett; and their family black lab, Sako.
Jerry is a retired administrator from the Wisconsin Department of Corrections, and Karen is a retired elementary teacher.
Happy 50th wedding anniversary
Happy 50th wedding anniversary, Gary and Linda Owens! They were married Aug. 12, 1967.
Lots of love and hugs to you both!
Xoxo,
Clint, Jen, Brittany and Brady Owens
Celebrating Purple Heart Day
Everett Gasper, 98, was a U.S. Army Veteran who served during World War II. He enlisted in the Army when he was 19, shortly before Thanksgiving Day in 1941.
He was deployed to the Pacific Theater and shipped to Australia. He served in the 32nd Infantry Division. He was Private First Class and was deployed to Port Moresby in Papua New Guinea.
During the first campaign, Gasper was injured and earned a Purple Heart for injuries. After returning from the war, he worked for the Budd Company for more than 30 years. He is celebrating Purple Heart Day.
Happy birthday, Thelma Dickey!
Wishing Thelma Dickey, a lifelong Valparaiso resident, a very happy birthday!
Happy 90th birthday, Richard!
We all love you very much!
-Your Loving Family
Happy 65th anniversary!
Mr. and Mrs. Myles Horst recently celebrated their 65th wedding anniversary with a lunch at Dick's Restaurant hosted by the couple and attended by family and friends.
Myles and Diane were married on July 12, 1952, at Trinity Lutheran Church in Crown Point. They have three sons and daughters-in-law, Mark (deceased) and Debbie, Wade and Karen, and Jeff and Christine, and two daughters and sons-in-law, Dawn and Tom and Dru and Ken, fourteen grandchildren and ten great-grandchildren. Myles is a retired truck driver and currently works at Oak Knoll Golf course. Diane is a retired housewife. They currently reside in Crown Point.
McCormicks celebrate 65 years on July 12
The McCormicks are celebrating 65 years together with friends and family.
They have one son, Robin McCormick, of Phoenix, and one daughter, Carol (Ken) Untch, of Portage. They also have two grandsons, Jacob McCormick, of Chicago, and Nicholas Untch, of Denver.
Howard was born in Robinson, Illinois. He worked at Inland Steel and retired in 1980. Marie was born in Gary (an Emerson grad). She was an insurance agent for Port City Ins. in Portage. The couple moved to Willison, Florida, where Marie was a sub teacher for the Bronson High School. They moved back to Portage in 2005.
Happy graduation!
Congratulations and best wishes for continued success to Rosalinda Sanchez on her graduation from Brightwood College in Hammond on June 20! Your husband, children, and family are so very proud of you!
Happy 55th wedding anniversary to Mary Lou and Nick Perko
Congratulations Mom and Dad on your 55th wedding anniversary! 
I have been truly blessed to have such wonderful and loving parents in my life for all these years.
Your loving son,
Nicky
Happy birthday!
Happy birthday to my beautiful wife Brandy! I am so proud of you. You are gorgeous inside and out.
Love,
Michael
Happily engaged
Mr. and Mrs. Robert J. Krygsheld of Lansing, announce the engagement of their daughter Jennifer Robin Krygsheld to Robert Wade DeWindt, son of Miriam DeWindt, of Highland, and Ken De Windt, of Highland.
Miss Krygsheld, a graduate of Illiana Christian High School and of Don Roberts School of Hair Design, is an instructor of cosmetology at Don Roberts in Schererville. Mr. DeWindt, also an Illiana Christian High School graduate, is a fourth-year electrician's apprentice and is employed by Belec Electric in Skokie, Illinois.
Plans for a September wedding are being finalized.
Westers celebrate 50th wedding anniversary
Kevin and Brenda Wester, of Valparaiso, celebrated their 50th wedding anniversary with a trip to Hawaii. They were married in Lake Station on June 3, 1967.
Congratulations Chrissy Addison!
Congratulations on making the Dean's List at Loyola University Chicago for the Quinlan School of Business. We are proud of you!
Love,
Mom, Dad & Danny
Happy 90th birthday!
Modesto Gonzalez of Hammond, recently celebrated his 90th birthday at home with his five daughters, seven grandchildren and two great grandchildren.
Modesto was a long time resident of Gary, and retired from Inland Steel (Now Mittal) with 36 years of service.
Modesto and his late wife, Anita, moved to Laredo, Texas, where he resided until returning to the area two years ago.
Congratulations, William Bailey!
Earlier in June, William Bailey retired from Duneland School Corporation after 50 years of teaching physics, math and drivers education at Chesterton High School.
Mr. Bailey earned his undergraduate degree from Purdue University and his graduate degree from the University of Missouri. Prior to his tenure at Duneland, he also worked for the Valparaiso Schools for four years.
On July 9, there will be an open house celebrating Mr. Bailey's career, from 2-4 pm, at CrossPointe Christian Church, 114 E. US Hwy 6, in Liberty Township (across from The Courts).
Former students, friends, colleagues and members of the community are welcome to attend and congratulate Mr. Bailey on a great career, share memories, and wish him well in retirement.
Montessori students participate in Jump Rope for Heart event
Students, staff and parents of Montessori Children's Schoolhouse in Hammond participated in the Jump Rope for Heart event earlier this month. MCS students have collected donations and participated in this great cause for many years. The students are very proud to help their community!
Happily married
Jennifer Beth Needles, daughter of William and Jacalyn, wed Ronald Eugene Dixon III on April 29 in DeMotte.
Ronald and Jennifer went to high school together at Highland and reunited last year. They are happy to unite their families and start life together.
Wisniewskis celebrate 65th wedding anniversary
Ray and Allyne Wisniewski, of Crown Point, joyously celebrated their 65th wedding anniversary on June 21. They were married at Holy Name Church in Cedar Lake in 1952.
First Father's Day in heaven
Happy Father's Day, dad. I hope you enjoy your first Father's Day in heaven. Thank you for being the best father a girl could ask for when you were here, and the best papa to all of your grandkids. I love and miss you so much.
From Amanda Kristoff to her dad
Dad, you're the greatest!
Love,
Your daughter
Looking forward to this adoption!
This little girl is looking forward to being adopted and making this man her daddy! 
George and Ann Bagnall celebrate 66 years of marriage!
Congratulations to Ann and George!
George and Ann Bagnall happily celebrate their 66th wedding anniversary. They met while students at the University of Chicago and were married on June 20, 1951.
Early in their marriage, they lived on the South side of Chicago (Hyde Park, Morgan Park and then Beverly). In the early 1960's they moved to Beverly Shores to their summer home built by George with their son, Scott.
Ann and George have five children, Scott (Jeanne) Bagnall, Tara (Greg) Bagnall, Andrew (Lynn) Bagnall, Sally (Scott) Bagnall and Betsy (Quentin) Green. The Bagnalls are the proud grandparents of seven.
The couple plans a celebration gathered with their children and grandchildren next month.
Congratulations Brittani!
I want to congratulate my daughter on receiving her bachelor's degree in psychology from Carthage College ... and she did it with honors!
Brittani Kate, I have watched you grow up to be such a smart, beautiful and confident woman! I love you and am oh so proud of you! I will always be there for you!
Love you,
Mom
Peros celebrate 40 years
Jerry and Sandra Pero, of Crown Point, were married on June 18, 1977 at SS Constantine & Helen Greek Orthodox Cathedral in Merrillville by Father Evagoras Constantinides.
Jerry is a retired supervisor of 32 years from Nabisco and Sandra is a 45 year retired advertising department employee of the Post Tribune.
A dinner celebration will be held at Sullivans Steak House in Chicago given by the couples two daughters Kimberly Collins and Kelly Petty.
The couple have four grandchildren, Brooklyn, Benjamin, Lily Rose and Landon.
To Arthur Truschka
My dad Arthur Truschka is a Vietnam veteran. He is great dad, grandfather, husband and brother. He is loved by many!
Happy Father's Day!
To Chuck Talabay
Thank you for being a wonderful dad and amazing papa. You always make us feel special and loved. We love you! Happy Father's Day!
The two most important men in her life
"Bananas in pajamas are coming down the stairs!"
Happy Father's Day to the two most important men in my life!
Demmon family reunion
The Demmon family reunion will be held at the Lake County Fairground 4-H building today beginning at 9 a.m. until midnight. All descendants of Julius Demmon, an early Merrillville farmer, are welcome to attend.
Five generations
Pictured are great great grammie Velma Landgrebe, great grandma Donna Jean Ewen, grandmother Shelley Rae Smock, mother Hannah Rae Reboy and daughter Hadley Rae Reboy
Congratulations Destinee Marie
To my very special niece Destinee Marie,
While I am aware this may come late I just want to say congratulations on your many accomplishments. Congratulations on finishing school, on becoming an outstanding mother, a beautiful wife and a wonderful young woman. As the years pass I hope you know how much you mean to me, and as you make your way in life with you I will always be.
Love,
Krystal
ADK educational grant winners
Alpha Delta Educational Sorority is pleased to announce the winners of our annual grants go to Tatiana DeWitt, of DeMotte, and Amanda Sutton, of Wanatah.
Tatiana will be a senior at Indiana University and plans to teach high school English. Amanda will be a senior at Valparaiso University and will be student teaching next year in second grade at Heavilin Elementary School.
Picutured are Amanda Sutton, Diana Woolever, ADK president, and Tatiana De Witt.
Happy 50th wedding anniversary!
Happy 50th anniversary, Robert and Sharon Garling! They were married June 10, 1967.
Love,
Ann, Rick, Sarah, Hannah, and Hailey
John and Cheryl Albers celebrate their 50th wedding anniversary
John and Cheryl Albers were married on June 3, 1967, and they celebrated their 50th anniversary with a cruise on the Danube River.
They met while registering for classes at IUN. John retired after teaching 40 years in the Gary Community School Corporation, and Cheryl retired after 28 years as a secretary in the Merrillville School Corporation. John also retired from Home Depot after working 21 years.
They have two sons, Robert (Jennifer Nowak) and Kevin (Heather Evans) and two grandsons, Gage Albers and Kolton Evans.
Dan and Helen Brnicky celebrate 60th anniversary
On June 1, Dan and Helen Brnicky celebrated their 60th wedding anniversary.
They were married June 1, 1957 at St. John Church in Whiting. For the past 60 years, they have made their home in Hessville. They raised four children and have six grandchildren. A small gathering of family took place on June 3 to celebrate the occasion. 
Congrats to Don and Heather!
Heather Sander, of Valparaiso, is to be married to Don Macciaro Jr., of Thornton, Illinois.
Heather is the daughter of Darrell and Julie Sander, of Valparaiso. Don Macciaro Jr. is the son of Don Macciaro Sr. and Lorri Greely, of Thornton, Illinois.
The newly engaged couple are parents to their 4-year-old son, Isaiah Macciaro. They plan a summer wedding set for next year.
Two birds of a feather are now married together!
Kurt Baer Sr. and Elizabeth Baer, of Crown Point, are pleased to announce the marriage of their daughter, Stephanie Baer to Adam Birdsell, son of Belinda Nondorf and Michael Birdsell.
Grandparents of the couple are Helmut and Rosemary Baer of Schererville, and Leona Birdsell of Crown Point.
Adam is a 2002 graduate of Lake Central High School, a 2006 graduate of Ball State with a bachelor of arts in marketing, and a 2015 graduate of Indiana University Northwest with a bachelor of science in nursing. Stephanie is a 2006 graduate of Lake Central High School and a 2012 graduate of Butler University with a doctorate of pharmacy.
The couple was married on May 6 in Munster and resides in Crown Point.
We're engaged!
Ben Stolte, of Merrillville, and Mary Stanovich, of Tinley Park, Illinois, are so happy and excited to share that they are now engaged as of May 17. They plan to wed later next year.
University Pastor earns doctor of ministry
Congratulations to Rev. Charlene M. Rachuy Cox, University Pastor at Valparaiso University, who was awarded her doctor of ministry from the Lutheran Theological Seminary at Philadelphia during commencement ceremonies on May 23.
In March, she successfully defended her doctor of ministry project, "Telling Our Sacred Stories: The Woman at the Well, Personal Narratives, and Emerging Adult Collegiate Women."
-The Valparaiso Chapel Staff
The Daughertys celebrate 35 years!
Mike and Donna Daugherty were married at St. Mark's Church in Gary on May 29, 1982. They are currently parishioners at St. Mary's Church in Crown Point.
Congratulations to Scott Middle School band
Congratulations to all of the dedicated band members who put in the time to master their musical talent and put on a great performance. Each and every one of you rocked Six Flags Great America this past weekend, earning third place!
Special thank you to Mr. Akers for teaching our children and helping them further develop their talents and passion for music. You are a great at what you do!
Announcing the graduation of Brandy Alexis Davis
"I know the plans I have for you. Plans to give you hope and a future." Jeremiah 29:11.
It has been a privilege watching you grow into a fine young lady. Wishing you a bright future with abundant blessings from God above. We love you! Congratulations! You did it, Lil Mama!
Love Always,
Krystal & Mila
Cheers To 65 Years! Henry and Margaret Drewniak
Henry and Margaret Drewniak were married on May 24, 1952 at St. Stanislaus Church in East Chicago.
Celebrating with them are their three children, Nancy (Michael) Pappas, James (Martha Jane) Drewniak and Ronald (Lisa) Drewniak. Their four grandchildren, Brian Pappas, Kelly Pappas (Milan Milutinovic), Eric Drewniak (Mallori Madrinan) and Scott Drewniak (Liz Mikos) also celebrated with them along with their one great grandchild, Hailey Drewniak (another great grandson, Lucas James Drewniak, is on the way).
The entire family wishes Henry and Margaret heartfelt congratulations for their support, love and kindness.
We are all grateful and blessed for the fun and laughter shared throughout the years!
50 and a college grad
Jackie Brabbs, of Hessville, turns 50 June 3 and recently graduated PNW Hammond with her B.A. in secondary English teaching. It's never too late to educate!
-Brabbs family
Father Theodore Mens celebrates 50 years of Ordination as a Priest for the Diocese of Gary
On May 27, 1967, Rev. Theodore J. Mens was ordained a priest in the Diocese of Gary at Holy Angels Cathedral. We celebrate and congratulate Father Mens on his 50th anniversary of his ordination on May 27, 2017.
Father Mens is the pastor of St. Mary Catholic Church and St. Mary Catholic School in Griffith since 1993 and administrator of St. Ann Catholic Church in Gary. Still going strong 50 years later, Father Mens is the director of pro-Life activities for the Diocese of Gary since 1975, Faithful Friar for the Knights of Columbus Councils #3631 in Griffith, Unity Council #726 in Hammond, The Abraham Lincoln Assembly #235, and the past Indiana State Chaplain for the Knights. He is a member of the Griffith Clergy Association and Police Chaplain for the Town of Griffith.
Every year on Dec. 6, Father Mens transforms himself into Saint Nicholas, distributing candy canes to all good girls and boys in the parish and can be seen wearing his infamous cowboy hat during the parishes Western Days Festival. Besides all the sacramental duties he has performed in his 50 years, Father Mens has counseled many parishioners throughout the years, helped feed the hungry, helped clothe and housed the homeless, aided young women in crisis pregnancies and visited and comforted the sick and elderly by the thousands. He has wept for the 58 million aborted unborn babies. God bless you Father Mens for all that you do in dedicated service to God and to his people!
Gratefully,
The Parishioners of St. Mary and St. Ann Parishes!
Look who turned 90!
Angie Bracich (nee Ramirez) celebrated her 90th birthday at Little Italy Restaurant with members of her family on this special occasion.
Happy birthday, Auntie Angie!
Thanks You Our Father in Heaven
Our Father in heaven, we thank you for the blessings you have already given us as well as those yet to come.
James and Cora Koons celebrate 70 years of marriage
On May 13, James and Cora Koons, of DeMotte, celebrated their 70th wedding anniversary with their entire family.
Back on May 24, 1947, the couple, originally from Oklahoma, eloped to Kansas. They returned to Oklahoma and lived there until James, a World War II veteran, reenlisted in the Army, which became his career. They were stationed in England and then France, before settling down in Illinois, where he retired. They later moved to DeMotte, where they have lived for the past 29 years.
They have two married daughters, four grandchildren and eight great grandchildren.
Engaged and about to wed!
John and Adrianne Bacavis, of Crown Point, and Neil and Margaret Stanley, of Prescot, England, are happy to announce the engagement and upcoming wedding of their children, Amber Jade Bacavis and David Edward Stanley.
The couple will be married in Berkeley Castle in Gloucestershire, England, on July 1.
93rd birthdays and an anniversary
Gene and Helen Wiggins, of Valparaiso, recently celebrated their 93rd birthdays. Gene's birthday was on April 1, and Helen's was on May 5. This week they will celebrate 69 years of marriage with dinner at Harry Carey's with their daughter, Barbara Wiggins.
Heather's mom
Why I love my mother: She is just as crazy as I am!
Denisa's mom Linda Dekker
What I love most about my mom is that she is one of my best friends, my biggest supporter and someone who I can talk to about anything. Even now in my adult life I am the closest I've ever been to her and I would be lost without her. Anytime I need her she is just a phone call away. If there's anyone in my life that I can rely on for anything, it's her. Love you, Mom!
Jennifer's mom Laura Churilla
My mom is a pillar of strength, with a giving heart. She is honest and selfless and can make you laugh with her crazy ways. Growing up, we had our ups and downs, but over time she has become a best friend. She has always been there for me and my son, and she taught me how to be a strong and courageous single mother. She is 70, and still as beautiful today as you see in this picture. It is because of her that I am the woman and mother I am today.
Richard's mom Rosemary
Pictured is my mother, Rosemary Long, in the very early eighties. She was on leave from the army. What I love(d) most about her is her strength. She was a soldier, an ironworker, a single mom, and she did it all against the odds. She never complained, and was (is) the strongest woman I have ever known. I miss her very much.
Chris' mom
My mom walked around with a twinkle in her eye. She was everyone's best friend and everyone smiled when they were around her. She loved you unconditionally, as a friend, a daughter, a person. She died 5 years ago and what's she's left behind is someone who learned that love is forever and in every form, no matter what. There wasn't anything you couldn't tell her. I miss her but I know that she is still here with me, teaching me how to be a good mom to my daughter.
James' mom Sandy
My loving, caring and beautiful mom in heaven.
To mom, from the Robinson family
My mom not only had six children but many grandchildren and a husband who was always there. After his death, she was still so strong and always helped me and my siblings family when in need. She will help anyone that needs it and it doesn't have to be family.
She is very loved for all her kind and loving ways.
She will be honored with her family on Mothers Day.
Mandy's mom Bonnie Truschka
My mom is the most caring, giving and loving mother. She is always giving to others and always puts everyone first. She is the best. Happy Mother's Day!
The big 50
Isn't it nifty? The Ryan twins turned 50 on May 10.
Happy birthday, "Peewees."
Love, Mom and Dad
Celebrating 25 years
Ronald and Mary Peplow, of Kouts, will celebrate 25 years together on May 16, 2017.
Lauren's mom
What I love about my mom: I love that no matter what, I know she is there for me. I know she misses me because I am busy living my life now that I am grown. But I want her to know I love her more than anything. I'm proud of her and want to thank her for always letting me eat all of her food. Lol! Xoxo
Veronica's mom Carmen
My mom is kind, selfless, supportive, loving and my best friend. Happy Mother's Day, Mom!
Steve and Susan Civanich celebrate their 50th anniversary
Happy anniversary, Mom and Dad!
From,
Steve, Brenda, Scott, Michele, Boyann and Al
Congratulations Grammy and Papa!
From,
Mark, Megan, Matthew, Adam and Justin
Duo celebrates senior prom
High school seniors, Hunter Zukley and Amelia Nemeth, take time to stop for a photo during Munster's Grand March festivities on April 29.
Dyer resident graduates from Ball State University
Erik A. Alcantar Jr., of Dyer, graduated Saturday with a bachelors of arts degree in telecommunications with a concentration in emerging media with a minor in Spanish at Ball State University. He graduated Cum Laude. While at BSU activities included being part of the WCRD Radio, board operator at soccer and basketball games, sports reporter and fantasy analyst.
Erik, plans to attend graduate school in the fall at Medill Northwestern University in Evanston, Illinois.
A 2014 graduate of Lake Central High School. Erik is the son of Lupe and Erik Alcantar Sr., of Dyer.
Happily engaged
Mary Ann Livovich and Michael Livovich would like to announce the engagement of their daughter Mary Ann Livovich, of Chesteron, to Michael Sean Tomondi, of Merrillville. The bride-to-be is a graduate of Chesterton High School and St. Mary's College with a bachelor's degree in accounting. The groom-to-be is a graduate of Merrillville High School and Indiana University with a degree in business administration. The wedding will take place at St. Stephen The Martyr Parish in Merrillville on Oct. 21. The couple will reside in Lake County.
PFC Barnes graduates from recruit training command
Congratulations to PFC Barnes for graduating from boot camp at Camp Pendleton in San Diego, California on April 21. PFC Barnes will be entering the School of Infantry on May 2. PFC Barnes graduated from Merrillville High School in 2016 and completed four years of AFJROTC. Congratulations PFC Barnes and thank you for your service to this country!
Happy 90th birthday to Stephanie Sickles!
Family and friends celebrated Stephanie Sickles' 90th birthday at the Highland American Legion Post. She has two daughters, Sharon and Linda, and a son, Garry.
Happy 73rd anniversary
Merrillville residents Bill and Ilmi Paul were married April 30, 1944. They are pictured here with their three grandsons and four great grandchildren. They also have three children. They enjoy family dinners, which is how they will celebrate the day. Happy anniversary, Mom and Dad!
Happy 95th birthday!
Wishing Mom, Busia, Great-Busia much happiness today and always.
Love,
Terry, Michael, Diane, David, Erin and baby Liam
Happy 70th anniversary!
Tom and Julie Anderson will celebrate their 70th year of marriage on April 19.
Celebrating an engagement
Gary and Denita Dieterle, of Merrillville, and Beverly Berry and the late Dennis Berry, of Danville, Kentucky, announce the engagement of their children Brandy Dieterle and Landon Berry, both of Winter Park, Fflorida. The wedding ceremony will take place July 17, 2017 at Sea Breeze Point, Walt Disney World, Florida.
Happy 40th anniversary!
Ron and Martha Jelski, of Highland, will celebrate their 40th anniversary on April 16. They were married April 16, 1977, at Assumption Church in East Chicago.
Martha currently works at Ingalls Hospital in Harvey, Illinois, and recently celebrated her 40th anniversary with the company. She enjoys reading, cooking and spending time with her grandchildren. Ron retired recently in October of 2015. He is an avid fisherman, who enjoys going up to Ludington, Michigan, annually. He recently took up kayaking as a hobby, and enjoys taking his grandchildren to the park.
They have three children, Laura Mantel and her husband, Eric, of Carmel, Indiana, Karen Roswold and her husband Christopher, of St. Charles, Illinois, and Brian Jelski, of Chicago. They have three grandchildren, Jacob and Lillian Mantel, of Carmel, Indiana, and Charleston Roswold, of St. Charles, Illinois.
Mr. and Mrs. Jelski celebrated their anniversary with a dinner with close family on April 9th at Teibel's in Schererville.
Montessori Children's Schoolhouse students helping their community
Montessori Children's Schoolhouse students in Hammond collected more than 170 boxes of cereal for Greater Hammond Community Services!
Happy first wedding anniversary to Paige and Dwayne Arnold
May you celebrate for many more years to come.
We love you both,
Annette and Dwayne Arnold (mom and dad)
P.s. You have now turned tax day, April 15, into a very positive happy day!
A birthday wish
Becky Winandy is 70! Isn't that heavenly? Happy birthday!
Love,
Bob
Bea Christopher turns 90!
Nine decades long and still going strong!
Bea has three children and three grandchildren. She loved to bowl and was in three senior mixed leagues and secretary of two of the leagues for more than 25 years. She is a great mom, with a lifetime of stories and wisdom to share. We hope that she makes it to see 100.
Mom, we hope your 90th is one of the happiest and best ever!
Cheers to 60 years!
Bonnie and Stan Dobosz were married in April of 1957 — 60 years of marital bliss! Not a thing you would have missed. Still in love just like before. Looking forward to 60 more!
Love,
The Lewis & Dobosz Families
Kurt and Emily are engaged!
Kurt Baer Sr. and Elizabeth Baer, of Crown Point, are pleased to announce the engagement of their son, Kurt Baer Jr. to Emily Newendyke, daughter of Richard and Lois Newendyke, of Sterling, Illinois.
Grandparents of the couple are Helmut and Rosemary Baer of Schererville, and Vernon and Mary Newendyke of Lanark, Illinois.
Kurt is a 2008 graduate of Lake Central High School and a 2011 graduate of Prairie State College with an associates in applied science industrial electrician. He is currently finishing his apprenticeship with IBEW local 134. Emily is a 2009 graduate of Sterling Christian School and a 2013 graduate of Judson University with a bachelor of arts degree in biology.
The couple will be married on Oct. 7.
Happy 101st birthday, Ida!
Ida Mae Bielke is turning 101 and is celebrating with her entire family at Dyer Nursing and Rehabilitation Center on April 22.
Happy golden birthday, David!
Wishing you the best birthday ever! We love you, golden boy! Forever. To the moon and back.
Love,
Your Family
Celebrating 45 years
Thank you Lord for 45 years marriage! Verdell and Delores Hildreth were married March 31, 1972.
The National Society of Collegiate Scholars welcomes Morgan M. Wright as a new member
Morgan Wright, of Union Mills, has accepted membership in The National Society of Collegiate Scholars. She attends Indiana State University in Terre Haute. She was also on the dean's list for the 2016 fall semester.
NSCS is a member of the Association of College Honor Societies and is the nation's only interdisciplinary honors organization for first and second year college students. Membership is by invitation only, based on grade point average and class standing.
10 years
Olive Cafe in St. John is celebrating its 10th anniversary! 
Van Buren Missionary Baptist Church celebrates 97 years
Van Buren Missionary Baptist Church will be celebrating its 97th Anniversary on Sunday, March 19, at 11 a.m. Guest speaker will be The Rev. Caliph C. Wyatt Jr., pastor of Monroe Baptist Church of Bellwood Illinois.
Van Buren Missionary Church was organized on the first Sunday of September in the year 1920 in the Roosevelt School Portable and relocated to our present home at 2585 Van Buren Street shortly after 1921. In 1953, the white frame church caught on fire and it was a total loss. The congregation worshiped in Roosevelt High School's auditorium and Frederick Douglass School's multipurpose room. Construction of the new church began on March 6, 1953. Calvin Young served as contractor with other skilled members of the church. The congregation was able to move into the basement of the new church during that year. Four years later on Feb. 17, 1957, the main auditorium was completed and the congregation celebrated with a dedicated service filled with thanksgiving. Throughout the years Van Buren Missionary Baptist Church has been lead under the pastorship of Reverends I. C. Ball, Gilkey, and Raspberry in 1932. Also, the Rev. Paul Leon Riggins, the Rev. J. H. Anderson, the Rev. J.J. Overstreet, the Rev. Timothy F. Evans and the Rev. Anthony Kelley. On Oct. 24, 2005, the official board and congregation selected Reverend Dwight E. Mobley, Sr. as pastor. Under his dynamic preaching and teaching, Van Buren Missionary Church is thankful to God for longevity and looking forward to it's 100th anniversary.
Christmas came early
Connor Michael Walter was born on Dec. 16, 2016 to proud parents Roy Jr. and Victoria Walter. He weighed 8 pounds 15 ounces and was 19 inches long. He joins a large family with many cousins, aunts, uncles, and a fabulous big sister. Grandparents are Brenda Wright and Kris and Roy Walter. Great grandparents are Don and Dolores Geffert.
Happy 40th anniversary to Charles and Beatriz Cook!
A true inspiration and a great example of unconditional love. They have proven to the world that love conquers all.
Welcome to the world!
Proud parents, Mathew and Catherine (Kroczek) Murphy, are happy to announce the birth of their first child, Patrick Evan Murphy. Patrick was born on July 10, 2016, weighing 7 pounds and 9 ounces. He was 22 inches long. Patrick is the second grandchild to both Don and Clara Murphy and Tom and Karen Kroczek and the second great grandchild to Eva Mintz.
Happy 99th birthday, Maxine Rice
Maxine Rice was recently honored by her son Jerry Rice, his wife Leona Rice and grandson Phillip Rice together with friends in honor of her 99th birthday.
Born on March 23, 1918 in Stockton, Illinois, Maxine has been a longtime member of the Merrillville and Portage Central Christian churches. She is a 20 year Southlake Methodist Hospital volunteer and a retired 40 year employee of Gary National Bank. Maxine continues to be active in social and charitable affairs. Recognized by the President of the United States for her outstanding achievements, Maxine remains active and self supporting in her home.
Maxine and husband Gerald Rice shared 72 loving years of marriage prior to his passing. 
Maxine credits her longevity to the enduring love and care of her son Jerry, his wife Leona and her always helpful grandson Phillip, as well as an occasional bedtime glass of red wine. Gotta love the lady!
Happy birthday, Maxine!
A wonderful year and more to come!
James and Jennifer Nielsen will be celebrating their one-year wedding anniversary on March 21.
It has been a wonderful year as our love continues to grow. Thank God I will have many more years with my love, Jennifer.
Happy engagement!
Erica Nelson, daughter of Nels and Dawn Nelson, along with Jeff Wandachowicz, son of Gary and Peggy Wandachowicz, are proud to announce their engagement.
Erica is a graduate of Lake Central High School and National University of Lombard college. She is employed as an animal control officer for the town of Schererville. Jeff is also a graduate of Lake Central High School and completed his college degree at Purdue Calumet University. He is employed as a trainmaster for the Canadian National Railway.
They plan to marry on Aug. 19 at the Marquette Pavilion in Indiana Dunes.
A very happy birth announcement
Paul and Sara Meyers would like to announce the birth of their daughter, Seven Amelia Meyers, born on Jan. 20.
Bette Campbell Turns 90!
Bette "Nana" has lived nine decades! She has six children, 16 grandchildren,and 21 great grandchildren (and counting)! Nana is still an active member of clubs, and she plays cards, cooks and drives! It has been through love, God and family that she has made it through 90 years. She says she's not done yet and hopes to reach 100. If you ask her what her advice is for a long life she'll respond with, "Never spend much time worrying about anything." We hope you have a birthday as amazing as you are!
Happy 55th anniversary
Sandy and Larry Anaszewicz were married Feb. 24, 1962, at Our Lady Gate of Heaven in Chicago. Soulmates and best friends, 55 years later the journey continues.
We love you mom and dad!
Happy 74th anniversary
David and Millie Munson celebrated their 74th wedding anniversary on Feb. 20. They are the parents of David (Tina), the late Jerry (Ilene) and Debbie (Michael). They have five grandchildren: Joe (Sarah), Gina (Ivan), Doug, Mandy (Shannon) and Jon, and are the proud great grandparents of Alyssa, Mateo, Maggie, Grace, Michael and Leo. They continue to reside in the home they built in Munster 51 years ago.
David served with the Navy during World War II, and is retired from Heckett Engineering Company. They are members of The Salvation Army in Munster, and spent many years traveling on mission trips in the Caribbean, India, and South Korea. Their favorite experience was meeting with Mother Teresa while in Calcutta. They continue to enjoy their weekly lunches at Schoop's and their Friday date at Long John Silver's.
At ages 95 and 92, they are grateful that they are still able to continue living in their home, where David is the chief housekeeper and cook.
Their love and devotion to each other are evident everyday. Their words of wisdom for a happy marriage: "Always kiss each other every morning and every night."
Our family is truly blessed.
Trinity Lutheran Church celebrates 30 years of Cheryl Dieter as director of worship and music
Trinity Lutheran Church will surely miss the talents and skills of Cheryl Dieter as she begins her retirement. On Feb. 12, the congregation filled the church to honor her service and dedication in providing TLC with a richly woven tapestry of liturgy, music and design within our worship space. The choir engaged a local composer, Andrew Robinson, to create a musical composition to present at the end of the service. "Aleph" was dedicated to Cheryl upon her retirement from Trinity Lutheran Church. Congratulations Cheryl! Trinity indeed has been blessed by your presence and wishes you the best!
Happy anniversary!
On Nov. 5, 2016, we celebrated with Mass at Our Lady of Grace and then dinner at Theo's Restaurant, both in Highland. It was hosted by our two sons, Greg (Dana) and Tony (Jaclyn) and all of the grandchildren. We then went to Hawaii for a continued celebration. Lee is retired from Inland Steel and now restores homes and golfs. Nancy is retired from insurance and bowls a lot and golfs a little. Both are active at Our Lady of Grace church, and both volunteer at Hospice of the Calumet Area. Life is great, with 10 grandchildren and two terrific sons and daughters-in-law.
Valentine's Day wishes
Celebrating Catholic Schools Week, St. Mary's Catholic School in Crown Point mixed it up a bit. Beginning the week with a pancake breakfast and ending the week competing in the Science Olympiad in Lafayette and a fundraising Gala at Avalon, everyone got in the game. One project spearheaded by Mr. Davis, a science teacher, was to celebrate and remember our Veterans who are in our state VA Hospitals. The students were given the time and materials and asked to write Valentine's Day notes to these service men and women. And what beautiful notes they wrote. The packages were mailed to the hospitals in Indianapolis, Fort Wayne and Marion. And in giving we receive. Happy Valentines Day!
Celebrating 64 years together
Richard and June Thomas are celebrating their 64th wedding anniversary. They were married on Valentine's Day in 1953.
They are originally from Munster, and currently live in Valparaiso. Richard was a volunteer fireman for more than 30 years in Munster, worked in the steel mills and has been a Shriner in Michigan City for more than 50 years. June has been and still is a realtor for more 50 year, and she still bowls twice a week. The two also enjoyed square dancing with the Square Wheeler's club for many years.
They raised three daughters, Nancy, Laura and Janet, and raised Richard's niece Sharon and nephew Bill. They also have many grand kids and great grand kids.
Happy anniversary and Valentine's Day!
Love,
Your kids
Congrats to the happy couple!
Britni Nicole Rushin and Rogelio Rodriguez were married on Oct. 15 2016 in Dyer. Wishing you both a world of happiness and joy!
Hannah and Ryan are engaged!
Hannah said yes to the love of her life! They couldn't be happier to spend the rest of their lives together growing and living an amazing life together!
Erna Scheller turns 95!
Erna Scheller, of Valparaiso, celebrated her 95th birthday on Feb. 1. There was a family gathering with her five children at a German Restaurant in South Bend on Feb. 3. She is a member of the Trinity Lutheran Church.
Happy 80th birthday
On Jan. 26 we would have celebrated your 80th birthday. You will always be in our hearts and memories.
Love,
Jim, JoAnn, Monette, Joe, Connor and PoohBear
65 and aged to perfection!
My father gave me the greatest gift anyone could have asked for — he believed in me!
Celebrating 100
Julia Thyen is celebrating her 100th birthday Friday, Jan. 20. She is the last of eight brothers and sisters. She has a loving family consisting of one son and one daughter, three grandchildren, and six great grandchildren. Her grandchildren call her "Sugar", because she doesn't look old enough to be called grandma.
Julia has lived in Linden House of Hobart for 15 years, and loves it; she calls the third floor the "penthouse."
Julia can't believe she's going to be 100 because she feels like she is 39! Julia says she has made it to 100 by taking vitamins every day, being happy, and thanking god every night.
It's a joy having Julia reside with us at Linden House of Hobart.
Happy birthday, Julia!
Congratulations newlyweds
Former area residents Alexandra Arges and Daniel Kolodziej were married Oct. 2 during a ceremony held at St. Basil Greek Orthodox Church in Chicago. A dinner and dance reception followed at Garfield Park Conservatory in Chicago.
The newlyweds make their home in Chicago with their 23-month-old daughter, Amelia Arges Kolodziej.
Dr. Arges is a second year resident in internal medicine and pediatrics at the University of Illinois College of Medicine at Chicago. Her husband is a production technician at CSN in Chicago.
Parents of the couple are Jim and Deborah Laverty Arges, of Winfield, and Dan and Valerie Kolodziej, of Gary.
Congratulations and best wishes to the newlyweds.
Paying tribute
Pastor Edward C. Turner and the New Revelation M.B. Church Family plans to pay tribute to the church's former pastor, The Rev. R.T. Mitchell. A true pioneer of the church. The Rev. R.T. Mitchell served as pastor of New Revelation M.B. Church for nearly 38 years. The public is invited to join at 4 p.m. at 3140 W. 21st Avenue, Gary.
66 years together
Lyndell and Catherine Bollhorst married, Jan. 27, 1951 at St. Joseph Catholic Church in downtown Hammond.
Lyndell worked 30 years at Youngstown Sheet & Tube/J&L Steel Company, then after he retired he worked an additional 10 years for the Hammond School System. Catherine worked for Walgreen's, Carson Pirie Scott & Co. and as Director for the American Cancer Society whose specialty was fundraising. She also enjoyed her time as a travel agent while traveling the world, exploring sights and adventures.
Lyndell and Catherine were part of a special group of eight known as Snow White and the 7 Dwarfs. Catherine was Snow White and Lyndell was Sneezy. The decades they enjoyed along with the stories they share fill a room with happiness where ever they go.
Now in retirement they both enjoy life in their home in Hessville. They making sure their retirement and inheritance goes to good causes.
Catherine has always told her children to "live life trying not to judge others" and to give everyone a second chance. Lyndell could always be heard saying, "I'll live 'til I die." He'd also say to think about that, sleep on it and, don't quit your day job.
The Bollhorsts have raised three sons, George, Dennis and Russell. They have seven grandchildren, ten great-grandchildren and one great-great-grandchild on the way.
He finally found her!
On Jan. 9, Jason Lee Pfeffer married Disnara Patricia Martinez Perez at the Lake County Courthouse. Although there were no friends and family to witness the ceremony, their love was understood by all. This day was theirs to hold and seek on their terms. The happy couple look forward to the next steps: A new house, new family and new lives. They wish to thank all who have given love and congratulations and will look to hold a proper reception in due time.
Happy 5th birthday Captain America!
Happy birthday our little pumpkin Quinn on Jan. 17! We love you so much that no amount of words could describe just how we feel about you. Thank you for putting a smile on our faces and for being our very own little super hero to protect us from everything! We love you so much, Cap.
Love,
Mommy, Daddy, Shama and Lila
Welcome to the world, Maverick!
Maverick Lee Littell was born to Tony Littell and Lyndie Walton, of Chesterton, on Jan. 8. Maverick weighs 8 pounds and is 21 inches long.
Retired after 31 years
Please join Carmine Vision Care in extending best wishes to Nancy Albrecht, who has retired. Nancy has been a treasured employee of the office for more than 31 years, and she will be missed by patients and employees alike. We have all benefited from her vast optical knowledge and attention to detail In addition to her incredible competence and skill, she has been a friend to all. She will be sorely missed and impossible to replace. Current and former patients of Carmine Vision Care are invited to wish Nancy well and express their appreciation to her as she starts a new chapter in her interesting life.
Susan Swarner and Ben Blohm marry
Susan Swarner, daughter of Bonnie Swarner, of Valparaiso, and the late Dr. John Swarner, and Ben Blohm, son of Dr. Paul and Beth Blohm of Chesterton, were united in marriage on June 4, 2016.
The ceremony was conducted at the Wauhob Lake Swarner Nature Preserve, with friend Patrick Lowe officiating. Attending were maids of honor sister of the bride Katherin Swarner and friend Paula Reichel. Bridesmaids were friends of the bride Emily Fletcher, Stacie Beckett, Kellie Vailhe and Andrea Bohm as well as sister of the groom Brianna Blohm. Best men were brother of the groom Bryon Blohm and friend Tim Ebert. Groomsmen included friends Tim Zervos and Chris Tuter as well as brothers of the bride John and Nick Swarner. Junior bridesmaids included nieces of the bride Shayne Wassell, Bella and Madison Wunderlin and Morgan Swarner. Ushers included friends AJ Udvare, Kevin Murray, Mike Doyle, Mike Schmidt and Jonny Fletcher. Mallory Julian accompanied on a violin.
The bride wore a long ivory Oleg Cassini gown with blush accents and a beaded veil. She carried a bouquet of blue and green flowers and peacock feathers. Bridesmaids wore similarly colored dresses and jewelry.
Following a formal reception at the Market, the couple left for New Orleans. They returned to their home in Liberty Township north of Valparaiso.
The bride and groom are both graduates of Chesterton High School. Susan also graduated from Butler University with a degree in Psychology and earned a masters in art education at Valparaiso University. She currently is employed as the museum educator at the Westchester Township History Museum. Ben graduated from Indiana University and is currently employed as the operations manager by The Grossbauer Group in Chesterton.
Happy 92nd birthday!
The family of Marie Davis wishes her a happy birthday on Jan. 3.
The Fromms celebrate 70 years together
Jerry and Eileen (Barton) Fromm celebrate 70 years of marriage on Jan. 1. To mark this momentous occasion, their family recently gathered at the Center for Visual and Performing Arts in Munster. The Fromms have two children — Barbara (Tom) Quinlan and Gayle Alderson. They also have five grandchildren — Matthew (Cyndi) Alderson, Michael (Lanie) Alderson, Daniel (Jillian) Alderson, Sarah Quinlan, and Max (Siri) Quinlan. Jerry and Eileen are also the great grandparents to twins, Tyler and Zachary Alderson. The Fromm's love and dedication has provided an exemplary legacy to their grateful family. Mazel tov, Mom and Dad!
—Your loving family
50 years of marriage
Happy 50th anniversary to Betty and Jim!
Happy 74th anniversary!
Bob and Marie Davis were married Dec. 25, 1942. Their family wishes then a happy anniversary!
enterprise
web only
editor's pick
The Times wants to celebrate your milestones — everything from births, birthdays, engagements, weddings, anniversaries, graduations and more. …