The 10 most popular Times stories about health in October: Two Valparaiso clinics offer unlimited physical, mental health care for monthly subscription
Here are the top 10 trending local health stories for the month of October.
Two Valparaiso clinics offer unlimited physical, mental health care for monthly subscription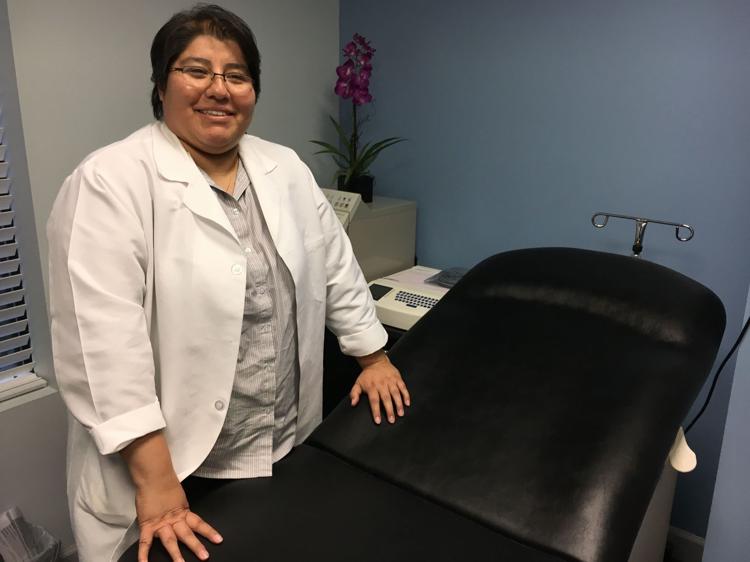 VALPARAISO — Nurse practitioners Juana Ambriz de Williams and Melissa Grcich both worked for traditional primary care offices. They felt hamstrung by the appointment quotas, by only getting to spend between 10 and 15 minutes with each patient and by only being able to address one health condition at a time.
"You're sitting with a patient for 10 minutes and they have a multitude of problems, then you're up at 4 in the morning thinking, 'Did I miss anything?'" Grcich said.
So the two decided to go it alone. Both recently opened their own practices in Valparaiso.
And to get around the bureaucracy that limited their time with patients, neither of them accepts health insurance, instead offering unlimited visits — in person, by text, by email — for a monthly subscription. Ambriz de Williams' office is called Dunes Family Clinic, while Grcich's is Matron Health.
So-called direct primary care, also known as subscription medicine, is on the rise in Northwest Indiana and the state as a whole at a time when many Americans are unsure about their future health coverage. Another local provider, Dr. Timothy Ames, has had a direct primary care practice in Portage since 2015.
About a dozen, or less than 1 percent, of the Indiana State Medical Association's 8,300 members work in subscription medicine. Nationally, roughly 3 percent of family doctors practice direct primary care, according to the American Academy of Family Physicians. Advocates say the model is a good fit for people with no insurance or high deductibles, as well as individuals who require chronic disease management.
What makes the new Valparaiso clinics unique is that they also offer mental health services as part of the package. Ambriz de Williams has a psychiatric nurse practitioner on staff for medication management and therapy, while Grcich employs a social worker who provides counseling for anxiety and depression.
"There are not enough psychiatric providers in Northwest Indiana," Ambriz de Williams said. "The wait time at a lot of our psychiatric facilities is six months. This opens up access to mental health care in Northwest Indiana."
At their old jobs, the two nurse practitioners said they never felt they had enough time with their patients. They say regular primary care offices have to book a certain number of people per day to meet their high overhead costs.
Grcich said her patients often wouldn't follow up on their condition after they got a big, unexpected bill in the mail, disrupting the continuity of care.
"I said, 'That's it. I'm done with this.' And I just threw caution to the wind and opened up a practice where people could come in as often as they needed to see me," said Grcich, who also does house calls and is available to patients around the clock, even when she's on vacation. "Now I know they're going to get the follow up they need and they won't have to worry about paying extra, they won't have to worry about their deductible."
Ambriz de Williams, who also communicates with her patients through the Spruce app, previously worked at a safety-net clinic where many of the patients had multiple chronic conditions. But because the appointments were so rushed, she was often only able to treat one condition at a time.
"The time issue became a big problem," she said. "I thought I could do better by myself."
She said she can now spend an hour or longer with a patient if need be. Older clients have told her they haven't had that comprehensive a physical since they were children; one compared it to "1950s medicine."
Grcich sees patients 17 and older and doesn't take any kind of insurance, and focuses on women's health and heart failure, while Ambriz de Williams cares for patients of any age and accepts only traditional Medicare. Both clinics say they will work with uninsured patients to find them inexpensive lab testing, medications and specialists.
The two nurse practitioners predict that with all the uncertainty in health care now, the number of local direct primary care clinics will continue to grow. They hope to form a coalition of local subscription medicine providers.
"The current system isn't working for a lot of people," Ambriz de Williams said.
Chesterton woman becomes 'warrior mom' after losing son to fentanyl overdose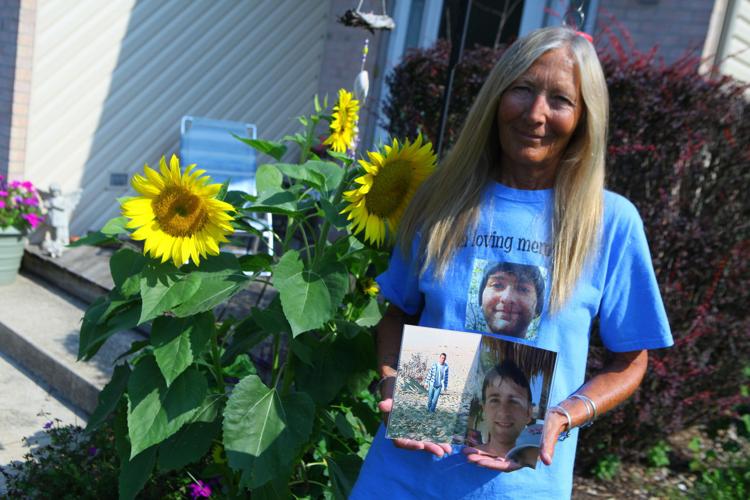 CHESTERTON — "I awoke on the morning of Oct. 20, 2016, with thoughts of my upcoming trip to New Jersey. In 10 days time, Patrick and I would be in full hiking mode," Kate Garrity recited from a letter she often reads to grade school students. She was sitting on her flower-filled back porch, her two black labs by her side.
"We hiked every fall together, calling it 'hikes for life.' Patrick was an addict struggling to stay clean.
"We walked in nature, pushing ourselves to go farther than we ever had before in the hopes of pushing away the demons for good. I sent Patrick a text that morning. He did not respond. But, hey, he's a 25-year-old kid. What kid doesn't ignore texts from their mom from time to time?
"Little did I know that in a few short hours my world would come crashing down."
Patrick "Kipp" Garrity likely didn't know the heroin he was doing that day was fentanyl, a synthetic opioid 50 to 100 times stronger than heroin. Drug dealers often cut or replace heroin with fentanyl because it's cheaper. Fentanyl and related synthetic opioids now kill more Americans than heroin, according to the Centers for Disease Control and Prevention.
After Patrick didn't show up for work, his father found him later that Thursday at their home in New Jersey, unconscious. Patrick's dad and brothers tried to revive him with CPR. Paramedics administered naloxone, the overdose reversal drug. He was pronounced dead at the hospital.
The road to advocacy
His mom, Kate, was 800 miles away, in Chesterton, where she lives with her boyfriend. She splits her time between Northwest Indiana and New Jersey. Patrick, who worked in the restaurant industry, attended Chesterton High School his freshman year. Kate describes him as a sweet person just trying to find his way in life.
Back in New Jersey to bury her son, Kate saw something in the local paper about the spate of overdoses; there were 10 within a 30-mile radius the day Patrick died. She called the reporter to tell him about a memorial the family was having for Patrick. The newspaper published an article about her. That's where her advocacy began.
The town's mayor asked if she would share Patrick's story at a town hall meeting on the opioid epidemic. The media also covered that event. "Word got around and people just kept calling," she said.
She told her story at local grade schools, alongside the county sheriff and prosecutor, at a mosque. "Sometimes it's four to five times a week, and it's way too much. I just collapse into myself," she said. "But I find that speaking out and sharing his story helps me heal."
Her county in New Jersey, much like Northwest Indiana, continues to see record numbers of opioid overdose deaths. She befriended other mothers of overdose victims. Her friends call her a "warrior mom" for having the courage to speak out.
"I think Patrick is pushing me to do it, from up above, I totally believe that he is," she said. "I'm not normally this outspoken, but this is something near and dear to me. There are just too many people out there going through it."
She believes prevention is the best way to address the opioid crisis. Once people are addicted to heroin or painkillers, as Patrick's case illustrates, it's often too late. So she hopes to reach kids when they're young, before they start using, educating them about the sometimes-fatal consequences of drugs.
Son had a positive attitude
At her home in Chesterton, Garrity continued reading from the letter about her son that has now been heard by hundreds of students:
"His family was his everything. He never had a bad thing to say about anybody. The most important thing Patrick taught me in life was positivity. He could take anything negative and turn it into a positive.
"So I'm taking the negative aspect of his passing and honoring him by turning it into a positive, by speaking out, ending the stigma, pushing for education at the grade-school level and helping others who need guidance with addiction and overdose and loss.
"The hardest thing I've ever heard was that my child passed away. The hardest thing I've ever done is to live every day since that moment. This moment is for you, Patrick 'Kipp' Garrity, in loving memory of you."
She set down the letter and fell silent, birds chirping in the distance.
A generation left behind: Northwest Indiana kids delayed, removed from the home because of the opioid epidemic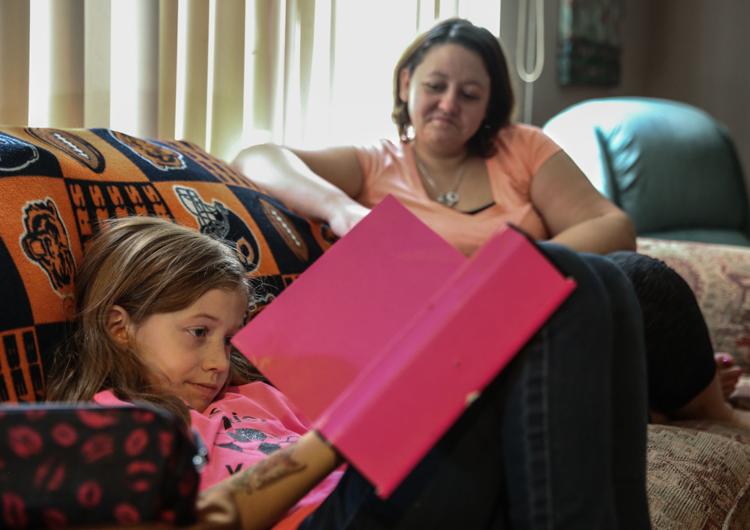 PORTAGE — The 2-year-old boys came into the house acting like a couple of raccoons.
They rummaged through the cupboards, looking for food. They ripped open bags of bread and stuffed it in their mouths. They tore the baseboards off the walls, pulled curtains down, took the heating vents out of the floor.
Janice Wozniak has been a foster parent for the past 42 years, to nearly 400 kids. She said the two boys have the worst behavioral problems she's seen.
Wozniak, 70, also has fostered many children of addicts. She lived through the crack cocaine epidemic of the 1980s, has cared for children with fetal alcohol syndrome. But she says the opioid crisis is something else entirely: the severity of the neglect, the level of the behavioral issues, the sheer numbers of parents losing their kids to the system.
The twin boys largely raised themselves their first two years because of their parents' heroin addiction.
"I got them just as they turned 2, and they were totally mute," she said. "They did nothing but grunt. Even when they were fighting over toys, they would just grunt. They would not say 'mine' or anything."
Wozniak is part of a foster care system in Indiana that is overwhelmed, in part, experts say, by the opioid epidemic. The number of Hoosier children in foster care has increased to 17,023 in August of this year, from 9,575 in August 2013, according to the Indiana Department of Child Services. And as her foster twins illustrate, many of the kids are being left behind — cognitively, developmentally, emotionally — by their parents' opioids use.
The number of Indiana kids removed from the home for reasons including substance use jumped to 52.7 percent last year from 31.7 percent in 2013. The Indiana General Assembly increased DCS' budget by $200 million over the next two years to deal with the increased demand.
"Heroin and prescription drugs have taken over the country," said James Wide, a spokesman for DCS. "Indiana is not immune."
In Northwest Indiana, foster care placements rose to 200 in August 2017 from 92 in August 2013 in LaPorte County, and to 167 from 65 in that time span in Porter County. The number of those cases in Lake County actually fell in that five-year period, to 1,303 from 1,492.
The cases of Indiana children dying from abuse and neglect also is on the rise: to almost 80 in fiscal 2015, the most recent year for which DCS has data available, from nearly 50 deaths in 2013. Drug use was said to be a factor in many of the deaths.
Researchers at Indiana University and elsewhere are trying to determine exactly how much, if any, of the rise in children being removed from the home is directly tied to opioid addiction. Still, the effects of the opioid epidemic on children are undeniable.
"You see physical abuse because of the violent tendencies that go along with the drug side effects. You see widespread neglect, children not going to school, children not being fed and having balanced meals, sometimes even the cleanliness of the house," said Ellis Dumas, DCS regional manager for Lake County.
"More serious neglect is when you have a baby in an environment where those items are being left around because they're being abused. What happens if a child ingests those medications?"
A second chance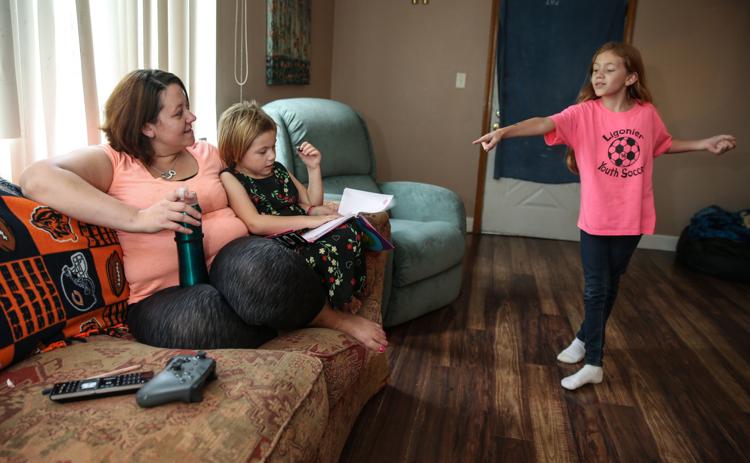 Ashlee Reaker, of Bremen, Indiana, first tried opioids after a miscarriage when a relative gave her some Norco and tramadol.
"Twenty minutes later, I felt great," she said. "I'd never taken a pill prior to that."
Later, she was diagnosed with arthritis and degenerative disc disease, which she called her "ticket to pain pills."
She got hooked. One day, after running out of pills, she and her husband, with whom she'd recently had a daughter, went to look for more. All they could find was heroin.
She shot up for the first time.
She later realized there was a market for her painkillers. She would trade hers — for money, for other drugs, for TVs and clothes.
"It just literally spiraled out of control for, like, eight years, until DCS got called on us because people were mad we didn't want to sell our pain pills," she said. 
The couple failed their drug tests. DCS put their kids into foster care.
Still, Reaker's addiction continued, full bore. She went to jail for theft. She missed a court date and got sent back to jail. She missed yet another day in court after that, and a warrant was issued for her arrest.
Because of her drug use, she skipped supervised visits with the kids. Mad after one such no-show, her husband told the DCS case worker about her warrant.
She spent 10½ months in the county jail, getting released Nov. 3. She said she's been clean ever since.
The couple gives much of their income to her husband's father to help them manage money. He also holds onto his son's prescribed pain medications. And they have their kids back. Their ages are 9, 6 and 5.
Reaker, 34, said her 6-year-old son has been dealing with anger issues since he returned home, but otherwise the children are doing well. She tells them the truth about her imprisonment and addiction.
"Over Memorial Day, we camped as a family for the first time on our own," she said. "This is one year we've ever had the money, because we weren't spending it on drugs or pills or whatever."
The family has even stayed in touch with the foster parents, who the kids call grandma and grandpa.
Courtney Roach, a former Jasper County resident who now lives in South Bend, has seen the effects on her kids of being in foster care. Her 9-year-old daughter has had emotional problems, while her 7-year-old daughter has struggled in school.
After Roach was arrested for possession of heroin, DCS removed her kids. They lived with her mother, an increasingly common arrangement given the increased need for foster homes. Roach went to prison for two years. She regained custody of them in December after 3½ years.
"They were hurt, especially the oldest. She was very emotional about it. It took a long time to build that trust with her. We have a very good relationship now," said Roach, 29.
"The youngest one — it didn't affect her as much. She kind of shelled-up when it came to learning and stuff. She ended up having to do kindergarten twice. She's made leaps and bounds since I've been back home."
Kids found to have delays
In Northwest Indiana, referrals to First Steps, a state program that provides therapy to children with developmental disabilities, have risen by 26 percent over the past two years, according to the Indiana Family and Social Services Administration; statewide, referrals have increased by 16 percent in that time period.
"When a child has come out of a home with abuse or neglect, there are usually some kind of developmental delays; it may be emotional," said DeAnn Jeanette, of SAFY of Merrillville, a foster-care placement service.
"What's amazing to us is the amount of recovery we see when we see those kids thriving a few months later, after they're placed in a safe, caring environment. The brain can be rewired, and it can be rebuilt. That's what loving and consistency do."
Marni Lemons, a spokeswoman for FSSA, said there also seems to be a corresponding increase in the number of First Steps referrals from DCS and neonatal intensive care units, though she noted the agency doesn't track how many of the referrals are drug- or opioid-related.
Jacob's Ladder, a pediatric rehabilitation agency in Valparaiso, has experienced a doubling of First Steps referrals this year in part because of the opioid epidemic, the agency's director, Mariann Frigo, said.
"Often the children are really delayed, because of neglect," she said. "If there's a lot of neglect, you can't develop because you're not stimulated."
She has encountered kids who had flat heads in the back because they were left in a car seat all day, but didn't know how to kick or roll over.
Wide, the DCS spokesman, said the rise in therapy referrals is in part due to a new policy, enacted to stem the rise in child deaths, that DCS automatically assess any complaint of neglect for a child younger than 3. Inside the homes, caseworkers are finding many children who are developmentally behind and referring them to First Steps.
"There are lot of babies getting help and therapy that weren't getting it before," Frigo said.
Nazareth Home, in East Chicago, was founded in the early 1990s to house babies born with AIDS in Lake County; it now largely cares for the smallest victims of the opioid epidemic.
Director Jean Bowman said the facility recently had a girl, both of whose parents were addicted, who had developed reactive attachment disorder. The condition, caused by severe neglect, is characterized by detachment, the inability to be comforted and indiscriminate sociability.
"When she first came to us, it was before she was 2, she didn't talk, she wouldn't look at us, she would run into glass," Bowman said. "It was honestly a miracle watching her change. She struggled, but she did it."
Treating the parents
The availability of drug treatment is spotty in Indiana. According to the Substance Abuse and Mental Health Services Administration, Indiana ranks 16th worst for the percentage of residents who needed substance abuse treatment in the past year but did not receive it.
DCS is undergoing an experiment in treating parents directly. Through the Sobriety Treatment and Recovery Teams, or START, program, mothers and fathers with DCS involvement and kids younger than 5 are connected to a treatment coordinator and family mentor, a person in recovery. The five-year pilot project has been in Monroe County since 2013 and Vigo County since last year.
"The purpose is really to help prevent that cycle of addiction," said Abbi Powell, manager of child and family services for Centerstone, a community mental health center in Columbus, Indiana. "When the child is younger, that may help protective factors and decrease the likelihood the child will have similar issues."
The parents are assessed by local community mental health centers within days of being referred. The moms and dads do 10 to 20 hours a week of inpatient or outpatient drug rehab.
"It does seem to be effective, in terms of involvement with DCS, ongoing sobriety, engagement in a support system," Powell said. She said the program was replicated from other states so it could easily be expanded across Indiana.
DCS pays for the treatment coordinators and family mentors. The state spent $160,678.42 on the program in fiscal 2016 and $240,294.86 in fiscal 2017.
Twins improving
On a recent day at the Wozniak home, the twin boys, in matching alligator shirts and red shorts, bounced around a living room full of toys. They were balls of nervous energy, climbing, falling, tumbling, biting, wrestling. Pictures of kids and babies of a variety of races and ethnicities — former foster kids of Henry and Janice Wozniak — covered the walls.
The boys climbed on a visitor, trying to untie and remove his shoes and take his phone out of his pocket. At one point, they fought over a green tractor toy, not quite able to verbalize their feelings.
The Wozniaks have had to twin-proof their home. They swapped their curtain rod for a PVC pipe to make it harder for the boys to pull down, put a card table in front of the crib so the toddlers can't climb it, removed their dresser drawers because the twins were taking them out.
"It's just unbelievable the damage they've done," Janice said.
She said their neglect was the worst she's seen in her more than four decades as a foster parent. When she got them, they were essentially feral.
"I've had other kids with behavior problems. If they were playing with toys, I could run downstairs and do a load of laundry. I can't do that with them," she said. "If they see that I'm missing, that's when they start running, they'll take pictures off the wall, they'll do the craziest things."
"Sounds like an overdose there, at the motel," Henry Wozniak said, listening to a police scanner.
"Out of the garbage can!" Janice Wozniak scolded one of the boys.
Later, one of them found a spare electrical cord. Henry Wozniak put it in the kitchen, but the boy climbed a gate and got it back. Pieces of salami calmed them down. "They love to eat," Janice said.
The twins' development has improved in the more stable environment. They've started to talk. They say "more" and "phone" and "shirt."
"They know our routine," Janice Wozniak said. "When Henry gets up in the morning they open the bathroom door so he can go in there and shuts it so he can have privacy. They say, You taking the dog 'potty'?"
Another foster boy, a 16-month-old with no delays who also had parents who were addicted to drugs, played on the floor nearby. The nearly 3-year-olds were on the same level as him developmentally, Janice Wozniak said.
The twins were expected to go on to live with relatives in coming months.
"These two, they're such stinkers, but you fall in love with them," Janice Wozniak said. "You can't help but love them. They're always climbing all over (Henry) and loving him and putting their arm around him. They are really lovable kids. We are going to really miss them when they go."
Northwest Indiana man survives after being declared brain-dead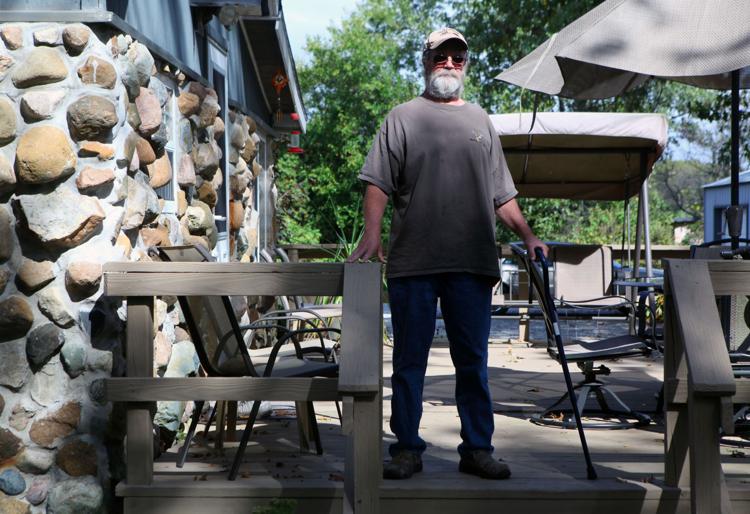 Dean Fasel was at work in Kouts one day in April when he told his co-workers he thought his brain was bleeding.
It was.
He lowered himself to the ground, then passed out. His co-workers came to his aid. An ambulance took him to a local hospital, where the medical staff thought he was already brain-dead.
They conferred with Dr. Hamad Farhat, a neurosurgeon at Advocate Christ Medical Center. He said Fasel still had brain activity but wouldn't for long.
"They were just amazed he was alive," said Fasel's wife, Carol.
Still unconscious, Fasel was transferred to the Oak Lawn, Illinois, hospital, where he went into emergency surgery. He awoke from his coma soon after.
"Dean would not have survived without immediate surgery," Farhat said. "During the surgery he lost three liters of blood."
He had suffered a brain hemorrhage due to an arteriovenous malformation, an abnormal connection between the arteries and veins. The congenital condition can progress over the lifetime and also present in the form of a seizure or stroke-like symptoms.
Fasel, 61, underwent a second procedure five days later. He spent two weeks in the hospital, then another three weeks doing rehab in Hobart.
Fasel, a laborer who lives in San Pierre, is now out of work. He walks with a cane. He has problems with dizziness and his vision. But he's alive, and without cognitive deficits.
For that, his wife is grateful.
"If he would not have been working, if he had been fishing or hunting on his own, he wouldn't have had anybody to help him and he wouldn't have survived," she said.
She did the talking during a recent interview because his voice was weak from the incident.
"They got him to Christ in the nick of time," she said.
He has even gotten back into hunting and fishing, thanks to a buddy who takes him out.
"He's had a lot of friend and family support," Carol said.
Northwest Indiana pain doctors ramp up safety after the killing of Mishawaka physician over opioids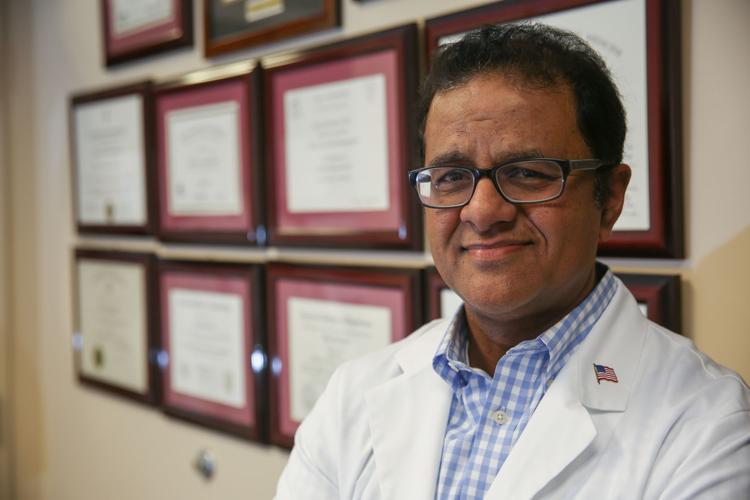 In July, a 48-year-old man confronted his wife's physician, Dr. Todd Graham, in the parking lot of Graham's office in Mishawaka. The man was upset the doctor wouldn't prescribe her painkillers.
After a brief argument, he shot Graham, 56, twice in the head, killing him. The man later killed himself, according to a report in the South Bend Tribune.
In response, pain doctors in Northwest Indiana are coming together to determine how best to protect themselves in the midst of a growing epidemic of opioid abuse in America.
"We treat people at the risk of being physically abused or even killed," Dr. Shaun Kondamuri, a Munster pain specialist, said at a recent forum in Merrillville on doctor safety.
Kondamuri, who knew Graham personally, noted that pain doctors are at increased risk lately because they are being encouraged to prescribe fewer painkillers, raising the potential of unhappy patients. A new Indiana law limits new painkiller prescriptions to seven days. Physicians in the state are also encouraged to administer drug tests to painkiller patients to make sure they're using the medications properly.
"We face the wrath of the legitimate patient who is denied medication he truly needs," he said.
He said primary care providers are increasingly referring pain patients, particularly the more problematic ones, to specialists like himself.
"The focus on slowing the tide of opioid abuse has left many doctors reluctant to prescribe opioid medications at all," Kondamuri said. "We're fearful we're doing something wrong."
He said it's an almost daily occurrence in his specialty for patients to become angry or verbally abusive. Threats of gun violence aren't unheard of. Health care workers, he noted, are twice as likely to be assaulted than other workers, with nurses the most common victims, according to the Bureau of Labor Statistics.
Dr. Sheel Patel, of the Centers for Pain Control in Munster, told the story of a pain patient who wasn't following the clinic's orders so staff decided to discharge him. The man became belligerent, he said.
An employee notified authorities, and the practice filed a restraining order with the Munster Police Department. Munster police increased patrols around the clinic.
"You all have to be aware and prepare — have a plan," said Lt. Edward Strbjak of the Munster Police Department. "I was involved in a shooting (recently) and I'm in podunk Munster. If it's happening in Munster, it's happening anywhere in the world."
If someone is acting irate or even suspiciously, call the police, Strbjak said. If a person makes a threat, file a police report, he said.
"You have to be prepared at all times: to run, to hide, to fight," he said.
Kondamuri said pain clinics can also get trained in aggression de-escalation, flag problem patients, ban firearms in the office, increase staff to reduce wait times, encourage employees to report incidents without fear of retribution by management and install security cameras, metal detectors and panic buttons.
"Everyone should be free and safe from violence in the workplace," he said.
Portage doctor doesn't accept insurance, charges patients a monthly subscription fee for unlimited visits
PORTAGE — Dr. Timothy Ames had a traditional primary care practice for a quarter of a century, starting in 1987. He grew increasingly incensed by the bureaucratic obstacles being put in the way of doctors caring for patients.
So he went nontraditional.
At his new practice, he doesn't accept insurance of any kind. He charges patients a monthly subscription fee for unlimited visits. He is available by phone, by text, after hours.
He explained the difference between the two approaches:
"In fee-for-service medicine, paid by insurance companies, there is a lot of emphasis on recordkeeping and billing codes. If all the bookkeeping is not done precisely right, insurance companies can deny or delay payment. That really just distorts the physician-patient relationship.
"In this practice, if it does good to talk to a patient for an hour, I will. If the very best thing is to see them today, I have the flexibility to do that. If a telephone call is helpful, I don't have to worry about how to bill and code for a telephone call. It really allows me to think creatively about how I deliver care to my patients without worrying about how to document my appointments to meet the requirements of the insurance companies."
Ames practices so-called direct primary care, also known as concierge or subscription medicine. Marilyn Carter, a spokeswoman for the Indiana Medical Association, called direct primary care an "emerging and evolving" niche in Indiana. About a dozen, or less than 1 percent, of the association's 8,300 members work in concierge medicine. The nearest to Northwest Indiana are in Plymouth and Mishawaka.
Administrative burdens rising
The most recent update of the medical billing coding system increased the number of codes to 68,000 from 14,000. Plus, with the huge number of insurance policies, doctor's offices now require large administrative staffs just to operate. That means they must see as many patients as possible in a day to pay for all that overhead.
Ames said the typical practice has overhead of more than 60 percent, has to see 20 to 25 patients a day and has a patient load of 2,000 to 2,500. By comparison, direct primary care offices have overhead of less than 30 percent, don't need to see a set amount of patients per day, and have 500 to 700 patients.
In Ames' opinion, the fee-for-service model lessens the quality of care.
"Patients are marched through the process with little ability on the part of doctors to think about what they're really like or their needs," he said. "Physicians have become accustomed to a system that leads to harsh and impersonal care."
Because of the growing administrative burdens, many doctors are choosing to become employees of large practices or hospital systems. For the first time ever in 2016, less than half of doctors were independent, according to the American Medical Association. A 2016 study in the Annals of Internal Medicine found that doctors spend nearly twice as much time on record-keeping than patient care.
"I, under no circumstances, would do what I did in 1987, again: come out of residency and try to run small practice," Ames said. "Accommodating insurance billing would require too much expertise and staffing. I would have found the overhead overwhelming."
'Small and unimpressive footprint'
Ames also doesn't require much space. He rents a 400-square-foot office at the Porter-Starke Services building in Portage. He said a typical practice is about 1,200 square feet.
"This model of practice is designed to have a small and unimpressive footprint," he said. "I don't have any staff. They call, and I pick up the phone."
Ames' subscription is $20 per month for children, $75 for adults aged 51-64, and $50 or less for all other adults.
The one downside Ames sees for direct primary care is that students and new doctors working in it might not get the experience they need because the patient volume is so small.
Errol Gerstler, 64, a general contractor who lives in Portage, said Ames has helped him manage complex, chronic medical conditions that required numerous visits.
"Where can you call a doctor and he'll meet you at 8 o'clock at night or call in a prescription at 8 o'clock or order blood tests for ya at 8 or 9 or 10 at night? It's unheard of," he said. "But that's how his practice works. I think it's the shape of medicine to come, it really is."
Gerstler said the only drawback is that when he needs testing he has to go to a separate facility, increasing his own administrative burden. But it's not enough to make him seek out a traditional primary care doctor.
"Where can you go for unlimited treatment for 50 bucks a month?" he said.
Two Porter County inmates addicted to heroin; two sides of the foster care system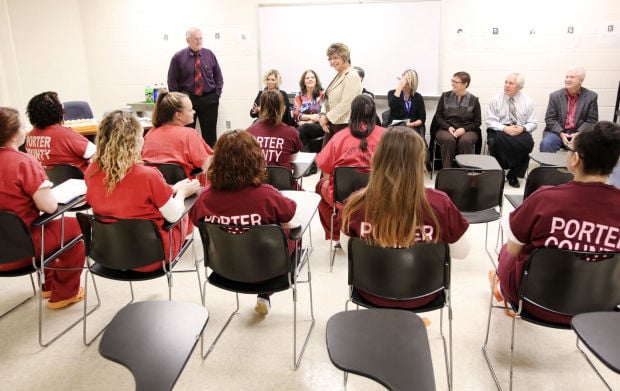 VALPARAISO — On a recent day, Krystal Rigoni, of Portage, sat in a visiting area at the Porter County Jail, wearing a red jumpsuit. Her 8-year-old son was in the custody of his father; her 4-year-old son was being raised by a foster family. All because of her heroin addiction.
The 31-year-old's path to being an inmate started after the birth of her eldest son, when she was a single mother, attending college and working, suffering from postpartum depression.
She thought finding a man would solve all her problems. In 2010, she met one, who was addicted to Oxycontin. A few months later, a relative's neighbor introduced her to a cheaper alternative: heroin.
She lost her job, and tried methadone for a time. She eventually got back on heroin, overdosed and got arrested. She gave custody of her son to his father.
In 2012, she got pregnant.
"I'm swallowing this terrible depression, I'm living with the lady who showed me heroin and I'm seven to eight months pregnant, and I have no idea what I'm going to do with my life," she recalled.
She kept using. She failed drug tests and was rearrested. She went into labor while in jail.
She was released on probation but arrested again, for forgery. At 2 months old, her son entered the foster care system.
"There's lots of moms who think their lives are over because they lost their kids," she said. "It makes them want to use more, because they don't have their kids."
In January 2016, she completed drug court and regained custody of her children. One year later, though, she overdosed. From a neighbor's house, her kids cried as they watched her being carted off on a stretcher. She lost them again.
Rigoni said her 8-year-old is well-adjusted. His paternal aunt raised him until age 4; he's used to being taken care of by different family members.
"He seems to be happy, healthy and thinks I walk on water still for some crazy reason," she said. "He thinks because I play basketball" — she was on the team for four years at then-Purdue Calumet — "I'm the best player in the world. He's very sweet and loving."
Her 4-year-old, however, has had angry outbursts at his foster siblings, cried out for his mom at night and displayed signs of post-traumatic stress disorder, she said.
"He's confused," she said. "He's not sure if he's supposed to love the foster family or he's supposed to love me."
Kaysie Fugate, a fellow inmate at the Porter County Jail, was on the opposite side of that dynamic. The 19-year-old from Michigan City was raised by her grandmother because of her mom's heroin addiction. Her siblings were lost to the foster care system.
Fugate's dad died of alcoholism. Her mom's husband went to prison for dealing heroin. Her infant brother died in his sleep.
At 15, she tried heroin. It took the blues away.
"I was depressed a lot. I hung around a lot of bad people, too. It was just the easiest way to cope for me," she said.
She dropped out of high school. She crashed her car on Interstate 94 while high on Xanax. She was jailed for possession of a hypodermic needle, which is also her current charge.
She hopes to attend inpatient rehab or live in a halfway house after her expected release date later this month.
In the drug treatment room at the jail is a reminder of what could be: pictures of 36 former inmates who have died of drug overdoses.
"It's sad because I knew some of them," she said. "I was in jail with some of them. One of them is my friend's mom."
Methodist Hospitals gets top national recognition for nursing care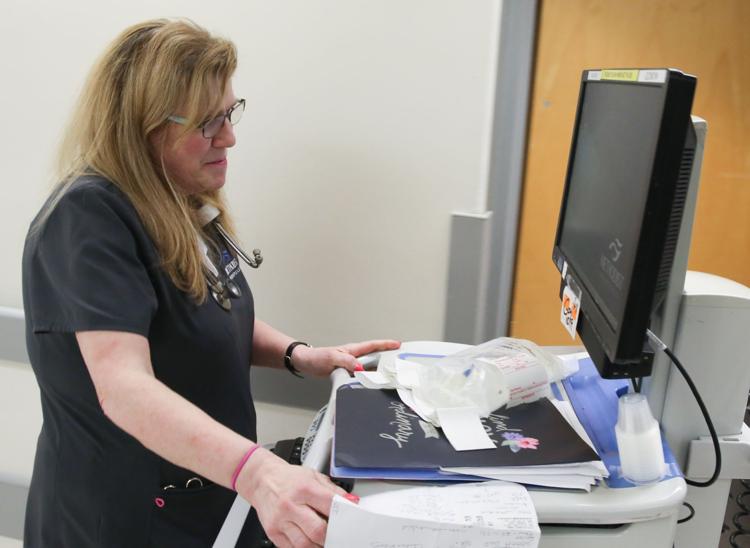 Methodist Hospitals has received the highest national honor for nursing care.
The health system recently earned the American Nurses Credentialing Center's Magnet status. Only 22 Indiana hospitals and 8 percent of the 6,300 U.S. hospitals have gotten the recognition.
"Magnet is all about nursing excellence, quality patient care, innovation," said Mary Jo Valentine, director of nursing professional development for Methodist.
She said the health system went through a rigorous process in applying for Magnet status. The credentialing center looks at 78 different measures in deciding whether to recognize a hospital.
"It's a consumer validation for the ultimate credential related to high quality nursing care," said Shelly Major, vice president and chief nursing officer for Methodist Hospitals. "Nursing is not the same at every hospital. You can go to one and get great nursing care. You can go to another and not. Consumers rely on this."
Major said Methodist got the honor by focusing on specific areas of care and making improvements in outcomes, working with clinical experts along the way.
For instance, to prevent falls, nurses assess patients' risk levels by examining factors like mobility. Nurses outfit at-risk patients with arm bands and yellow socks. The nurses monitor the patients frequently and activate alarms on their beds in case they get up.
To cut down on bed sores, the nurses assess patients' skin upon admission. The nurses reposition the patients often, work to prevent heel breakdown and make use of dressings. 
"The sooner we can see something developing, the better we are at preventing it from getting worse," Major said.
She said nurses are also seen as leaders in the hospital system — and are given room to grow in the organization.
"We don't want nurses looking for a job. We want people looking for a career path," she said. "Our culture and our focus is on working with nursing staff to continue to develop professionally in their careers."
The Magnet honor goes to hospitals with higher patient satisfaction with nurse communication, availability of help and receipt of discharge information; lower risk of 30-day mortality and lower failure to rescue rates; higher job satisfaction among nurses; and lower nurse reports of intentions to leave their positions.
Methodist President/CEO Ray Grady stated that the recognition is "tangible evidence of our nurses' commitment to providing the very best care to our patients, of which we are extremely proud."
Donna's story: Portage woman survived breast cancer at a time when not as many women did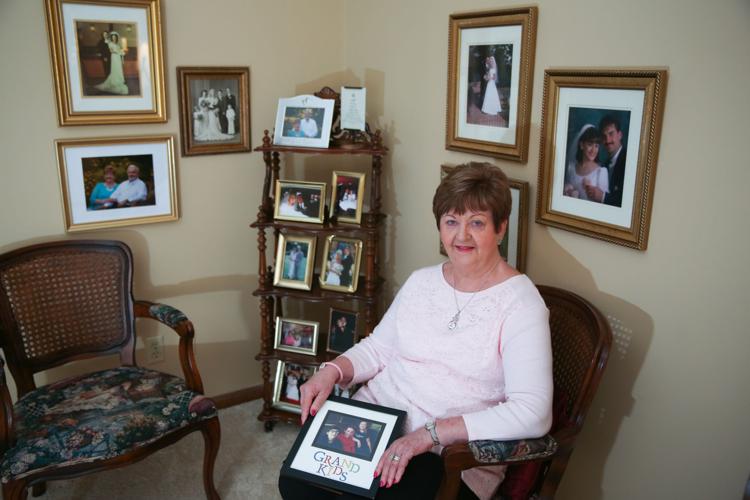 It cannot be that I am only 38
"You have breast cancer," I was told
With no family history, shock sets in
How will I face this bend in the road?
Donna Szabo found the lump herself, randomly. She was terrified.
The Portage mother had no family history of breast cancer. How could this happen?
She found the lump on a Thursday, had a mammogram that Friday and was diagnosed on a Saturday. Her fears were realized.
What do I tell my two young sons?
Oh, dear lord, I need your touch
How I want to see them grow up
Is that asking too much?
At the time she was diagnosed with breast cancer, the five-year survival rate for a breast cancer patient was about 75 percent. Today, that number is above 90 percent.
She also was among the small number of women — roughly 5 percent — diagnosed before the age of 40.
So Szabo was seriously worried that she might not be able to see her boys, then 10 and 14, graduate from college, get married, have kids of their own.
Her goal was to see them finish high school.
At the time, Northwest Indiana had only a fraction of the breast cancer services it has today, so Szabo had to go to either Chicago or South Bend for treatment.
Her doctor, at Rush University Medical Center, got her in that Monday. He said his goal was to make sure she lived another 50 years.
Luckily, her cancer was stage one and hadn't metastasized. The doctor recommended against chemotherapy because of her age because he knew she needed the energy to care for her children.
Following surgery, technology became my friend
With each radiation zap, I was becoming well once more
Early detection combined with a phenomenal medical team
Contributed to my breast cancer survival. That was 1984.
At first, she wasn't honest with her sons about her cancer. But they eventually figured it out.
She promised them, post-surgery, that she was just as healthy as all their friends' moms were.
For the first five years after her diagnosis, she went in for imaging every three months. She was screened every six months for the five years after that.
Those two young sons, I saw them graduate
From high school and college too
I danced with them on their wedding day
There is so much living to do.
She eventually gave back by becoming certified to fit women who have had mastectomies with prosthetic breasts, wigs, swimwear. She loved the job.
She worked for a clinic in Michigan City for a half-dozen years, for LaPorte Hospital for another six.
She took care of more than 500 women. She made them feel comfortable during a difficult time. She could relate to them, empathize. She knew what they were going through.
Now I am blessed with three grandchildren
My heart overflows as I watch them grow
I never dreamed I would see this day
When I was diagnosed 33 years ago.
Times weight-loss contestants have lost hundreds of pounds. Now they're running 5Ks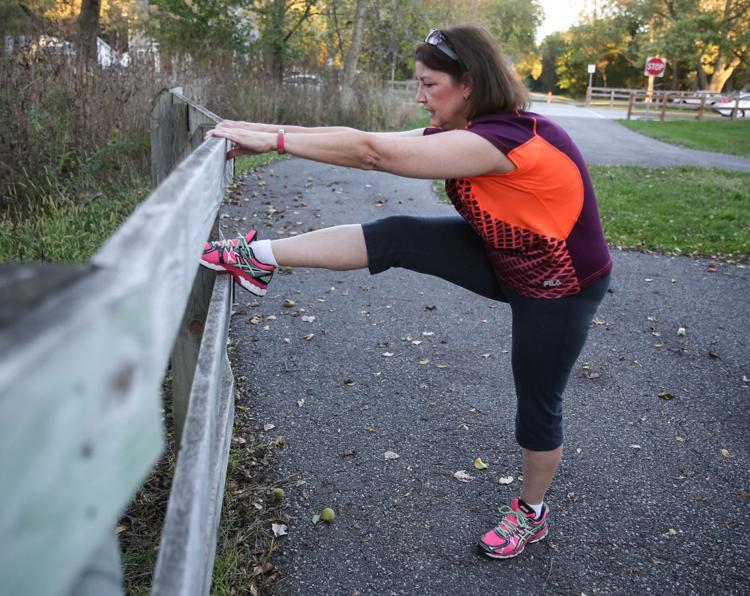 Darin Bensinger doesn't believe he could have completed a 5K a year ago.
He weighed roughly 275 pounds and wasn't very physically active.
But since entering The Times' Lose 17 in '17 contest at the beginning of the year, he has dropped 60 pounds and works out five days a week.
He completed a 5K last month, alongside his wife, Julie, who was participating in her first 5K. And it was the first he had done in several years.
"We ran a good majority of it. Before this year, we wouldn't have. It would have been a lot of walking," said Bensinger, 35, an accountant who lives in Munster. "I tried to let her finish first. I think she stopped so I could cross. I even tried to nudge her."
The Bensingers took part in the Franciscan Health Fitness Centers Anyone Can Do A 5K with three of their fellow Lose 17 in '17 contestants: Barb Coggins, Jim Sharp and Barb Swanson. The contest's 17 participants have lost 400 pounds so far in 2017.
Jane Bogordos, exercise physiologist and wellness supervisor at Franciscan Omni Health & Fitness in Schererville, said participating in events like 5Ks, bike races or color runs are great for people trying to lose or keep off weight. She said doing so increases motivation, keeps people accountable to training, gives them a feeling of accomplishment and is just plain fun.
"By signing up and training for a race, you are creating new experiences that will help the internal shift for continued success that last well beyond the event itself," she said. "Also, many communities host charitable events or fundraisers, so not only are you helping improve your health when participating, you are helping others as well."
Swanson, a 69-year-old contestant from Schererville, did a 5K last year. During last month's Anyone Can Do A 5K, she improved on her time by 12 minutes. She credits all the physical activity she's done in 2017 as part of The Times' contest.
"I do treadmill running about five times a week, and I have all year long," she said. "The fact that I've done as much treadmill running as I have has built up my strength and speed."
She ran the entire race. She plans to do a 10K next.
"I've never been a competitive athlete," she said. "I grew up in a world where girls didn't have much in the way of competitive sports available. It's really kind of fun, even though I'm just competing against myself. I set goals and accomplish them."
Coggins, a 53-year-old contestant who lives in Valparaiso, used to run half-marathons but hasn't done a race in years. So she surprised herself in finishing the Anyone Can Do A 5K in a little more than 37 minutes. That experience has since inspired her to participate in more races.
"I did another 5K this past weekend at the Lake County Fairgrounds," she said. "Then next weekend, I'm doing the Hot Chocolate (5K) in Chicago."
For Sharp, 52, a Lose 17 in '17 participant from Crown Point, last month's 5K was his first. He walked most of the race to ease his way into it but plans to do more 5Ks next year.
"It was wasn't as hard as I thought it was going to be, but it was still a little difficult," he said. "It was a good boost that got me going again as far as a healthy lifestyle."