Here are 6 trending stories you need to know today. 
Coroner: Merrillville man dies of stab wound
LAKE STATION — A 24-year-old Merrillville man is dead of a stab wound suffered in a homicide, the Lake County coroner's office said. 
Marchon Moss was pronounced dead at 7:02 p.m. Tuesday at Methodist Hospital Northlake in Gary. The incident occurred in the 2500 block of Riverside Drive in Lake Station, the release states.
The Lake Station Police Department, Lake Station Fire Department and EMS are also involved in the investigation. No further information is available. 
Police: Trio raided bars, pounced on casino patrons and battered elderly in Indiana-Illinois robbery spree
HAMMOND — They barged into an East Chicago bar to rummage patrons' pockets at gunpoint, preyed on cash-rich victims at a local casino and even left one elderly woman with a broken nose before fleeing in her car to commit another robbery.
Those are among the allegations levied against Lamonte Crittenden, 18, of Hammond; Janice D. Bates, 26, of Chicago; and Demetrius A. Harris, 24, of Chicago, outlined in a probable cause affidavit filed Tuesday in Lake Criminal Court.
Crittenden and Harris each face 17 counts of armed robbery, one count of robbery resulting in serious bodily injury, attempted robbery resulting in bodily injury and two counts of robbery resulting in bodily injury, records show.
Bates — allegedly the getaway driver in the robbery spree — faces 13 counts of armed robbery and one count each of robbery resulting in serious bodily injury and attempted robbery resulting in bodily injury.
A six-page affidavit details how Crittenden and Harris allegedly carried out violent robberies across Hammond and East Chicago in Northwest Indiana and in Lansing, Chicago and Blue Island in Illinois from Sept. 3 through Oct. 2 to fuel their gambling habits.
'Nobody move'
Crittenden and Harris allegedly barged into the 2nd String Quarterback, 719 W. 151st St., in East Chicago, on Oct. 2 — one waving a gun and yelling at people to "Empty yo pockets!" while the other man patted everyone down.
The two fled the bar with iPhones, keys, wallets, credit cards and cash from the register, the affidavit shows.
Three days earlier, Crittenden and Harris walked into Michigan Bar and Grill in Hammond, grabbed an employee by the neck, escorted her behind the bar and forced her to open the register.
"Nobody move. I'm going to shoot somebody today," one of the men allegedly said before taking another man's iPhone 7, wallet, his car keys, two pocket knives and a silver necklace, the affidavit stated.
Crittenden and Harris are also charged with robbing the Flat Rock Tap on Sept. 26. While one of the men showed a black handgun and ordered a patron to the ground, the other jumped the counter and emptied the register, records show.
One of the patrons who was robbed noticed his Chevy HHR missing from the parking lot, the affidavit stated.
Robberies turn violent
One 70-year-old victim told police he had just arrived at the Horseshoe Casino in Hammond on Sept. 13 when he was approached by two men, later identified as Crittenden and Harris.
The two pulled up behind him in a Dodge White Charger, "jostled him around," and pointed a gun at him before allegedly stealing his reading glasses, car keys and wallet.
Crittenden and Harris tackled a fleeing robbery victim to the ground at about 7:15 a.m. Sept. 24 at the Speedway gas station, 3956 Guthrie St., in East Chicago, the affidavit stated.
When the 68-year-old woman fought back, she "was beat, stomped on, spit on, and cursed at," court records show. One of the men bit her fingers to steal her car keys and take off in her teal 2009 Chevy Malibu.
The Malibu was allegedly used in a robbery later that night at the Save Gas gas station at 10953 Indianapolis Blvd.
City's license plate reader aids investigation
In the first in a series of robberies, a married couple was robbed by Crittenden and Harris at the BP gas station at 10850 Indianapolis Blvd. They fled in a boxy, white four-door SUV with two sunroofs and luggage rack rails — later identified as a white 1999 Ford Explorer registered in Bates' name.
Shortly after the 2nd String Quarterback robbery, the city of Hammond's new license plate reader technology captured Bates traveling from Hammond to Illinois. Then, the same car was detected traveling back into Hammond shortly before a Burger King was robbed on Sept. 28.
Undercover Hammond officers followed Bates' 1999 Ford Explorer from her residence in Chicago to Hammond, watching as she and a male passenger made several stops at businesses, the affidavit stated.
Officers initiated a traffic stop and identified Bates' passenger as Harris. Three hours after the stop, an armed robbery occurred in Blue Island, Illinois, and Harris was arrested.
Harris admitted to his involvement in many of the crimes, records show. 
A Facebook photo shows Crittenden in a fisherman's style hat that matched the hat worn by a suspect in many of the robberies, police said. 
Crittenden also allegedly appeared on surveillance video at the Sleep Inn Hotel in Lansing shortly before Harris joined him as they re-entered the business and robbed people of their personal belongings, the affidavit stated. 
A warrant was issued Tuesday for their arrests.
UPDATE: Police investigating after fight at Griffith-Hammond basketball game involving fans and member of coaching staff spills onto court
GRIFFITH — A fight involving Griffith fans, a member of the Hammond High School basketball coaching staff and possibly others spilled onto the court Monday night, leaving two people with minor injuries, police said.
At least three or four adults and possibly one or two teenage students were involved in the fight during the game at Griffith High School, police Cmdr. Keith Martin said.
Family members or fans of a Griffith player sitting behind the Hammond High bench got involved in a verbal altercation with members and/or the coach of the Hammond High team, he said. The verbal altercation escalated quickly.
Griffith Public Schools said the fight spilled onto the court with 6.3 seconds left in regulation play in the Griffith-Hammond freshman game. Officials called the game and sent players to the locker rooms.
Police said two adults were injured, but they refused additional medical treatment after being checked by medics. No one was in custody as of Tuesday.
"The fight does not initially appear to have involved any type of altercation between the two teams of players," police said. 
Police know the identity of the Hammond coaching staff member, but Martin declined to release a name because the case remains under investigation.
Hammond schools Superintendent Walter Watkins said the coach works with the Hammond High School boys freshmen basketball team and is in his fifth year as a coach.
"He is not a teacher," Watkins said. "He has been suspended with pay until the investigation is complete. We are still investigating. From the information I received, there were words exchanged between the Hammond basketball coach and a parent.
"The coach went to address the parent face-to-face and more words were exchanged and it became physical. I have been told the students displayed themselves like gentlemen and displayed great sportsmanship, and did not leave the bench," Watkins said.
Griffith Public Schools said in a statement, "No students from either school or staff from Griffith Public Schools were involved in the incident. The four adults were not residents of Griffith." 
Martin confirmed the four adults are not Griffith residents. He declined further comment on any juveniles possibly involved, citing the ongoing investigation.
Police on Tuesday were reviewing video footage of the fight to identify all those involved, he said.
"Although the incident is still under investigation, no one is currently in custody, but charges are expected to be sought with the Lake County prosecutor's office when the investigation is complete," Martin said. 
Griffith Public Schools and School City of Hammond officials were cooperating with the police investigation, Martin said.
Griffith Public Schools said it could not release further details until the police investigation is complete.
"We take sportsmanship seriously. It takes precedence in our athletic programs at all levels," said George Jerome, director of finance and operations at Griffith Public Schools.
"At Griffith, all student athletes take part in IHSAA online sessions designed to develop great sportsmanship at every level of play," he said. "We are proud of the actions of our freshman team, coaches and officials, who played no role in creating or escalating this incident."
The school district said inquiries about the investigation should be directed to police at 219-922-3070.
Times staff writers Carmen McCollum and Lauren Cross contributed to this report. 
UPDATE: Pickup driver killed in single-vehicle crash along icy stretch of Ind. 2 north of Hebron
PORTER TOWNSHIP — A 60-year-old driver was killed in a single-vehicle crash early Tuesday on Ind. 2, just north of Hebron, Porter County sheriff's police said.
Ronald L. Sheets, of Hebron, was traveling north on Ind. 2 in a red 2008 Ford F-150 about 6:15 a.m. when he attempted to pass another vehicle in the area of County Road 450 South, officials said.
Sheets hit a patch of black ice on the road and lost control, Porter County Coroner Chuck Harris said.
The F-150 went off the road into a ditch and rolled several times, coming to rest 50 to 75 yards from the road in a cornfield, officials said.
Sheets was pronounced dead at the scene from blunt force injuries, Harris said. He was wearing a seat belt at the time of the crash.
Porter County officials warned Tuesday that roads were icy and advised drivers to slow down. The Sheriff's Office said in a Facebook post it had responded to multiple crashes on Ind. 2 in Porter Township caused by black ice.
The Hebron Police and Fire departments, Lakes of the Four Seasons Volunteer Fire Force, Green's Towing, Porter County coroner and Indiana Department of Transportation assisted. 
Routine toxicology results were pending, Harris said. 
Unbeaten Chesterton rains 3s in rout of Bishop Noll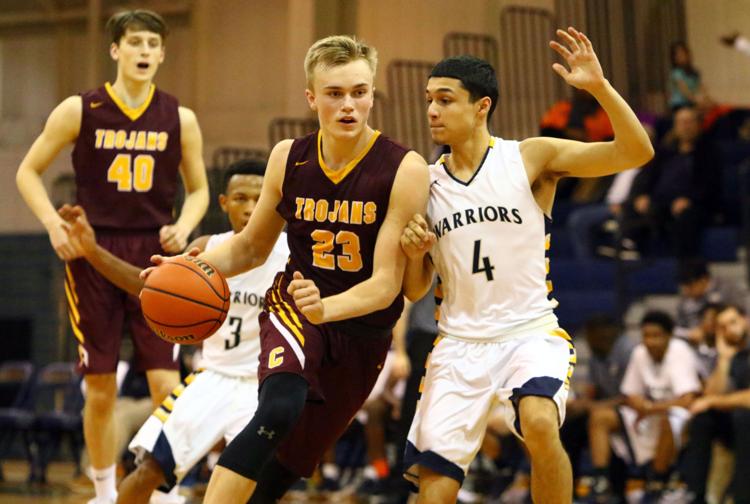 HAMMOND — Plenty of good shots were available for Times No. 1 Chesterton against Bishop Noll's 2-3 zone Tuesday.
More often than not, the Trojans passed up a good shot for an even better one, converting at a 54 percent clip that included 12-for-25 accuracy from the 3-point arc in a 63-29 rout of the Warriors.
"That was by far the best we've moved the basketball," Chesterton coach Marc Urban said. "I was pleased to see how unselfish we were. There was good energy in the ball. We didn't take the first one we saw. We moved it inside and back out and we were hitting that next one. We didn't look tight shooting and we were able to plug some."
Chesterton set that tone right away. Noll's only lead came on the game's first basket, a 3 by Michael Quintero, and the Trojans countered with a 13-0 run triggered by a pair of treys from Ky Palombizio.
"I love it," Palmobizio said of teams playing zones. "We were passing it around a lot and the more you move it around, the more wide open you are. It's way easier to shoot that way than with two guys in your face. We're such a great passing team. Everybody gets good looks. We've been on the (shooting) gun so much, it's nice to come out and get wide open looks. It makes it easy on the offensive end."