5 most popular stories today: Portage police: Two arrested when 'one pot meth operation' found in car
Here are the top 5 trending stories today. 
Portage police: Two arrested when 'one pot meth operation' found in car
PORTAGE — Two men are facing several felony charges after an alleged "one pot meth operation" was found in their car during a traffic stop.
Thomas A. Wenzel, 38, Lake Station, was charged with manufacturing methamphetamine, possession of methamphetamine, possession of two or more precursors and resisting law enforcement by vehicle while Randall J. Szostek, 34, Hobart, was charged with manufacturing methamphetamine, possession of methamphetamine, possession of two or more precursors and possession of a controlled substance with a prior conviction.
The charges came after a traffic stop Thursday afternoon.
According to a police report released Monday, a Portage police officer spotted a 1993 Oldsmobile on Willowcreek Road Thursday afternoon. The car, driven by Wenzel, made a sudden turn onto Sunrise Avenue without signaling. When the officer attempted to stop the car for the traffic violation using lights and sirens, Wenzel allegedly fled west on Sunrise Avenue and then came to a sudden stop at the end of Monnier Street near the Central Elementary School playground where children were outside playing.
Wenzel and Szostek were taken into custody and transported to Porter County Jail.
As an officer began to inventory the car, what appeared to be precursors to a meth lab were found and the Indiana State Police Methamphetamine Suppression Team was called, said police.
The ISP team recovered what appeared to be a "one pot meth operation" along with an HCL (hydrogen chloride) generator and other precursors to manufacturing methamphetamine.
Police also found several pill bottles, small plastic bags often used to package narcotics, 2-inch long straws with a white powdery residue inside, a box of fire starter sticks, an electric blender and two small propane tanks, according to the report. The substance later tested positive for methamphetamine. 
Sauk Village woman dies in four-vehicle crash; alcohol not a factor
A 60-year-old Sauk Village woman died and two people were injured in a crash Monday morning at eastbound Sauk Trail Road and Ill. 394, according to police.
Sandra E. Brooks was pronounced dead at Franciscan Health hospital in Dyer because of the extent of the injuries she suffered in the 9 a.m. crash, according to an Illinois State Police news release.
John Brooks, 31, a front-seat passenger in the 2009 Hyundai Sedan which Sandra Brooks was driving, was transported to Franciscan Health Dyer in critical condition, according to the release.
According to a preliminary investigation, Kimble Irving, 52, of Crete, was driving a 2004 Honda Element northbound on Ill. 394. The 2004 Honda Element reportedly went out of control and struck the middle driver's side of the Hyundai sedan, which was stopped westbound at a red light, at a high rate of speed. The impact pushed the Hyundai into a 2003 Chevrolet SUV and a 1990 Ford truck, which were in the two adjacent westbound lanes, according to police.
Irving was transported to Francisca Health Chicago Heights with non-life threatening injuries. Two children, ages 1 and 3, in the 2003 Chevrolet SUV were not injured, police said.
Westbound lanes were closed until 1:25 p.m. Monday for an investigation.
Police said alcohol and drugs were not contributing factors in the crash.
Valparaiso High School juniors, Calumet College professor design experiment to ride on International Space Station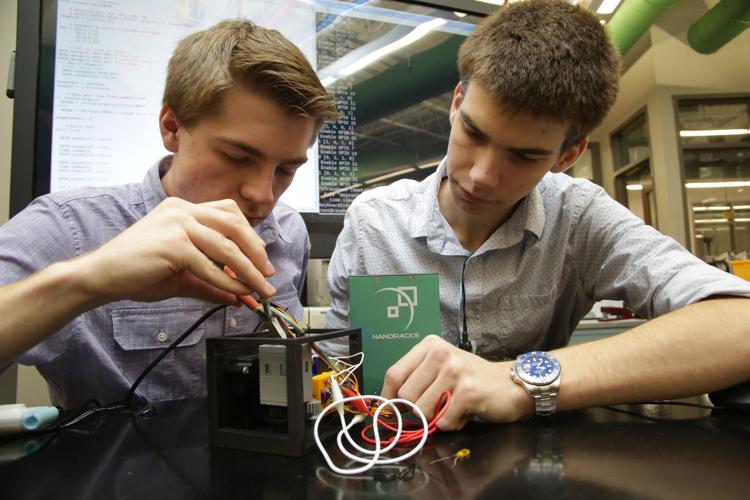 VALPARAISO — A small box, filled with wires and lights, a battery and tubes soon will be making its way into outer space.
The box, and the experiment it contains, was designed by Valparaiso High School juniors Merrick Jakelski and Connor Gregg, both 17.
If the experiment confirms what the two hope, it could lead to one of the first preventative treatments for Alzheimer's disease.
For both young men, the fight against Alzheimer's is personal. Both have had close family members battle the disease.
"No one should have to watch a loved one go through this," said Gregg, son of Tammy and Matthew Gregg.
Jakelski and Gregg are working under the direction of Calumet College of St. Joseph professor Sandra Rogers. Rogers' project was chosen nearly two years ago to be part of a Center for the Advancement of Science in Space program.
Jakelski said he joined Rogers' team more than a year ago. Gregg joined about six months ago after several team members graduated or left. The two have been completing the design and module — which will travel to the International Space Station — inside the high school's engineering classroom.
Jakelski said the experiment will look at the effects of microgravity on peptides (proteins in the brain), which, when they begin to break down, have an effect on memory.
Rogers' hypothesis is that microgravity will slow or stop the collapsing of the peptides, thus slowing or stopping the progression of Alzheimer's disease, Jakelski said.
In about two weeks, the two will take the experiment, which measures 10 by 10 by 15 centimeters, to Nanoracks Space Center in Houston for functional testing, Gregg said. Then in February, it will be launched aboard the SpaceX 14, a commercial resupply rocket to the space station. Once powered-up, it will run experiments for 28 days and then be returned about a month after its launch. 
The students and their teacher, Tarik El-Naggar, department chairman for engineering technology, will be there for the launch.
Once the module is back in local hands, they will retrieve data and compare it with a sister module that will be running simultaneously, but on earth. The data will be turned over to Rogers, Gregg said.
Both Jakelski and Gregg said they are excited about being able to participate in the project.
"We really enjoy working on it," said Jakelski who will likely attend Purdue University to study electrical engineering or robotics.
Gregg will attend either Georgetown University or the U.S. Military Academy.
"I want to work to make life better for everyone," said Gregg, adding he wants to follow the path of both his teacher, El-Naggar, and businessman Elon Musk.
"If there's a problem, I want to be able to find the solution," Gregg said.
Spate of brush fires, high winds, keep firefighters busy
Brush fires spurred on by high winds Monday evening kept firefighters busy around Newton County, southern Lake County, as well as Pembroke Township in Illinois.
Lowell Fire Chief Matt Van Drunen said volunteer firefighters from his department responded to a call for assistance in combating a brush fire on land between Lake Village and Morocco at 6:48 p.m. Monday. Firefighters were still at the scene at 10 p.m. Monday.
Van Drunen said there were also reports of brush fires in the Schneider area and in Pembroke Township in Illinois. The brush fires involved "a decent amount" of acreage, said Van Drunen.
While the high wind was hampering firefighting efforts, he said that rain that came in later Monday was helping to combat the fires.
Van Drunen said he had not heard of any homes being impacted as of 10 p.m. and did not know what may have started the various fires.
St. John car condo plan gets favorable recommendation from BZA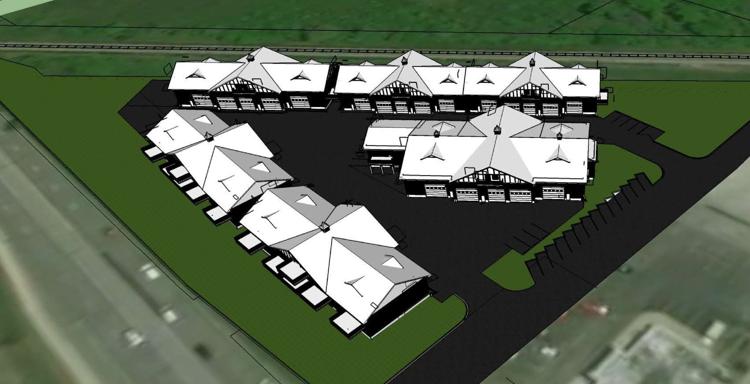 ST. JOHN — The plan for cars having their own condominiums in town got a boost this week.
Local resident Mike Gelatka received several use variances from the Board of Zoning Appeals and a favorable recommendation from the board to the Town Council for use approval for Crossroads Motorplex, which is planned for the triangle-shaped property just north of Aspen Cafe at the intersection of U.S. 41 and Wall Street. 
In essence, it's a place for storage and gathering of automotive enthusiasts, according to Gelatka. 
"A country club for people who like cars," he said. 
Gelatka said it's intended to be a private, gated-type community that will bring some cultural events to town. Gelatka told the board it will bring in outsiders to the town, not only to invest in this property but also possibly open businesses in the area related to high-end, exotic sportscars. 
Gelatka said it also can lead to automotive dealers purchasing a unit to hold VIP parties when a new car comes in. 
"Our hope is to bring something unique to the town that we all live in," he said. 
The concept is similar to Iron Gate Motor Condos, in Naperville, Illinois.  
Board member Paul Panczuk said he likes the concept and that "it's going to be attractive." 
Gelatka previously brought his concept for Crossroads Motorplex to a workshop before the Plan Commission, which looked at it favorably.