5 most popular stories today: Semi driver dies after driving off I-94 near Michigan City
Here are the top 5 trending stories today. 
Semi driver dies after driving off I-94 near Michigan City
A semi driver died after running off the road into a ditch Wednesday on eastbound Interstate 94 near Michigan City, the Porter County coroner said.
Howard Pruitt, 66, of Joliet, may have suffered a medical condition before the crash, Indiana State Police said.
Pruitt stopped at a weigh station on eastbound I-94 before running off the highway about five miles down the road, just west of the U.S. 421 exit, a coroner's release said.
The red 2012 Freightliner semitrailer went into the south ditch and stopped. No other vehicles were involved in the crash about 1 p.m., officials said.
Pruitt had no visible injuries, but was unresponsive, police said. State troopers immediately began first aid, and Porter EMS continued the efforts.
Pruitt died while he was being taken to Porter Regional Hospital, the release said. An autopsy was scheduled for Thursday, and toxicology results were pending.
The truck remained upright during the crash and sustained minor damage, police said.
Valpo middle-schoolers accused of vandalizing 3 schools
Juvenile charges are being pursued against 10 Valparaiso middle school students accused of breaking into three local elementary schools undergoing renovations and causing $10,000 in damages, according to police.
The break-ins occurred over several months, beginning with the discovery of vandalism Sept. 10 at Memorial Elementary School, 1052 Park Ave., according to Valparaiso police Sgt. Mike Grennes.
Damage was discovered Nov. 20 at Central Elementary School, 305 Franklin St., and Nov. 27 at Northview Elementary School, 257 Northview Drive, he said.
Police believe the students gained at least some of their access to the buildings through the more vulnerable, boarded-up areas of construction, Grennes said. Access to one site was gained through a screen window.
The students are accused of spraying a fire extinguisher in the hallway at Memorial and throwing other items around the building, he said.
When police arrived to investigate at Central, they found windows and glass blocks broken or damaged in the construction area, Grennes said.
Northview had several items damaged within the school and construction areas, he said. Items damaged included duct work, copper piping and metal doors.
It is believed a combination of the same 10 students played a role in each of the three break-ins, Grennes said. All the students are local.
Charges being pursued against the students range from trespassing to criminal mischief, he said.
"It is highly unusual for our kids to do this," Valparaiso Community Schools Superintendent Ric Frataccia said. 
Frataccia would not say what in-house actions, if any, the schools are taking against the students.
He did say the contractors carrying out the renovation work have been asked to do a better job at "buttoning up" their work sites when they leave.
Earning an Indiana high school diploma just became a lot more complicated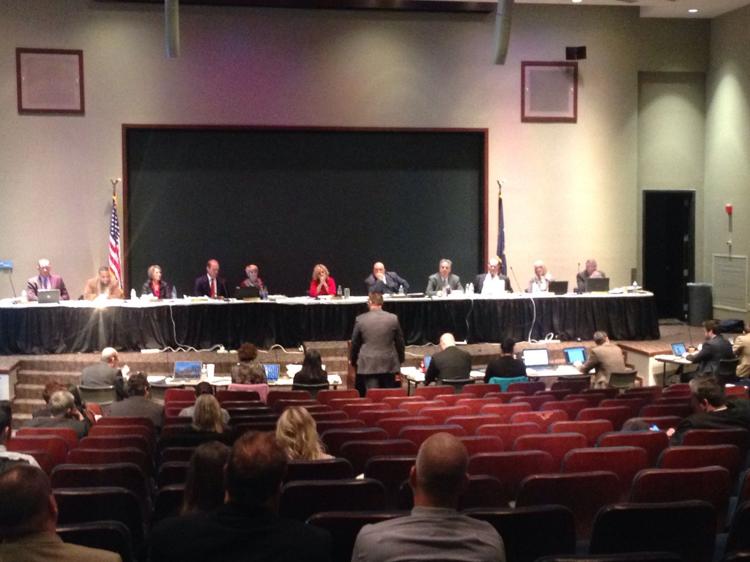 INDIANAPOLIS — The State Board of Education approved a major overhaul of Indiana's high school graduation requirements Wednesday, despite significant concerns from Hoosier educators about how the changes will be implemented.
The new graduation pathways mandates all Indiana high school students, beginning with the 2023 graduating class, explicitly demonstrate both work-ready skills and post-secondary education preparedness — in addition to completing a traditional academic program — to earn their diplomas.
The added graduation requirements were ordered in April by the Republican-controlled General Assembly, and follow Republican Gov. Eric Holcomb's announced intention to convert Indiana's education system into an employment skills training pipeline for Hoosier businesses.
According to the implementation plan, approved 7-4 by the mostly governor-appointed state school board, students will have numerous options to satisfy the work-ready and post-secondary components.
For work-ready, students must participate in either project-, service- or work-based learning, within or outside the classroom, designed to develop the knowledge and skills that the state's employers say they want their workers to have.
That could include completing a course capstone or long-term research project; "meaningful" volunteering or civic engagement; participating in co-curricular or extra-curricular activities, including high school sports; employment training through an internship; or working at an after-school job.
For post-secondary, students either would complete an honors diploma; receive a to-be-determined score on the ACT, SAT or military readiness exams; achieve a "C" average in at least three Advanced Placement and similar high-level classes, or career education courses; participate in a formal apprenticeship program; or earn an industry-recognized credential.
It's still unclear whether all options will be available to students at every school corporation, particularly those with limited resources or located in rural areas.
The new requirements are strongly supported by the Indiana Chamber of Commerce and Indiana Manufacturers Association.
They claim Hoosier employers consistently are unable to find a sufficient number of skilled employees to fill their open positions, and the changes will get students thinking about, and working toward, their careers beginning at age 13 or 14.
"The status quo is not working. The status quo is not enough," said Caryl Auslander, chamber vice president for education and workforce. "The good-paying jobs of today and the future simply require more than a just a high school diploma."
State school board member Tony Walker, of Gary, who voted in favor of graduation pathways, said he agrees — "It's the right thing to do."
"We're in an education crisis right now. We're not having the kind of production in terms of competencies among our graduates that we need to have either for workforce or higher ed," Walker said. "And this is a good step in the right direction."
Educators opposed
Teachers, principals and superintendents from across Indiana told the state school board during six hours of public testimony Wednesday that the rush to adopt graduation pathways before finalizing how they'll work inevitably will result in another Indiana education fiasco, akin to extra-long standardized testing and the repeatedly revised school accountability grades.
Besides the question of whether all students will have equal access to every graduation pathway option, they said no one knows how the new requirements will affect students who transfer from a district offering a unique graduation pathway, or those who move to Indiana from other states.
In addition, educators questioned whether businesses have the capacity to accommodate and supervise some 250,000 high school students coming to them for internships and apprenticeships, in addition to asking how students will get to those unpaid jobs and whether their employers will undergo background checks like those required for teachers.
It's also not known how many additional guidance counselors will have to be hired to track and verify each student's graduation pathways progress, as well as how students with disabilities will be accommodated so they still can earn a high school diploma.
Moreover, the Legislature has not figured out how much all the extra work and testing and other graduation pathways options will cost, or who will pay for it.
Stacey Schmidt, superintendent of Porter Township School Corporation, told the state school board that she doesn't oppose the graduation pathways idea, but believes it should not have moved forward until most of those questions were definitively answered.
"The details have yet to be worked out and there are many conversations yet to be had," Schmidt said. "Hope is not a strategy that's good enough for our students in Indiana."
UPDATE: White Lodging selling off 82 hotel contracts as it goes on national building spree
White Lodging is selling off nearly half of its hotels under management.
The Merrillville-based hospitality company, which has a national profile, is selling 82 of its suburban hotel management contracts to Interstate Hotels and Resorts for an undisclosed sum. It is unloading a collection of Marriott, IHG, Hilton and Hyatt hotels, mostly between 100 and 200 rooms, that are scattered around the country "from Salt Lake City to West Palm Beach."
"This repositioning allows us to better focus on assets consistent with our market and development objectives while partnering with owners looking to grow with us," White Lodging Chairman and Founder Bruce White said. "We will use the net proceeds to continue to reinvest in strategic select and full service assets."
With fewer hotels under management, White Lodging laid off some employees at its corporate headquarters in Merrillville.
"With our new streamlined portfolio, we unfortunately had to reduce a limited number of jobs in the home office," company spokeswoman Kathleen Sebastian said. The company did not disclose how many jobs were eliminated.
White Lodging will be left with 100 hotels under 26 different brands, 40 restaurants and eight rooftop bars, once current projects get completed. Its brands include Marriott International, Hilton Worldwide, Hyatt Global, and InterContinental Hotel Group, and it also operates luxury ranches in Wyoming.
The company has opened seven hotels this year and plans to have 18 more hotels and restaurant/bar concepts all across the country open within the next 24 months.
"This transition is a major shift in our portfolio mix, allowing us the flexibility to capitalize on new opportunities that will strengthen the diversity of our national footprint," said Deno Yiankes, President and CEO, Investments and Development.
The 82 hotels accounted for less than 25 percent of White Lodging's revenue. Most were not developed by White Lodging and only three are full-service hotels with restaurants and meeting space.
"The sale of these contracts will allow White Lodging to increase its focus on the disciplined execution of our key initiatives, the training and development of our associates and creating incremental value for our partners," said Ken Barrett, President and CEO of White Lodging's Hotel Management Division.
The sale is expected to close next year.
"We are still growing and developing all over the US," Sebastian said. "We do favor markets that we think have good growth potential such as Chicago, Indy, Louisville, Denver and Austin."
UPDATE: 2 women injured after car spins out, careens into path of South Shore train
MICHIGAN CITY — Two women were taken to a hospital early Thursday after their SUV slid into a utility pole and careened into the path of a westbound South Shore Line commuter train, officials said.
The crash about 4:50 a.m. damaged and delayed westbound Train 104 and caused delays on another westbound train and one eastbound train, said John Parsons, spokesman for the Northern Indiana Commuter Transportation District.
The driver of a 2005 Jeep Liberty spun out while trying to negotiate a curve while heading east on 11th Street toward Cedar Street, said Kevin Urbanczyk, chief of operations for Michigan City police.
"It was snowing, and the road conditions were icy at the time of the crash," he said.
The right front side of the Jeep hit a NIPSCO pole at the intersection of East 11th Street and Cedar Street before spinning back onto the road and into the path of the train, which runs down the middle of East 11th Street, police said.
The train, which was moving slowly, hit the Jeep. The Jeep's 30-year-old driver and 28-year-old passenger, both of Michigan City, were taken to Franciscan Health Michigan City hospital for complaints of pain to the head and neck, police said.
No injuries were reported among the four passengers and four employees on the South Shore train, which consisted of six cars, police said. 
The Jeep was totaled and towed from the scene. The NIPSCO pole was damaged but did not need to be replaced, police said.
The front of Train 104 was damaged in the crash, and it had to be returned to a maintenance facility at Carroll Avenue, Parsons said. After repairs were made, Train 104 continued west about an hour behind schedule. The crash also delayed westbound Train 6 by about a half hour, he said.
Train 104 arrived late to Chicago and headed back east as Train 205, which also was delayed.